So remember how I talked about how I had finally discovered the chewiest, best chocolate chip cookie ever? Well, I'm sorry to break the news to you, faithful readers of this blog, but that was a lie. Or, maybe it wasn't a lie, because at the time I wholeheartedly believed, with my heart and soul, that I had stumbled on the best chocolate chip cookie recipe ever. But I was wrong.
If you are a regular follower of this blog, this recipe won't be a surprise to you, since I have used it as the base of my Chocolate Covered Pretzel Cookies with Caramel and my Double Chocolate Chip Sprinkle Cookies. But both times I made that recipe, I kept thinking to myself how perfect and amazing the cookie would be without the pretzels or the sprinkles and caramel…
So, ladies and gents, that's what I've decided to present to you today: the chewiest, softest, ooey-gooiest, best chocolate chip cookies ever!
Best Chocolate Chip Cookie
Original recipe by Sally
Ingredients:
2 cups and 2 tbsp flour
1/2 tsp baking soda
3/4 cup butter
1 cup brown sugar
1/2 cup granulated sugar
1 egg, plus 1 egg yolk
1 tsp vanilla
1 cup semi-sweet chocolate chips
Directions:
Preheat oven to 375 degrees F.
Sift together the flour and baking soda, and set aside.
Cream your butter and sugars. Add egg, egg yolk, and vanilla.
Slowly mix in the flour mixture into the butter mixture, mixing well. Add the chocolate chips.
Scoop out the dough, set on a parchment lined cookie tray, and refrigerate for at least half an hour. The longer the better!
Bake for 10 to 12 minutes, or until the edges are golden brown. You want to take them out when they look slightly undone, as they'll continue to cook even after you take them out.
So yes, chilling the dough for 30 minutes or more is kind of annoying, but trust me, your cookies will be so much more chewy, soft, and thick! The best thing about this recipe is that they remain soft even the next day, and the day after that (although they've never lasted that long in my house), unlike some cookies which harden the next day.
Similarly, the chocolate chips retain their ooey-gooey, melted quality, and don't get hard either. For me, the more chocolate chips the merrier!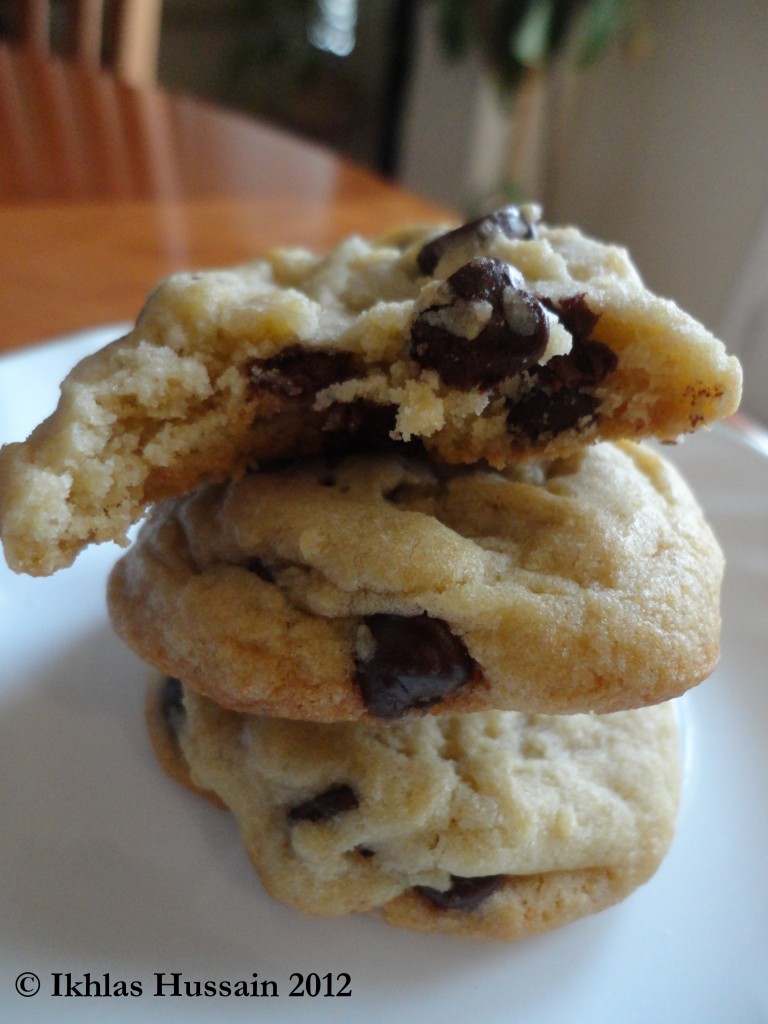 Another trick that I've learned is freezing the dough as well, if you don't need to make the whole batch all at once. This is quite helpful, because sometimes you just have a craving for a warm, just-out-of-the-oven cookie, and all you have to do is grab some frozen, pre-scooped dough from the freezer and bake it up!
If you don't intend to bake right away away, or want to bake some and freeze some, scoop out the dough onto a baking sheet and refrigerate or freeze for about 10 to 20 minutes. After that, take the scooped dough out and put into a freezer ziplock bag and store in the freezer.
When you go to bake, no need to defrost them. Just add a few extra minutes to the baking time, and take them out when the edges are golden brown.
As you've already seen, this recipe is very versatile so feel free to add any other additional add-ins like peanuts, white chocolate chips, peanut butter chips, chocolate chunks, sprinkles, etc.
If you haven't tried this recipe out yet, please do, because I guarantee you won't want to use another recipe ever again! They really are the best chocolate chip cookies ever.
In other, non-chocolate chip related news, I realised that I've hit 87,000 words on my current manuscript! Yikes, my goal is 100,000 before I force myself to stop writing, so I hope I can wrap up by then. Although it doesn't seem likely…
I also have yet another wedding party to go to, but it's actually for someone I know and have known since I was a kid, so I'm actually quite like looking forward to it.
Then on Sunday, my friends and I are planning to go out for breakfast, which is making me nervous, since I'm not fond of breakfast food and eat pretty much the same thing every single day.
Oh, it's also Thanksgiving here in Canada this weekend, and apparently it's going to finally feel like fall this weekend, so in celebration of that I am planning on making an apple pie. Lol, I don't actually need a reason to bake, but thought this would be the perfect weekend to tackle the apple pie I have been drooling over for weeks.
Anywho, I hope you all have a fabulous Friday/weekend/Thanksgiving! 🙂
Thanks for reading,
Ikhlas