Hey everyone! I've got something a little different for you all today: a savoury recipe. It's been awhile since I've shared a savoury recipe with you all, but this chicken malai tikka is amazing. When posting recipes on the blog, I stick to my favourite food group (dessert), but believe me that's not all I eat!
I shared this recipe on my Instagram stories the other day and I received so many requests for the recipe! I got way more requests than my sweet recipes, that's for sure. People I haven't spoken to years reached out to me and wanted the recipe for this succulent chicken barbecue item.
Confession time: I use a lot of Shan masalas. For those of you unfamiliar with the term, they're packaged dry mixes of herbs and spices with instructions and a list of ingredients on the back. You can get premade biryani masala to korma to kabobs and everything in between. I'm not the best at Pakistani cooking, and Shan masalas take the guesswork out of it for me.
But lately I've been sick of making and eating the same few things. Shan masalas tend to have the same taste, an I've been trying to use my own blend of spices. It's a hit and miss though.
When I stumbled on this recipe for Chicken Malai Tikka, I knew I wanted to make it right away. Succulent, juicy chicken that melts in your mouth? Yes, please! I've made the recipe using Shan masalas, but don't remember being too impressed. So I was excited to try this recipe.
Malai is a creamy and rich ingredient, but the word can be used to describe any food that basically melts in your mouth like butter. And that's exactly what this chicken does. There's actually no butter in the recipe, except for a bit that you can brush on top at the end, if you want. The creamy texture of the marinade and the juiciness of the chicken is thanks to a mixture of yogurt and heavy or whipping cream. Let's take a look at the recipe!
Ingredients
700 grams or 1 1/2 pounds of chicken breast
4 tbsp lemon juice
1 tbsp garlic paste
1tbsp ginger paste
4 tbsp yogurt
6 tbsp whipping or heavy cream
4 to 6 green chilies
7 tbsp fresh cilantro, chopped
1 1/2 tsp salt or to taste
1 1/2 tsp black pepper
1 tsp red chili powder
1/4 tsp tumeric powder
1/2 tsp garam masala powder
1 tbsp melted butter
Instructions
Cut chicken breast pieces into cubes or chunks and allow to dry completely. Add lemon juice, garlic and ginger paste, yogurt, whipping cream, and all dry spices.
In a blender or small food processor, pulse green chilies with 6 tablespoons of fresh cilantro, setting aside 1 tbsp for garnish. Add a few teaspoons of water to make the paste smooth. Strain the paste an discard the water.
Add the green chili and cilantro paste to the chicken and mix all ingredients well.
Allow chicken to marinate a few hours or overnight.
Preheat oven to 400 degrees F and thread chicken pieces on skewers. Drizzle leftover marinade over the chicken before baking.
Bake for 20 to 25 mins or until morsels are lightly brown around the edges. Brush with melted butter and garnish with reserved chopped cilantro.
Enjoy warm.
Recipe from|Fauzia's Kitchen Fun [http://www.fauziaskitchenfun.com/chicken-malai-boti].
http://ikhlashussain.com/2018/04/recipe-chicken-malai-tikka/
Breast isn't exactly the most juicy or flavourful cut of chicken. When it's baked, it often dries out. But that's definitely not the case here. The trick is to let the chicken marinate for as long as you possibly can, at least overnight. The longer the chicken sits with that creamy concoction of yogurt and cream, the juicier your chicken is going to be. The blend of spices and fresh herbs makes this chicken so flavourful. Each bite is punctured with the taste of cumin, coriander, black pepper, red chili powder, and the combination of chili peppers and fresh cilantro.
Let's talk about the spice factor. It's no secret that Pakistani food is spicy, like most other South Asian food. You will definitely need to adjust the spice level based on your personal level or spice, and of course the spiciness of the chillies you are using. Thai chilies tend to pack a punch, but they are smaller so you need to use more if you're looking for a bit of heat. I used between 4 to 6.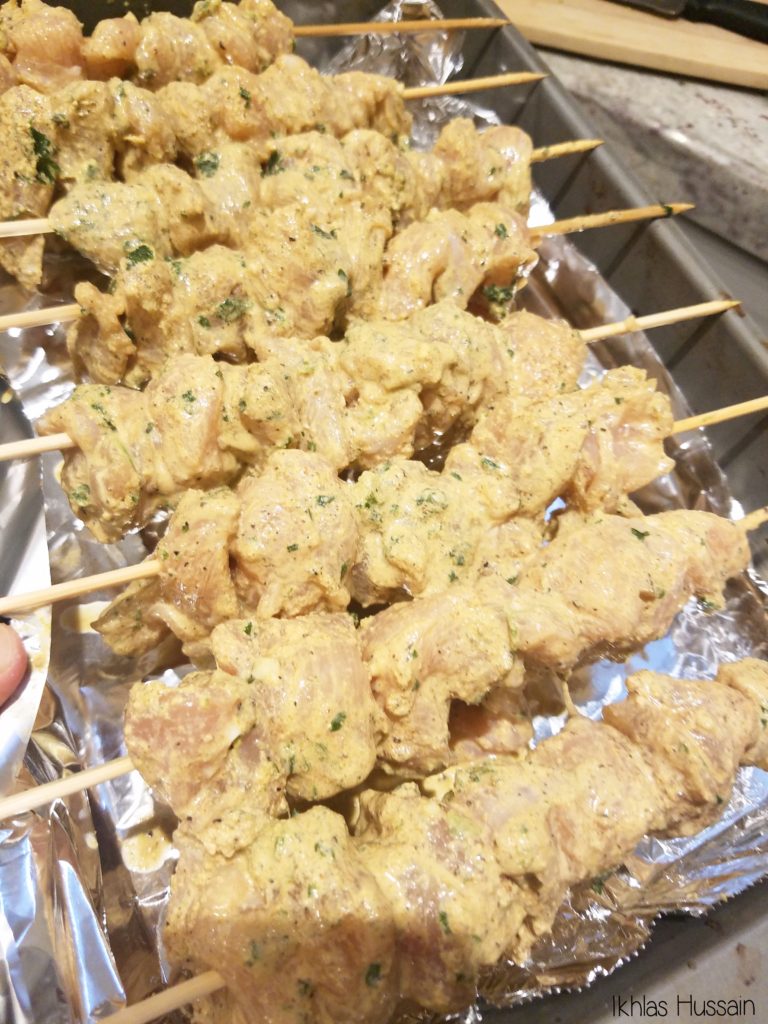 The recipe is still fairly healthy, despite the use of the whipping cream, which is minimal (or so I think). Baking the chicken definitely cuts down on any excessive oil, as you'll notice there isn't any oil or butter in the marination. Serve with a fresh salad to keep it low carb, or have it with some naan or roti, with a side of yogurt raita to dip the chicken into. Also, how amazing will this be in the summer on the charcoal BBQ? Mmm, I can just taste it! I definitely need to make this again soon.
However you serve this Chicken Malai Tikka, enjoy it while it's warm, since each morsel will have a burst of flavour as it melts in your mouth. Enjoy!
Thanks for reading,
Ikhlas