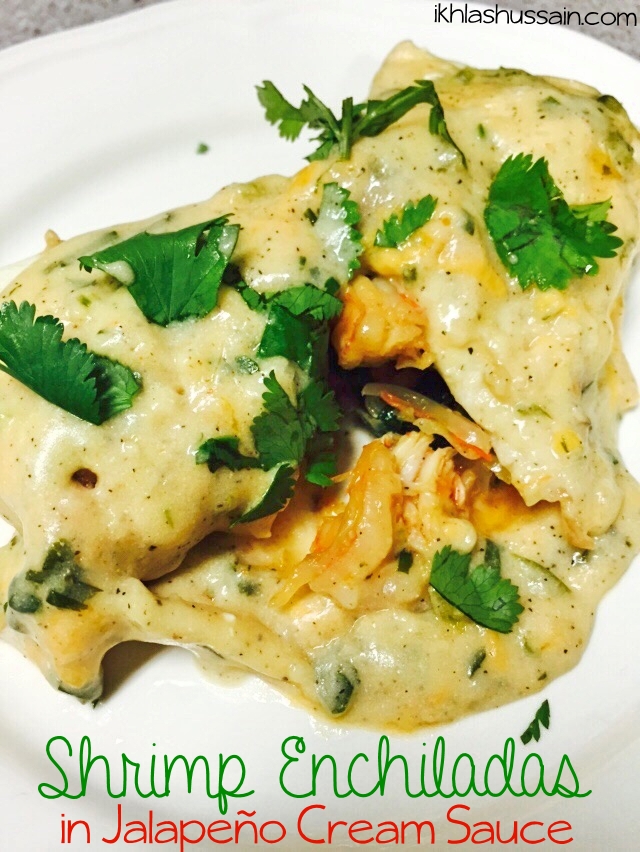 So I just got called a 'culinary artist' by an old friend in the comments of the instagram picture of this recipe. Guys, let me tell you something: I am not a culinary artist!
I was super flattered to receive the comment, but I wanted to tell you all that I am by no means an expert. I like to think of myself as a mad scientist when it comes to cooking. I make a mess and I sometimes look crazy doing it. I sometimes use measurements, but usually I don't because I like to use my own gauge for things. Sometimes things turn out well (and I blog about them), but sometimes they don't and I try again.
I love to cook, but I'm still learning. So use these recipes with that in mind! With that being said, let's talk about these Shrimp Enchiladas in Jalapeño Cream Sauce.
Can we just talk about the sauce first? The sauce is to die for, guys! I am currently obsessed with fresh herbs. I never really used cilantro or basil in my cooking before, but now I just can't get enough of the fresh taste they bring to dishes. There's fresh cilantro in the cream sauce, along with jalapeños, which just matches so perfectly with the crunchy, shrimp filling inside.
Baked until the sauce is hot and bubbling, these enchiladas are best eaten on a cold, Winter day when you're craving something warm and comforting. And what can be better than a dish served straight out of the oven?
The best part is that you can prepare the enchiladas in advance and refrigerate. Then all you have to do is pour the sauce on top, bake for half an hour, and voila! A comforting and yummy meal is at your table. So what are you waiting for?  (more…)