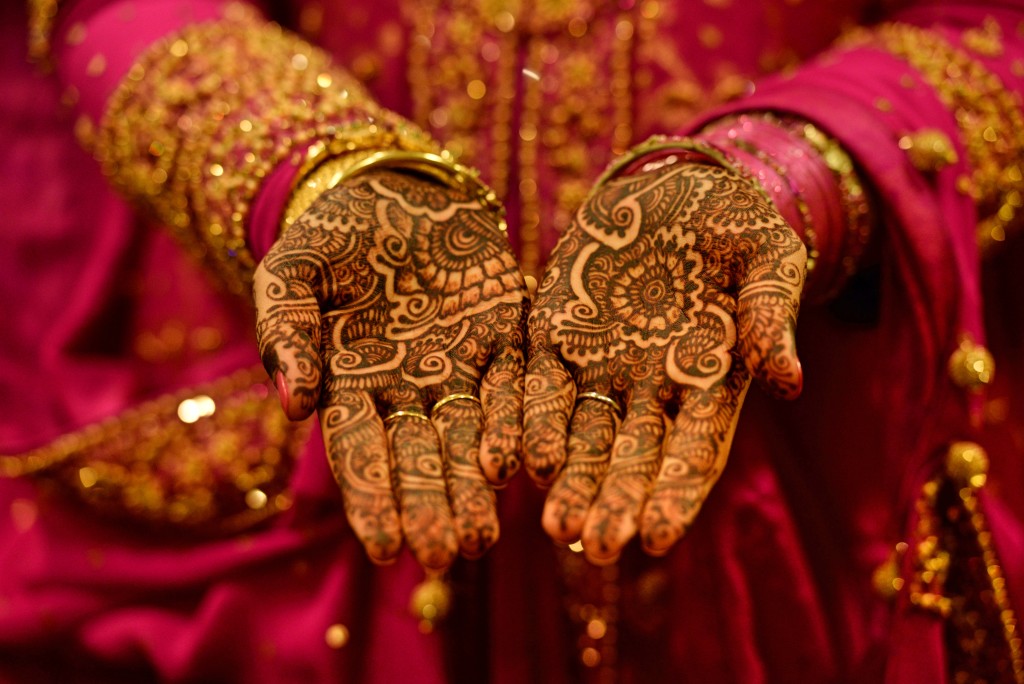 Hello friends! Wow, so more than a month has passed by since my last post. Yikes!
So I'm writing this as a married lady now, and it kind of feels weird. I still catch myself calling my husband my fiance when talking about him to other people, before catching myself. I also have these weird moments when I pause and think, "Is this really my life?" So much changed so quickly that I'm still getting used to my new reality and the other person I now share my life with.
Sometimes I still don't believe that the wedding is over; I had stressed so much about so many little things and now that I think back to them, I realise how silly those things were.
In classic me fashion, I was sick throughout the whole wedding. -_- Why is this classic? Because I often get so nervous that I make myself sick. I can't eat, can't sleep, and basically can't function because of nerves. This happened the first time I met my fiance, when we we became engaged, and every meeting subsequent that. The wedding day? I was a mess.
In the days before the wedding, I hadn't eaten or slept and so I was utterly exhausted by the time the Nikkah or Islamic marriage came around. I still remember after the Nikkah was performed and I was led outside to meet my new husband; it was such a cold day and I was already shaking from nerves. Having hardly spoken much to my fiance (now husband) prior to the wedding, I had no idea what to say to the guy! Luckily, our little photo-op didn't last long as our family was as cold as we were (albeit they were wearing coats and we weren't!) and soon we got to leave in our respective cars.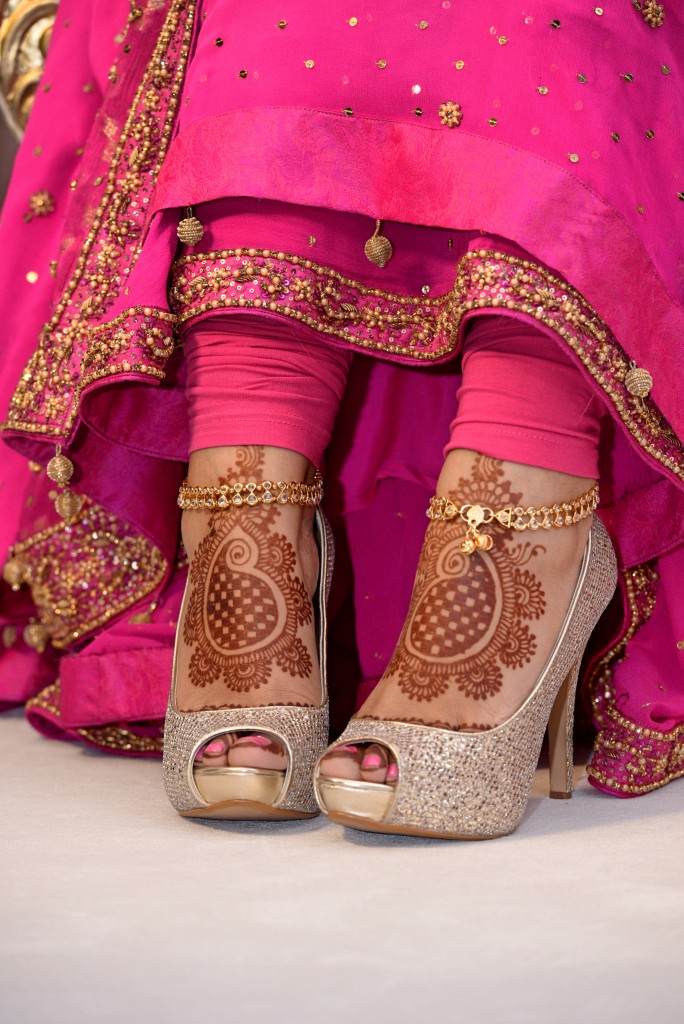 At the mehndi that night, everyone tried to tell me to calm down! They all kept saying, what else is there to be nervous about? You're already married! But my stubborn stomach wouldn't listen. It churned and turned right up until my entrance, and I felt like I was going to pass out as I saw all eyes on me, including the ones of my now husband. Being force-fed meethai or Indian sweets didn't help my condition but I tried to be a good sport about it, taking sips of water in between. My husband took it all in good grace and ate every truffle and ladoo that was fed to him. I don't know how he did it!
The next day was our reception and rukhsati. That was the official 'giving away' part of the wedding as my dad would officially give my hand to my husband. I was better this day, having gotten a little more sleep the night before. I even managed to eat a few bites of rice in between getting my hair and makeup done but as the hours ticked closer to the event, I could feel the violent butterflies re-emerging.
I made it through my photoshoot without incident, but as soon as my husband arrived, so did the jitters. Everytime the photographer told me to look at him or put my hand in his hand, I erupted in a burst of violent giggles. It was so hard! Having never held a guy's hand before, it was kind of hard to do it on the spot, with a strange man watching me, and then giving directions on how to make it look better.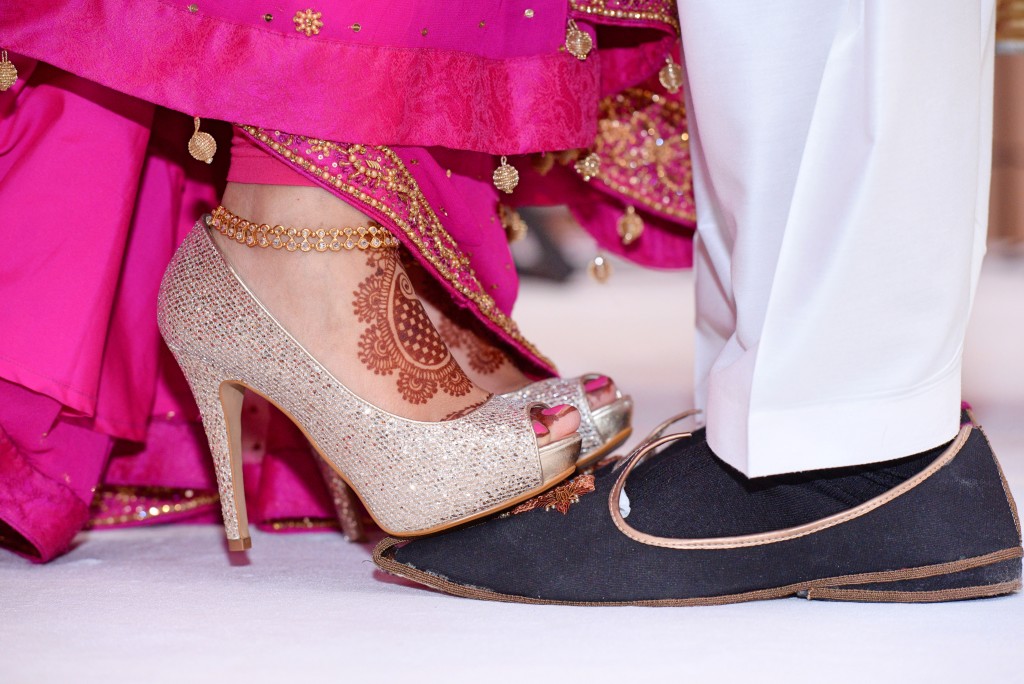 As the event wore on, I found my head getting heavier and heavier. All I could think about as I smiled and posed for photos was of lying down and falling asleep. I started feeling so dizzy that I couldn't even eat the food at the wedding or try the wedding cake! What's worse is my new husband was so worried about me he didn't eat much either. I felt so bad!
Now that I think back to my wedding day, I wish I could have slapped some sense into myself. I hardly enjoyed the day and just stressed everyone out around me. I tried to be calm, but I was feeling so many emotions that I was just a mess. By the time the event finally came to a close, I felt numb. As my family and friends cried and hugged me goodbye at the Rukhsati, I remember feeling so strange.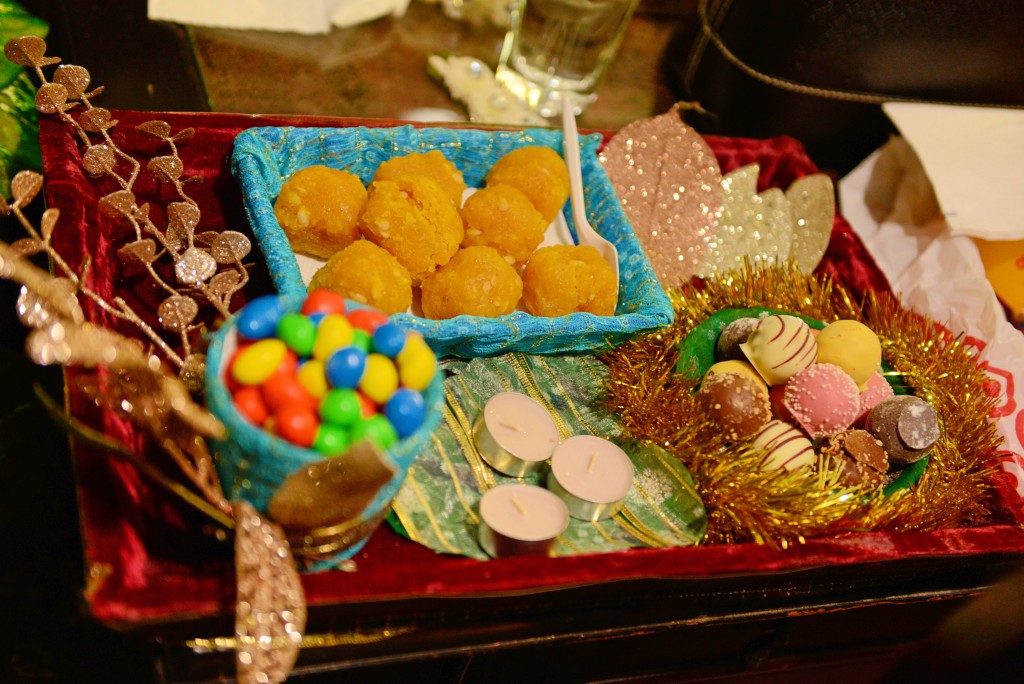 I often find myself thinking back to this time last year; being in teacher's college and thinking that I would never get married. All my friends were getting married or were engaged, and I was depressed about not finding someone. But within a few months of thinking this, I met my fiance and the rest, as they say, is history! Alhamdulilah

Even though we've only been married for a few short weeks, I can't imagine my life without my husband. After being engaged in June, we spoke every day up until a week before the wedding. But what I discovered about him in those seven months pales in comparison to what I know about him now after being married for just a week. SubhanAllah, it's amazing.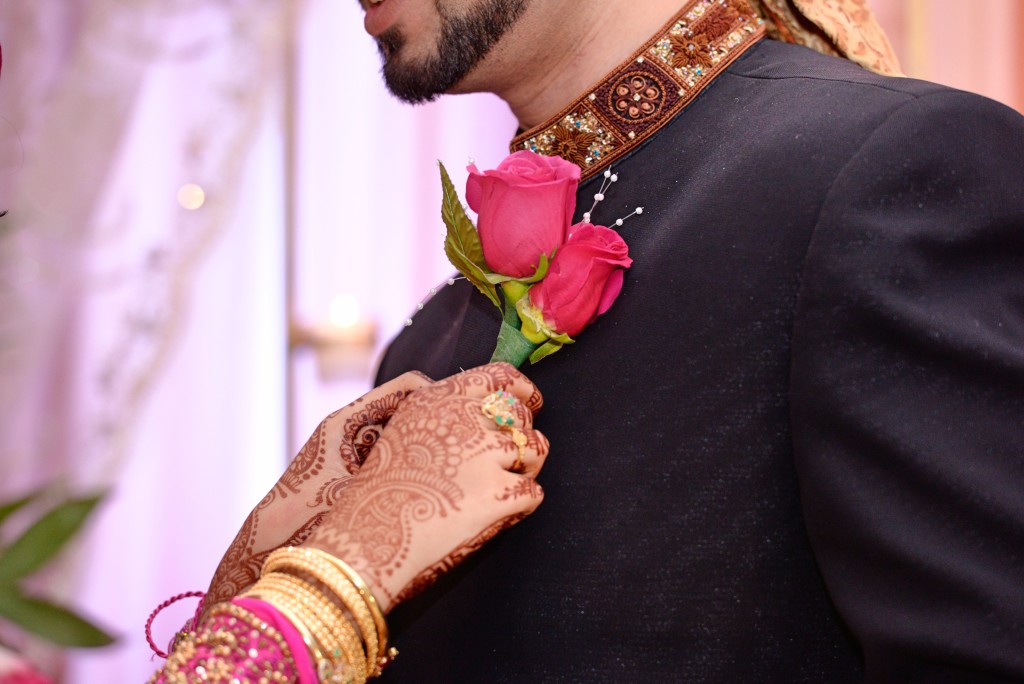 I've been trying to get back into blogging for a few weeks now but there's always something or other going on. This blog, and the other have taken a hit, and I keep feeling guilty about it. But I'm hoping to try to get into a new routine soon so I can get back to blogging, writing, and baking. In the meantime, please excuse the sporadic posts!
I hope you're all having a good start to the new year! I can't believe January is almost over! Time is definitely flying.
Anyways, hope you're all well.

Thanks for reading,
Ikhlas