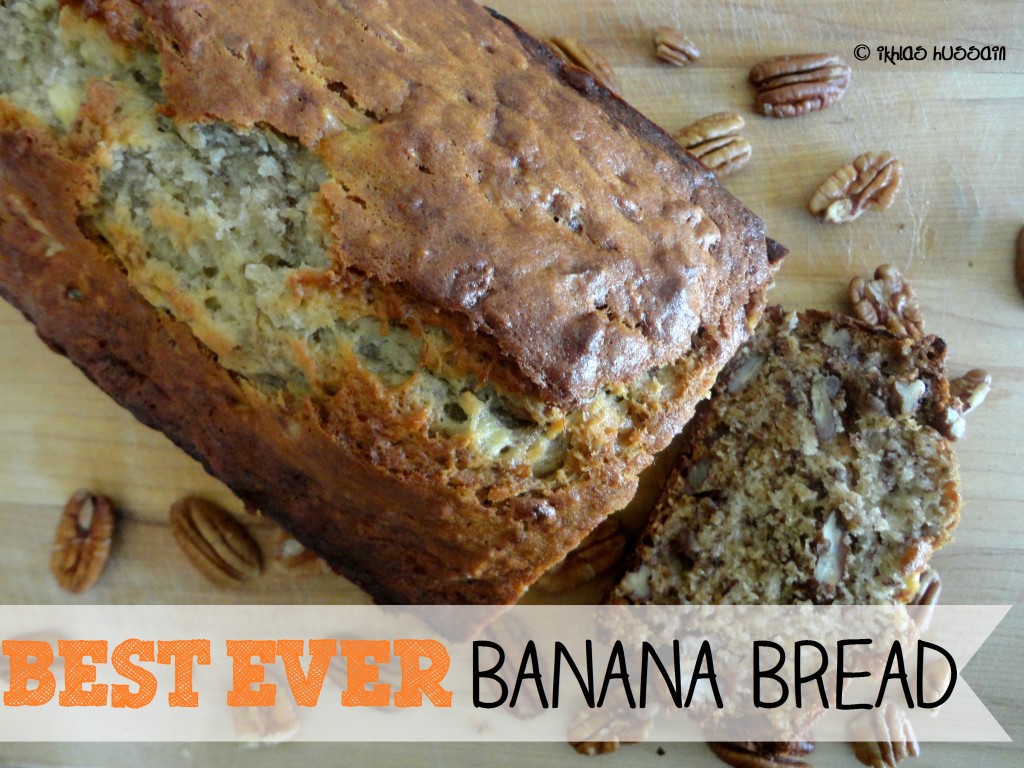 So I'm writing this post via my phone on the way to visit my nephew (don't you just love technology?). Why am I writing this post on the go, you ask? Well I supposed to post this recipe on Sunday, like I said I would in my Friday Things post, but didn't have time. And then I wanted to post yesterday but spent the majority of the day watching movies with my brother, and didn't touch my computer all day. -_-
Today I woke up with determination that I would write and post this recipe today if it's the last thing I would do, but then my mom mentioned that she has a meeting in the city my nephew lives in so I just couldn't help myself and hopped in the car to visit him. 😀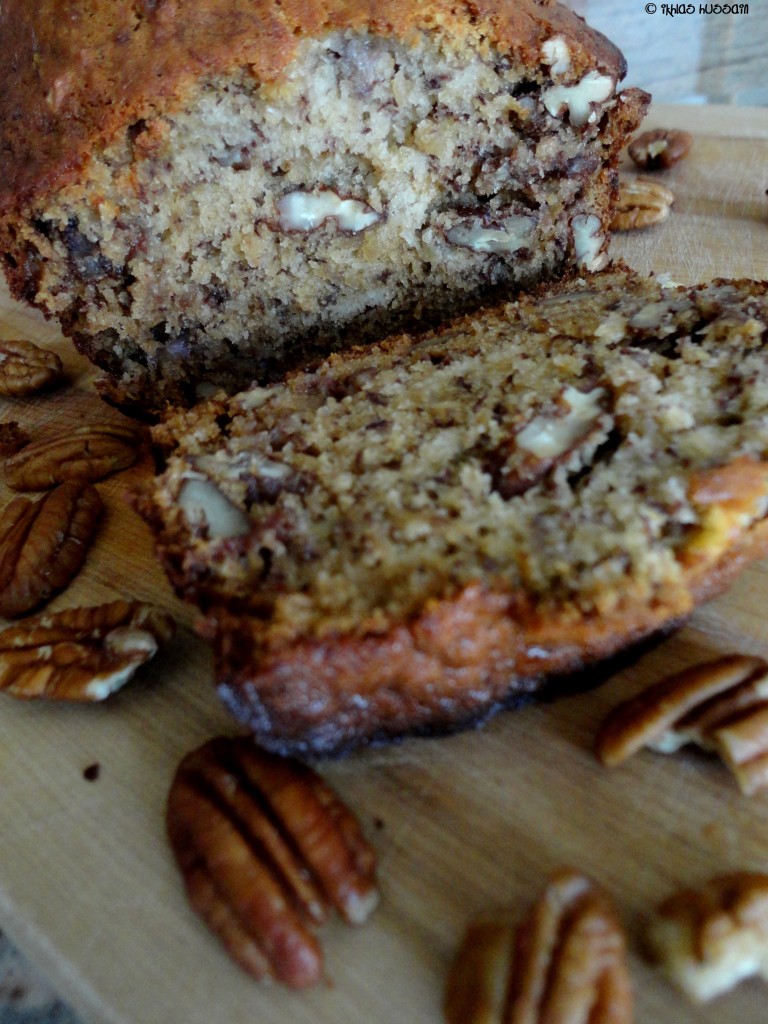 Let's talk about this banana bread now. When you look at the ingredients and directions of this recipe, there isn't anything special or complicated about it. Everything is easily found and it takes about fifteen minutes to prepare,  which makes it one of my family's favourite recipes.
My dad was gone to Pakistan for a few months, and he came back last week on Tuesday. In honour of him coming back, I made this Banana Bread because a) it's actually his original recipe, and b) it's his favourite 'dessert'. 😀
It's the same as my recipe for Streusal Topped Banana Muffins, but technically this recipe was born first.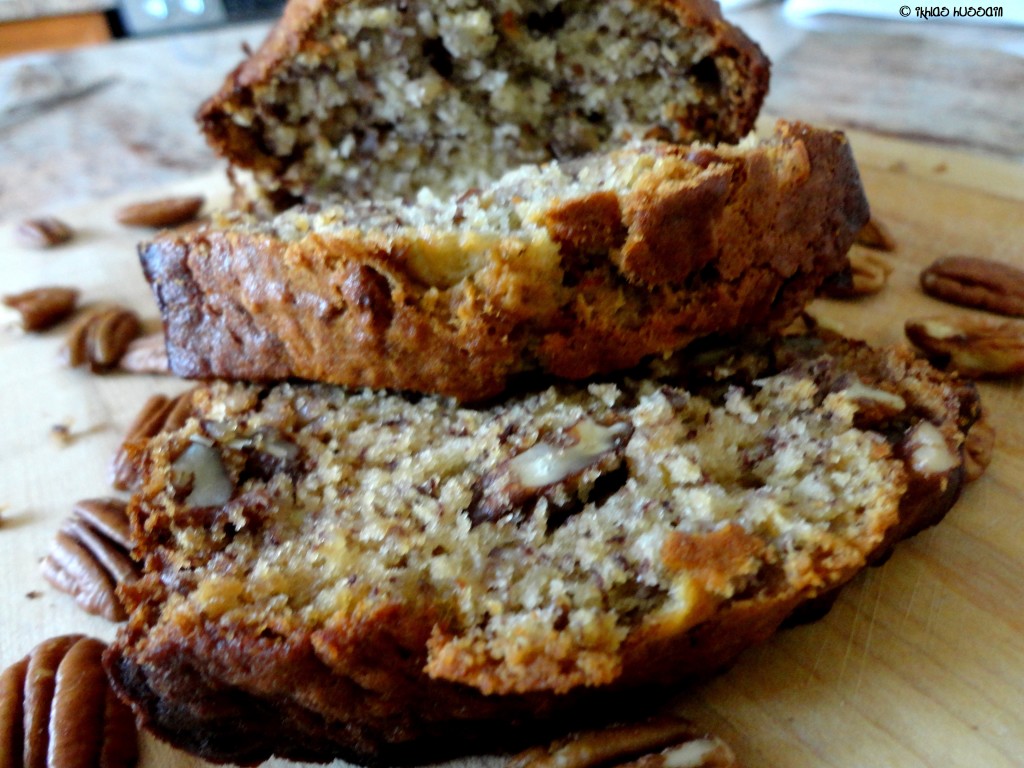 Quick to make, this Banana Bread recipe bakes up a moist banana crumb, jam-packed with banana flavour and crunchy pecans. You can easily omit the pecans if you're not a fan of nuts, and can  even add 3/4 cup semi sweet chocolate chips. I've done both and it's turned out amazing.
So if you've got a bunch of rotting bananas in your house, mush 'em up and make this banana bread! 🙂
Ingredients
3 or 4 bananas, ripe and mushed
1/3 cup melted butter
3/4 cup sugar
1 egg
1 teaspoon vanilla
1 teaspoon baking soda
pinch of salt
11/2 cup flour
3/4 cup pecans or walnuts, chopped
Instructions
Preheat oven to 375 degrees F. Grease a loaf pan and set aside.
Mash up your bananas in a large bowl, and then add in the melted butter. Mix in the egg, sugar, and vanilla. Then add in your baking soda and salt, and mix well. Lastly, add the flour and pecans. Do not overmix.
Bake 55 to 60 minutes, or until a toothpick inserted in the center comes out clean. Let cool completely completely before slicing. Store in an airtight container.
http://ikhlashussain.com/2013/06/recipe-best-ever-banana-bread/
The key to making the best banana bread, I've learned, is in the ripeness of the bananas. The more ripe (i.e gross looking) they are, the more perfect they are to throw into banana bread. The bananas that you can't imagine eating anymore, the ones that are so ripe and mushy, are the best ones to bake up, since they incorporate the best into the bread.
My family likes things a little crispy, so I always bake our banana bread for a full hour. While the outside is a little crispy, the inside retains its moistness and softness, because of the over-ripe bananas. My family also love nuts, which means our moist banana bread always has crunchy pecans swirled throughout.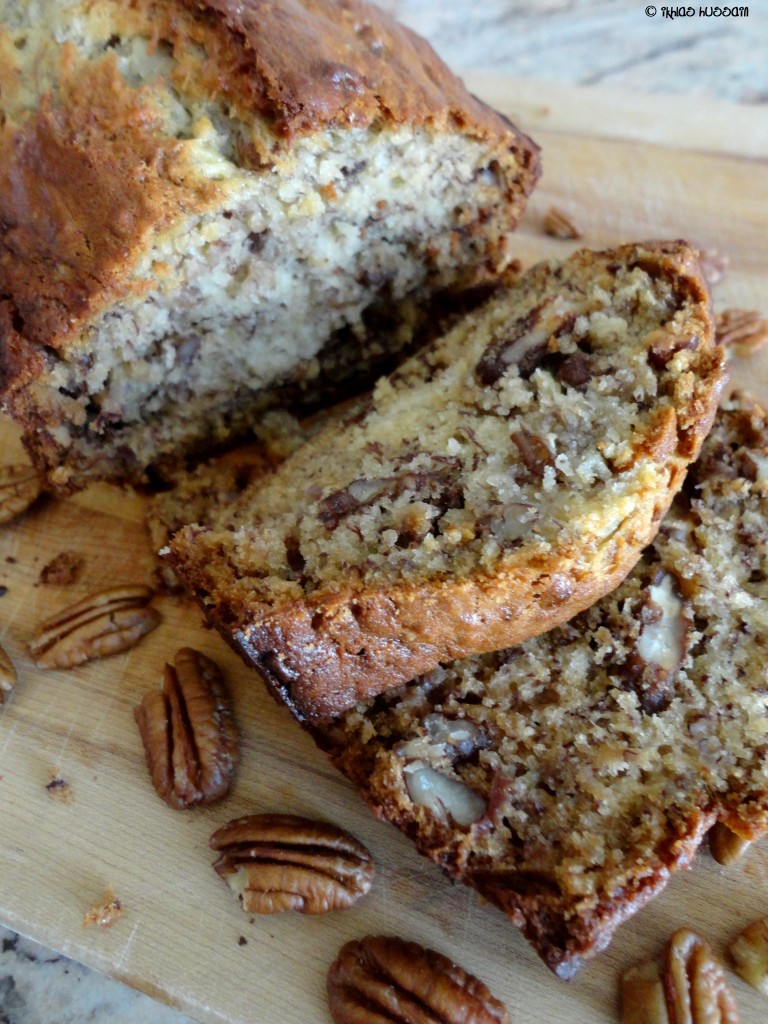 I also love reheating the bread in the microwave, the next day, for ten seconds and then spreading it with a little bit of butter. So bad, but so GOOD. 😀
So if you like my Streusal Topped Banana Muffins, then you'll love this Best Ever Banana Bread. Within minutes the batter comes together, all with readily available ingredients; the only hard part is smelling the lovely scent of the bananas baking up and waiting for it to be done!
Thanks for reading,
Ikhlas