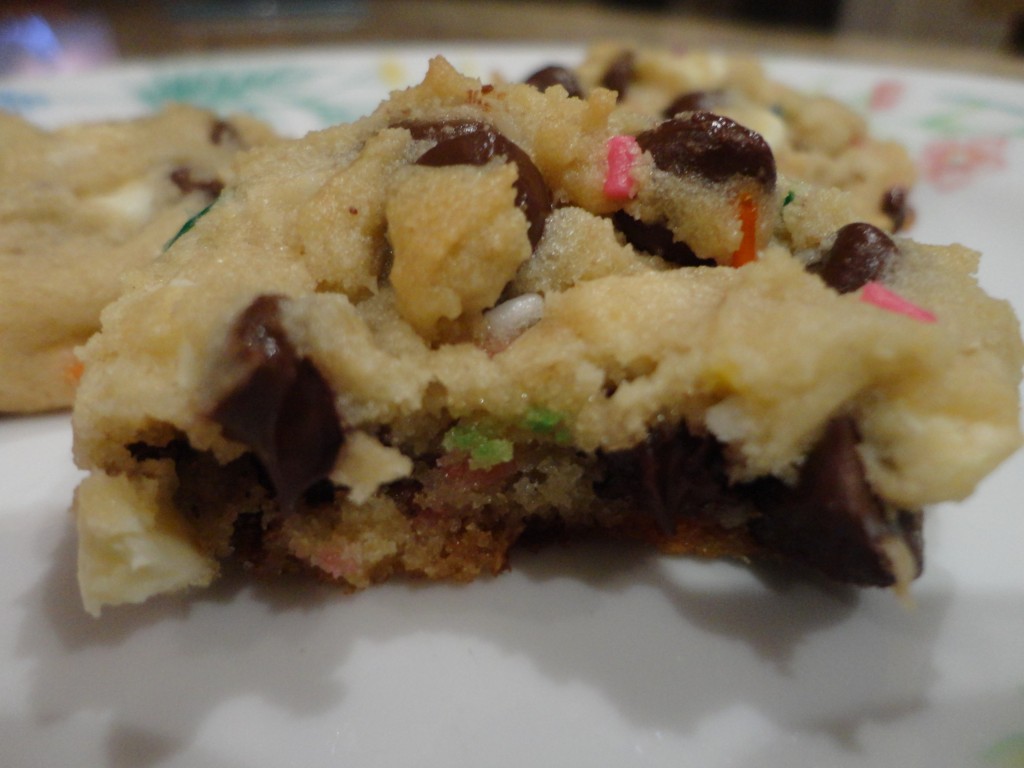 So I told you guys about how I'm trying to cut down on sweet stuff, yeah? Well, I do allow myself one day on which I let me myself eat everything and anything I want, because if I didn't, I'd obviously got crazy. Obviously.
So every week, I get all excited about what to bake up for that week's treat, since I have this whole lineup up bars and cupcakes and brownies and pies and other cool stuff I want to bake. Seriously, I think I know what I'm making every week from now until December.
But for some STRANGE reason, I always end up baking cookies. Don't ask me why. I see the pictures of everything else on everyone else's blogs, and the cookie monster in me just wants the cookies. Like, yesterday.
So here, yet again, is another cookie recipe (surprise, surprise)! The original recipe from Sally's blog included cake batter, but because I found my last recipe with cake batter a little bit too sweet, I decided to just cut the cake batter and make these into regular, moist and chewy cookies.
Hope you enjoy! 🙂
Double Chocolate Chip Sprinkle Cookies
Inspired by Sally's Recipe
Ingredients:
2 cups and 2 tbsp flour
1/2 tsp baking soda
3/4 cup butter
1 cup brown sugar
1/2 cup granulated sugar
1 egg
1 egg yolk
1 tsp vanilla
1 cup semi-sweet chocolate chips
1/2 white chocolate chips (I used the mini ones)
1/2 sprinkles
Directions:
Preheat oven to 375 degrees F.
Then mix together your flour and baking soda in a small bowl. Set aside.
In another bowl, cream your butter and sugars. Add egg, egg yolk and vanilla.
Slowly add in the flour mixture, mixing well after each addition. Then add in your chocolate chips and sprinkles, making sure they're well mixed in.
Scoop out the dough onto a parchment lined cookie sheet and refrigerate the dough for at least half an hour (the longer the better).
Bake the chilled cookie dough for 10 to 12 minutes, or until edges are golden brown. The centres should be soft when you take them out, since they'll set after you leave them out for a bit.
When these cookies cool, they're so soft and chewy and chocolatey! The sprinkles add a little bit of a crunch, while the chocolate just melts in your mouth.
Sorry about how bland this post is; I've got a sore throat as I'm typing this, and I'm starting to feel feverish.
But anywho! I hope you try these cookies out, and let me know how you get on! 🙂
Thanks for reading,
Ikhlas