So life has suddenly become more hectic. I don't know why though. I haven't exactly been doing anything new lately, but between shopping for shoes and new makeup for my cousin's wedding, practising dances, an Islamic convention, cooking, and cleaning, I haven't had very much time to sit back and relax.
We had a long weekend this past weekend in Canada (Victoria Day), and I was running around the whole weekend like a chicken with my head cut off. I was so busy I didn't even have time to bake! Imagine that…
I was a bit stressed out, because I realised I didn't have a recipe to share with you guys this week, but then remembered that I had make a batch of my Ultimate Chewy Chocolate Chip Cookies the week before and had taken new pictures. 😀
So technically this isn't a new recipe, since I've already shared this recipe, under the name of Best Chocolate Chip Cookie, but the pictures are so horrible that I decided to just do a new and updated post. Plus, I wanted to share this recipe with all my new Facebook fans and followers of the blog. Seriously, these cookies are amazing!
Some people prefer crunchy cookies, but I'm in the soft and chewy cookie camp. 😀 I prefer my cookies so soft they look underbaked (but don't worry they're completely fine to eat!). Chewy, buttery dough studded with a heaping serving of semi-sweet chocolate chips are the ultimate comfort dessert.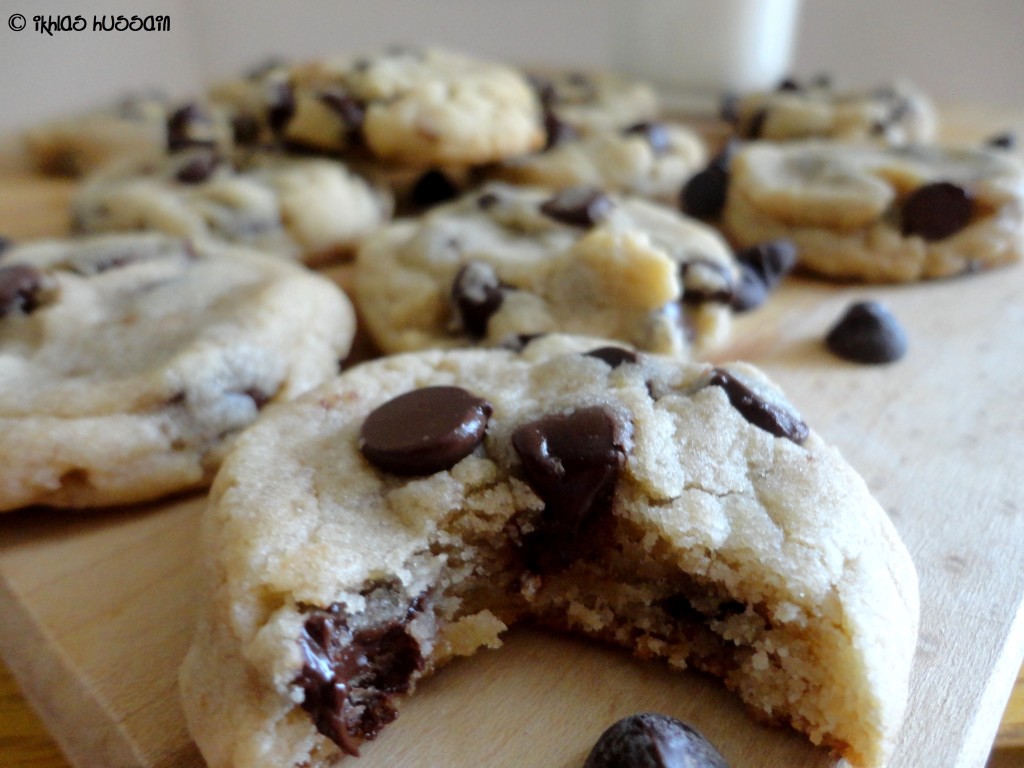 They're already quite chewy, but I like warming them up for 10 seconds in the microwave the next day, to get the chocolate chips all melty and then I dunk them in a tall, cold glass of milk. SO good!
Whether you like them warmed up or room-temperature, drowned in a glass of milk or eaten separately, nothing beats a classic chewy chocolate chip cookie. So if you haven't tried this recipe yet, please do! I promise you won't try another chocolate chip cookie recipe ever again. 😀
The Ultimate Chewy Chocolate Chip Cookie
Ingredients
2 cups and 2 tbsp flour
1/2 tsp baking soda
3/4 cup butter, room temperature
1 cup brown sugar
1/2 cup granulated sugar
1 egg, plus 1 egg yolk
1 tsp vanilla
1 cup semi-sweet chocolate chips
Instructions
Sift together the flour and baking soda, and set aside.
Cream your butter and sugars. Add egg, egg yolk, and vanilla.
Slowly mix in the flour mixture into the butter mixture, mixing well. Add the chocolate chips.
Scoop out the dough, set on a parchment lined cookie tray, and refrigerate for at least an hour. The longer the better!
Preheat oven to 375 degrees F.Bake for 10 to 12 minutes, or until the edges are golden brown. You want to take them out when they look slightly undone, as they'll continue to cook even after you take them out. Let cool completely and store in an airtight container.
http://ikhlashussain.com/2013/05/recipe-the-ultimate-chewy-chocolate-chip-cookie/
These are probably the softest cookie recipe I've ever come across. They don't become all hard the next day, but stay just as soft. I'm not too sure about the third day, because they're usually gone before then!
Chilling the cookie dough is a bit annoying, especially if you hate waiting (like me), but it's a necessary step. It allows the butter to thicken up and and the dough to solidify so that the cookies don't spread so much when they bake. This is what helps them become all thick and puffy, instead of thin and crunchy.
What I usually end up doing is freezing half the batch of cookies for a later date. I refrigerate the whole batch first for an hour, and then before baking, I take out some cookie dough balls and put them in a freezer safe bag in the freezer. When I want to bake them at a later date, I just keep them in for a few minutes longer. It's so convenient and so perfect for satisfying those URGENT homemade cookie cravings (or is that just me?).
Melt-in-your-mouth-good, these Ultimate Chewy Chocolate Chip Cookies are a classic. 🙂 I hope you try them out!
Thanks for reading,
Ikhlas