I've been borrowing my brother's DSLR camera more and more lately, and I have to say, I'm having a lot of fun with it! When I first started taking pictures with it, a few weeks ago, I didn't really have the hang of it and just used it like a point-and-shoot, which it obviously isn't.
I didn't really know how to play around with any of the settings to get shots like I see on Pinterest all the time, but my brother showed me some of the ways to change the settings to get the best shot. And I'm having way too much fun with it! I've been baking a lot more just to have a reason to photograph.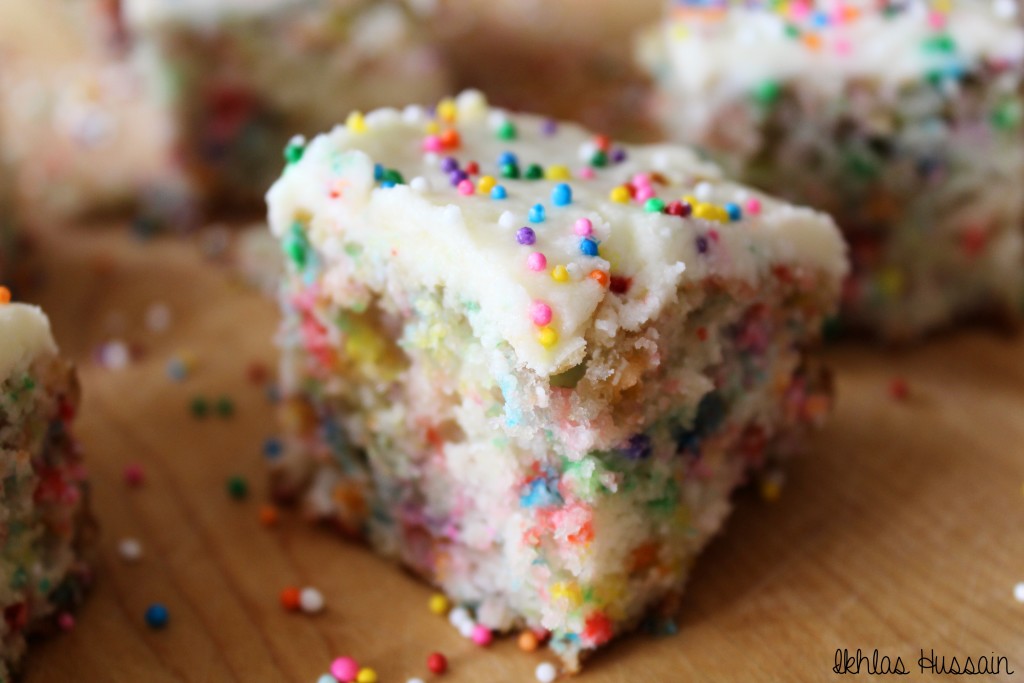 We were having some kids over at our house and I was scouring my Pinterest boards for something easy and fun to make. Then I realised nothing is more fun or kid-friendly than sprinkles!
What I love about this recipe is it's ease. It comes together in a matter of minutes and ends up tasting like your favourite sprinkle birthday cake from when you were a kid. The sweet vanilla buttercream is literally the icing on the cake!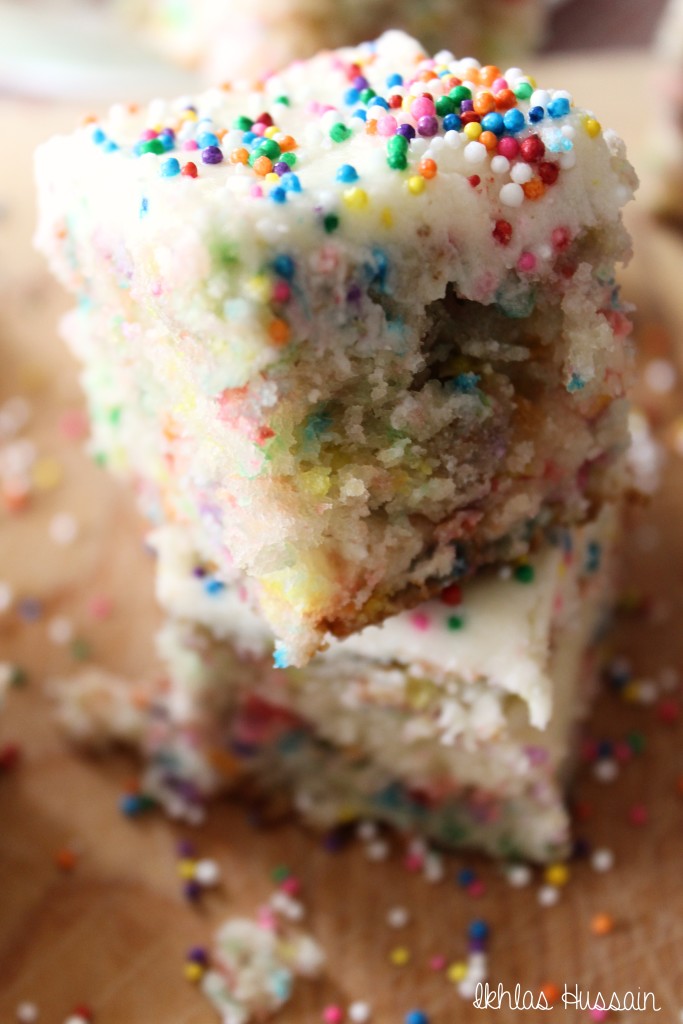 So if you're looking for a reason to have birthday cake without a birthday, try this easy recipe out!
Ingredients
Cake:

1 cup flour
3/4 cup granulated sugar
2 tsp baking powder
pinch of salt
1 egg
1/2 cup buttermilk
1/3 cup sour cream
1/4 cup vegetable oil
1 tsp vanilla
1/2 cup sprinkles

For the buttercream:

1/2 cup butter, at room temperature
1 tsp vanilla
pinch of salt
1-2 tbsp milk (as required)
1 1/2 cup icing or confectioner's sugar
1/3 cup sprinkles
Instructions
Preheat oven to 350 degrees F. Grease a 8x8 inch baking pan and set aside.
In a large bowl, mix together four, sugar, baking powder, and salt. Set aside. In another, smaller bowl, whisk egg, buttermilk, sour cream, oil, and vanilla.
Slowly add the wet ingredients to the dry until just combined. Fold in the sprinkles, being careful not to overmix.
Pour into greased pan and bake for 25 minutes or until toothpick inserted in the centre comes out clean. Let cool completely before frosting.
For the frosting, whip butter until smooth and creamy. Slowly add the icing sugar and vanilla and mix well. If frosting is too thick, add a tablespoon of milk at a time until frosting reaches desired consistency. Add a pinch of salt if frosting is too sweet.
Frost cooled cake and add sprinkles on top. Slice and serve.
http://ikhlashussain.com/2015/04/recipe-sprinkle-birthday-cake/
This recipe doesn't require a mixer (except for the frosting) which makes the prep that much easier! It also means that cleanup is a breeze. It's a cake that's quick to make which means that you get to enjoy it so much faster.
I added milk to my frosting, which I find always gives it a smoother consistency and makes it easier to frost. I made my cake with nonpareil sprinkles (the tiny little balls) instead of the other sprinkles, and I found that they bled a lot easier than the regular sprinkles. I was careful not to overmix the batter though as soon as I noticed the sprinkles bleeding.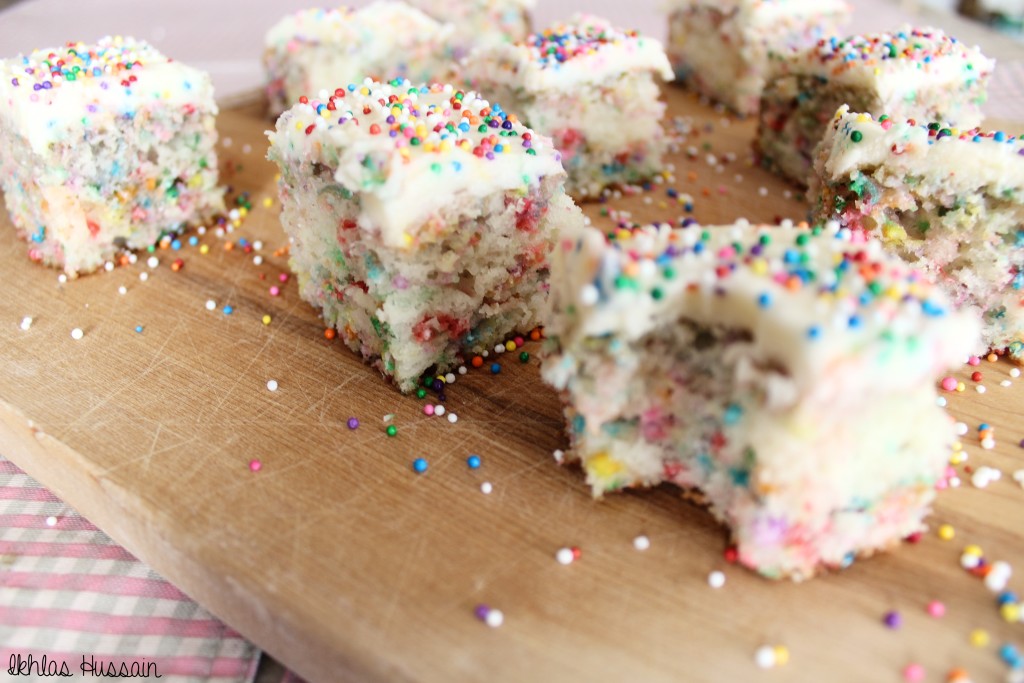 Buttermilk and sour cream make this cake so moist and fluffy. It just melts into your mouth, and the sprinkles on top of the creamy frosting adds a nice crunch.
I've never been a fan of making cakes, because I find them tedious. I prefer cookies, bars, and cupcakes, to be honest. I have yet to master the perfect frosting job. For some reason my cakes always end up lopsided after adding the filling, and frosting them always ends up frustrating me because it never looks as pretty as I want it to.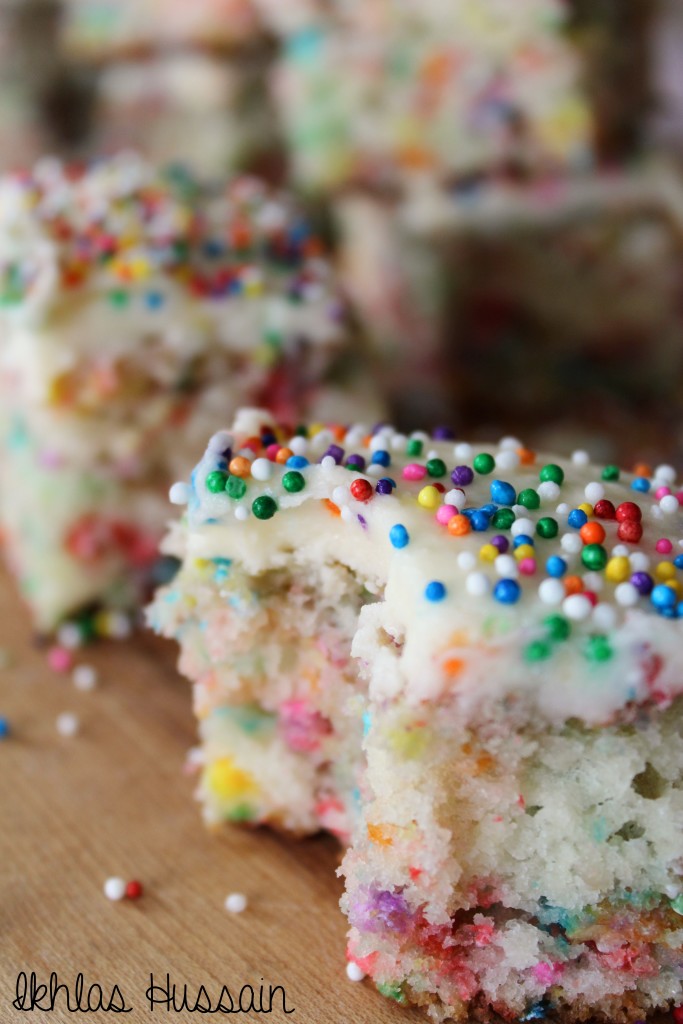 With that being said, my aversion to baking cakes has led me to sorely miss the taste of cakes. There's just something so wonderful about a freshly bakes cake, hot out of the oven. That's why I love sheet cakes. It's like bars or squares, except in CAKE form. I can have my cake without all the fuss of levelling the layers, filling it with frosting, then icing it numerous times. You just chill the cake, frost it once and then you're done! So simple.
Sweet and a little bit playful, this Sprinkle Birthday Cake is perfect for occasions that feel as special as birthdays. Who says you need to have a birthday to have birthday cake?!
So make this cake and celebrate!
Thanks for reading,
Ikhlas