Whoa, it's been a long time since I've posted a recipe! So long that I've forgotten how to do it. Do I tell a little story first and then share the recipe or just dive right into the recipe?
I'm just kidding, but it has been awhile! Taking these photos was obviously a mission, especially with a baby! I probably should have tried earlier, when she wasn't mobile. But now that she can crawl and walk while holding furniture, nothing is safe. Eating my food is a mission. Even if I've fed her not only five minutes before, she'll come scrambling across the carpet to me, her mouth wide open as she stares at me devouring my lunch. So of course I have to share.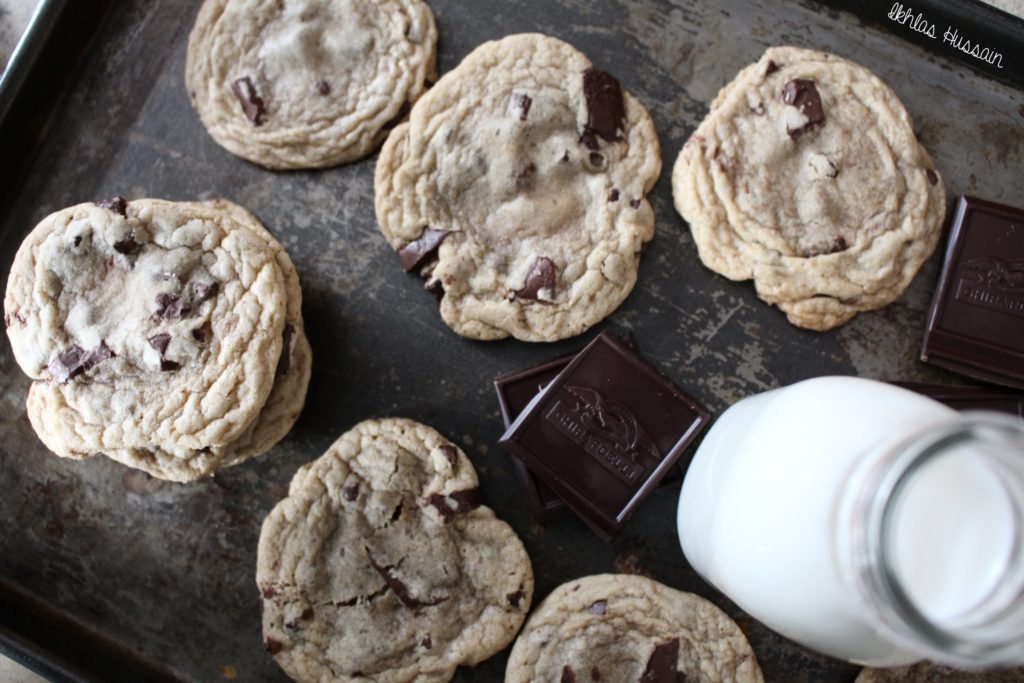 I currently don't have a dining table, only a coffee table, which is of course within easy reach for her. Setting the table for dinner is a hazardous endeavour. Her little hands reach everything so I have to be very careful with hot items so she doesn't burn herself. My husband and I are constantly shifting things and trying to move dishes out of her reach so much so that the couch ends up becoming the table with all the food we have to store on it during dinner.
Recently I've rediscovered my love for her activity bouncer. Before, it was a means of fun and play, now it's a way to imprison her (if only for a few minutes)! She is so fast now with her crawling that she doesn't stay put. Before she would stay in the family room, but the little madam has become so adventurous now that if I don't shut the bedroom doors before I head into the kitchen, I might find her in one of them! So the activity bouncer is my secret weapon for when I absolutely need her to stay in one place and not move, like during mealtimes or when I need to vacuum or during this photoshoot.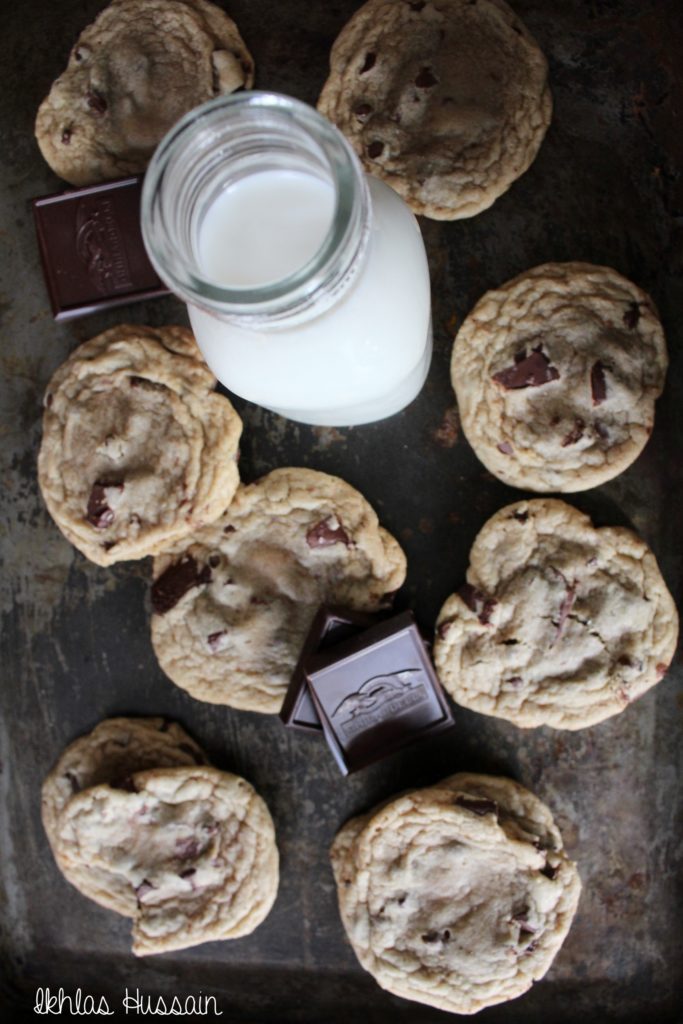 The other day I had a hankering for a crispy and thin cookie. If you've been following me on the blog for awhile, you'll know of my love for the chocolate chip cookie. I've gone on and on about it pretty frequently! As I bake up my beloved CCC's, my go-to recipe used to be these cookies, but then it changed to this recipe (minus the sea salt if I wasn't in the mood). Basically I got tired of waiting for butter soften and liked how you could just melt the butter. Lately I got so lazy that I don't even refrigerate the dough LOL. This recipe is still my go-to recipe for thick and soft cookies, so if you're in the mood for a different cookie, I definitely recommend my Chocolate Chunk Cookies with Sea Salt.
But like I said, I wanted a thin and crispy cookie. I've seen this recipe from Buzzfeed on my Facebook feed a million times and wanted to try something new.
Crispy Chocolate Chip Cookies
Ingredients
1/2 cup butter, melted
1/2 cup granulated sugar
3/4 cup brown sugar
1/4 tsp salt
1 egg
1 tsp vanilla
1 1/4 all-purpose flour
1/2 tsp baking soda
2 cups chocolate chunks or chips
Instructions
Melt butter in the microwave in 20 second increments. Add both sugars and mix well until creamy. Add egg and vanilla extract.
Mix flour, baking soda, and salt in a separate bowl and add slowly to the wet mixture, being careful not to over-mix. Fold in chocolate chunks and mix well.
Refrigerate for at least 30 minutes or put in the freezer for 15 minutes. Scoop out dough with cookie dough scoop and place on parchment lined baking tray 3 inches apart.
Bake for 8-9 minutes or until edges are crispy but centre is still gooey. Let cool completely on tray. Cover and store in a cool place.
http://ikhlashussain.com/2018/01/recipe-crispy-chocolate-chip-cookies/
This recipe calls for chunks, which I am a big fan of! Chunks>chips every single time. The quality of chocolate is so much better in the chunks so that it actually melts. There are actual ribbons of chocolate when you use chunks, which makes for a better chocolate experience. I actually ordered a bunch of Ghirardelli chocolate baking bars from the US because I'm obsessed with their chocolate. And these cookies did not disappoint!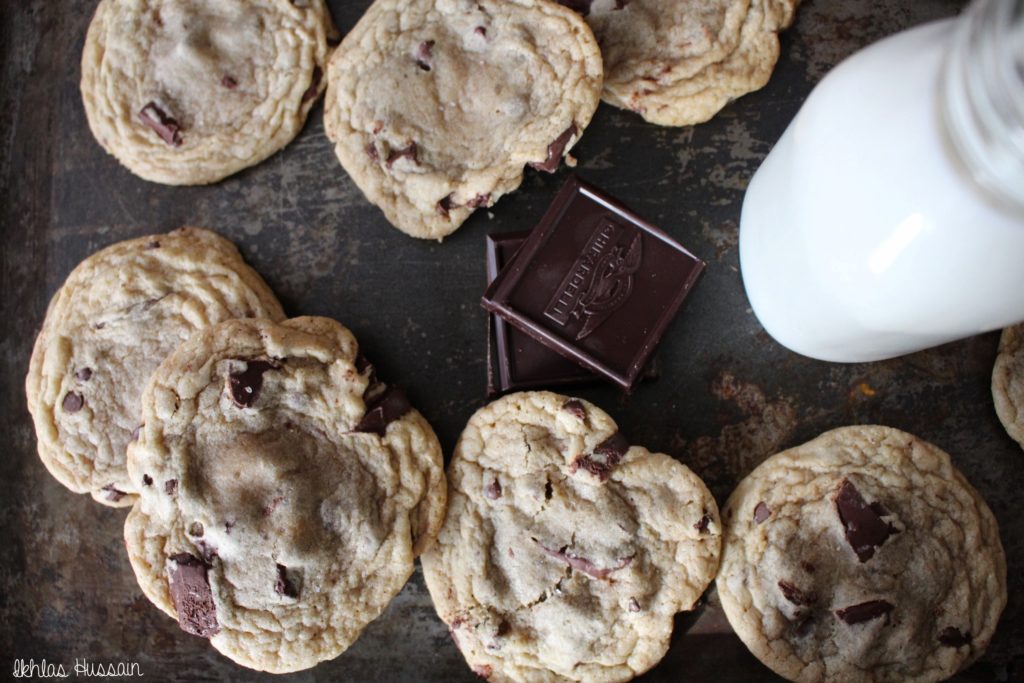 I used a combination of dark/bittersweet chocolate and semi-sweet chocolate. Each bar has 8 squares so I used 4 squares of each and broke them into chunks with my hands, and then further broke them down with a knife. But the dough looked a little lacking so I added some mini chocolate chips at the last minute. You could totally go with all chocolate chips or all chunks or mix and match like me.
I underbaked my cookies, as I usually do, which is why they look a bit doughy in the middle. This is the trick to chewy cookies, my friends. Always underbake and take them out of the oven when the edges are set but the middles are doughy, since they'll continue to cook on the mat for a few minutes. This will give you a chewy, crinkly-top cookie that will take you to right back to your childhood of lunchroom cookies.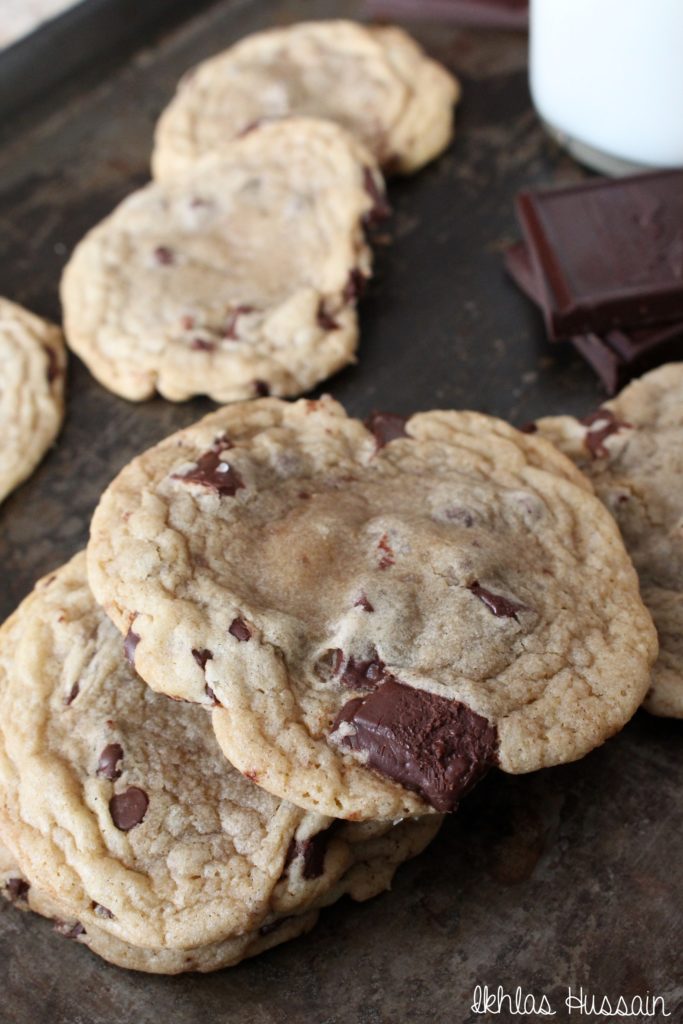 Also, you MUST allow the dough to chill for this recipe! I had read the comments and many people complained about how flat the cookies were. I was in the mood for a flat cookie but not an invisible one, and so I knew that chilling would prevent the dough from become one big mega cookie in the oven. As you finish mixing the dough, you'll see how soft it is. It reminded me of the dough I use for my cookie bars, very soft and sticky, which is fine for bars, which bake up in a deep dish pan. But not for cookies.
I was impatient and I wanted cookies asap so I stuck the dough in the freezer for about 15 minutes instead. This hardened the dough up faster than the 30 minutes recommended in the fridge. So if you have time, you can put them in the fridge for 30 minutes or longer, or you can use the freezer trick like me. As the cookies cooled and hardened, I could see how thin they were and knew that if I left them in there longer, they wouldn't have been so thin.
But it was fine, because I was in the mood for a crispy around the edges, soft and gooey in the middle, crinkly on top cookie. And that's exactly what I got! If you grew up on the Pillsbury slice and bake cookies with the artificial aftertaste, you will love these. They are chewy and crispy, without the aftertaste, and with rivers and puddles of melted chocolate throughout. Best eaten dunked in a cold glass of milk, these cookies are so addictive! Best part is you don't need a mixer and so they come together in one bowl which means minimum mess.
So if you're in the mood for the ultimate comfort dessert, try these Crispy Chocolate Chip Cookies; they're calling your name.
Thanks for reading,
Ikhlas