By now, you all must know how obsessed I am with the Chocolate Chip Cookies. They're my ultimate comfort food. I make them when I'm craving something chewy and chocolatey. As a creature of consistency, I like sticking to the recipe that has held through thick and thin for me. But now things have changed…
GUYS, I think I've discovered the secret to the most amazing chocolate chip cookies. And they involve chocolate chunks, not chips! Yes, that might seem like a fundamental thing to change, but trust me on this. It's SO much better!
When the chocolate chunks melt, they create these rivers of chocolate through the cookies that are absolutely delectable. Instead of having dried up chips, you have this gorgeous chocolate pooling throughout your cookie and it's just amazing. And because of their size, you can probably still have a pretty good chocolate to dough ratio, if you're big on that (like me)…
Adding chunks instead of chips (or in addition to, if you're a chocolate-nut like me) might seem like an old hat. Ok, fine, it's not that revolutionary. But add a sprinkle of coarse sea salt? And your cookies are suddenly on a whole other level!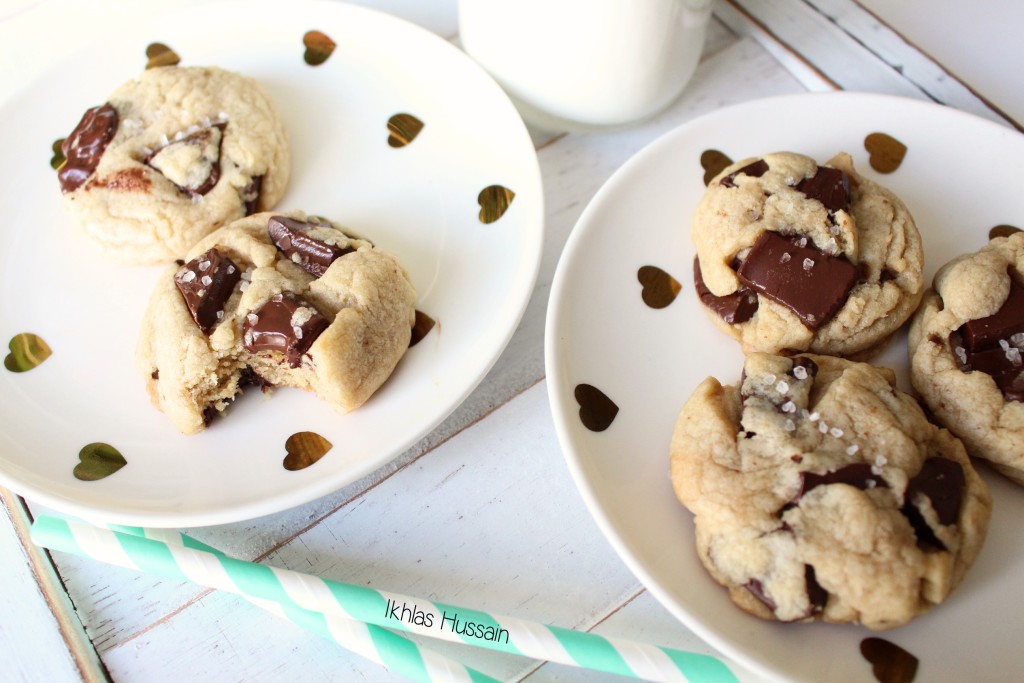 I love the combination of sweet and salty, and it is absolute perfection in this cookie. The salt provides a contrast to the sweetness in the chocolate and works to heighten it, if you can believe that. It's just the perfect combination of sweet and salty.
Also, can I just make a small comment here about how photogenic these cookies were? I seriously felt like a photographer on Canada or America's Next Top Model, going "Work it, girl!" "Give me that pouty face!" "Ooh, these angles on your face, girl!" Seriously though. These cookies were so beautiful with sparkly coarse sea salt sprinkled atop their gorgeous chocolate chunks. They were calling my name throughout the whole photoshoot. But I resisted. (Except obviously for that small bite I took for the purpose of these pictures. You're welcome.)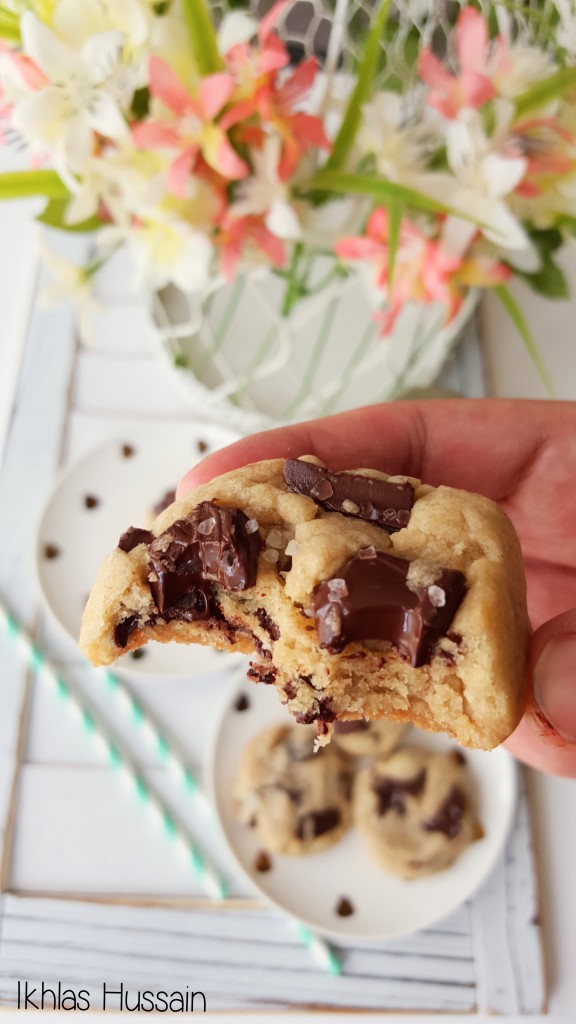 Okay, enough of my rambling. Let's get to the recipe!
Chocolate Chunk Cookies with Sea Salt
Ingredients
3/4 cup butter, melted
1 cup brown sugar
1/2 cup granulated sugar
1 tsp vanilla
1 egg
1 egg yolk
1 tsp baking soda
1/2 tsp salt
2 1/2 cups flour
2 cups chocolate chunks
Coarse Sea Salt
Instructions
Preheat oven to 350 degrees F.
In a small bowl, mix dry ingredients: flour, salt, and baking soda. Set aside.
In a microwave bowl, melt butter in increments of 20 seconds until completely melted. Mix butter with brown sugar, granulated sugar, and vanilla. Add egg and egg yolk.
Slowly add dry ingredients to wet ingredients, being careful to scrape the sides of the bowl. Mix chocolate chunks by hand. Scoop dough and set on parchment paper lined baking sheet and refrigerate for 30 minutes.
Bake for 9 to 11 minutes or until the edges are golden brown. Remove from the oven and immediately sprinkle with coarse sea salt. Let cool completely and store in an airtight container for up to one week.
http://ikhlashussain.com/2016/03/recipe-chocolate-chunk-cookies-sea-salt/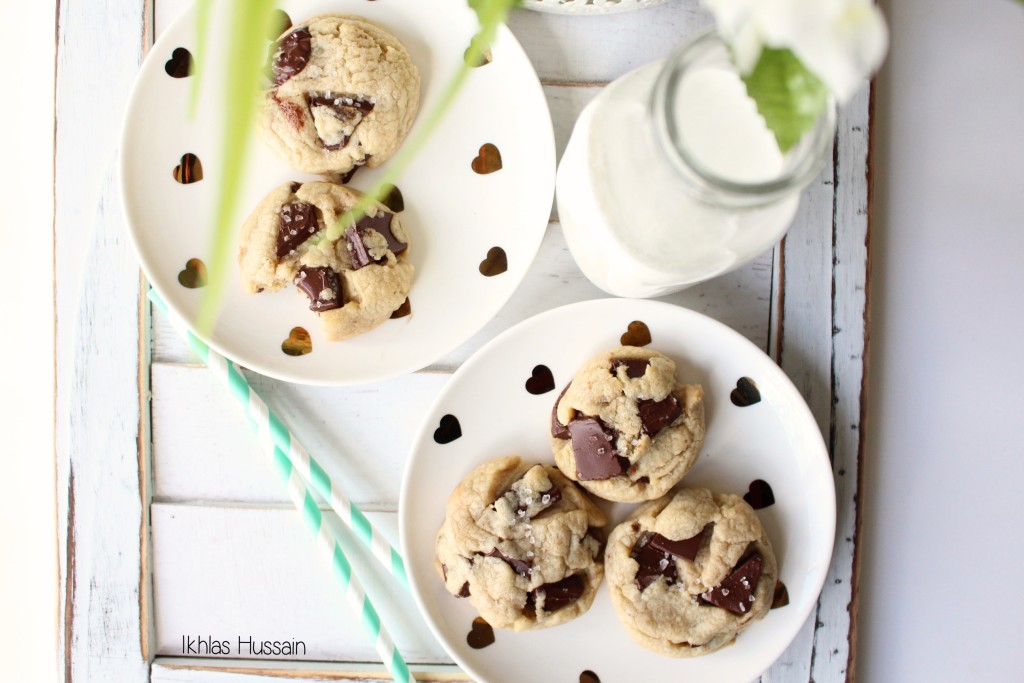 This was my first time using melted butter in a cookie recipe. I've learned that softened butter is the best to get that chewy consistency of cookies, but have been hearing so much about the new trend of using melted butter and browned butter in cookie recipes. This wasn't exactly browned butter, because it was just melted in the microwave and not on the stove, but I thought the cookie would have been a little different. I expected a flatter cookie because of the melted butter, but they were quite thick. That was probably because I ended up sticking them in the fridge. The dough was very soft and sticky so I figured some fridge time was needed, so you could probably skip that step if you want your cookies to be more flat.
This was also my first time using sea salt in a recipe. The original recipe called for the sea salt to be sprinkled on before baking, but I didn't really taste it so I sprinkled it on immediately after baking. Much better.
Also, the original recipe called for only one cup of chocolate chunks. But my dough looked lacking in chunks so I chopped up some more and it ended up being almost 2 cups. As usual, use your judgement!
Adding the salt on top of the chunks of chocolate was just HEAVENLY. It was just such a delicious experience to bite into a warm cookie with pools of chocolate dripping down with a dash of saltiness threading through.It was honestly the perfect combination of sweet and salty I have ever had.
This is also probably one of my favourite photoshoots of all time. Actually no 'probably'. It IS my favourite. Seriously, these cookies looked (and tasted) fabulous no matter which angle I shot them at.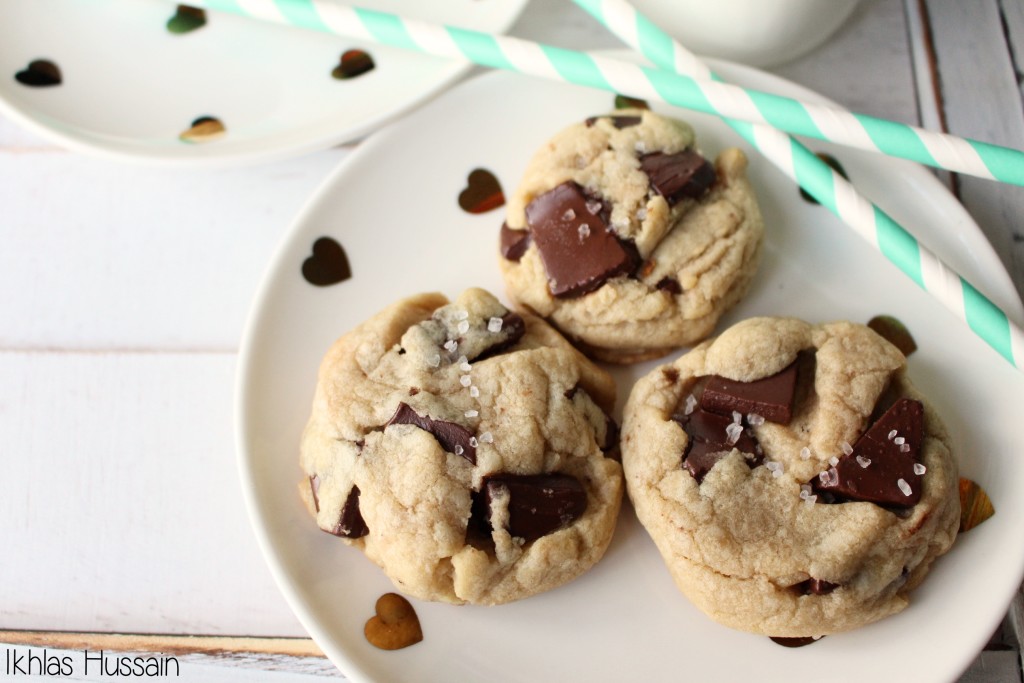 The only problem: I had no milk to dunk these in! You might be looking at these pictures and thinking that I did have milk in the milk bottle in the pictures. But alas, my friends, that is actually half and half cream. I realised that I was completely out of milk right before I started the photoshoot and substituted coffee cream for the purpose of the shots. I thought I was pretty clever at solving the problem until I sunk my teeth into all those glorious chocolate chunks and remembered I had no milk to wash them down with 🙁
But hopefully you won't have that problem when you make these because you'll plan better than me. So make 'em soon and make sure you've got a nice cold glass of milk waiting by the oven for when these beauties come out all hot and bubbly. Trust me, you won't be able to resist them!
Thanks for reading,
Ikhlas