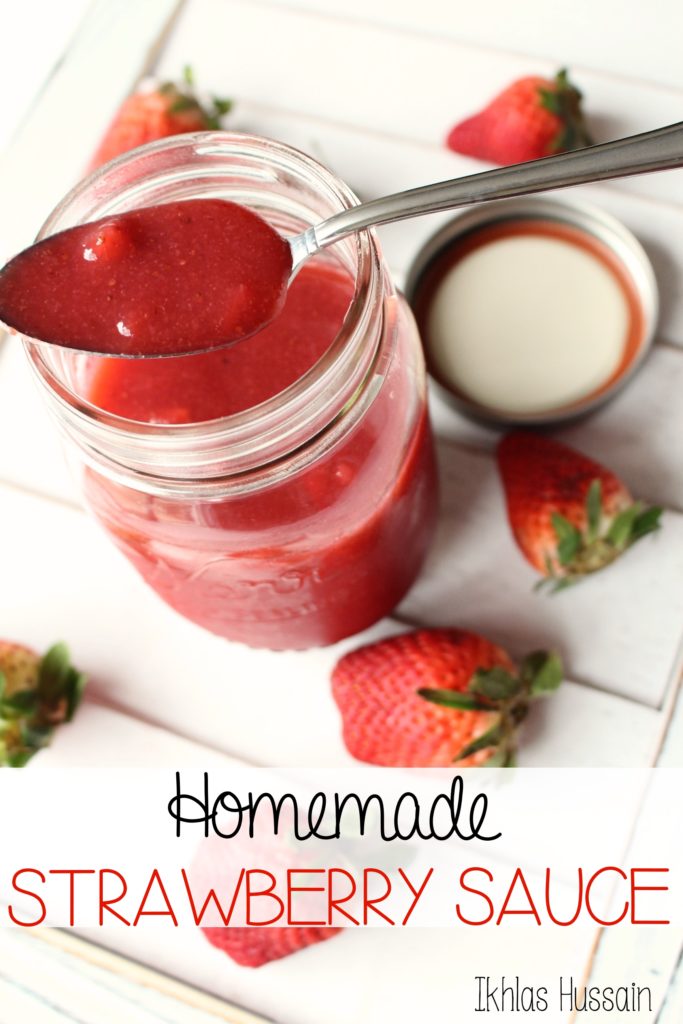 Confession time: I have a terrible memory.
This is why when I was in school, I wasn't so good at subjects where you had to memorize formulas and theories (aka math and science). My brain felt like it had too many holes in it to keep the information. This is why I sucked at learning my times tables as a kid, and still struggle with remembering them to this day!
As a baker, I'm no better. I don't remember the exact measurements of recipes. And because baking is so precise, you can't exactly wing it, like you do with cooking (or I do). A quarter teaspoon of extra salt isn't exactly going to kill you in a chicken dish, but it could mess up your whole cake when you're baking.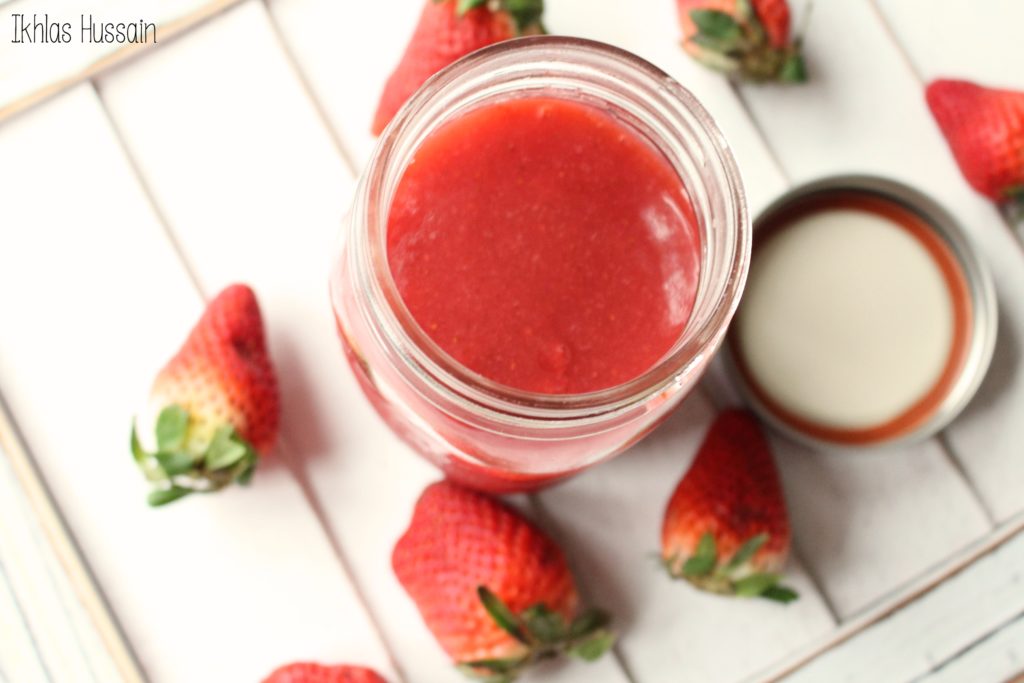 And this is why I don't even bother trying to remember recipes. Pinterest is my best friend and I'm able to pull up my favourite recipes in a minute on my phone. I'm so scatter-brained sometimes that I read over one line of instructions several times sometimes before proceeding to follow it, even recipes I've made countless times, because I want to make sure I get it right.
I've had people watching me ask, "You've made this so many times! Shouldn't you know it by now?" Yes. Yes, I should. But I don't, and so instead of screwing up a batch of my favourite cookies by adding too much baking soda, I'd prefer to just look at the recipe several times.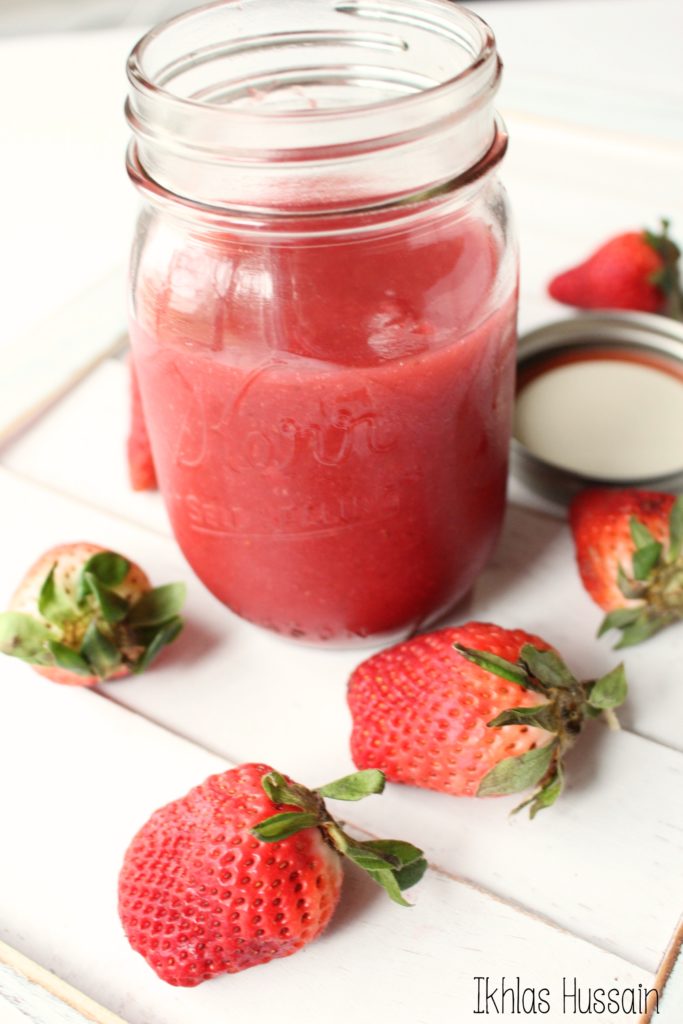 With all that being said, this is not one of those recipes.
Shocking, isn't it?
I actually don't know where I got the recipe for this. It was during one of those down the rabbit hole on Pinterest afternoons that I stumbled upon it and made it. When I went back to find the original recipe, I couldn't, but somehow managed to cobble together the ingredients and instructions and made it again.
This is a recipe that I could probably make with my eyes closed. That's how many times I've made it! This strawberry sauce is my husband's favourite sauce ever, since it's the only thing he'll put on his pancakes.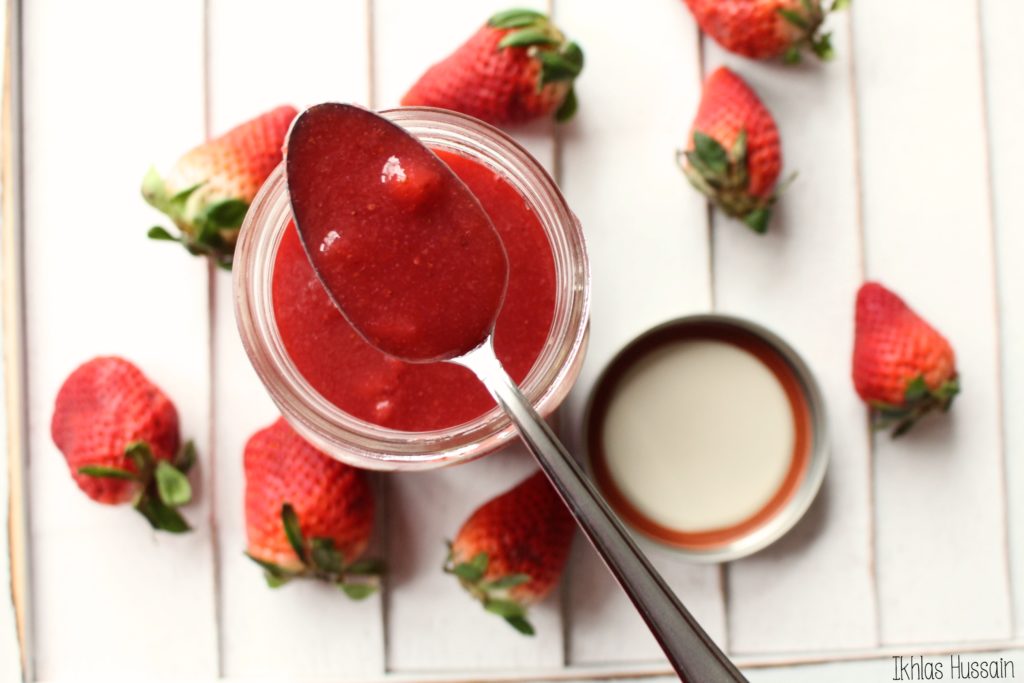 This homemade strawberry sauce tastes amazing on everything. It's the sauce that accompanies my New York Style Cheesecake, is served on pancakes and French toast, and is drizzled on top of plain pound cake. It also tastes amazing on plain vanilla ice cream, and pretty much everything else! It's so versatile.
Homemade Strawberry Sauce
Ingredients
948 grams of strawberries, halved and with the stems removed (about 4 cups)
1/4 to 1/2 cup granulated sugar
1 tbsp lemon juice
Instructions
Remove stems from washed strawberries and cut them in half. Reserve 1 cup strawberries and chop into small pieces. Set aside.
Place strawberries in a blender and puree until completely smooth. Pour into a medium saucepan and turn heat onto medium.
Add sugar and stir the mixture well. When the sauce starts to bubble, add lemon juice reduce the heat to low and let simmer for 20-25 mins. When the sauce has thickened, add chopped strawberries and continue to cook for another 5 mins.
Turn off heat and let cool completely before storing it in an airtight container for 1 to 2 weeks.
http://ikhlashussain.com/2018/01/recipe-homemade-strawberry-sauce/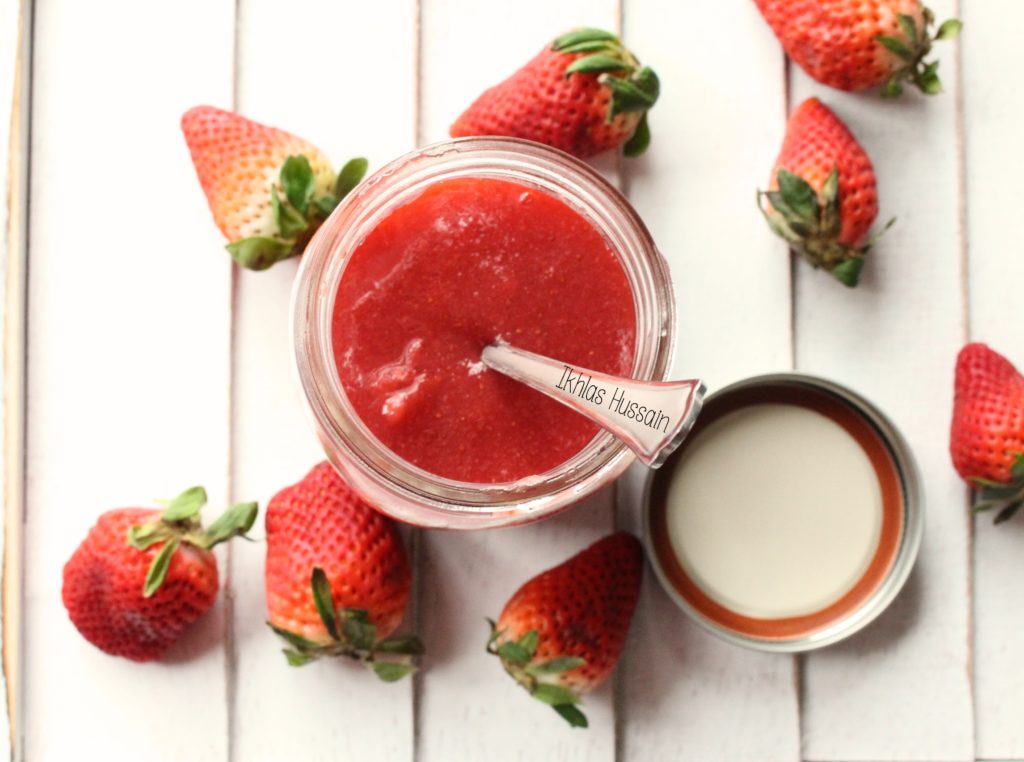 Originally, the sauce was simply liquid but over the years I've started to add small chunks of strawberries into it. I love the little bursts of strawberry that I find swimming in the sauce as I dive into another bite of cheesecake. But if you're not fan of chunky sauces, feel free to omit the chunks and just puree everything together.
Also a note on the sugar: I've given a general measurement to the sugar quantity because it depends on the sweetness of the strawberries. If your strawberries are already very sweet, then lessen the sugar. But if they aren't so sweet, then you can add a little bit more. Start off with half a cup and then add more as required. Also, sweetness is a matter of opinion and preference! Maybe you like your strawberry sauce on the tangy side and more natural tasting or maybe not. It's completely up to you!
Given my husband's love for this sauce, I make it pretty frequently, especially in the summer when delicious strawberries are in season. But regardless of the season, this strawberry sauce is a staple in my house and can often be found in my fridge- but not for long! It usually lasts about a week or two before it's finished.
So whether you're looking for a simple sauce to satisfy your sweet breakfast cravings or want to dress up your delicious and decadent dessert, this Homemade Strawberry sauce is a winner in my book!
Thanks for reading,
Ikhlas