Hello friends!
So I finally have a new recipe to share with you all: Deep Dish Chocolate Chip Cookies. I know, it's been ages right?
I've actually been making these for almost a year but just didn't have a chance to take any photos to share the recipe with you all. The magic all comes from the deep dish cookie pan that I bought. I've been lusting after this pan for a few years now, especially since discovering that it can make deep dish cookies! I think it's official name is the Muffin Top pan and you can get it pretty much anywhere. If you don't have the pan, you can obviously just bake the cookies in a regular pan.
Chocolate chip cookies are my go-to comfort dessert. I love having frozen cookie dough in my freezer which I can then thaw and make cookies whenever I feel like. I'd rather do that than bake 2 to 3 dozen cookies and have them sitting around the house tempting me. This is supposed to help me practice better self-control, but that's in an ideal world…
As you know, I'm a creature of consistency and am a big believer of "if it ain't broke, don't fix it." I've had my go-to chocolate chip cookie recipe perfected for years; it's consistency awesome and I haven't felt the need to try any others. But lately my eye has been wandering on Pinterest and a few recipes have caught my eye. While I love my soft, chewy, and puffy cookies, I've been craving a bit of crunchier, crispier cookie. This recipe didn't actually produce a crispy cookie, but an incredibly thick and chewy cookie. And it's all because of the corn starch.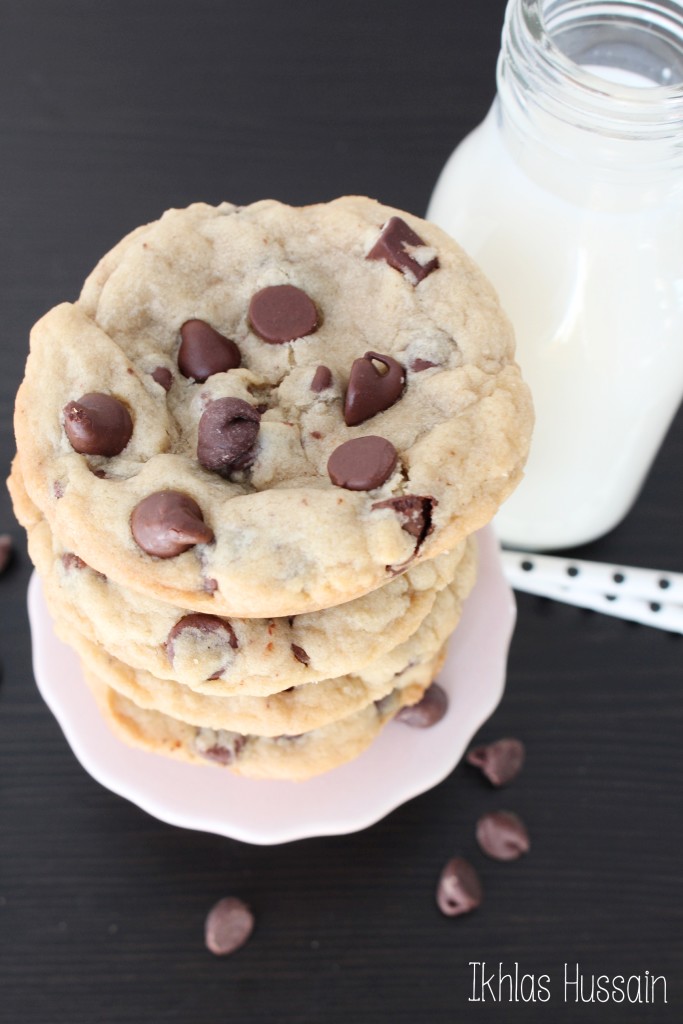 Again, I've seen this CCC (Chocolate Chip Cookie) hack of adding corn starch on many blogs. But I can be a snob and previously refused to try it, because, again, I had the perfect recipe. So why mess it up? But when I couldn't stop drooling over the pictures for this recipe, I decided to give it a try.
And ohmygosh, I'm so glad I did! Because the cookies were so incredibly soft and chewy. The dough was just so buttery and puffy. But don't take my word for it…check out the recipe below!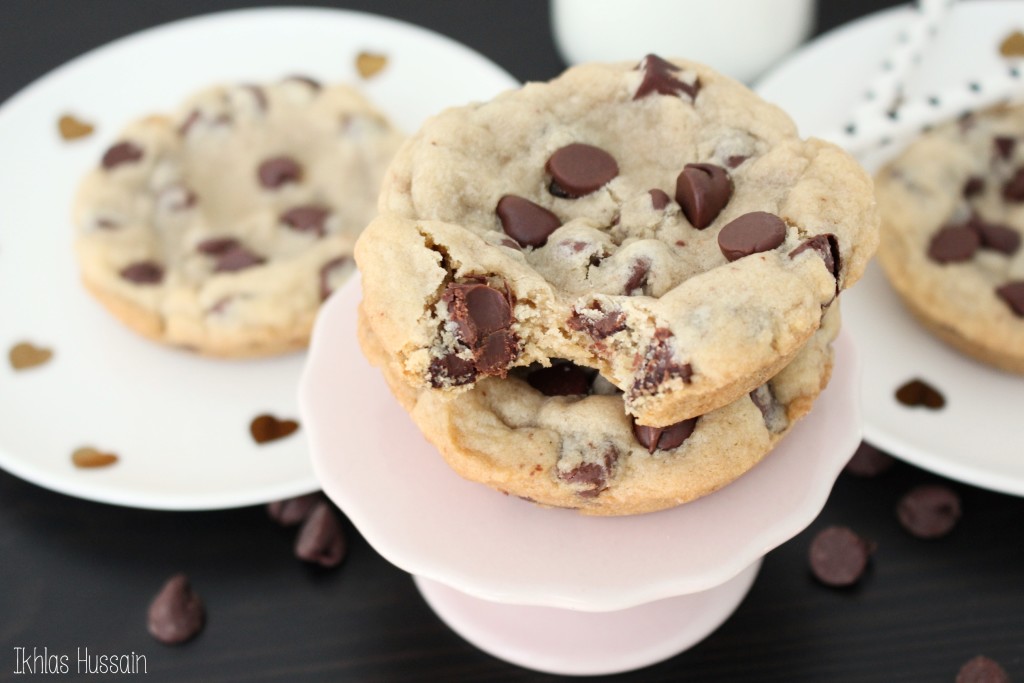 Deep Dish Chocolate Chip Cookies
Ingredients
1 cup butter, softened
1 cup brown sugar
2/3 cup granulated sugar
2 eggs
2 tsp vanilla extract
3 cups all purpose flour
4 tsp cornstarch
2 teaspoon baking soda
1/4 tsp salt
2 cups chocolate chips
Instructions
In a separate bowl, sift together the dry ingredients (flour, cornstarch, baking soda, and salt). Set aside.
In the bowl of your standing mixer, cream together butter and sugars until fluffy. Add eggs and vanilla and mix well. With the mixer on low, slowly begin to add the dry ingredients until almost combined. Add chocolate chips and mix again, being careful not to overmix.
Grease your deep dish cookie pan and scoop out abut 3 tbsp of dough into each cavity, being careful not to overfill. Refrigerate for at least 1 hour.
Before baking, let the dough come back to room temperate and preheat oven to 350 degrees F. Bake for 8-9 mins or until edges are golden brown.
http://ikhlashussain.com/2016/02/recipe-deep-dish-chocolate-chip-cookies-2/
I ended up doubling the recipe when I made it, so that's what I shared with you guys. If you want to make less cookies, you can easily cut the recipe down in half; see the original link to get the halved recipe.
When these came out of the oven, I couldn't help but gobble one up right away! They were so yummy and chewy. If you've got ice cream, they would taste even better with a scoop of cold ice cream on top of a warm deep dish cookie, like they have it in restaurants.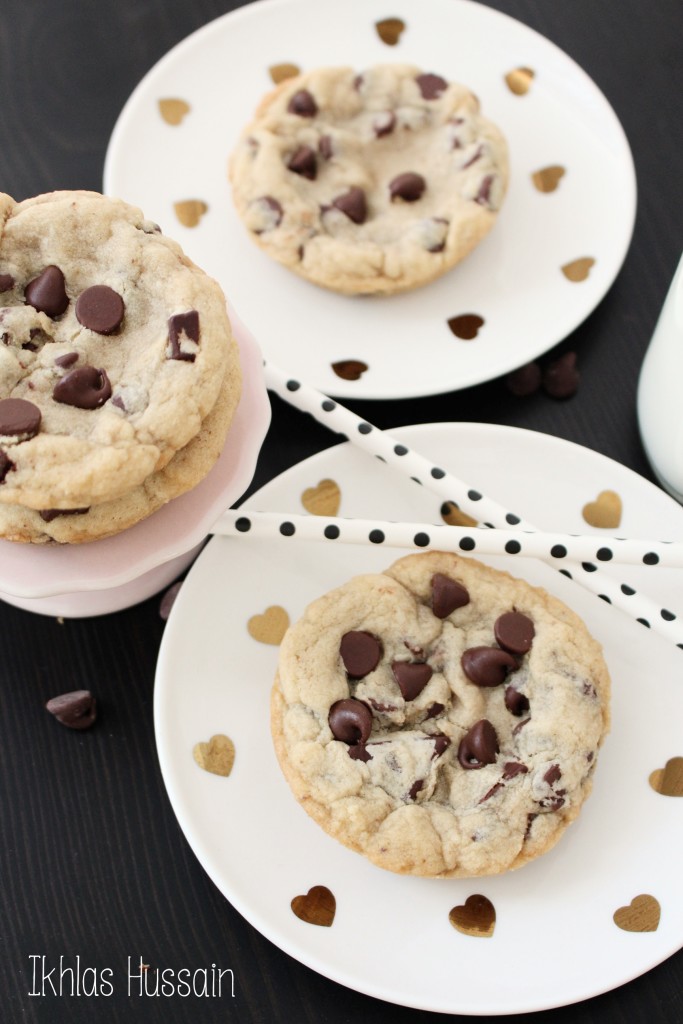 As usual, I slightly underbaked these to get them all ooey-gooey and soft inside. Every oven is different and you'll know whether your oven runs high or not and how long to bake them for to get them ooey-gooey. If they look like they're almost done, take them out. They'll continue to cook in the hot pan so just leave them to sit and cool.
This is my first recipe that I took photos for with my new DSLR camera. Like I mentioned before, I'm still learning how to use it and haven't quite grasped everything yet. I think the more I practice, the more I'll get a hang of it. The pictures are definitely an improvement from my old camera and even my new phone!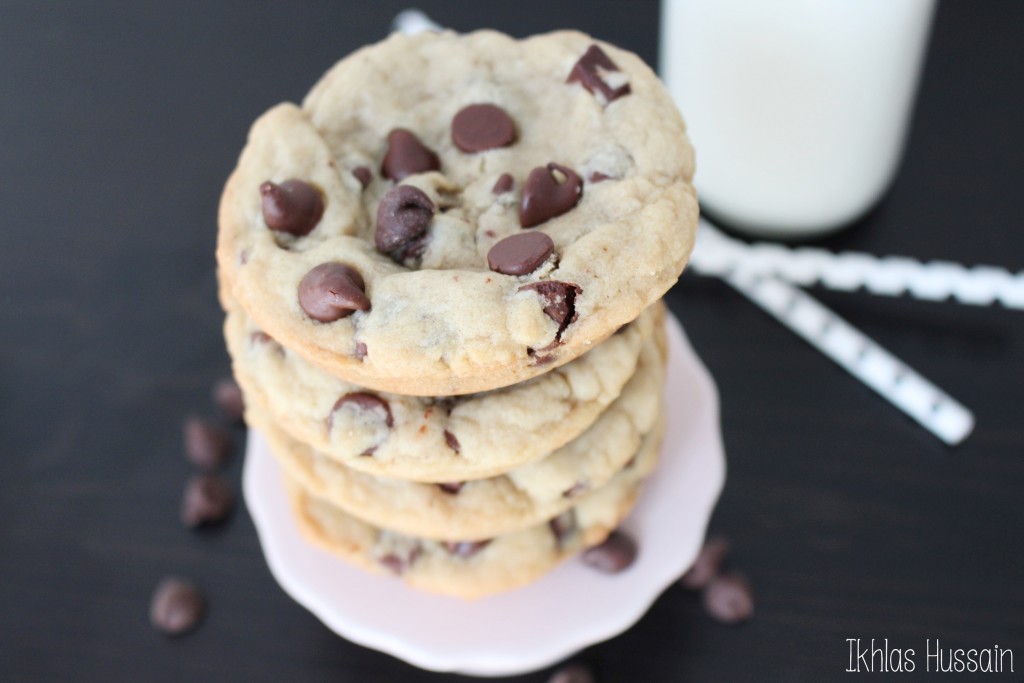 If you love chocolate chip cookies (who doesn't), then try this deep dish version. It's the ultimate comfort dessert. 🙂
Thanks for reading,
Ikhlas