For those of you who have been following my blog for awhile now, you might know of my love for Sally's Baking Addiction.
So many of my favourite recipes on the blog are from her site. I've loved her simple recipes and clear and easy to follow instructions ever since I stumbled upon her blog. She often used to comment on my adaptations of her recipes and also responds to questions about the recipes, proving that she's also super helpful. Her site not only has so many amazing recipes, but also tips and tricks on how to grow your food blog and also tips on food photography, which I definitely need!
Back in November, I had the pleasure of meeting her! Sally was on book tour for her second book, Sally's Candy Making Addiction, and while I hadn't purchased her book, I was still dying to meet her. So I went to her book talk, which was held at a Baking Convention. That's where she made this recipe. She had samples for the audience and when I took a bite of this easy Pretzel Toffee, I knew I had to make it!
(On a side note, she also remembered my blog and who I was! I also got to take a picture with her :D)
So fast-forward to almost 3 months later and I've finally made it! Lol. This pretzel toffee recipe is in her cookbook, which I still don't have yet, but I used her Saltine Toffee recipe to jog my memory of the steps. I made it this weekend and I just can't stop snacking on it…it's SO good!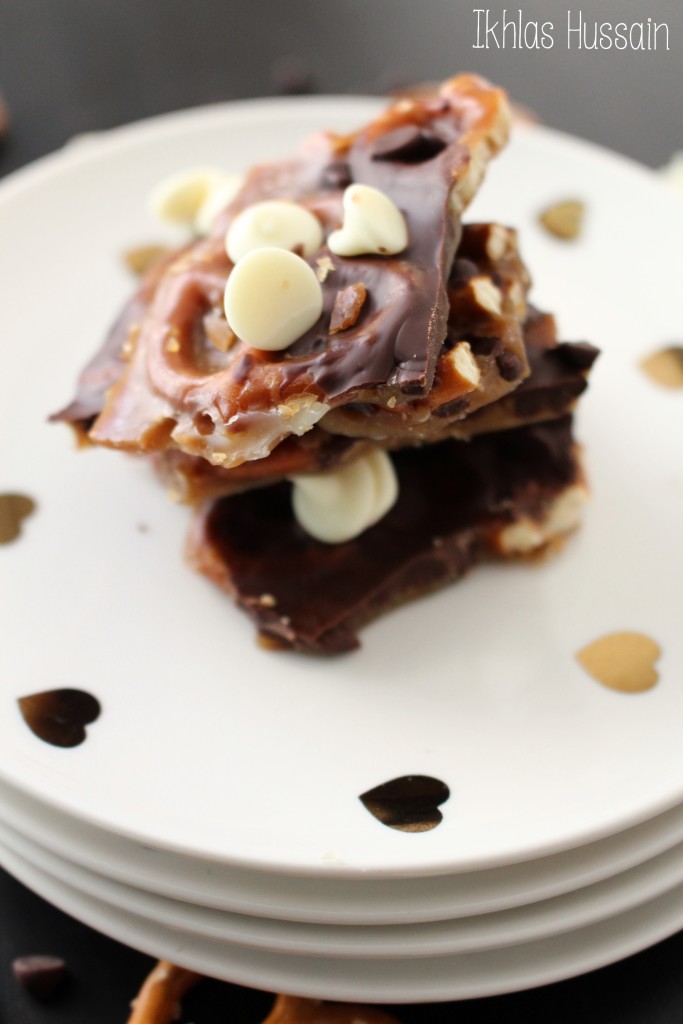 I never imagined  making candy because it seems like it's such a daunting process, but as usual, Sally's recipe was so easy. If you love the combination of salty and sweet, you're going to love this simple Pretzel Toffee. So what are you waiting for? Check it out!
Ingredients
30 to 35 pretzels
1 cup butter
1 cup brown sugar
1 1/2 cup semi sweet chocolate chips, divided
1/2 cup white chocolate chips
Instructions
Preheat oven to 400 degrees F. Line a half sheet with parchment paper and place pretzels all over the sheet. Set aside.
In a medium saucepan, melt butter with brown sugar on medium heat until it starts to bubble. Let it cook for 3 minutes without stirring and then turn the heat off.
Carefully, pour over the pretzels, making sure to cover all the pretzels and bake for 5 minutes.
Remove from the oven and sprinkle 1 cup of chocolate chips evenly over the syrup and again return to the oven for 1 minute. Using the back of a tablespoon, smooth over the chocolate to create an even layer and sprinkle with 1/2 cup semi sweet chocolate chips and 1/2 white chocolate chips.
Refrigerate for at least 2 hours, and then use your hands to break up the toffee into chunks. Keep refrigerated in an airtight container or ziplock bag.
http://ikhlashussain.com/2016/02/recipe-pretzel-toffee/
And that's it! It's so simple, yet so tasty I can hardly stop myself from having seconds (and thirds and fourths…). The combination of the salty pretzels, the slightly salty toffee mixture, and the sweet melted chocolate and sweet chocolate chips is just so good.
After boiling over and then solidifying in the fridge, the butter and brown sugar syrup turns nice and hard when it sticks to the pretzels. It's not hard to chew though, and breaks off easily, becoming nice and chewy when you bite off a piece.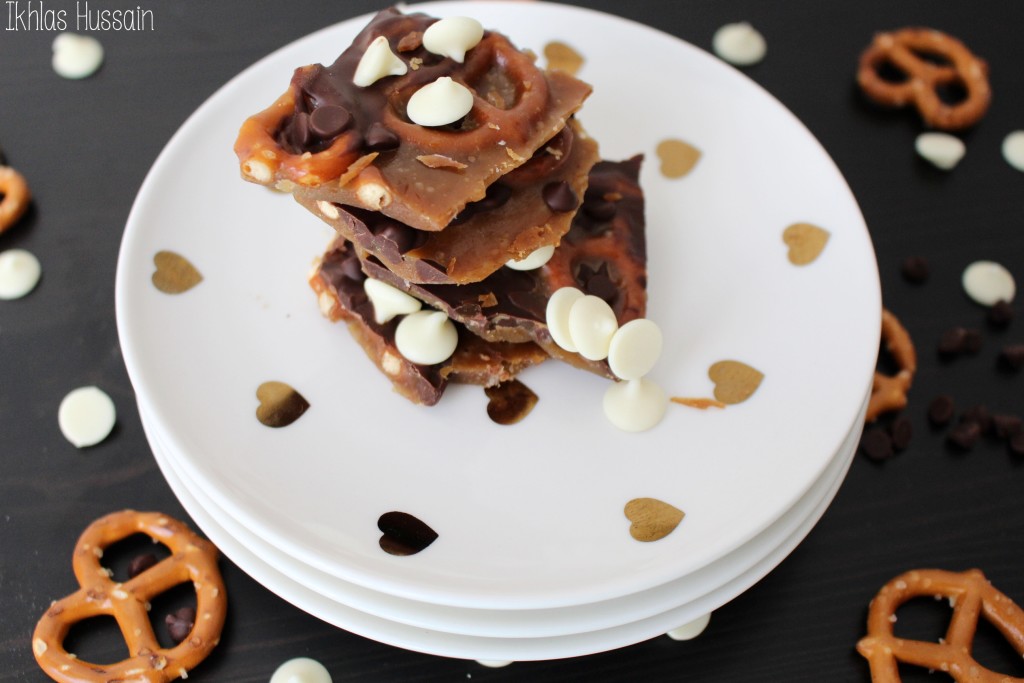 The original recipe calls for unsalted butter, but I always have salted butter in my fridge so that's what I always use in my baking. I feel like it cuts down the sweetness in the recipe (slightly) so if you really love sweet/salty, go for salted butter or add a sprinkle of salt in your toffee syrup as it's boiling.
Like Sally says in her post, you can pretty much top this toffee with anything! M&Ms, more chocolate, nuts, the options are endless! And that's what's so awesome, you can change up this toffee for whatever your mood is or whatever the occasion is. It's also a make-ahead dessert so it's perfect for potlucks and parties. I had some white chocolate chips and mini semi sweet chocolate chips so that's what I used.
Don't get too stressed about the pieces being even and pretty when you break them up. My pieces were big and small and not perfect at all, but they're meant to be like that.
My only complaint with this recipe was that it didn't seem to photograph well. I struggled with arranging the pieces a lot since they didn't really seem to have a good angle AT ALL. But I think you can sort of get an idea of how good they are…
Salty and sweet, this recipe is too good to pass up! It's a super easy candy recipe that is sure to disappear within hours after being made…it's that good! So try it out and let me know how it turned out.
As always, thanks for reading,
Ikhlas