So you might have heard of these bars before. On the internet, they're known as 'Hello Dolly' bars or '7 Layer Bars'. To me they were always just coconut bars, but I decided to give them a new name. Coconut Dream Bars. Why? Because they taste like a dream in your mouth.
These Coconut Dream Bars are another one of my recipe revamps. My previous posting of this recipe included messy pictures and a tale of my upcoming visit to Universal Studios/Disney World. Have a look if you want to reminisce with me.
Whenever I think about baking these bars, I think it's cheating. Because technically it's not really baking. Okay, it is, because they do bake in the oven, but you hardly need to do anything. You simply open up the ingredients, layer 'em up, bake them, and devour the mostly divine, coconut-y, bars ever! It's just too easy.
And what's better is that you can change up these bars to your preference. Not a fan of nuts? Take them out! Have leftover candy sitting around the house? Toss it on top. Want dark chocolate instead? Add that. Want more coconut? Add some more! You can do whatever you please with these bars and they'll still good. Why? Because it'll all be sitting atop a luscious layer of sweetened condensed milk, which is too good to be true.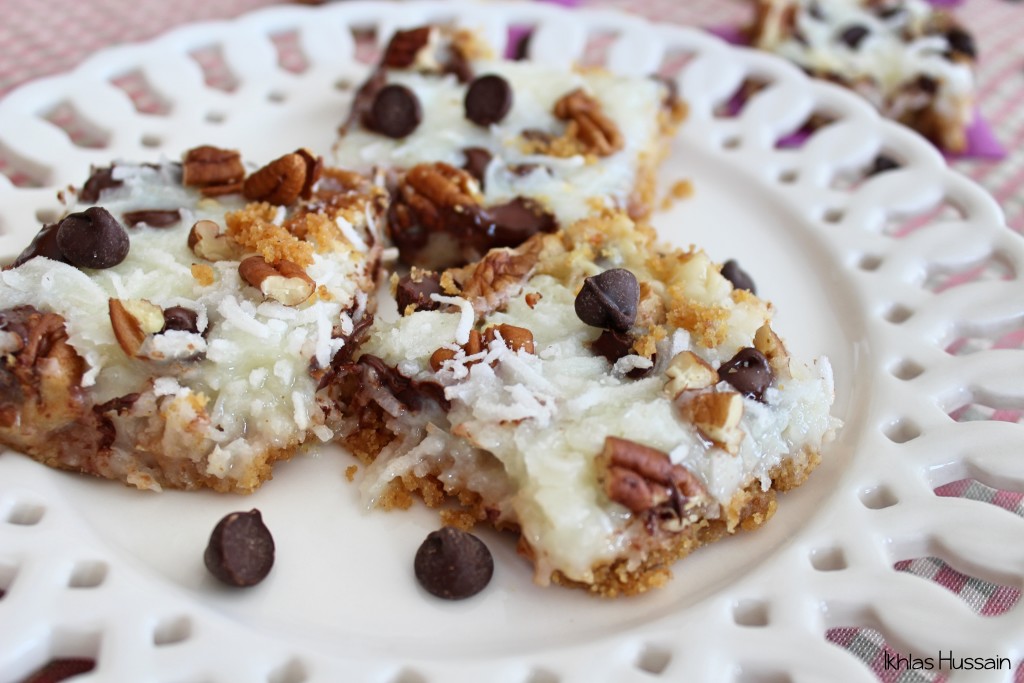 So grab some graham cracker crumbs, a can of condensed milk, some coconut and bake up these bars! It'll be so worth it.
Ingredients
2 cups graham cracker crumbs
1/2 cup butter
1 can sweetened condensed milk
2 cups coconut flakes
1 cup pecans, chopped
1 cup chocolate chips
Instructions
Preheat oven to 350 degrees F. Grease a 9 x 13 inch pan and set aside.
In a medium bowl, mix graham cracker crumbs and butter. Pour crumb mixture into pan and press flat, using the bottom of a spatula.
Pour condensed milk evenly over the crust. Sprinkle with coconut, pecans, and chocolate chips.
Bake for 20 minutes, or until edges of bars is golden brown and coconut flakes start to brown slightly.
Let cool complete before cutting and serving. Refrigerate remaining bars.
http://ikhlashussain.com/2015/04/recipe-coconut-dream-bars/
In order to get the graham cracker base to be firm, I always use the bottom of a spatula to flatten it. It's a trick my dad taught me, especially with the making of cheesecake crust and it works wonders! Use the pressure of the metal to flatten the crumbs so that you've got a firm base.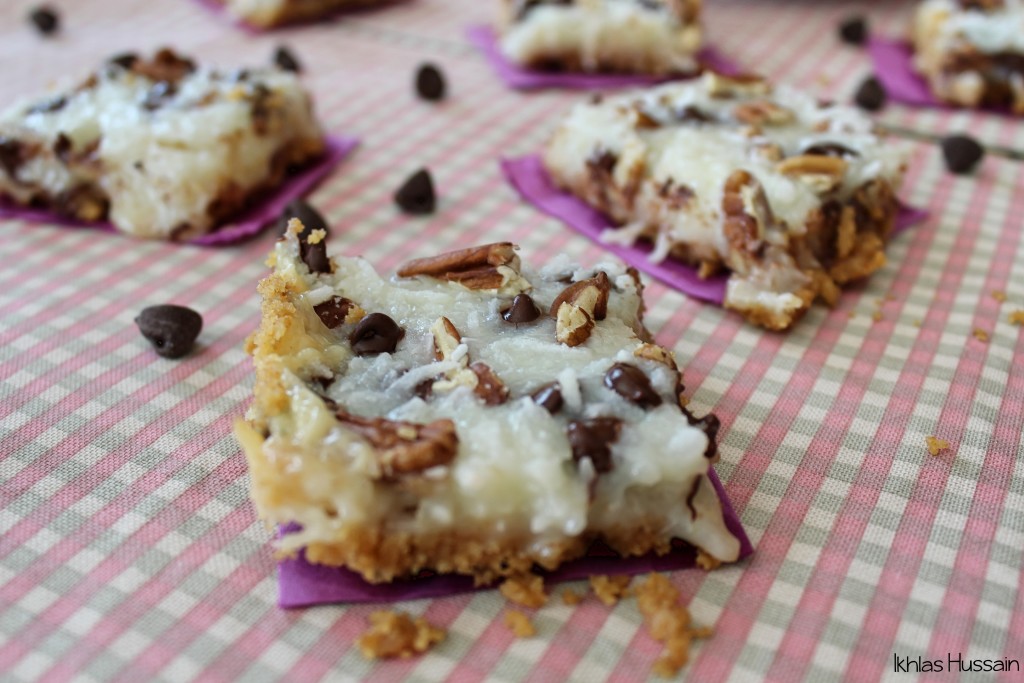 Cutting into these Coconut Dream Bars right after they come out of the oven can be quite messy, what with the ooey-gooey, warm condensed milk. So I like to stick the whole pan into the fridge to help with the cooling down process, especially because I usually can't wait to get my hand on these! When they're cooler, they're definitely easier to cut into.
My family refers to these as 'Bounty Bars.' Bounty as in the coconut chocolate bar, or Mounds bar, as I think it's referred to in the States. So if you like coconut, you are going to LOVE these bars.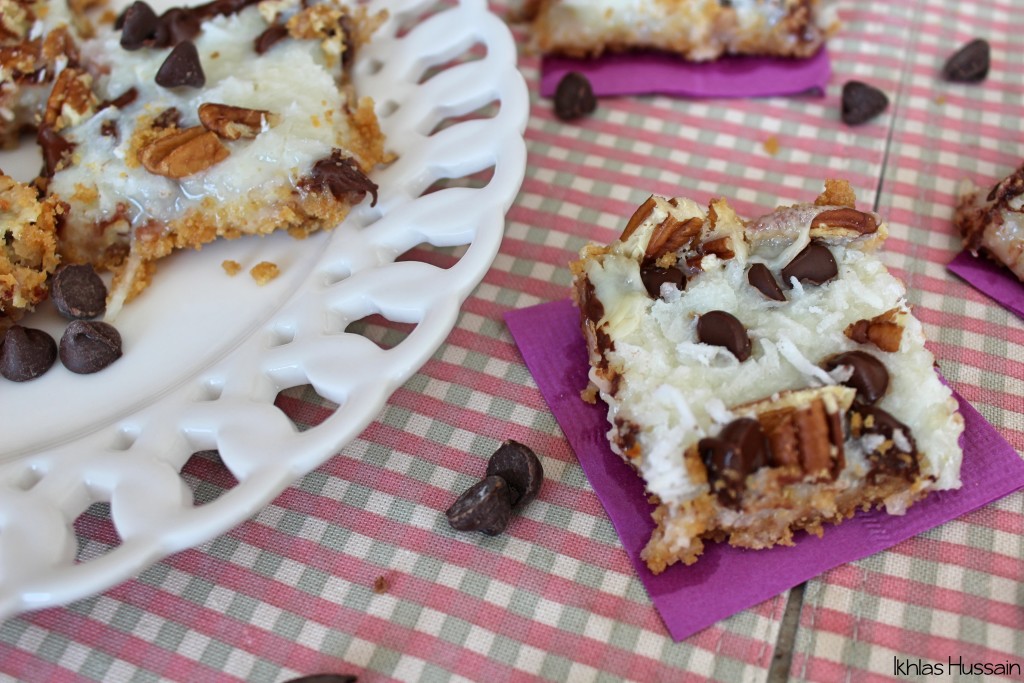 I'm still having fun playing around with my brother's DSLR camera and can't wait to bake up more goodies to share with you all!
Thanks for reading,
Ikhlas