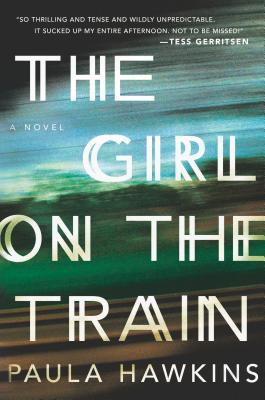 Rachel takes the same train to work everyday. She watches one couple in their backyard, Jess and Jason, as she calls them. She imagines their fabulous life together, a life that is infinitely superior to hers.
But one day Rachel sees something she doesn't expect. The next day, Megan aka Jess, goes missing and Rachel thinks she knows what happened.
She goes to the police with the information, and before she knows it, Rachel is tangled up in an investigation that somehow leads back to her.
Oh, a book review! So it's been awhile since I've done one of these. I've been in a major book slump for the past few months, but The Girl on The Train took me right out of that! It was past-faced, exciting, and thrilling. I kept wanting to go back to it at several times in the day, and when I couldn't, I kept thinking about it constantly.
The Girl on The Train is a book that is both about plot and characters. With that being said, character-development is definitely the book's strongest area. Rachel is a character that is complex and fascinating. Initially, she starts off as a bland character who is merely observing the action of the bigger story, but it quickly becomes clear that there is more going on with Rachel and her story.
The book switches between both Rachel and Megan, in a non-continuous time span, so that we are able to observe Megan and her life in the months leading up to her disappearance, while Rachel's story continues after Megan's disappearance. There is a third woman, the wife of Rachel's ex, who also gets a voice. The three female voices are all diverse, yet also surprisingly similar, and it's fascinating to see the way their lives are connected and then torn apart.
The plot isn't as fast-paced as it could have been, but that's because once the initial mystery is set up, the characters and their complex back stories take precedence.
The book has been compared a lot to another recent blockbuster thriller Gone Girl and many have complained that it's not as good. Yes, it's not as good, because while the story sounds similar, it really isn't. In Gone Girl, there are a lot of psychological elements at play, but they're mostly exploited to make for a gruesome story. In The Girl on The Train, the story is mostly about two women and the choices they made in their lives that made them who they are today. The mystery takes a back seat and that's okay. I enjoyed learning about the psyche of Rachel and Megan (and also Anna) and watching their lives unfold through flashbacks.
So if you're looking for a thriller on the level of Gone Girl, you're not going to get it. But if you are looking for a story about dealing with the hand that fate deals with you and the way three women deal with it's ugly, shocking, cruel, and emotional ways, then this is the book for you.
So for that: 4/5.
Thanks for reading,
Ikhlas