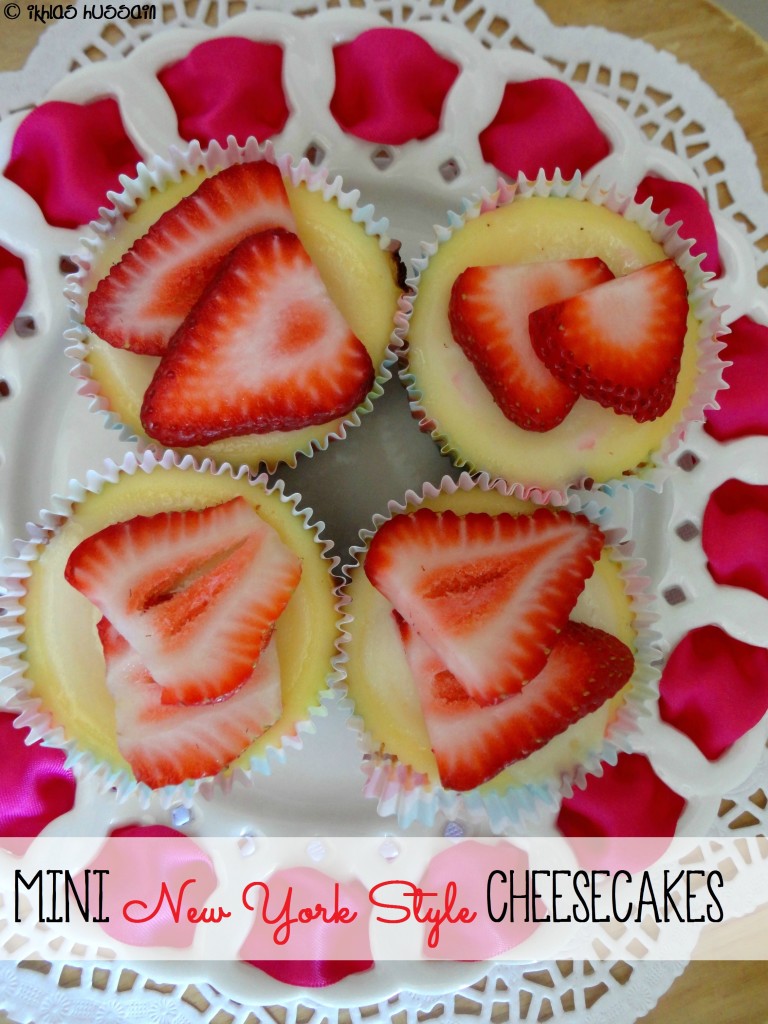 Is there anything better than cheesecake? If you say yes, our friendship may be over…
Seriously though, I don't think there's anything I love more than a large slice of New York Style Cheesecake, piled high with strawberries and with a cold spurt of whipped cream on the side. You just can't beat it!
Instead of making a big cheesecake, I decided to make mini cupcake style cheesecakes, because is there anything better than mini dessert?! Nope!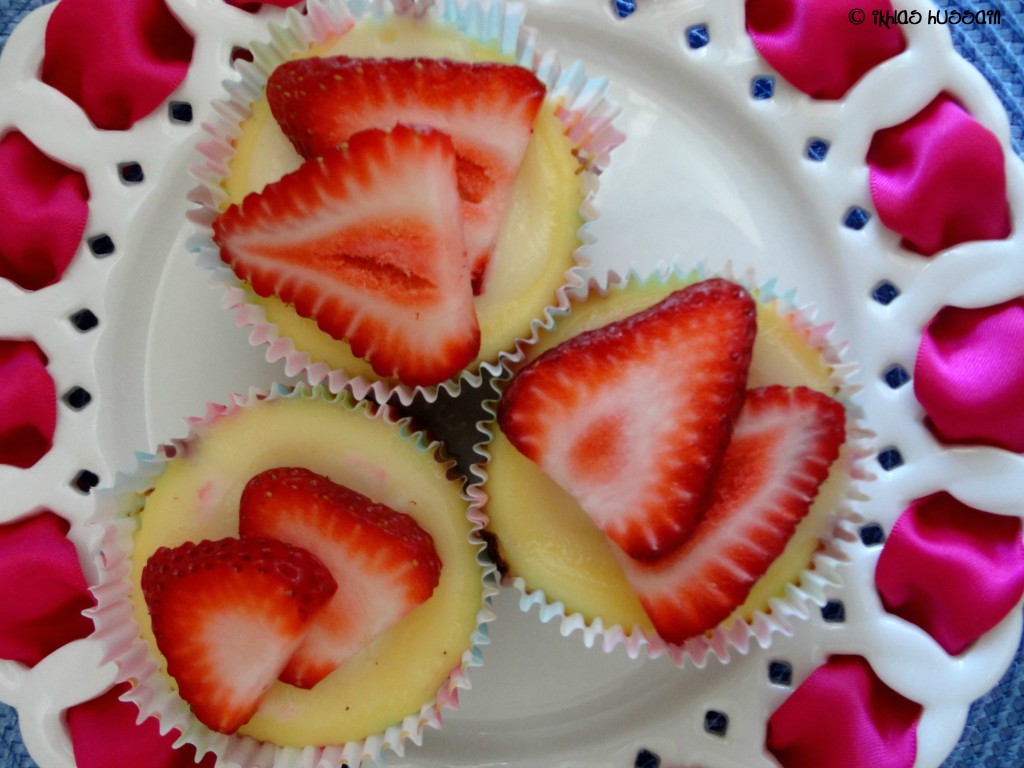 I made this for my cousin's dholki a few weekends ago, in addition to the Chocolate Buttermilk Cupcakes with Salted Caramel Frosting. I loved both equally (I can't choose!), but these guys were gone within five minutes of my aunt setting them out in front of the guests. I had to quickly grab one for my mom before they all finished! They were SO good and I got so many reviews from my aunt's friends and relatives afterwards. 😀
I've never experimented much with cheesecake recipes. My mom has one that she's been using for years, and which I've taken. It's the same one I used for my New York Cheesecake  last year (with the horrible picture). It features pretty much standard cheesecake ingredients, graham cracker crumbs, butter, brick cream cheese, egg, and vanilla. Except this cheesecake has sour cream both inside and outside the cheesecake. Not many cheesecake recipes include sour cream, but this is what makes all the difference for me.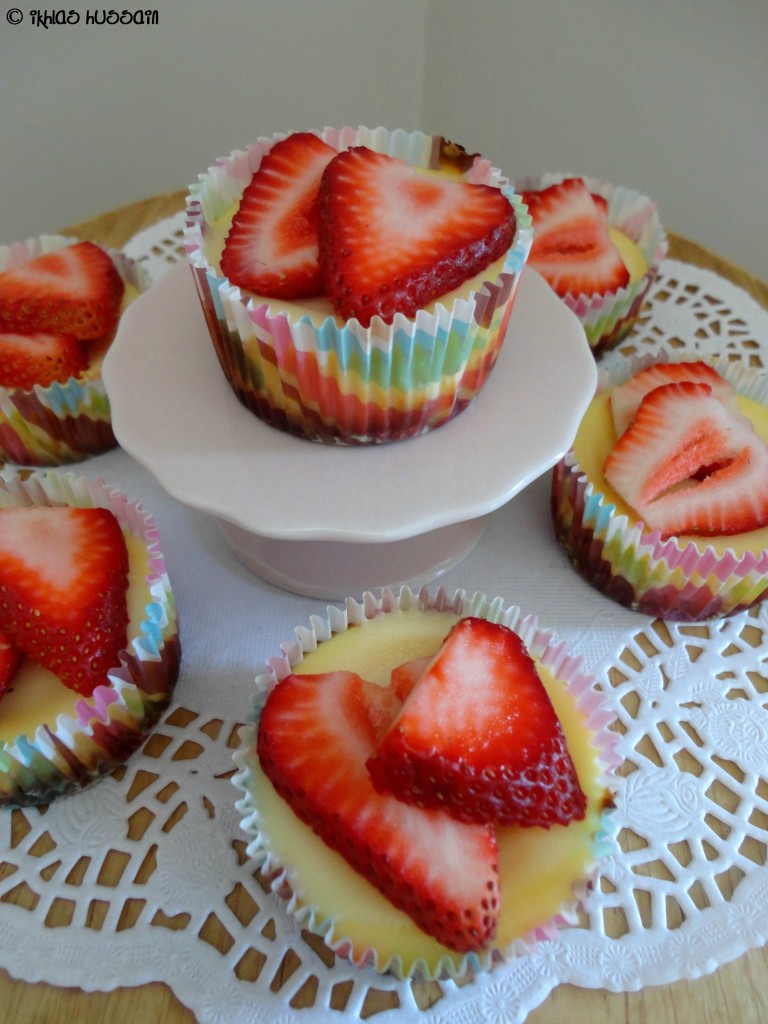 Tangy, yet sweet, the sour cream makes the filling smooth and luscious. I also top them with a sour cream topping (sour cream mixed with sugar) when they're almost done, and then pop them back in the oven to bake the topping on. It's a simple topping, but for some reason, it heightens the tangy, yet sweet taste of the cheesecake.
I also like a thicker crust, so I used more graham cracker crumbs than other cheesecake cupcake recipes I looked at. The combination of the buttery crust with the luscious, creamy filling is what makes cheesecake such a popular dessert. SO so good!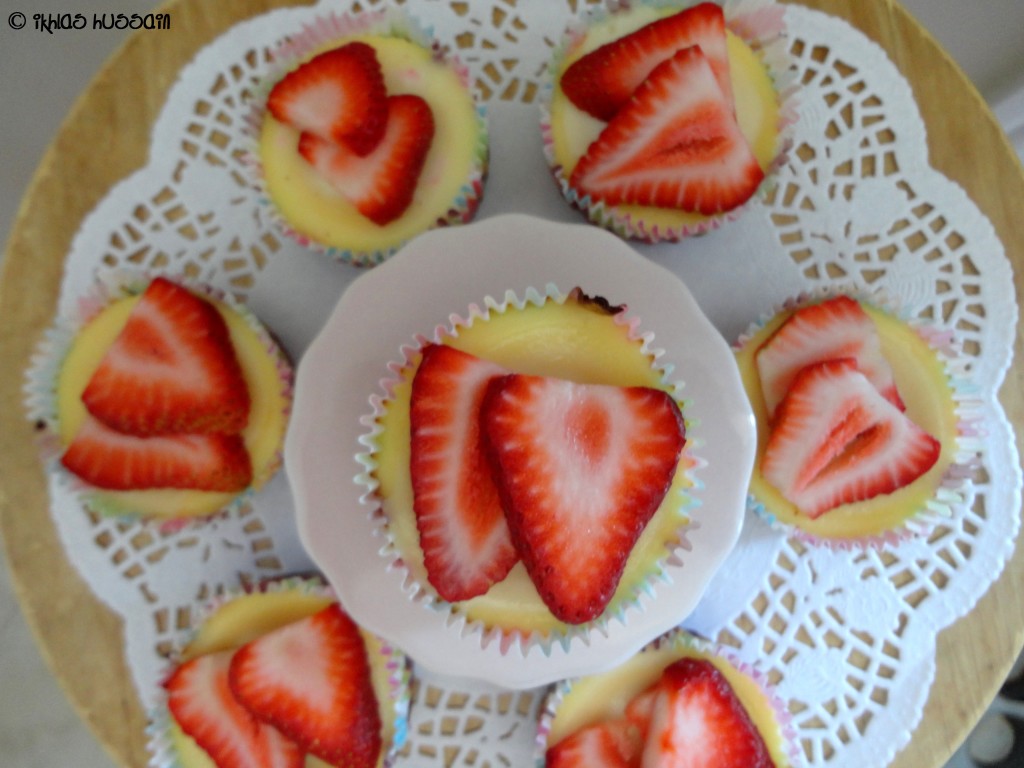 Instead of babbling on any longer, I'm going to just shut up and share the recipe with you guys, because you seriously need to make it! You don't need it to be a special occasion or event; make them for yourself and enjoy! 🙂
Mini New York Style Cheesecakes
Ingredients
Crust:

1 1/2 cups graham cracker crumbs
3 to 4 tbsp butter, melted

Filling:

3 bricks (250g or 8oz) of cream cheese (total 750g or 24 oz), softened
1 cup sugar
3 eggs, cold
1 tsp vanilla
1/2 cup sour cream

Topping:

1/2 cup sour cream
1 1/2 tbsp sugar
1/2 tsp vanilla
Instructions
Preheat oven to 350 degrees F. Line 2 cupcake pans with liners and set aside.
In a medium bowl, mix graham cracker crumbs with butter until the mixture starts to hold. Drop about a tablespoon of the crust into the cupcake liners, distributing the crust evenly. Press the bottom of a glass down to firm the crust up. Bake for 5 minutes and then set aside, letting it cool.
In the bowl of your stand mixer, beat your softened cream cheese with the sugar. Add eggs, one at a time, and keep mixing until the mixture is smooth, scraping down the sides of the bowl as necessary.
Next, add the sour cream and vanilla and mix well. Ladle the filling on top of the cooled crust, making sure it's evenly distributed.
Bake for 20 minutes. In the meantime, mix together the sour cream, vanilla, and sugar for the topping. Top the mini cheesecakes with the topping, and return to the oven for an additional 3 minutes.
Let the cheesecakes come to room temperature, and then refrigerate for

at least

4 hours, or overnight for best results. Top with fresh strawberries and whipped cream, if desired.
http://ikhlashussain.com/2013/06/recipe-mini-new-york-style-cheesecakes/
One of the things I love about this recipe is that it's really easy to make. It's not time-intensive nor is it complicated. Even though it doesn't take long to assemble, when it comes out of the oven and when it's dressed up, it's a showstopper dessert.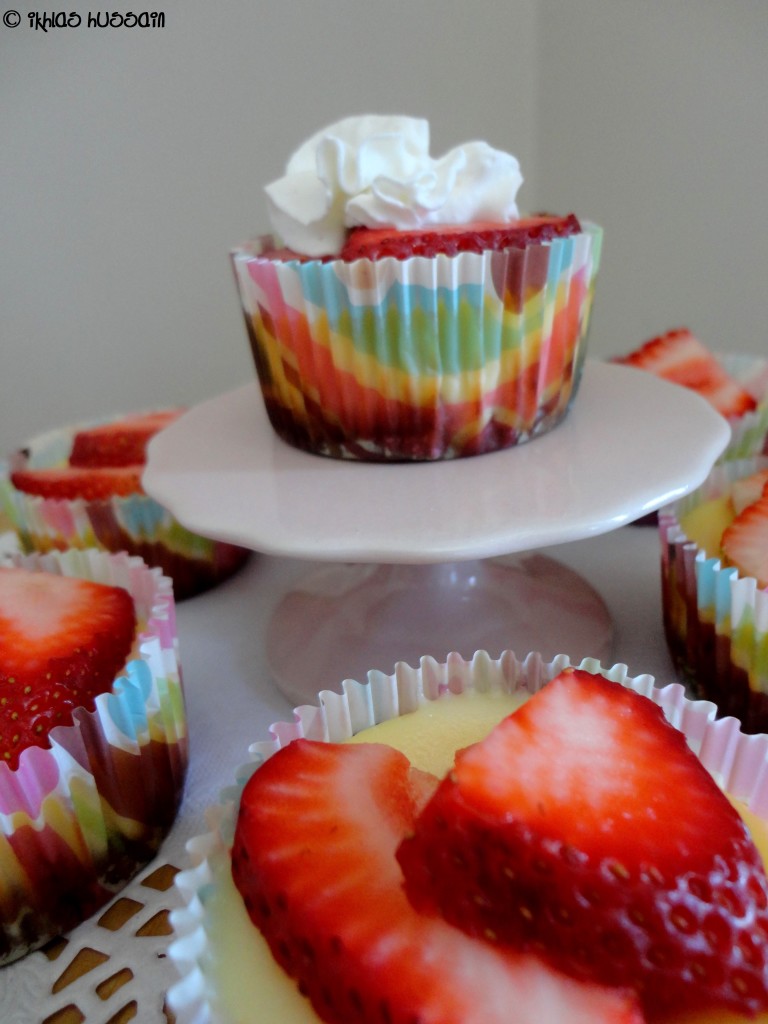 Normally when making the crust of cheesecake or anything else with a graham cracker crust, I use a spatula to press down the crust so that it firms up. I couldn't fit a spatula into the cupcake tins, so I used the bottom of a small glass instead to press down on the crust and it worked beautifully.
Something else I want to highlight is the refrigerating time. In order for the filling to set nicely and not stick to the liners, they need to be refrigerated for awhile. Four hours is the minimum, but I like making mine the day before and letting them stay in the fridge overnight. This allows you to have nicely firmed up cheesecakes, without the filling not being set.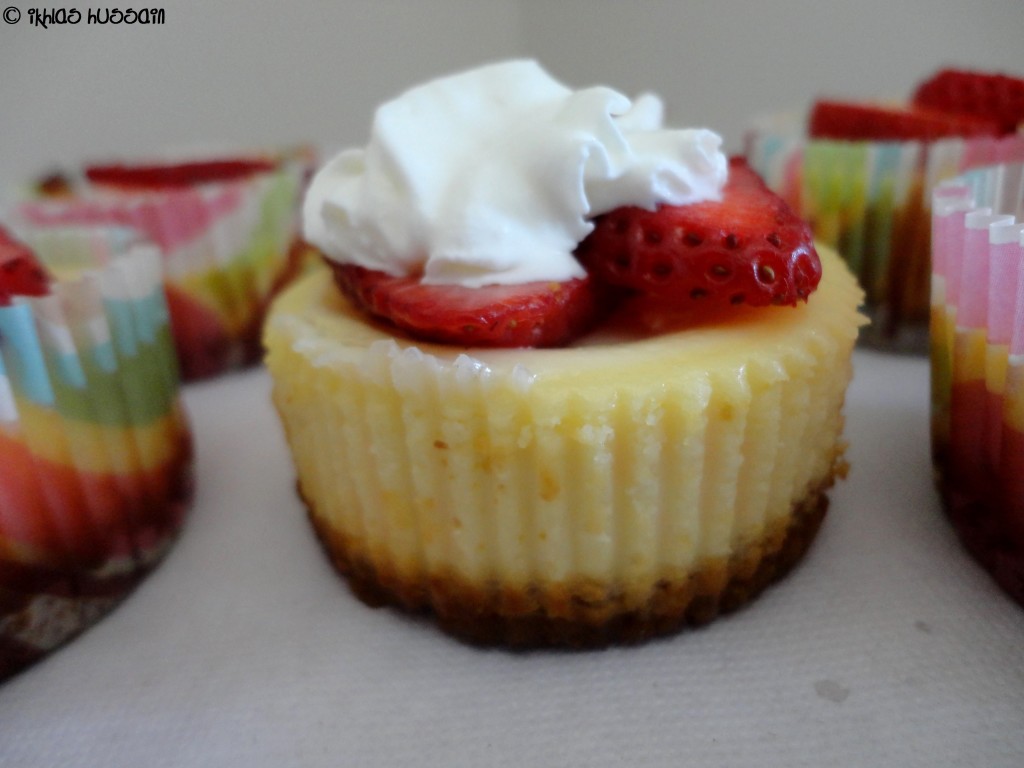 New York Style Cheesecake isn't the same without strawberries (for me), especially in the summer, so I chopped up some of those and piled them on, on top of the topping. With a squirt of whipped cream, these Mini New York Style Cheesecakes were dressed up and all ready for the party!
What's best about making the Cheesecake in mini form is that you can have more than one without feeling too guilty, because, hey, they're mini! 😀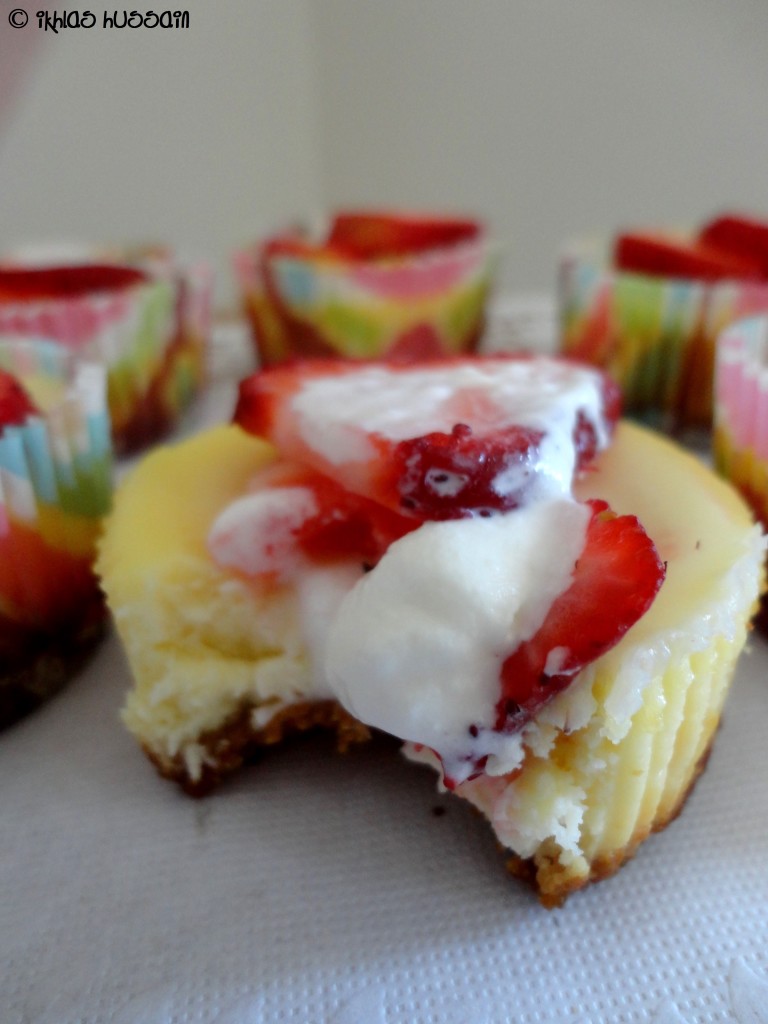 I really hope you guys try this recipe out…it's one of my absolute favourites and perfect for the summer. 🙂
Thanks for reading,
Ikhlas