Happy Valentine's day to all of you who are celebrating. I don't exactly celebrate it, not unless you count buying hordes of discounted chocolate and candy the day after (I don't). But if this is how you also celebrate it, then I hope you get some good discounts! 🙂
You might think that the cupcake liners on these dreamy cupcakes are on purpose, in light of the day they are being posted, but I assure you they are not. Pure coincidental actually, as pink happens to be my favourite colour on days other than February 14th.
My cousin asked me to make her this chocolate cake last weekend when she invited us over for Chinese.  Given the fact that our party included only 7 people, one of whom has diabetes, one of whom hates all things chocolate, and one of whom is a baby, I figured that a chocolate cake might be rather large, and since everything is better mini, why not make cupcakes?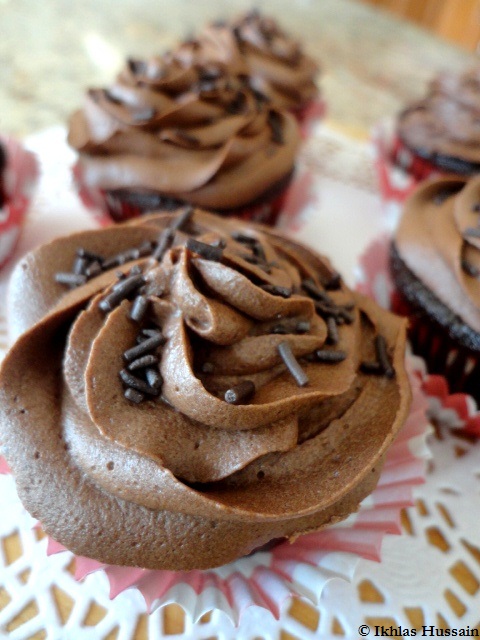 I wanted to recreate the recipe for my cousin, except in cupcake form. The cake had had a ganache type frosting on it, and even though I was tempted to slather on a peanut butter frosting or a plain white buttercream, I'm so glad that I went with the chocolate icing. There's no such thing as too much chocolate in my books, and this icing was honestly the creamiest, chocolate-iest, yummiest icing I'd ever tasted!
Paired with the fluffy, moist chocolate cupcake, and showered with a healthy amount of chocolate sprinkles, these cupcakes were a dream come true!
Chocolate Cupcakes with Chocolate Icing
Ingredients
Cupcakes:

3/4 cup unsweetened cocoa powder
1 3/4 cups flour
2 cups sugar
1 1/2 tsp baking powder
1 1/2 tsp baking soda
1/2 cup vegetable oil
2 eggs
1 cup milk
1 cup boiling water
2 tsp vanilla

Chocolate Icing

2 3/4 cups icing sugar
6 tbsp unsweetened cocoa powder
6 tbsp butter, softened
5 tbsp milk
1 tsp vanilla
Chocolate sprinkles (optional)
Instructions
For the cupcakes:

Preheat oven to 350 degrees F and line cupcake tray with liners.
In the bowl of your mixer, combine the dry ingredients. Turn the mixer on and add vegetable oil. Add eggs, one at a time, and mix until well combined. Add vanilla and milk.
Keeping the mixer on a low speed, slowly and carefully add the boiling water. When the batter is smooth and one consistency, pour the batter into into cupcake tray, filling it about 3/4 of the way.
Bake 13 to 15 minutes, or until a toothpick inserted in the centre comes out clean. Let cool completely before frosting.

For the icing:

Sift icing sugar and cocoa powder in a bowl and set aside.
In another bowl, cream butter until smooth, and then slowly add the dry mixture, adding in a tablespoon of milk in between, until the mixture is at the desired consistency. Add vanilla and then mix well. Frost onto cooled cupcakes.
http://ikhlashussain.com/2013/02/recipe-chocolate-cupcakes-with-chocolate-icing/
The batter for this recipe is quite liquidy, so in order to not slosh the batter everywhere while I tried to scoop it out, I instead poured it into a plastic jug and poured it into the cupcake liners. It was so easy and left virtually no mess!
The icing can be modified as well to suit your preference; if it's too thick, add a bit more milk, or if it's too runny, then add more icing sugar. I added a bit more cocoa powder, cause I like things extra-chocolatey 😀 And oh my gosh, guys, it was amazing! Seriously, I just wanted to sit down at the kitchen island and take a spoon to it; it was that good.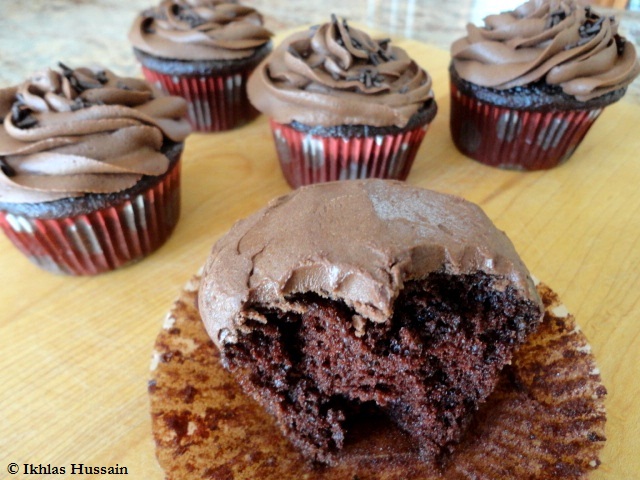 My nephew thought so too, since once we gave him a little taste of the chocolate icing, he started screaming for more. 😀
My favourite part of this recipe is the fact that the cake isn't overly sweet or heavy. Light and moist, the chocolate cupcake pairs well with the dreamy chocolate icing. They're a match made in chocolate heaven! I was so upset when they finished, so I know I'll be making them again soon.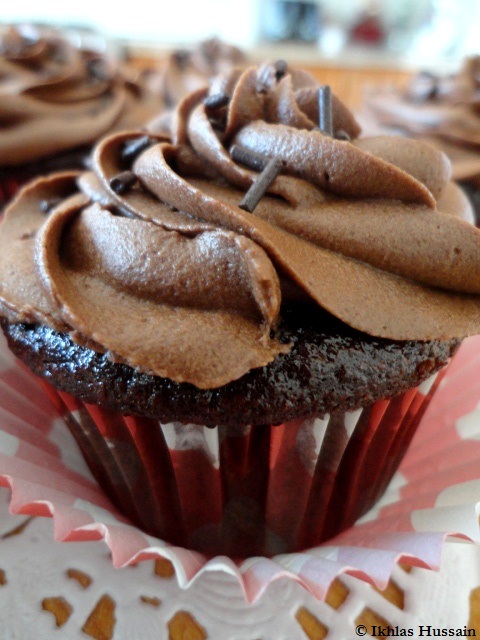 So if you like chocolate, then you'll fall head over heels in love with these chocolate cupcakes with chocolate icing, and chocolate sprinkles!
Thanks for reading,
Ikhlas