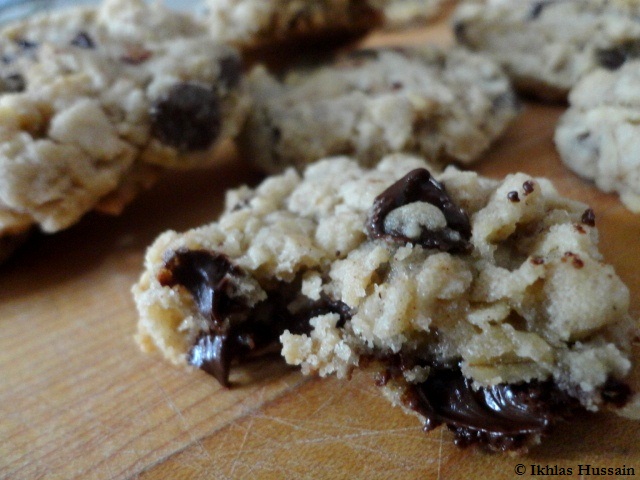 When I was a kid, I hardly ate plain chocolate or vanilla ice cream. Standing in front of the myriad of choices at the ice cream shop, the plain, boring flavours disappeared and all I saw were pieces of peanuts, swirls of caramel, and chunks of chocolate.
You see, I loved texture in my food. I wanted to munch and crunch on my ice cream, not just lick it quietly. If I was in the chocolate mood, I wanted chunks and chips and swirls, not just one or the other. The more the merrier!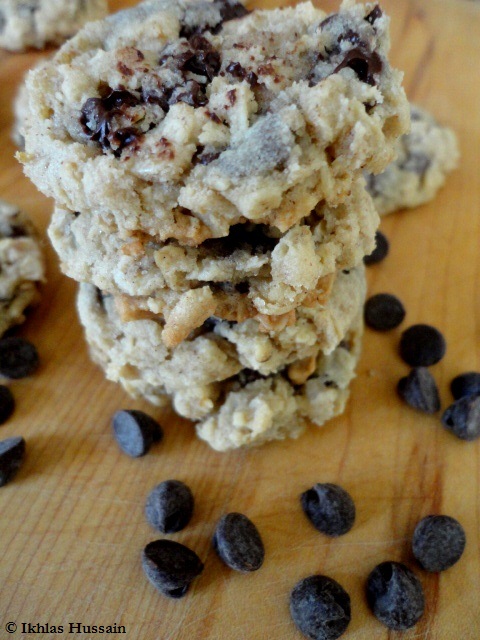 Since I love texture and crunchy things in my food, you'd think I'd already have an oatmeal cookie recipe on my blog. But I didn't…until now that is!
You see, up until now, I was always wary of oatmeal cookies, since 95% of the time they hid raisins within their textured depths and tricked me into thinking they were chocolate chips. I can't recount how many times I gagged on the offending raisin, feeling betrayed by cookie makers everywhere (I really hate raisins).
But then a few weeks ago, I had a chewy oatmeal cookie that was studded with creamy chocolate chips, and NOT raisins, amid a chewy, crunchy oatmeal texture and my life was changed! 

Chock-full of chewy oatmeal goodness, these soft, textured chewy oatmeal chocolate chip cookies will convert even the most die-hard only-chocolate-chip-cookie fans into oatmeal-chocolate-chip-cookie fans. Check it out!
Chewy Oatmeal Chocolate Chip Cookies
Ingredients
1/2 cup butter, softened
3/4 cup brown sugar
1/2 cup sugar
1 egg
1 tsp vanilla
1/2 tsp baking soda
1/2 tsp cinnamon
1 2/3 cup old-fashioned oats
1 cup flour
3/4 cup semi-sweet chocolate chips
1/2 cup M&M (optional)
Instructions
In a large bowl, cream your butter and sugars until smooth and creamy. Add egg and vanilla.
Next, add the baking soda, cinnamon, oats, and flour all at once. Mix well, but only until all ingredients are well incorporated, but now more. Add chocolate chips and M&Ms (if using).
Chill dough in the fridge for at least an hour. Preheat oven to 325 degrees F and scoops out chilled dough onto parchment-lined baking sheet. Press down slightly with the back of a spoon.
Bake for 9 to 11 minutes, or until the edges of the cookies are slightly browned. Remove from oven and press down with a back of a spoon slightly, while they're still warm.
Let cool before enjoying. Store in an airtight container.
http://ikhlashussain.com/2013/02/recipe-chewy-oatmeal-chocolate-chip-cookies/
I'm a big fan of the good ol' classic chocolate chip cookie, but you can't deny the powers of the classic oatmeal cookie! Full of a chewy, crunchy texture, these cookies are certainly not boring!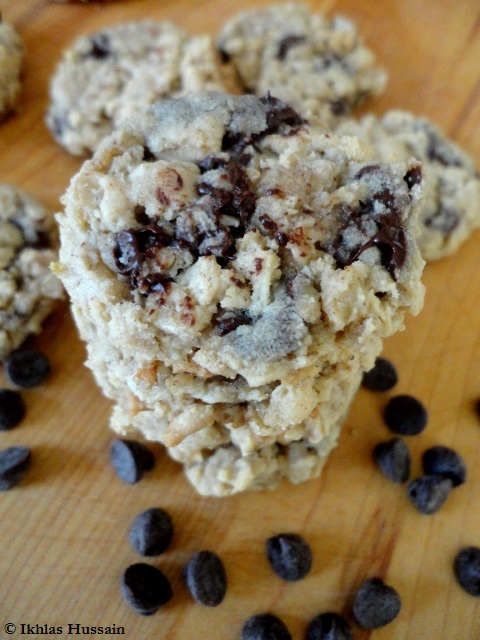 One of the ultimate comfort desserts, these chewy oatmeal chocolate chip cookies are best when pulled right out of the oven, all warm and ooey-gooey, with a glass of cold milk by the side. You can even add raisins…if you so wish. I promise I won't judge. 😉
So go on, bake up a batch of these chewy cookies, kick back and relax!
Hope you're all having a good week! 🙂
Ikhlas