Hello friends!
It's been more than a week since I posted on here and I'm SO sorry about the lack of updates! This past week has been insanely crazy and stressful. I woke up almost every morning feeling like I never slept at all, I was that tired!
But I'm at my last week in my teaching placement now, and hope that things will ease up a bit, inshAllah. I'm just glad that I'm not working today so I can catch up on rest before I prepare for what I know will be another crazy week of marking and planning.
When I'm stressed, I crave chocolate. Who doesn't?
These brownies are the definition of chocolate baked in the oven. Seriously, biting into one tastes like biting into pure-fudge; they're that rich!
The original recipe comes from Sally's Baking Addiction, and is one that I have baked dozens of times and have posted as Death by Chocolate Brownies here. Since discovering it last year, I've never returned to any other brownie recipe.
So easy and quick to throw together, this recipe includes very little flour and lots of cocoa powder. The lack of flour makes these brownies less cakey and more chocolatey, which definitely makes them a winner in my book.
When I remade them a few weeks ago, I added half a cup of dark chocolate chips and a handful of chopped pecans. The result? SO SO good. So good my family inhaled them in one day and demanded more the next!
So if you're a chocolate fiend and need an excuse for some chocolate, bake the best brownies ever. Your sweet tooth will thank you! 🙂
Recipe: Best Brownies Ever
Ingredients
10 tablespoons butter, softened
1 and 1/4 cups sugar
3/4 cups and 2 tablespoons unsweetened cocoa powder
1/4 teaspoon salt
1/2 teaspoon vanilla
2 eggs, cold
1/2 cup flour
1/2 cup dark chocolate chips
1/2 cup pecans
Instructions
Preheat oven to 325 degrees F and spray a 9x9 baking dish with cooking spray.
In a large microwave-safe bowl, melt the butter, sugar, cocoa and salt in the microwave in 30 second increments. Stir well until the butter is completely melted. Let it cool for a few minutes.
After mixture is cooled completely, add the vanilla and then the eggs, one at a time. Then add the flour and mix only until it's all incorporated. Fold in the pecans and the dark chocolate chips.
Pour the batter into the prepared dish and smooth the top down with the back of a spatula. Sprinkle with a few more chocolate chips.
Bake for 23 to 25 minutes, or until a toothpick inserted in the centre comes out with only a few crumbs.
Let cool completely before cutting and enjoying.
http://ikhlashussain.com/2014/03/recipe-best-brownies-ever/
When I originally posted this recipe, I changed the baking time to 25 to 28 minutes, but after experimenting a bit with it, I think less bake time is better for the recipe, especially if you want ooey-gooey, melt-in-your-mouth brownies that taste like fudge. So I would recommend 23 minutes ideally, but going up to 25. Do not exceed 25 minutes! Or your brownies will be dry and cakey.
It's something really small, but adding half a cup of dark chocolate chips really changes the recipe. It adds a nice depth of flavour, and certainly amps up the chocolate flavour of the recipe. I especially love biting into a melted chocolate chip, nestled in the chocolate gooey batter.
I also love warming up a brownie and topping it with vanilla ice cream and a squirt of whipped cream. Instant restaurant-style dessert! 😉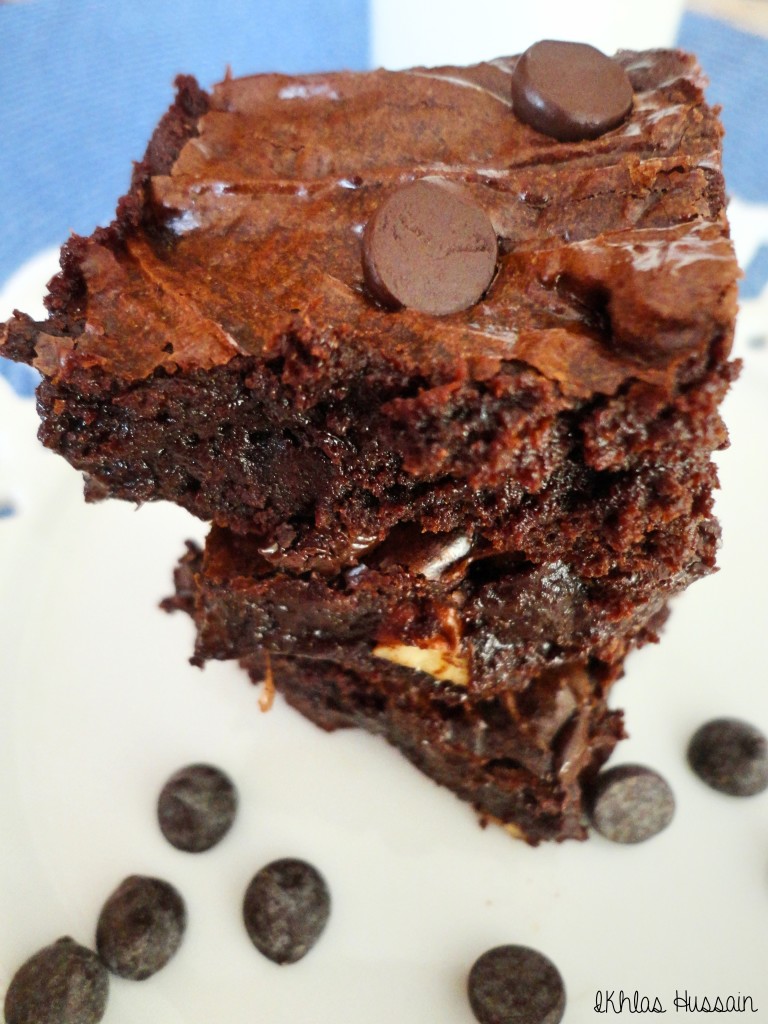 A word of warning: these brownies are RICH. They will have you screaming for a tall glass or two or ice-cold milk to wash your mouth with after. If you're a chocolate lover, these brownies are for you!
Thanks for reading,
Ikhlas