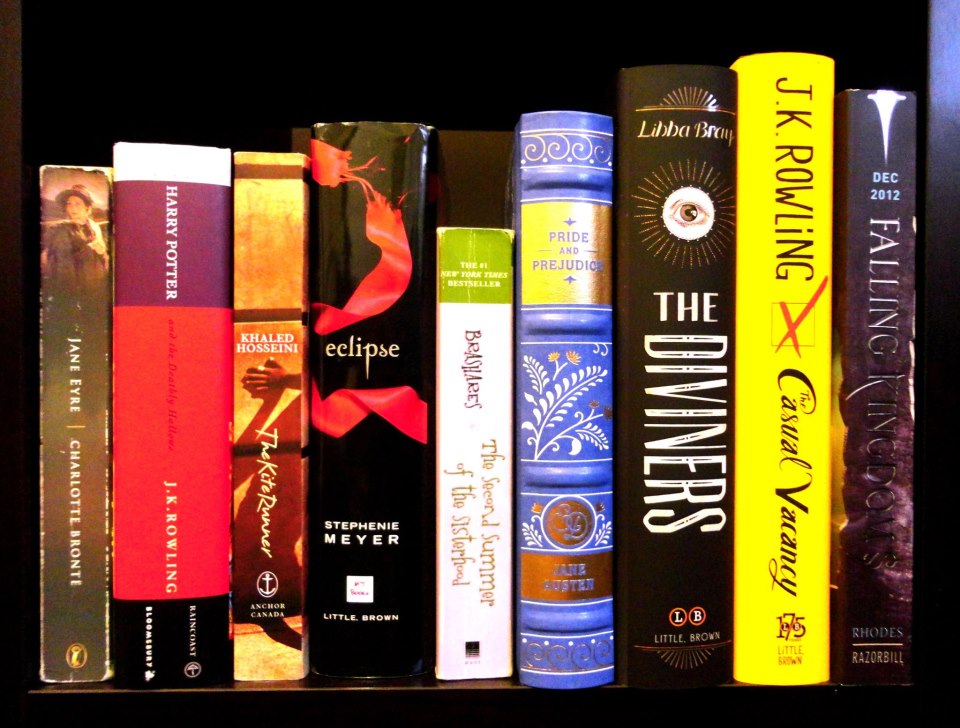 Sometimes I just hate my job.
For those of you who don't know, I work as a shelver at Chapters.
So for starters, I'm surrounded by books all day. It sounds amazing, right? Wrong!
It might be amazing sometimes, but when the books start calling your name and whispering to you to pick them and skim the back cover when you're supposed to be working, it's not so amazing. Especially when the books sound so wonderful that you want to abandon your cart full of other books and plop down on a chair like customers and dive right in. It's pure torture.
I usually manage to hold off, and instead start writing down the names on the little green slips the computer brings so I can remember them at home and add them to my to-be-read list. Except now my room is filled with these little green slips and my to-be-read list is longer than Rapunzel's hair. Seriously, I discover the most amazing, wonderful, magical sounding books, but I don't have time to read them, because of, ahem, another problem.
Another reason I hate my job? I am filled with book envy! Seeing customers joyfully leave the store with books filled with mystery and joy makes me long for the same. Shelving the shiniest, newest teen reads makes my palms sweat with excitement as I proudly display them on the shelves, hands itching to take them home with me. Seeing my colleagues staff picks and hearing them talk excitedly about them makes me want to throw my whole bank balance out the window and buy them all.
And let's talk about buying…
I bought a whole bunch of books in December when there was a big sale. I hadn't read all of them when I got a gift card and bought even more. And every day my hands burn to buy more books, I console myself by writing down their names to put on hold at the library. And so when those books come from the library, I gobble them up because they'll be due soon, rather than reading the books I already have. So you see, it's a never-ending problem.
Another reason I hate my job is that I get distracted talking to people about books. Sounds wonderful, but there's usually a lot of work to be done. But sometimes I just can't help but share the plot or some of the characters of some of my newest favourite books with my colleagues and customers, gushing with excitement as I urge them to go home right now and read this book and cancel all plans for the evening.
Sigh. It's a really tough job I have…