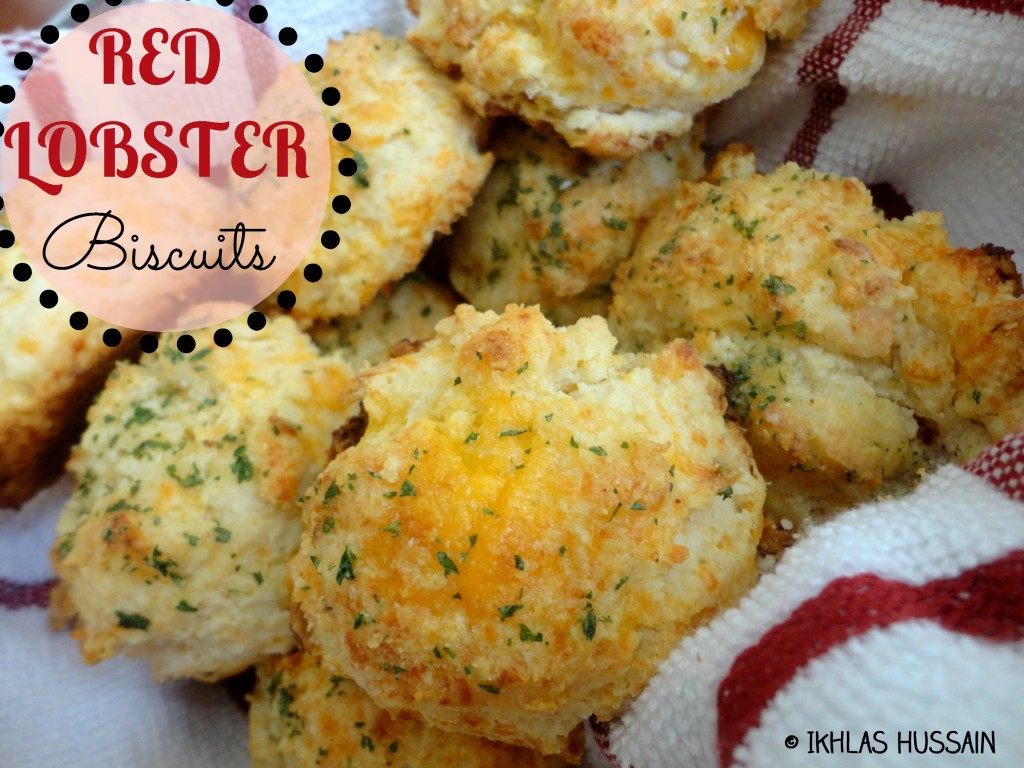 When I saw this recipe on Pinterest a few months ago, I could not believe my eyes. Like so many other people, the biscuits at Red Lobster are one of my favourite parts of going there…heck, they might even be the best part!
For those of who you've never been or don't have a Red Lobster in your country, it's a seafood restaurant that serves you warm, buttery biscuits to you while you wait for your food. SO SO good. 🙂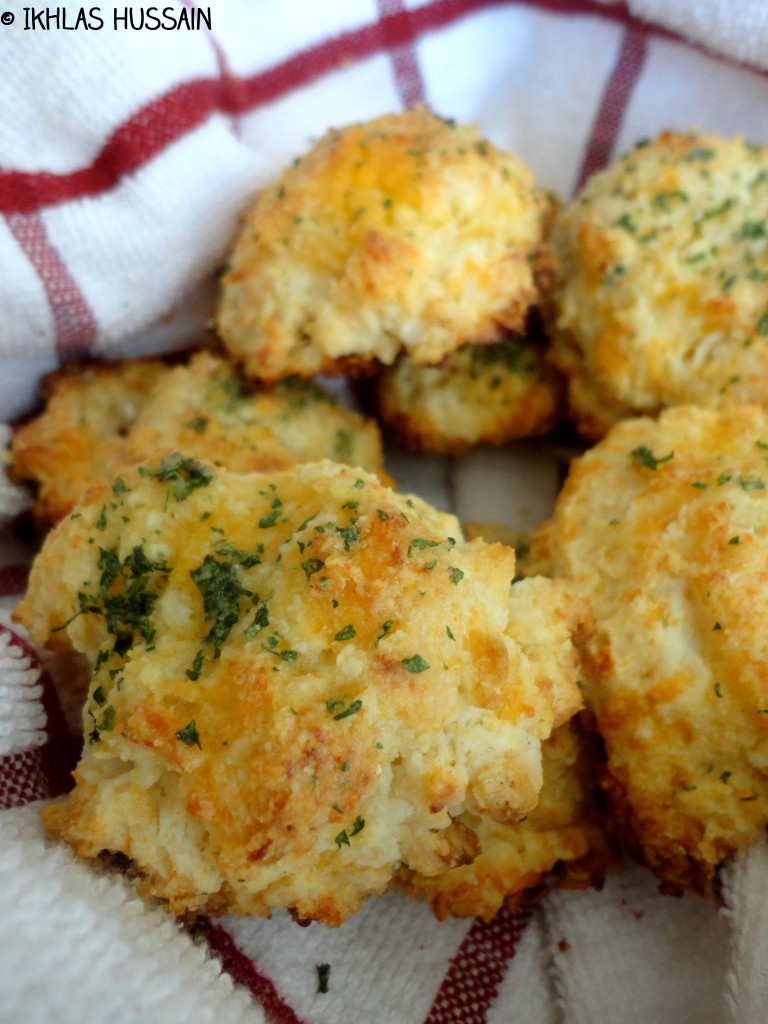 And what's so special about these biscuits, you ask? For me, they are a symbol of my childhood. As a kid, I have very fond memories of family dinners there with my cousins and grandparents. Up until a few years ago, it was also the place my brothers and I constantly requested to be taken out to on our birthdays. The food was good, the servers were super friendly, and best of all, the biscuits were always warm.
Sometimes, my friends and I would go just for the biscuits. To me, the recipe was a sacred one. There was no attempt to even try making it. I have a recipe for cheddar cheese biscuits on here, but it's nothing like the real stuff. And it never was supposed to be.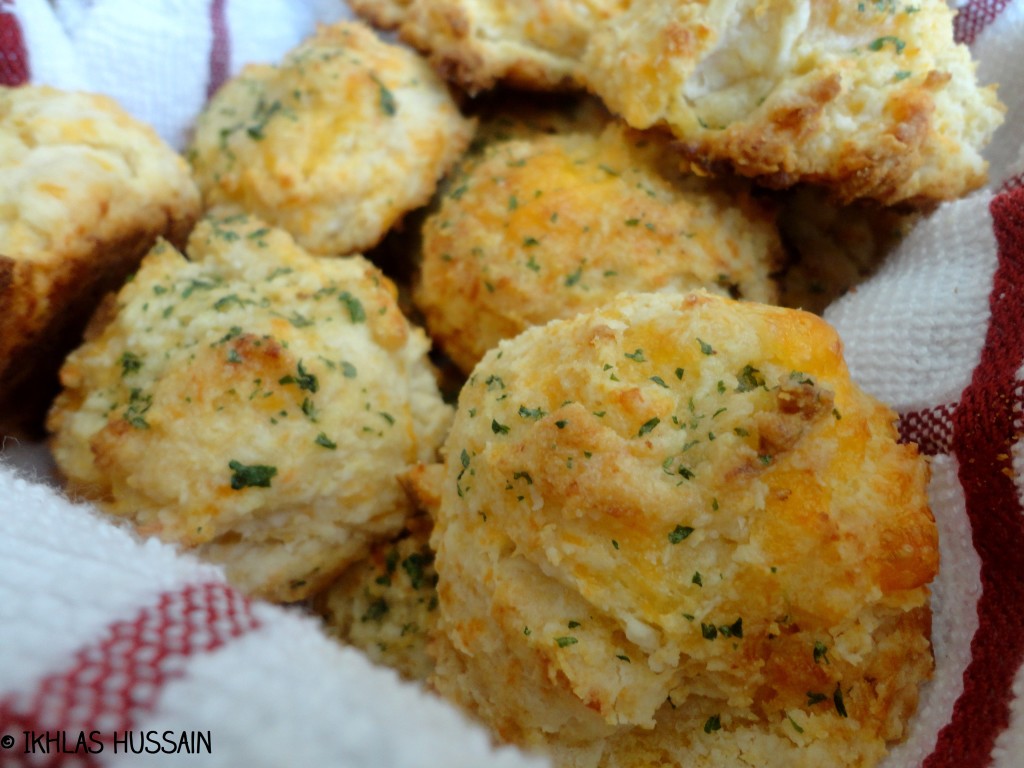 So when I stumbled upon this recipe, I was wary. Surely they couldn't be as good as the original?
But when I took my first bite after making them for the first (of many) times this summer? I was in heaven! I couldn't believe how authentic they tasted, down to the crispy outside, slathered with butter, garlic, and parsley, and filled with a oh-so-soft, fluffy inside. Even if you've never tried Red Lobster's famous biscuits…you need to try these now!
Ingredients
2 1/2 cups Bisquik mix
4 tbsp cold butter (keep refrigerated until use)
3/4 cup milk
1/4 tsp garlic powder
1 cup cheddar or marble cheese, finely grated
2 tbsp butter, melted
3/4 tsp garlic powder
1/4 tsp parsley flakes
Instructions
Preheat oven to 400 degrees F. In a large bowl, measure out the Bisquick baking mix and cut in the cold butter. Mix together until the mixture is somewhat lumpy.
Add milk, garlic powder, and cheese and mix well, being careful not to over-mix.
Using a cookie dough scoop, measure out the dough and set it on a pre-lined baking sheet. Bake 15 to 17 minutes, or until the tops and sides are golden brown.
Brush with melted butter, garlic powder, and parsley flake mixture. Enjoy warm.
http://ikhlashussain.com/2013/10/recipe-red-lobster-biscuits/
Bisquick makes these biscuits so incredibly simply and quick to make. It can be found in the pancake aisle of most grocery stores; I had a tricky time finding it myself, so I wanted to let you guys know, in case you have trouble.
It's a fairly simple recipe that gives you AMAZING results. 🙂 Taking these biscuits out of the oven and brushing them with butter and watching it melt down the sides? HEAVENLY.
The trick to these is not to over mix them; you'll instead end up with flat biscuits, which is not fun. Mix until just combined and no more!
Crusty on the outside, and oh-so fluffy and moist on the inside, these biscuits are jam-packed with garlicky flavour. I'm a garlic-fiend, so I add a little extra garlic on top, but you're welcome to take it down to 1/2 tsp rather than 3/4 tsp. My family also likes things a little crispy, so I add a few minutes extra onto this recipe, depending on how done they look.
After I made them the first time, my family was speechless, since they tasted SPOT on to the ones found in the restaurant. And I couldn't believe how easy they were! Given their ease, I've made them for family and friends, and have gotten rave reviews every single time. I still can't forget the time when I made them for my family, and my cousin came back for thirds and fourths. That's what I call a hit. 🙂
Incredibly easy to make, these Red Lobster Biscuits are a perfect accompaniment with a dish of pasta or soup, or even just on their own. 😉
So try them out and get ready to make them again and again!
Thanks for reading,
Ikhlas