You'll have to forgive me in advance for this post, since I'm falling asleep as I type it. Is it very late, you ask? Nope, it's not even 2 o'clock in the afternoon but I'm barely able to keep my head up. I wish it was because of an exciting reason, like staying up late painting frescoes on the walls of my room, but unfortunately it's because of waking up early for work. -_-
In case you didn't know it by now, or haven't heard me whine about it enough times, I get up at 4 AM (almost) every day for work to start my shift at 5 AM. I'm a morning person, so normally I'm okay as long as I get enough sleep. I'm sort of groggy and rubbing my eyes for the first ten minutes, but then I'm completely wide-eyed.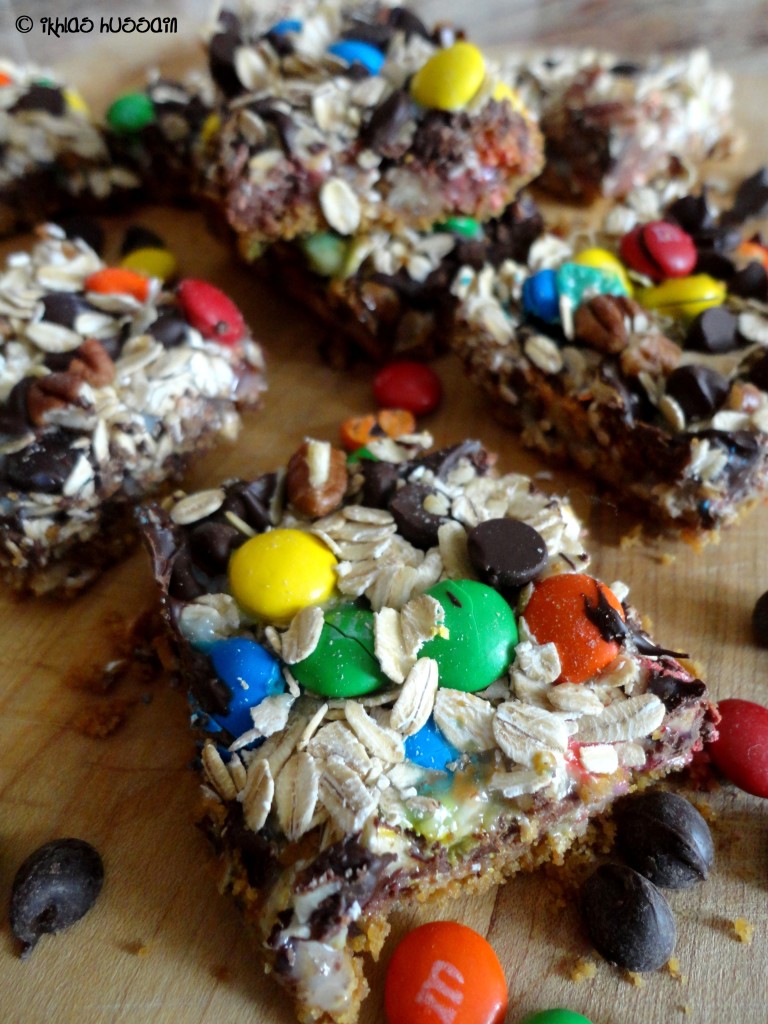 But for some weird reason, I've been SO sleepy throughout the entire day for the past few days, despite going to bed at 8 PM for the past few nights.  A lot of people have suggested napping, but I kind of hate it on account of it messing up my entire routine. Yeah, I know, I'm such a fussy person. 🙂
But instead of boring you with my boring sleep cycle stories, let's examine these bars, shall we? Secretly, I think my body is staging a protest in demand of chocolate and sugar, but let's not tell the doctor that, kay?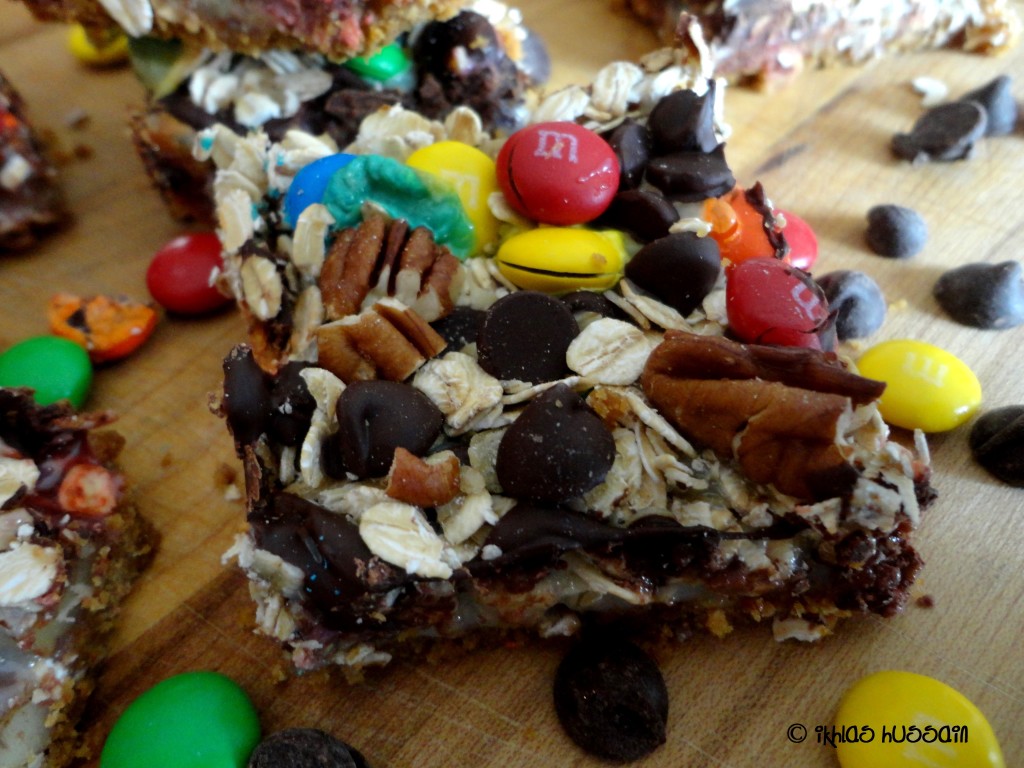 I love making bars and squares. Don't get me wrong, I'm still a cookie monster at heart, but bars are just SO easy and require almost no cleanup. Throw everything into the pan, bake for set time, and voila, dessert (or breakfast) is served! There's no chilling time or mixer or complicated process. You pretty much throw everything on top of each other and it comes out tasting amazing.
I've only recently discovered the deliciousness of oatmeal, and this weekend I was itching to make a recipe with oats in it, other than cookies. Then I remembered bookmarking Ashton from Something Swanky's Monster Cookie Bars several months ago and started to search for it. (I ended up getting lost in my bookmarks folder, trying to organize everything, but that's a story for another day…) The point is, I finally found these chewy oatmeal bars and knew I just had to make them. So if you like chewy, crunchy bars, then you're going to love these!
Ingredients
1.5 cups graham cracker crumbs
3 tbsp butter, melted
1 can sweetened condensed milk
3/4 cup old fashioned oats
1/2 cup

each

chocolate chips, pecans, and M&Ms
Instructions
Preheat oven to 350 degrees F. Spray a 9x13 inch baking dish with cooking spray.
Mix graham cracker crumbs and butter in the pan directly. Flatten with the palm of your hand to create an even crust.
Pour sweetened condensed milk on top. Sprinkle oats, chocolate chips, pecans, and M&Ms in layers, making sure the sweetened condensed milk is completely covered. Press down lightly with the palm of your hand.
Baking for 25 to 30 minutes or until edges of the sweetened condensed milk are lightly browned. Let cool completely before cutting. Store in airtight container.
http://ikhlashussain.com/2013/04/recipe-oatmeal-cookie-bars/
I'm sure many of you agree that sweetened condensed milk is so good that we'd put a spoon into the tin (or is that just me?!). Heavily sprinkled with chewy oats, crunchy pecans and M&Ms, and melted chocolate chips, the sweetened condensed milk tasted even more heavenly!
If you're a fan of crunchy, chewy, texture-filled desserts, then these bars are for you! The oats provide a sort of nutty, wholesome (almost healthy) taste to the bars, while the candy and chocolate add an extra level of sweetness and crunch.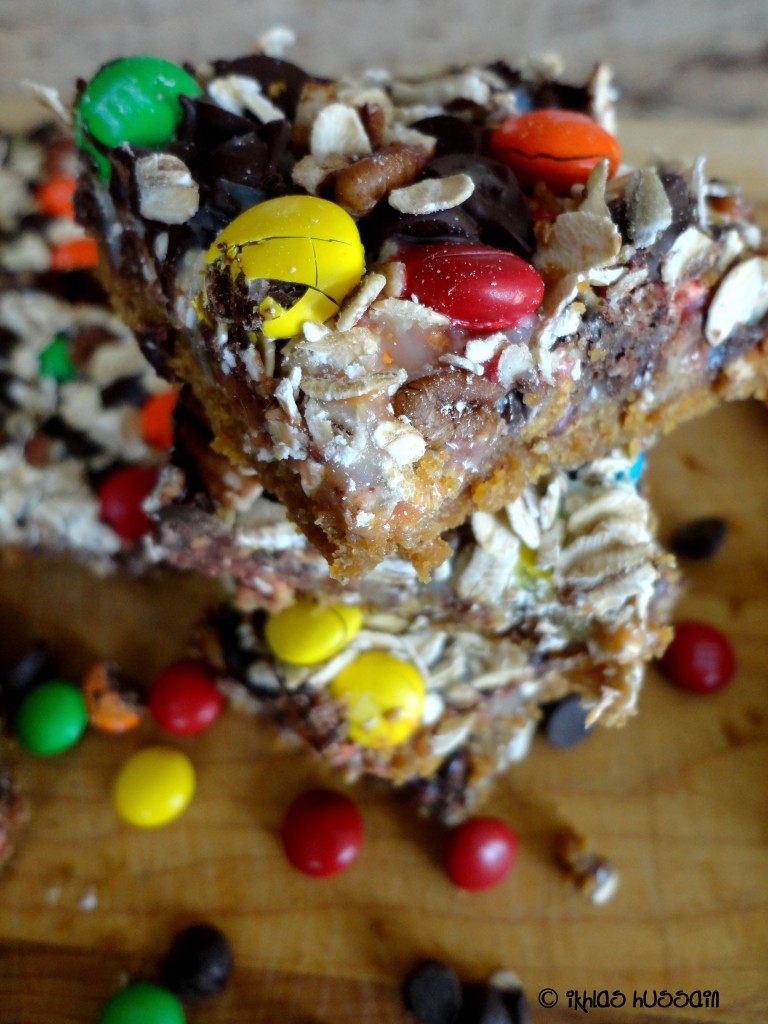 If you're like me, and waiting for things to cool down completely before cutting is a massive chore, then stick these in the fridge for a half an hour. I let them sit there even longer, because I love them cold, but feel free to start cutting them up after half an hour.
Chewy and crunchy, these Oatmeal Cookie Bars didn't last very long! I cut them into 16 large bars, but they can easily be cut up smaller for more quantity. 🙂
To continue my story earlier about organizing my Bookmarks folder, I actually ended up discovering that there was a MUCH easier way to organize and keep track of all the yummy goodies I want to make: Pinterest! Come follow me and we can drool over decadent desserts together. 🙂
Thanks for reading,
Ikhlas