I've been on a quest for easy cinnamon rolls for quite some time now. I've stumbled upon some mouth-watering pictures, but the recipes are so long and complicated. And they all involved yeast. And yeast requires patience, which I have very little of.
Now, I have no problem with complicated recipes (most of the time). On regular days, when I'm not watching the clock like a hawk, wondering how much longer till I can break my fast, I don't mind waiting around.
But my craving for cinnamon rolls, hot and ooey-gooey out of the oven, was an urgent one, like it can be for peanut butter sometimes.
So when I finally stumbled on this easy recipe that required no yeast, I was ecstatic. Not only does it not use yeast, but it's made with refrigerated dinner rolls!
You'll find that I don't have any exact measurements of ingredients here, since I literally just threw it together, without really measuring anything. And that tells me that no matter how much or how little of the four essential ingredients you throw in, these babies will still be scrumptious.
It doesn't get any easier than this. 😀
Easy Cinnamon Rolls
Slightly adapted from Sally's recipe.
Ingredients:
1 tube refrigerated crescents
butter, softened
1 teaspoon ground cinnamon
1/2 cup brown sugar (roughly)
1 tablespoon granulated sugar
Directions:
Preheat oven to 375 degrees F.

Open up the tube of rolls and unroll the two halves, spreading them open.

Because the dough is made for crescent rolls, it will be pre-cut in triangles. Taking the flat side of a spoon, push the dough back together until you have a rectangle, without any separations.

Spread with the softened butter. Use as much or as little as you like. (The more the merrier!)

Sprinkle with the mixture of sugars and cinnamon, making sure to get it all over.

Start rolling your rectangle up, making it nice and tight into a long roll.

With a knife, cut the dough depending on how thick you want your rolls.

Place in mini muffin tin and bake for 7 to 9 minutes, or until the buns are a nice golden colour.

Spread with cream icing immediately after removing from the oven.
Cream Cheese Icing
Ingredients:
1/4 of a 250 g brick of cream cheese, softened
icing sugar
butter
Directions:
Mix your cream cheese and butter together until the mixture is nice and smooth.
Add your icing sugar, tablespoon at a time and whip it up until you get the desired consistency.
Place in fridge until ready to use, and then spread over hot rolls when they come right out of the oven.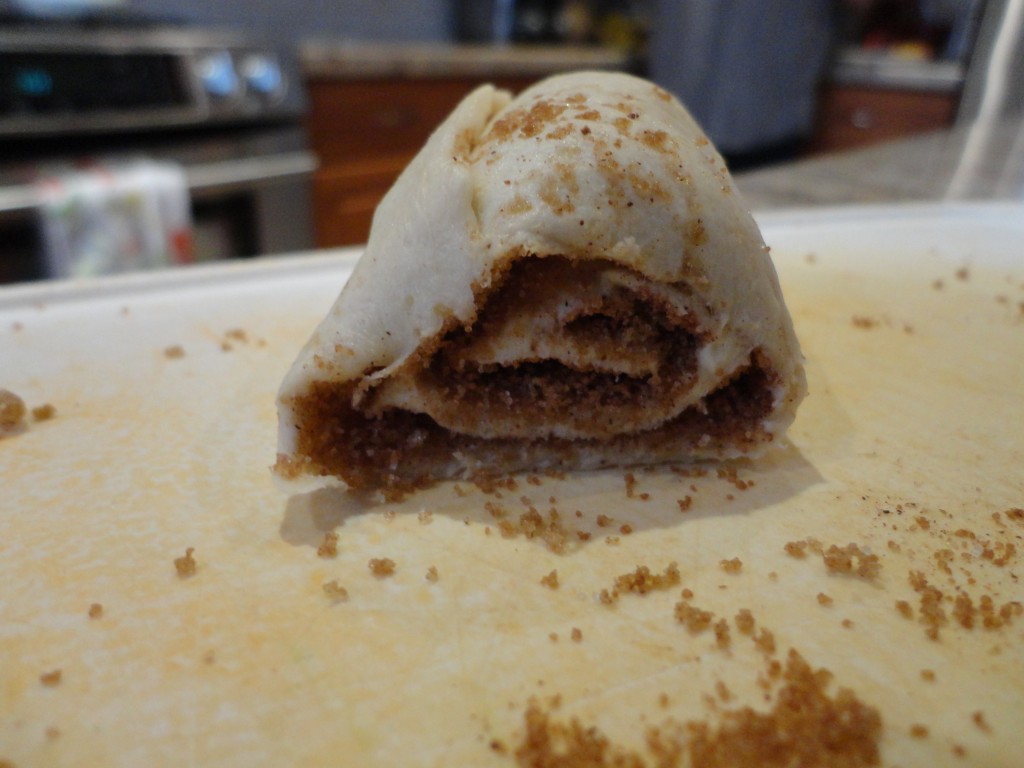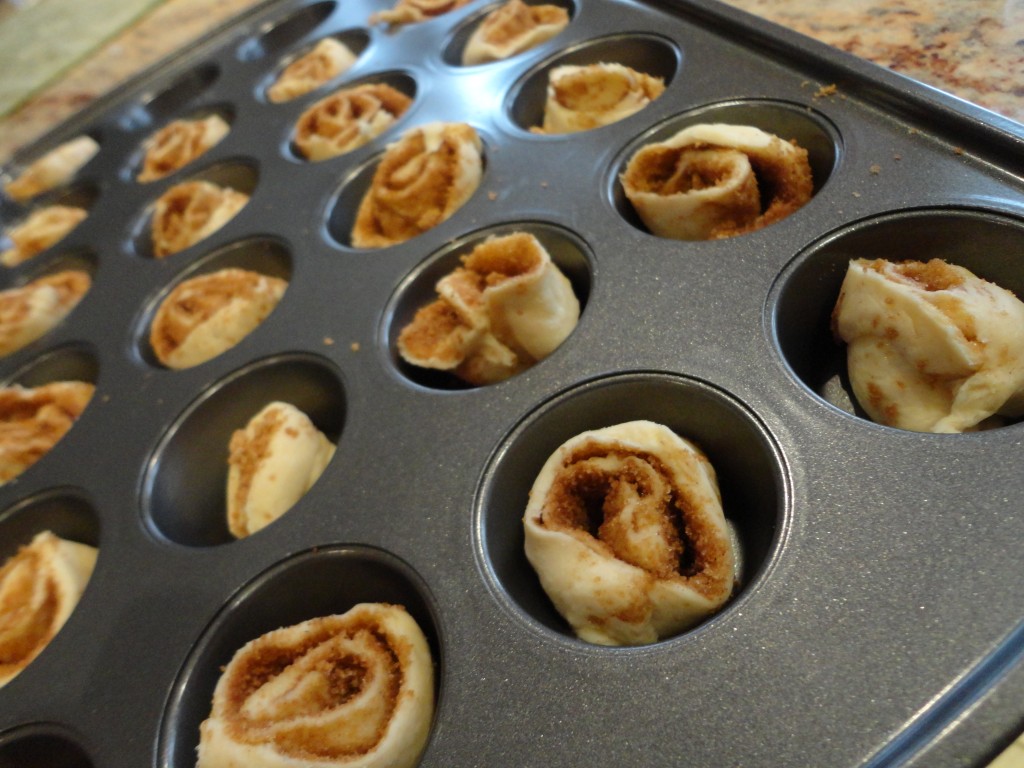 And that's it, folks! Hot out of the oven, these rolls melt in your mouth with swirls of cinnamon and sugar and butter embedded in crispy, fluffy bread. I was too busy taking pictures of the rolls so I kind of forgot to put the icing on them right away, which is why it looks like massive globs in my pictures. But if you put it on right after it comes out of the oven, it'll melt into the grooves of the roll and join the sugars and cinnamon in a happy harmony. 🙂
Thanks for reading,
Ikhlas