Hello friends!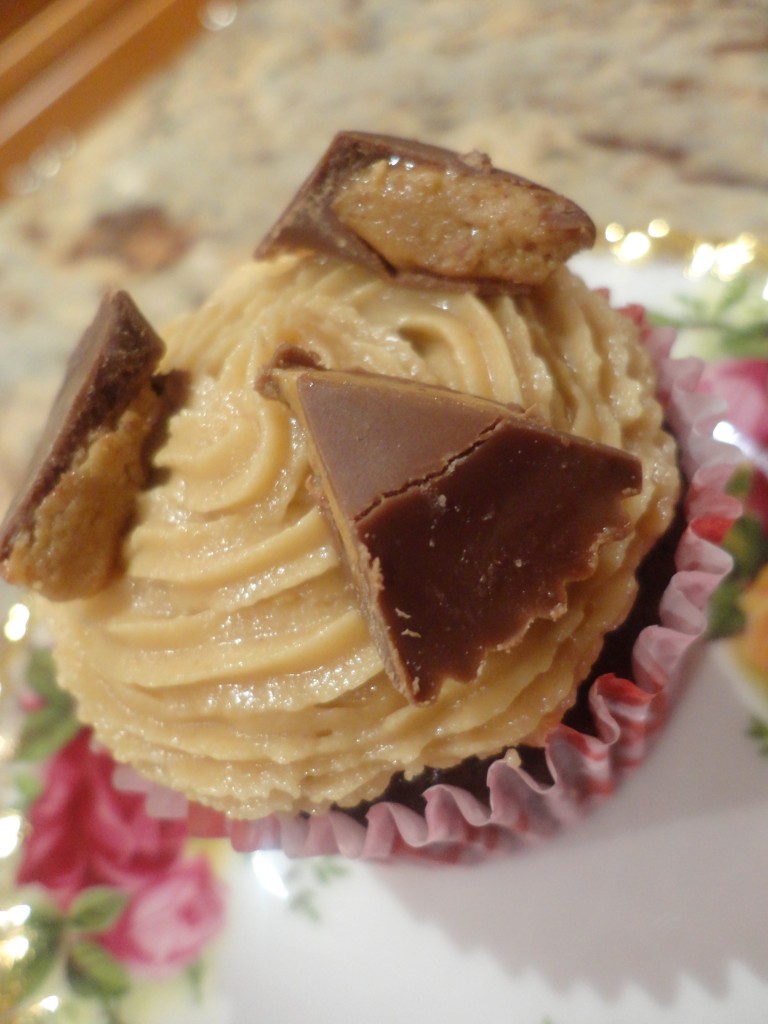 How was your long weekend? I'm not quite sure of the status of this Monday; is it a holiday or is it not? Stores are open, my brother has 2 uni exams today, but my mom, who works for the government, and younger brother are off.
Either way, if you're still off today, hope you're enjoying yourself! 🙂
So Friday night I had a hankering for chocolate cake. As I mentioned recently, I've become obsessed with some food blogs and so there were about 50 different things I wanted to make this weekend. When I saw Crazy for Crust's Dorothy's recipe for this deliciously moist chocolate cake, I knew this was what I was going to make this weekend.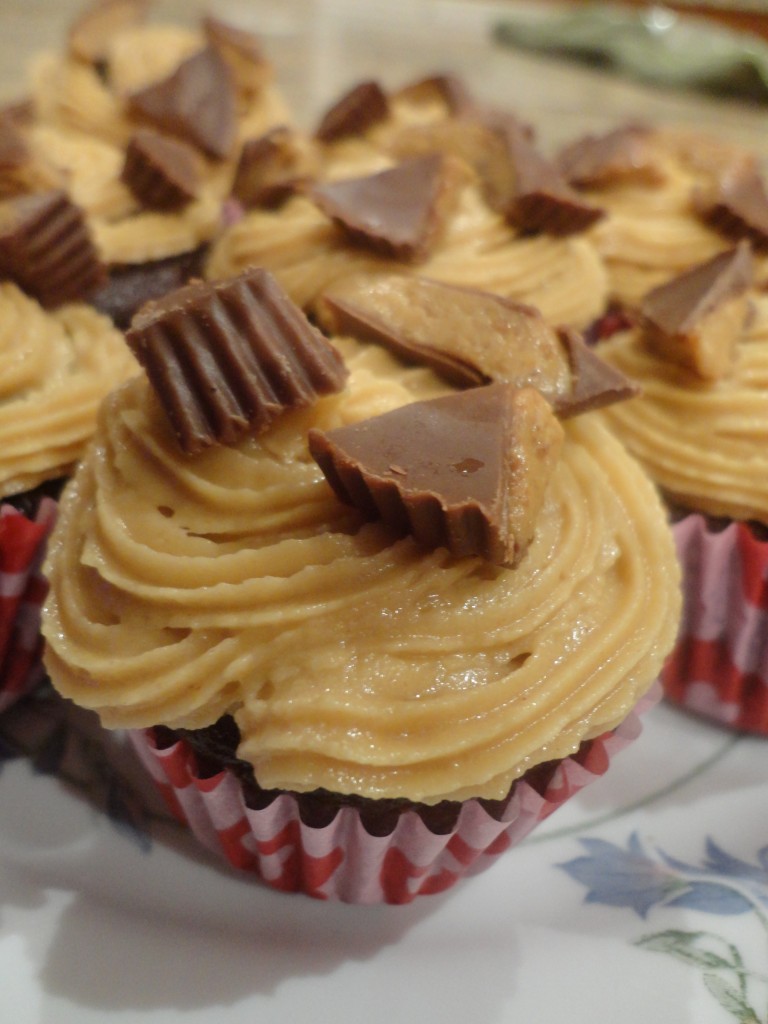 But I decided I want the cake in cup form, so I hunkered down Friday night and produced these cupcakes.
To be honest, I didn't love them so much the first day. I was expecting them to be sweeter and more moist, and so I was a bit disappointed.
So why exactly am I sharing this recipe with you then, you ask?
Because my family LOVED them. My brothers don't like their desserts to be too sweet (what's the point!) and so they loved them, especially paired with the peanut butter icing and the chopped Reese's pieces.
So here's the recipe anyhow, adapted from lovely Dorothy's recipe. Technically, this is a recipe for a cake and so it made only 18 cupcakes. Just something to keep in mind.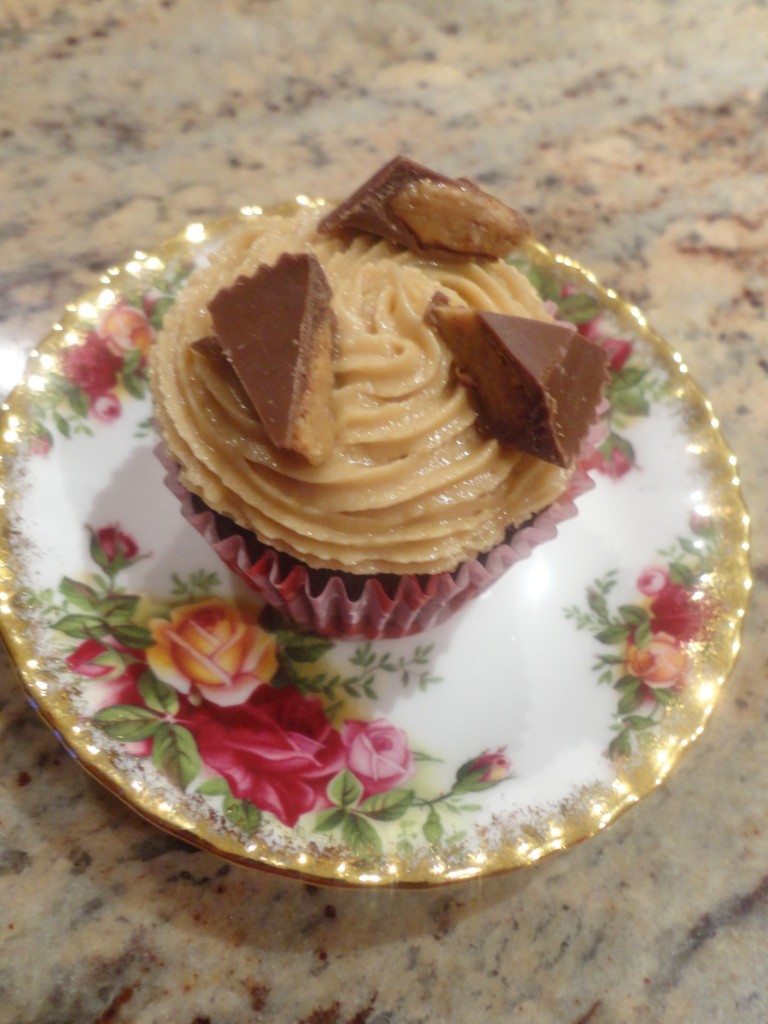 Ingredients:
1 1/3 cups all-purpose flour
¾ cup unsweetened cocoa powder
1 ¼ teaspoons baking powder
½ teaspoon baking soda
¼ teaspoon salt
1 2/3 cups granulated sugar
1/3 cup vegetable oil
2 eggs at room temperature
1/3 cup milk
2 teaspoons vanilla
1 cup boiling water
Directions:
Preheat your oven to 325 degrees F.
Line your cupcake tin with paper liners or grease a cake pan.
Mix the flour, cocoa powder, baking powder, baking soda, and salt in a large bowl.
Add the sugar and mix at a low speed. Then add vegetable and mix it all together. This mixture might be weird and grainy.
In a separate bowl, whisk the eggs first, and then add milk and vanilla.
Turn your mixer on and slowly add the egg mixture until it's well blended.
Add in the boiling water slowly, taking your time to mix it all together.
Ladle the mixture into your cupcake tin, filling each cup a little more than 2/3 of the way.
Bake the cupcakes in the middle rack of the oven for about 20-25 minutes, or until a toothpick inserted in the centre of a cupcake comes out clean.
Let your cupcakes cool completely before frosting them.
Like I mentioned, I would have preferred them to be a bit sweeter, so next time I'll probably add half a cup of semi-sweet chocolate chips for the ooey-gooey factor.
Confession time: I'm a peanut butter fanatic. Chocolate without peanut butter seems lame. I mean, it's good, but where's the excitement? The flare? The drama? There is none.
As a child, my staple lunch was peanut butter and jam sandwiches. Out of laziness, I eventually ditched the jam and just went hardcore, with pure peanut butter. It sounds crazy, I know.
Since I'm not in school any more unfortunately, I don't need packed lunches so I have to become creative in the ways that I maintain peanut butter in my diet. This is how this frosting was born.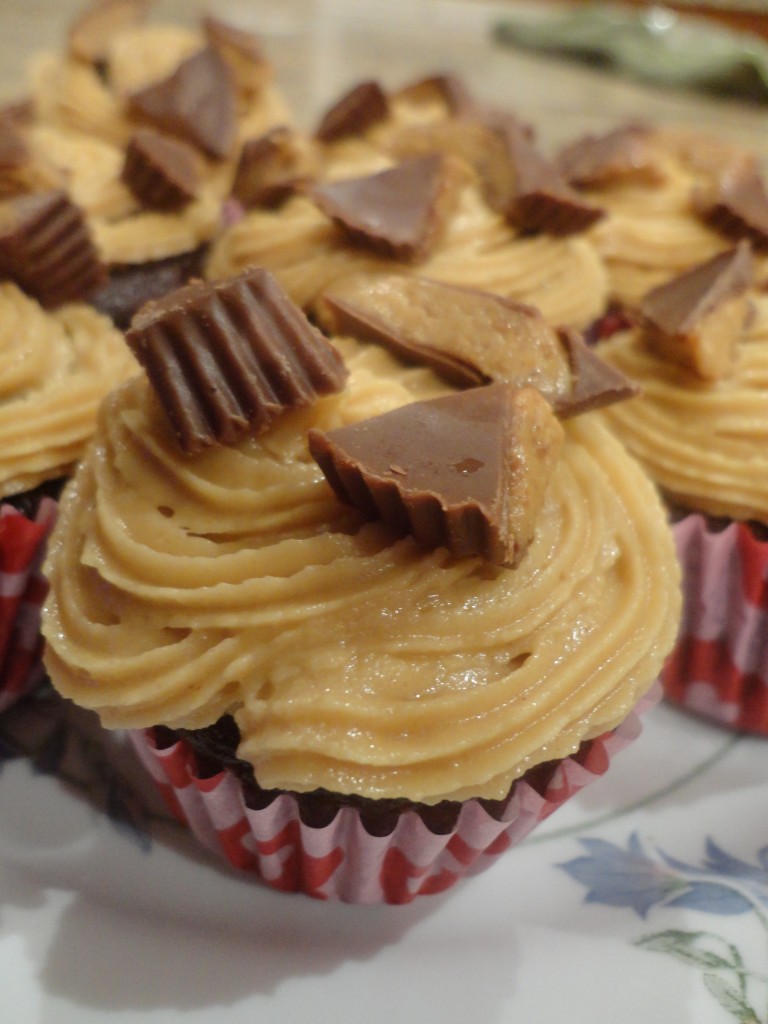 Peanut Butter Frosting
If you're a peanut butter lover, this recipe is for you. if you're not…then, well, make it for someone who does love it. Because they'll love you. 🙂
Ingredients:
1/2 cup butter
1 cup creamy peanut butter
2 cups icing sugar
1/3 cup milk
Directions:
Beat together the butter and peanut butter until light and fluffy.
Then slowly add about half of the icing sugar. Mix only half of the milk, and then add in the rest of the icing sugar.
If necessary, add the rest of the milk until the frosting can be spread easily.
Grab your favourite tip an frost away!
You can also top these with your favourite chocolate or topping. To keep the chocolate-and-peanut-butter marriage faithful, I topped them with bits of Reese's, chopped up.
Like I mentioned, I didn't love them the first day, but by the time I ate some on Sunday, I really loved the rich, chocolatey taste.
Since I had a bunch left over that hadn't been frosting (I got lazy), I decided to chop them up to make a trifle/mousse for a family dinner party we were having on Sunday.
I won't bore you with the directions, but all I did was chop up the cake and layer it in a pretty bowl with scoops of chocolate instant pudding, whipped cream, and leftover peanut-butter frosting. I then topped it with more Reese's and swirls of whipped cream on the edges. It was a hit!
Anywho, that's the recipe(s) in a nutshell. Let me know if you try them and how you get on. 🙂
Ikhlas