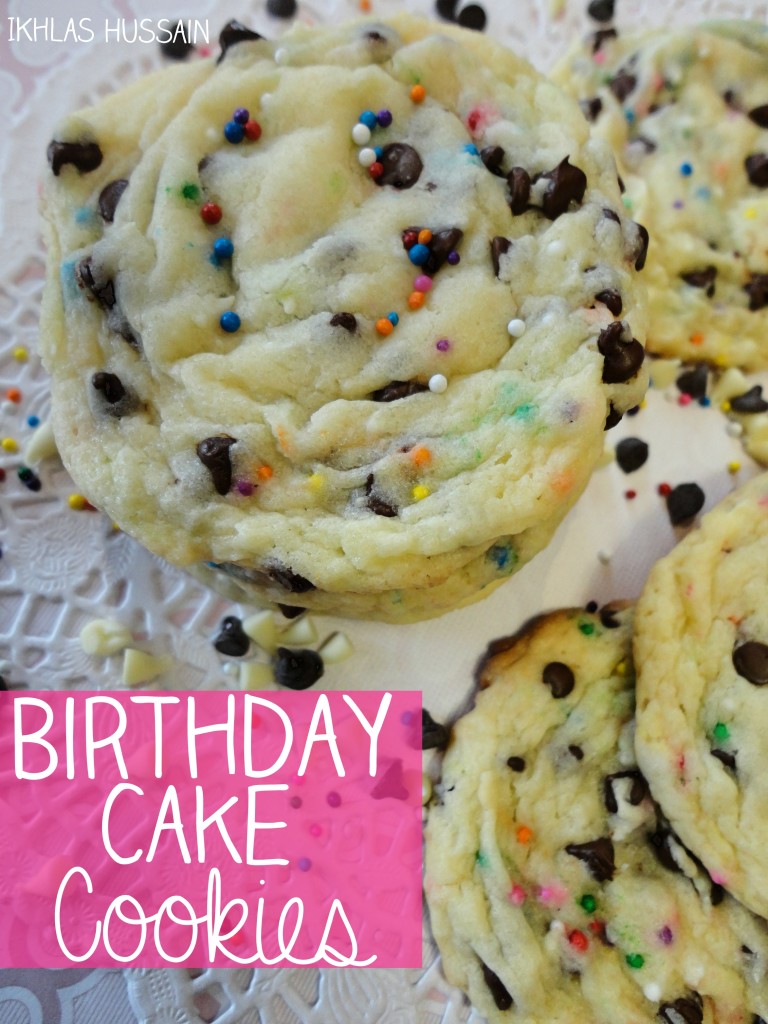 So I'm sitting at home today watching yet another winter storm blow into the GTA! They just don't seem to end this winter. As I watch the snow pile up in snow banks around my house (how will I ever get out?!), I'm SO thankful I don't have class today since I can't imagine trekking through this blizzard to get all the way to downtown Toronto.
Something I'm not thankful for? Not having a plateful of these cookies by my side as I work through a mound of homework…
So these cookies are technically called Funfetti all over the blogosphere but I decided to rename them as Birthday Cake Cookies. Why, you may ask? Because they taste like birthday cake! Jam-packed with sprinkles, two kinds of mini chocolate chips, and cake batter flavour, these cookies are a party just waiting to happen in your mouth.
I'd originally planned on posting these beauties awhile ago, but because the jalapeno popper sandwiches were in such high demand on Facebook, I decided to post those first. Despite how wonderful those sandwiches are, you guys know that baking is my first love, right? And cookies are my second love.
I like to call myself a cookie monster, since I will take a warm, ooey-gooey, chewy cookie over a slice of cake anyday. Partly because there's so many to enjoy! A piece of cake? Once it's gone, it's gone. 🙁 These cookies? You'll wish you made another batch!
My birthday isn't for awhile (sadly), but with these cookies you can pretend that everyday is your birthday! Just look how festive and pretty they look! 🙂 So if you need a birthday in the middle of the week, look no further than these cookies.
Ingredients
1 box vanilla or golden cake box mix (just the dry mix)
2 eggs
1/2 cup vegetable oil
1/4 cup sprinkles
1/4 cup mini white chocolate chips
1/2 cup semi sweet chocolate chip
Instructions
In a medium bowl, mix together the dry cake mix, eggs, and vegetable oil until well mixed. Add sprinkles, and chocolate chips.
Refrigerate for at least 1 hour. Preheat oven to 350 degrees and line a baking sheet with parchment paper. Scoop out cold dough onto baking sheet and place at least 2 inches apart.
Bake for 4 minutes and then turn the tray. Bake for another 4 minutes before removing from the oven.
The cookies will appear puffy and uncooked when taken out; let cool completely before removing and enjoying. Store in an airtight container.
http://ikhlashussain.com/2014/02/recipe-birthday-cake-cookies/
Like I mention above, the cookies will look quite puffy and under-cooked when they first come out of the oven. But don't panic, they'll continue to settle down and cook on the baking sheet, so leave them there for a few minutes.
When I first took a bite of these beautiful cookies, my first thought was birthday cake. Because with all the extra sprinkles and cake batter flavour, these non-traditional cookies tasted so much like the plain vanilla cake, smothered with vanilla frosting and sprinkles from my childhood. And how awesome does birthday cake taste?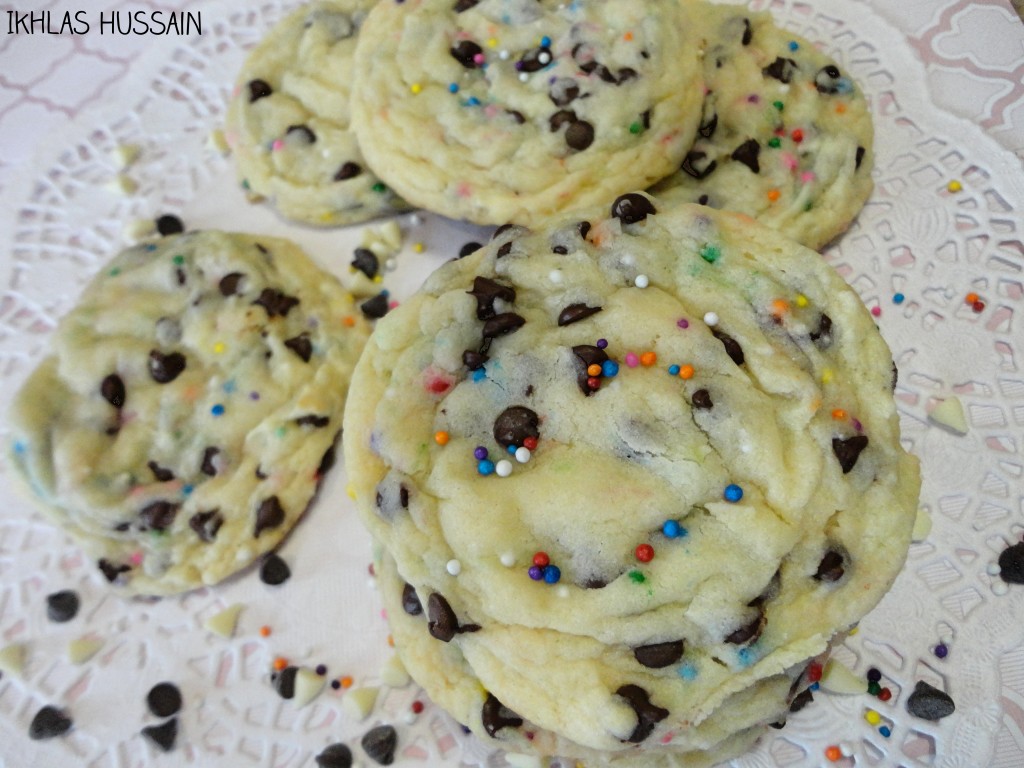 Incredibly easy with virtually no clean-up, these cake mix started cookies are quickly becoming a favourite in my house. My brothers couldn't believe they originally started from a box of cake mix and neither will you!
So if you need a dessert to bring to a party or get-together or just need to party on a weekday, then look no further than these simply amazing Birthday Cake Cookies. It'll be your own personal party!
Thanks for reading,
Ikhlas