Today I'd like to share with you the story of the first time I baked something from scratch. It happened during what I like to call my 'Betty Crocker' years (aka the cake mix years).
Now, like most girls growing up during the nineties and early 2000s, I absolutely loved Mary-Kate and Ashley Olsen. I watched their shows and movies, I read the books that featured them, I collected their stickers, I dreamt that one day I'd get to meet them and that we'd all become best friends and that they'd want to write a book about me. Like I said, totally normal, girl-growing-up-in-the-early-2000s stuff. 😀
So I had this magazine that my mom had bought for me that featured all of MK and Ashley's favourite things, like their favourite movies, colours, clothes, places to go, and of course food. At the back of the magazine was this recipe for Chocolate Cookies that the twins made ALL THE TIME, and it was just their ABSOLUTE favourite recipe, and oh-my-God-I-had-make-it-now.
I was about twelve or thirteen and had become a master of the Betty Crocker cake mix for quite some time. However, this was the first time I was making baked goods from scratch. Seriously though, I had thought, how difficult could it be?
So my mom bought me all the ingredients and let me make them myself, probably on the assumption that I knew HOW TO READ. But in my excitement, I read the ingredient list, dumped them all together in the bowl, and forgot to actually read the directions which detailed WHEN to add each ingredient. Too used to my Betty Crocker days, I figured making cookies from scratch was just like making cake from a mix: dump it all together in one bowl and throw it in the oven.
Obviously when my 'cookies' came out of the oven, they didn't look quite like cookies. And when I bit into one rock-hard, lumpy, charcoal looking chunk, I started crying immediately because my attempts at baking from scratch had failed.
My family had a good ol' laugh, while I vowed not to bake anything from scratch EVER AGAIN (obviously I didn't keep this vow), and stuck to watching Mary-Kate and Ashley movies. The end.
Moral of the story: read the directions!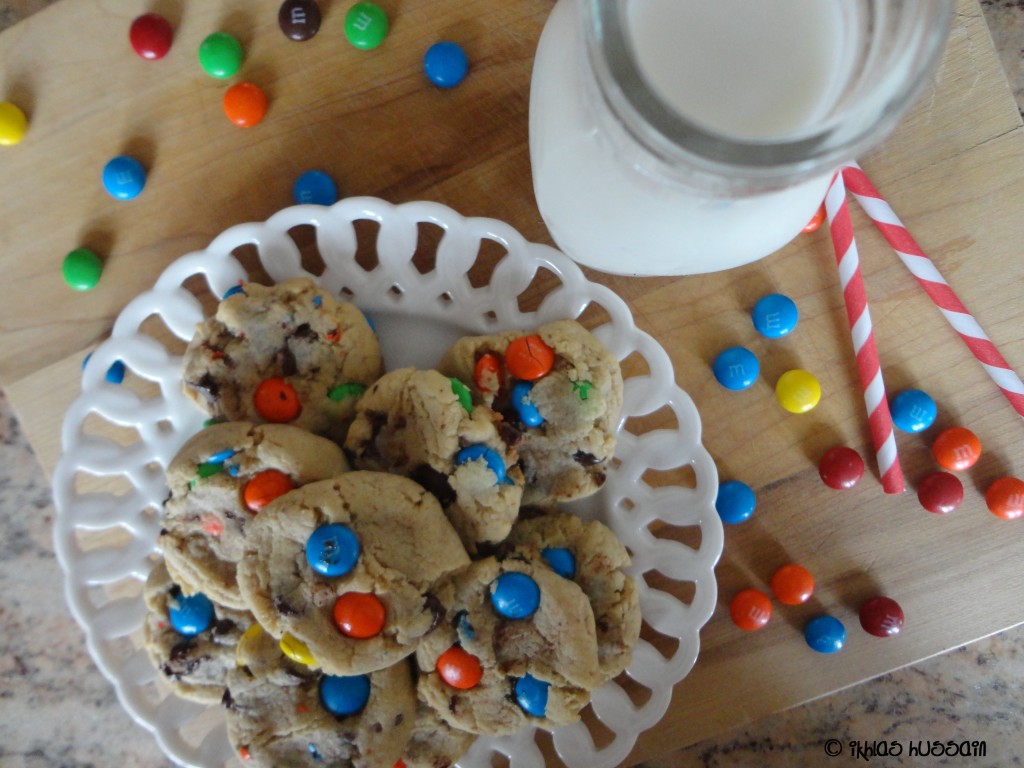 I wish I still had that magazine today so I could try to make those cookies that were apparently MK and Ashley's FAVOURITE cookies, and see if they really were all that good. Lol.
But if you read the ingredient list and directions to this recipe, I promise you will end up with soft, chewy, scrumptious cookies!

Who doesn't love a Classic M&M Cookie? Soft and chewy, these thick cookies are studded with a healthy dose of colourful, crunchy M&Ms and semi-sweet chocolate chips. They're perfect for for those late-night sugar cravings, and pair quite nicely with a tall, cold glass of milk.
Check 'em out! 🙂
Ingredients
2 cups and 2 tbsp flour
1/2 tsp baking soda
3/4 cup butter
1 cup brown sugar
1/2 cup granulated sugar
1 egg, plus 1 egg yolk
1 tsp vanilla
1 1/2 cup plain M&Ms (or any other variety)
3/4 cup semi-sweet chocolate chips
Instructions
Sift together the flour and baking soda, and set aside.
Cream your butter and sugars. Add egg, egg yolk, and vanilla.
Slowly mix in the flour mixture into the butter mixture, mixing well. Add the M&Ms and chocolate chips by hand.
Scoop out the dough, set on a parchment lined cookie tray, and refrigerate for at least an hour. The longer the better!
Preheat oven to 375 degrees F.Bake for 10 to 12 minutes, or until the edges are golden brown. You want to take them out when they look slightly undone, as they'll continue to cook even after you take them out. Let cool completely and store in an airtight container.
http://ikhlashussain.com/2013/07/recipe-classic-mm-cookies/
This recipe is the same one that I used in my Ultimate Chewy Chocolate Chip Cookies and just like those, these cookies are soft and chewy, and stay that way for days!
Stuffed with crunchy M&Ms and ooey-gooey chocolate chips, these are truly a classic for anyone who loves cookies. With the different coloured candies, they're perfect for kids…and adults too!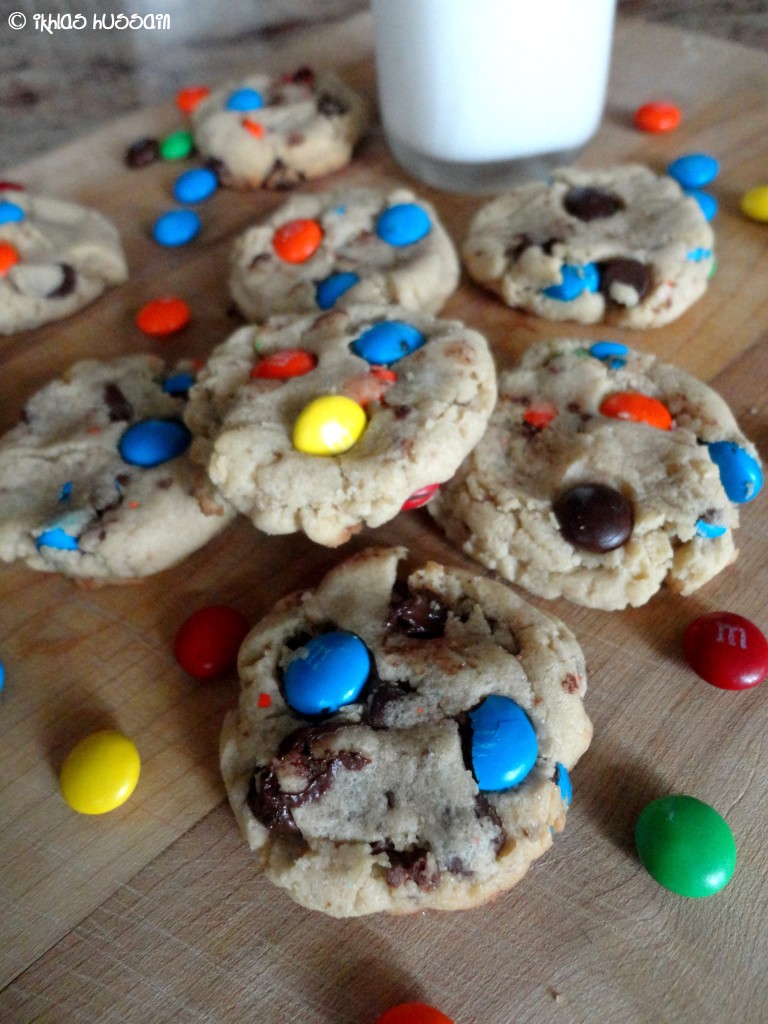 I made these about 3 weeks ago, but looking at the pictures reminds me of the buttery softness inside these cookies, and the taste of crunchy candy and sweet chocolate chips. You just can't beat 'em!
If you like cookies, I hope you'll try these Classic M&M Cookies out!
Thanks for reading,
Ikhlas
P.S- For all my Muslim readers, Ramadan Kareem! May this month be filled with blessings for you. 🙂