Print Recipe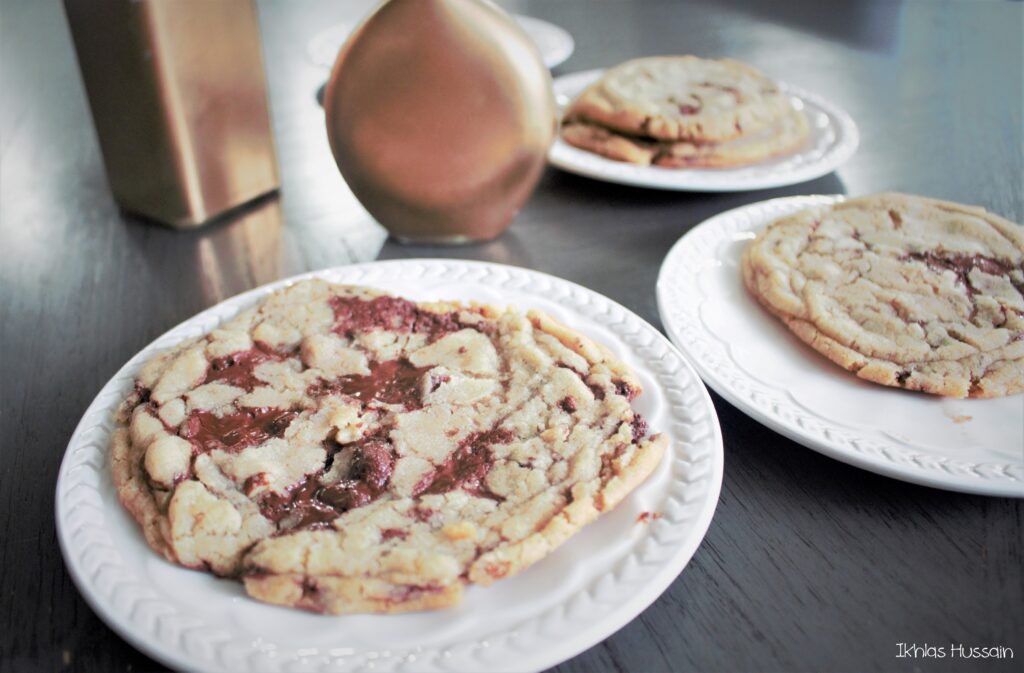 Have you ever seen a recipe online and become obsessed with it? I have. These crinkly chocolate chip cookies have been haunting me for quite some time now.
I have been seeing these gorgeous cookies all over the Internet for a few months now, along with their slightly unorthodox method of baking. The are unforgiving in their size and have beautiful crinkly tops and crispy edges.
Making them is a bit weird: you literally bang the pan on the counter to get those beautiful crinkly edges.
I am not kidding; my family thought I was nuts as I kept banging the pans against the counter every few minutes. But they didn't have anything to say when they took a bite of that crispy on the outside, ooey-gooey on the inside chocolate chip cookie.
These cookies are not for the faint of heart. The original recipe called for 1/3 cup of dough per cookie, but I thought that sounded too big so I scaled back a bit to 1/4 cup. But they were still big and wonderfully chewy and crispy. They are about the size of Starbucks cookies and one will set you back for your sugar intake for a week (or day, let's be honest).
They're called chocolate chip cookies, but they actually have chocolate chunks. If you haven't made the switch from chips to chunks, do it now! Look at those gorgeous rivers of chocolate running through that cookie. I use Ghiradelli baking bars, but you could use any kind of baking chocolate you like.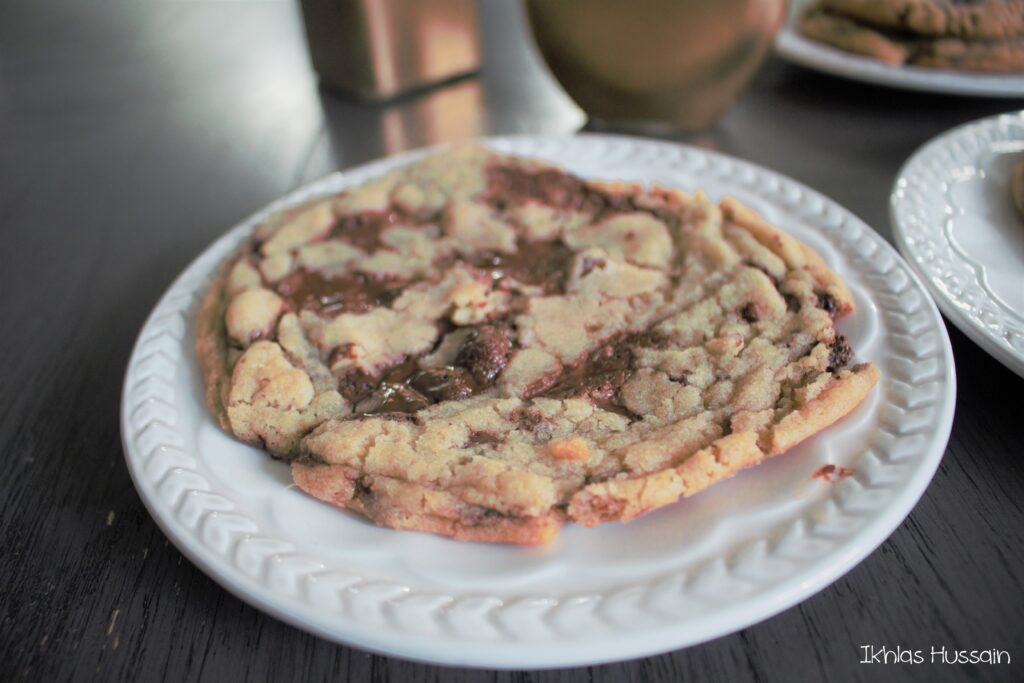 The key is to chop the chocolate yourself and not use the pre-chopped chunks. The pre-chopped chunks are definitely easier and I love to use them too, but it's worth it to go the extra mile on these bad boys. Trust me.
I ended up using semi-sweet chocolate but you could also use bittersweet or a combination of both. I also added a generous sprinkling of chopped pecans because nuts make everything better. I loved the added crunch and texture in these cookies.
Enough chatting, let's take a look at the recipe!
Crinkly Chocolate Chip Cookies
Pan-banging giant crinkly chocolate chip cookies
Ingredients
2

cups

all-purpose flour

¾

tsp

salt

½

tsp

baking soda

1

cup

butter

or 2 sticks

1¼

cup

granulated sugar

½

cup

brown sugar

1

egg

1

tsp

vanilla

8

oz

or 2 cups bittersweet or semi-sweet chocolate, chopped in chunks

1/2

cup

chopped pecans or walnuts
Instructions
In a medium bowl, mix the dry ingredients (flour, salt, and baking soda) and set aside.

In the bowl of a stand mixer or with a handheld mixer, cream butter with granulated and brown sugar until fluffy. Add egg and vanilla.

With the mixer on low speed, slowly add the flour until completely incorporated. Add chopped chocolate and nuts and mix again.

Take a 1/4 cup measuring cup and carefully measure out dough. Place 4 balls of dough on a tray lined with parchment paper and freeze for 15 minutes. Prepare rest of the dough to be frozen while oven is preheating.

Preheat oven to 350 degrees and bake frozen cookies for 8 minutes. While cookies are baking, place next tray in the freezer for 15 mins. Remove cookies from the oven and bang the tray on the counter a few times, until dough starts to pool out at the edges. Place back in the oven for 2 minutes and repeat, and then for another 2 minutes and bang again until the edges are slightly crispy and the centre is still soft.

Allow cookies to cool completely before devouring with a tall cold glass of milk.
Both 1/3 cup and 1/4 cup make hefty cookies, so if you do choose to go for the 1/3 cup of cookie dough, just change the initial bake time to 10 minutes instead of 8. And then keep taking them out and banging every 2 to 3 minutes until the edges are crispy and lightly browning.
The original recipe called for more granulated sugar vs brown sugar, but I like more of a chew to my cookie so I reduced the granulated and increased the brown sugar. The result was a chewy cookie, with crispy edges.
Making these cookies will feel strange as you bang the pan onto the counter. You might want to wait until you're home alone, or just let others know what you're doing because you will definitely get some strange looks and comments! It's a very loud process.
One of these cookies is enough on its own, but if you really want to go the extra mile and make this a showstopper dessert, you can add a scoop of vanilla ice cream and a drizzle of chocolate or caramel sauce. I had some salted caramel sauce sitting in my fridge so I added a drizzle of that on top. But my favourite way is warming one up for twenty seconds in the microwave until the rivers of chocolate start flowing and then eat it with a tall, cold glass of milk. Makes me feel like a kid again.
Deliciously chewy in the centre, with crispy and chewy edges, these crinkly chocolate chip cookies are everything your chocolate chip cookies dreams are made of (and more).
Thanks for reading,
Ikhlas