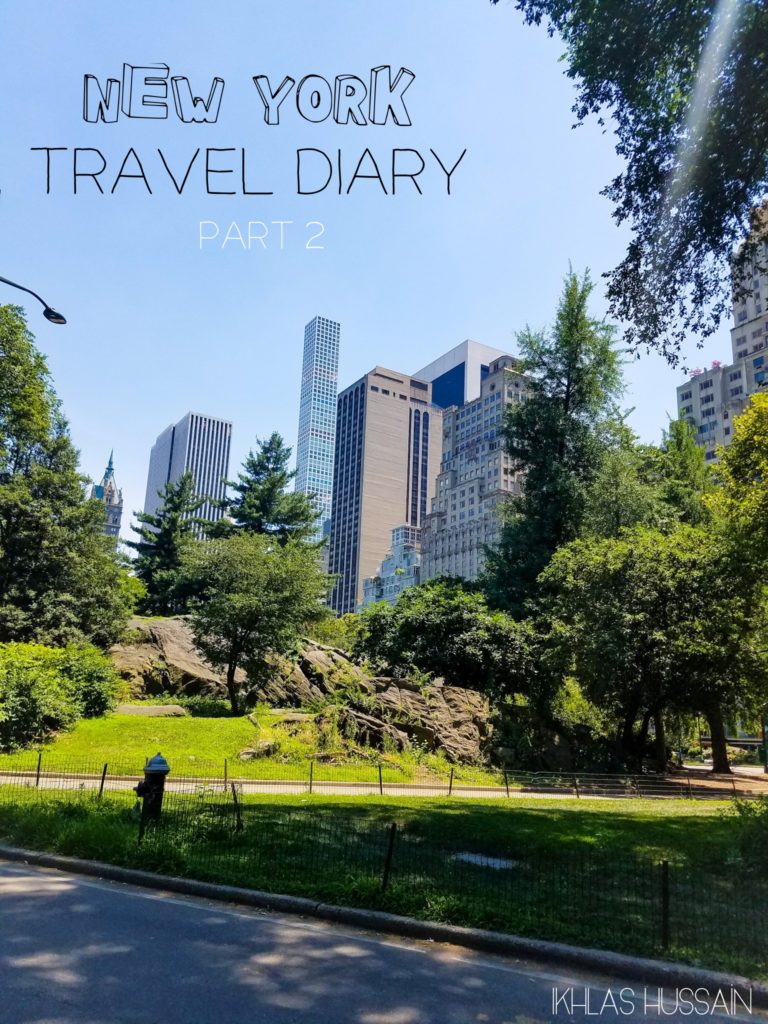 Welcome back to my New York Travel Diary series! Part 2 covers days 3 and 4. Day 4 was actually only a few hours since our flight was in the early afternoon, but a lot happened anyways. To read Part 1, click here.
DAY 3
Day 3 was a Monday which meant our time with Fatima had come to an end as she went back to work.
We started our morning with a real New York bagel! Again, this was something that was on my list but all the ones that were one the 'best bagels of New York' lists were all far from our hotel. There was this random shop called Pick a Bagel which was absolutely delicious! I got a sesame seed bagel with cream cheese and smoked salmon, which I had just recently discovered and fallen in love with. The bagel was crispy on the outside and chewy on the inside. Nothing beats a fresh bagel!
I had heard about an exhibition being in New York for one of my favourite shows and was so happy to find out it was still there when I was planning my trip. So early Monday morning, my mom and I walked 5 mins from our hotel to the Downton Abbey exhibition so we could be transported to 1920's England.
This should have been a fun morning but Emaan was super cranky and we had to rush through the exhibition rather than take our time because she was crying a lot.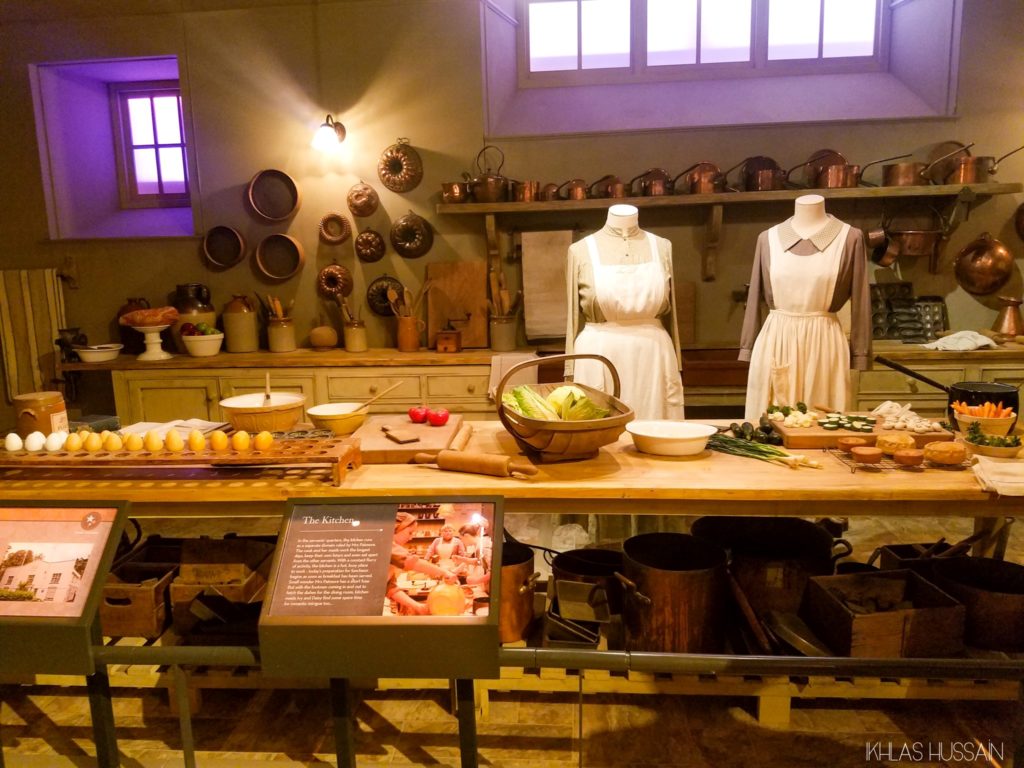 They had set up the exhibition just like the Crawley house: downstairs were the servants quarters and upstairs were the family's quarters. The upstairs sets were recreated with the original furniture, because the rooms in Highclere castle were used to film. On the other hand, the kitchen and all the downstairs rooms were build on a soundstage so they were the originals used in filming!
We spent the morning walking through the sets, learning what position we would to be if we were working for the house, and learned some more about what life was like. And of course we gazed at beautiful period dresses! Definitely my favourite part of the morning!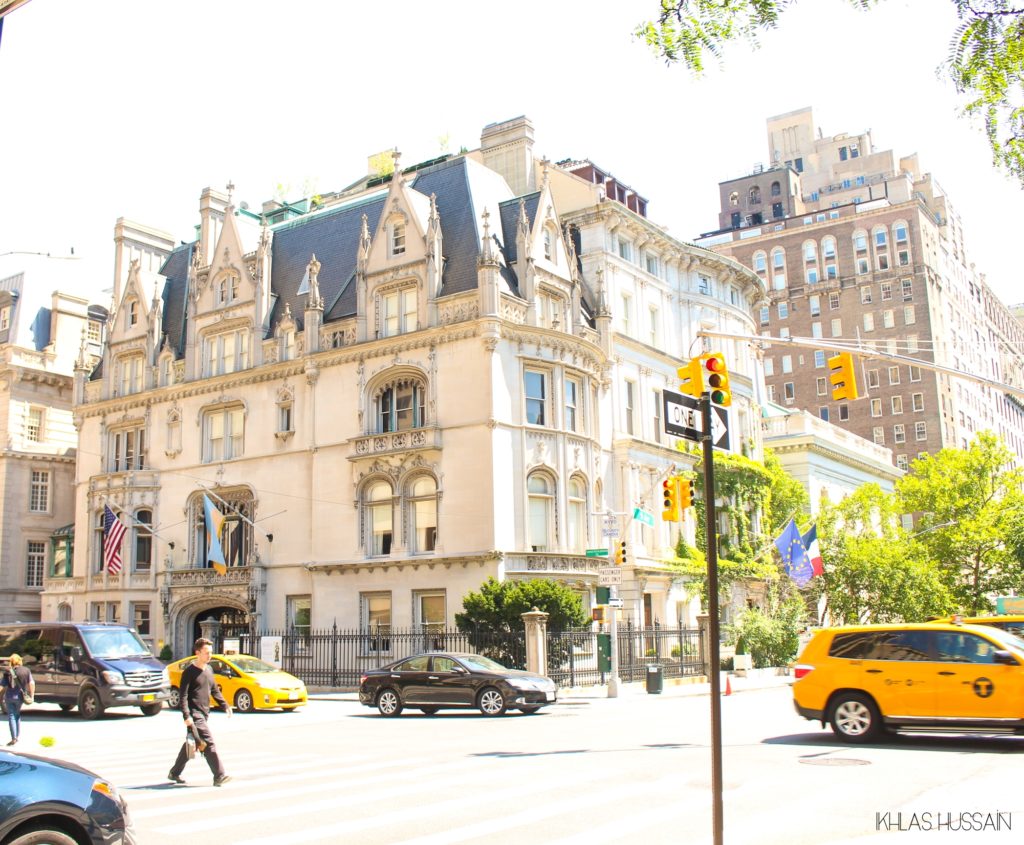 We had relegated the day to shopping so as we made our way back to our hotel, we passed by a TJ Maxx and had to go in. After buying some presents for my husband and brothers, we headed back to our hotel for a quick rest and lunch.
We reheated the garlic shrimp pizza from the night before and it was even better, if that's possible!
Newly reenergized, we made our way to Central Park to get to the Met. Since it was a hot day, I figured it would be nice to spend some time indoors in air conditioning. The walk through the park was lovely, and I wish we has spent more time there. My mom and I just talked as we walked and it was so nice to hear birds chirping and not cars honking. The city seemed to melt behind us as we ventured further into the oasis.
We took a brief snack break near this bear statue which Emaan could not get enough of!
Finally we made it to the Met. Now, last time we had been to the Met, we had done suggested pricing which means you give a donation and not the whole amount. I was under the impression that the same rule applied but when I tried to do it I was informed that you had to be a New York resident to so do. Talk about super embarrassing! I wouldn't have minded paying the full price if we we're planning on spending the whole day there but since we were just passing through, we decided to skip it.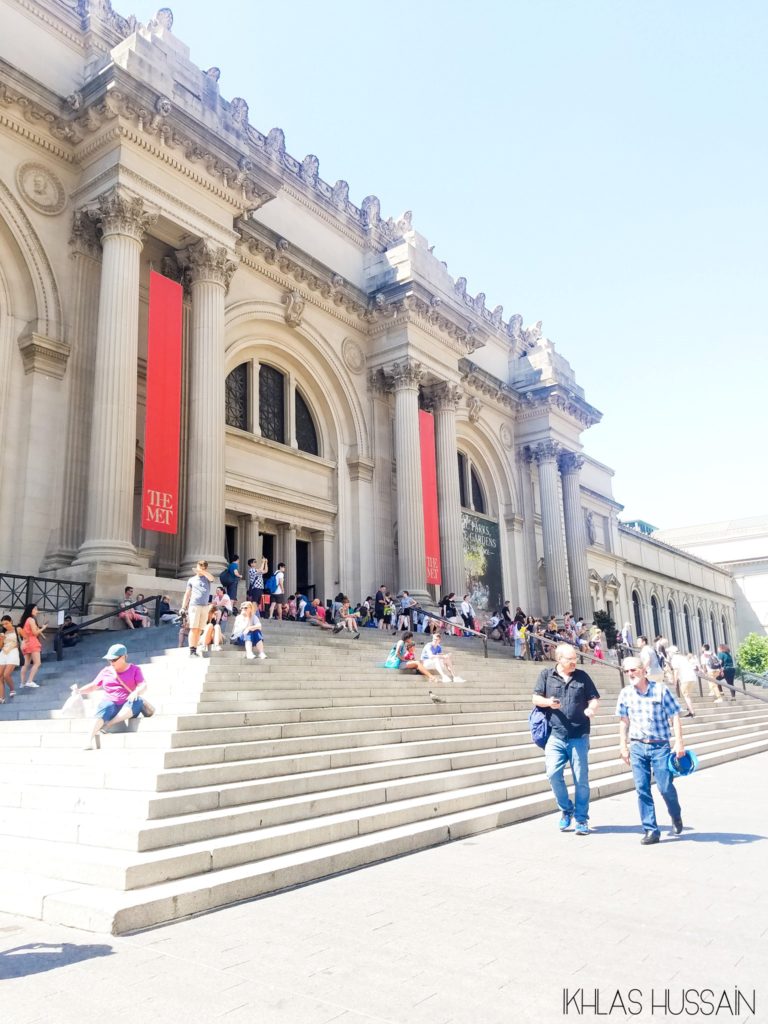 So we called an Uber and made our way to Times Square. Originally we weren't planning on going to Times Square, since we had seen it before, but the Sephora there was one of the few in the city that had Huda Beauty's liquid lipsticks. And so I made the sacrifice for beauty!
We spent a bit of time walking through some of the shops; I had needed to get some keychains and hadn't really seen any tourist shops anywhere else. Emaan was getting a bit restless so we took her to the Disney Store and she lit right up! I'm not going to pretend I didn't have fun either; I've always loved Disney and this one had a treasure trove of stuff!
Once we finished our shopping, we decided to head to Eataly for dinner. It was a 30 min walk from where we were in Times Square but we honestly just should have taken another Uber. We were beat by the time we reached the restaurant!
If you've never heard of it before, Eataly is an authentic Italian grocery store with restaurants inside. There's a seafood restaurant, a meat lovers restaurant, and a pasta and pizza restaurant.
There were long waits everywhere and we debated between staying and going, since we were famished but in the end we decided to stay. The 25 min wait wasn't as long as they had told us and before long we were whisked upstairs to a small table overlooking the restaurant down below.
I honestly can't remember what I ended up getting. I was so tired at this point and the food was honestly not anything worth remembering. My mom got a ravioli dish that was good. Emaan had had enough at this point and wouldn't sit still, so we literally just scarfed our food and ran.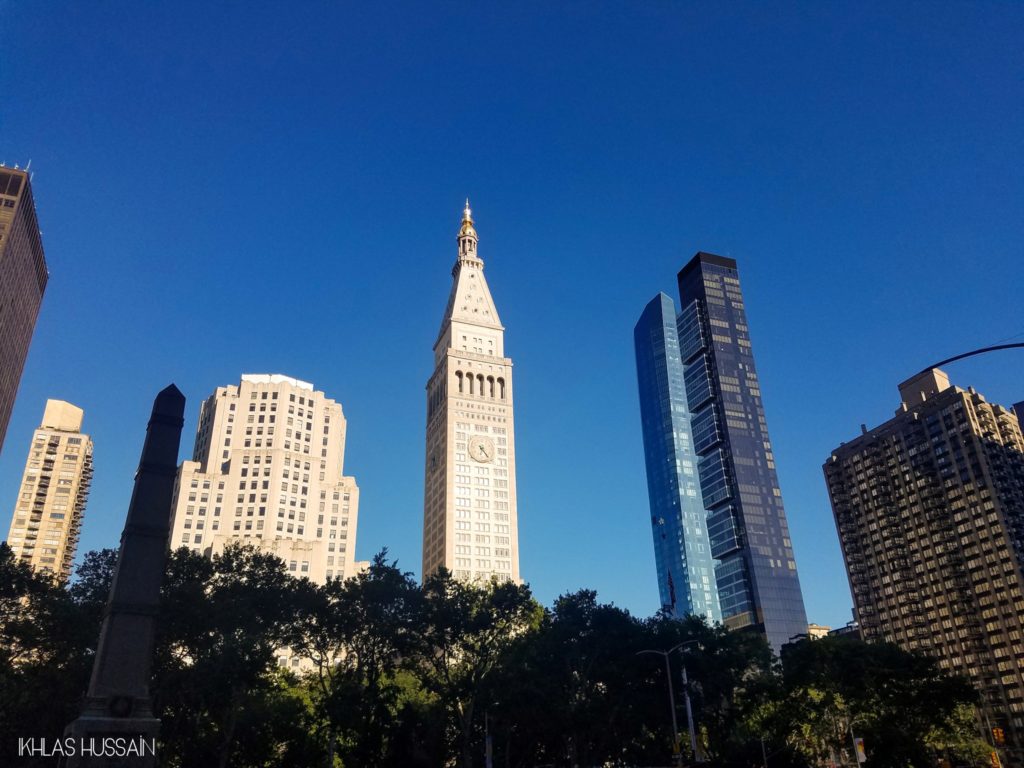 We called another Uber to take us to our hotel, and I tried to get gelato while we waited for our car but again, the wait was way too long.
It was back to the hotel to an early night because our flight was the next day!
DAY 4
I had booked an afternoon flight for us back to Toronto, so we had a few hours to kill before we had to head to the airport.
And what did I chose to fill those precious few hours with? Bakery hopping!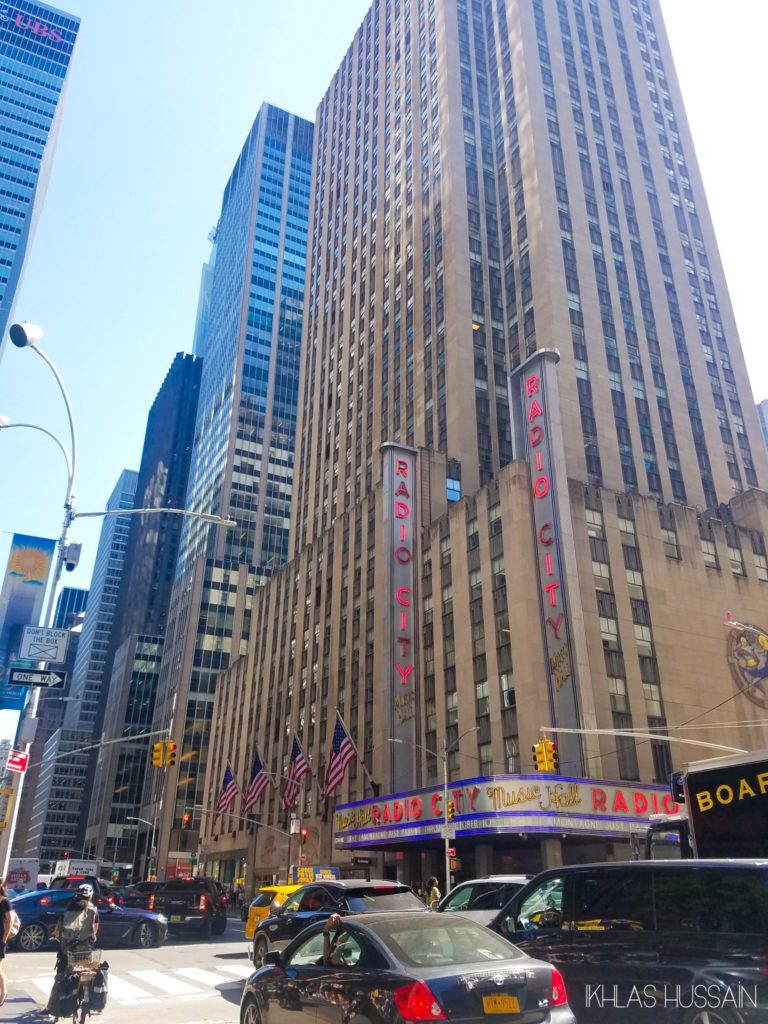 So both of my brothers had asked for food related items from New York, and I wanted to get my husband his favourite banana pudding from Magnolia Bakery.
My youngest brother had asked for a real New York bagel so I got up early in the morning and got a few sesame seed bagels for him from Pick A Bagel. I had loved them and they definitely tasted way better than the grocery store variety from home!
After that, we headed to Magnolia Bakery, a short walk from our hotel. When we lived in Chicago, my husband would love to go to Magnolia and grab a few tubs of their famous banana pudding for himself. I'm not a fan of bananas myself but I knew I had to get him some!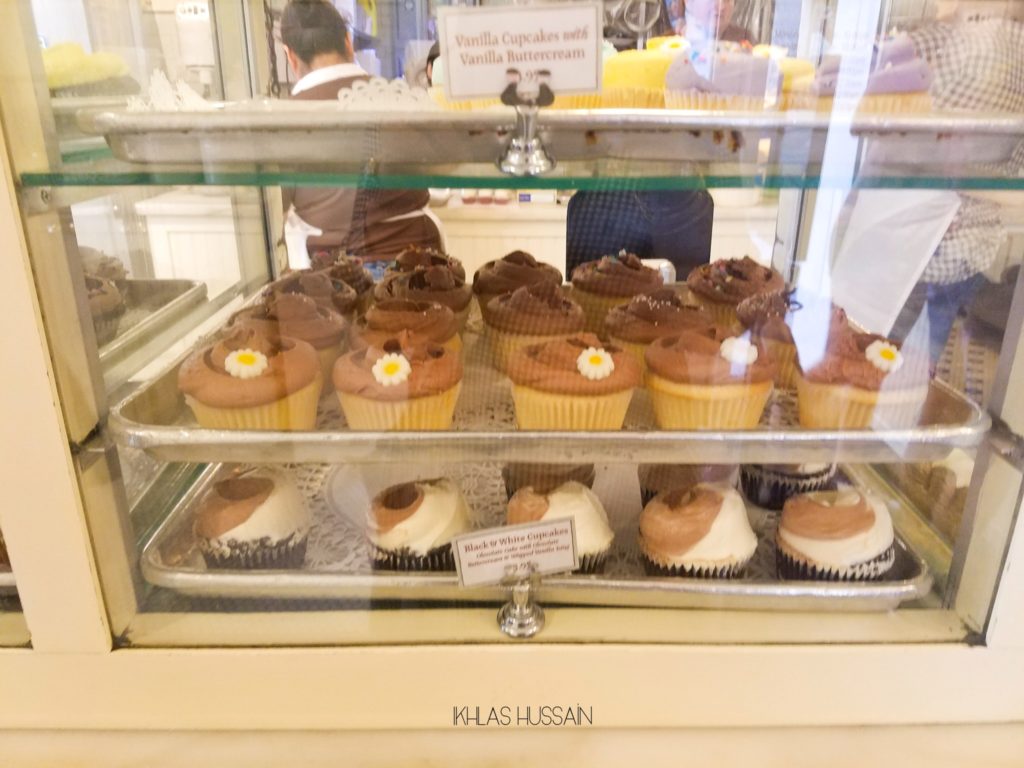 We then made our way to Bouchon Bakery. My middle brother had asked me to get him an almond croissant, a croissant he said he still thought about years after he had had it.
I wish I was exaggerating when I said this, but, that croissant was the best thing I ever ate. I wanted to kick myself for not coming to Bouchon Bakery earlier in my trip, especially since it was so close to our hotel! Croissants are usually light and flaky but this one had substance. I wasn't too sure how I would like the almonds with the chocolate, but the sweetness of the chocolate was subdued by the nuttiness of the almond paste that was creamed together inside with the chocolate. Sprinkled with just the right amount of icing sugar on top, these croissants had a filling that was full of flavour. It was way more than your average croissant!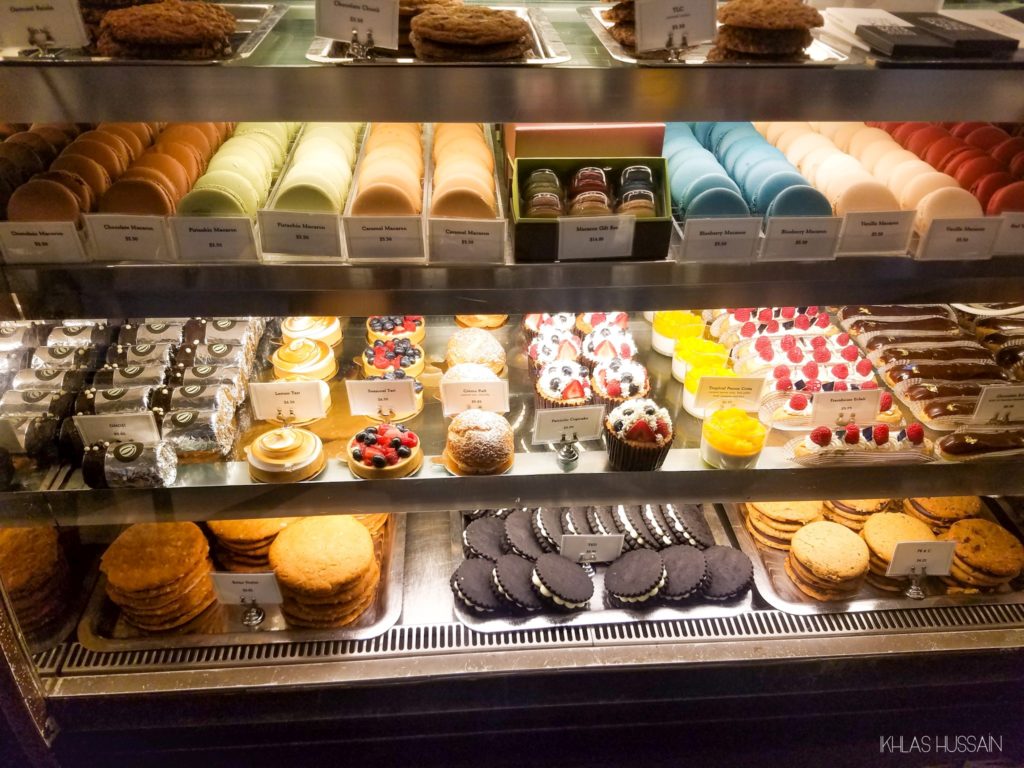 I also got a salted caramel macaron, which was also divine. They were much larger than your average macaron, which made them so worth it.
I was almost in tears for not having discovered Bouchon earlier in my trip. If I had, I would have come every day! There were so many other things I wanted to try, and now I will also tell anyone and everyone who's going to New York City to go to Bouchon and to being me back a croissant. It was definitely the best part of my trip.
After that life-changing experience, we went back to the hotel, gathered our things, and headed to the airport! It ending of my trip would have been perfect except the security agent made me throw out the banana pudding, and so it never made it home! I was devastated.
All in all, it was a great trip. But here are some of my tips/things I wish I could do differently:
If you are traveling with a baby, don't plan more than 2, MAYBE 3, activities a day. I planned way too many, and even though they were close together in distance, Emaan and I both got burnt out. And because there were so many things I wanted to do everyday, I didn't get to enjoy them as much.
If your baby is still napping, try to do one nap in the hotel or at least schedule some downtime or rest time each day. Again, I made our itinerary so packed that by the end of the day, we were exhausted. Of course, this wasn't feasible every day (for example we couldn't go back to our hotel midday on our first day) but try to plan some rest time.
Don't have such high expectations, especially of places that are hyped up so much. This happened to me SO many times it wasn't even funny. The thing is I read and did so much research for my trip, and honed my list of restaurants like crazy. So I was very excited for some of the places I had picked out. But many of them were nowhere as amazing as I had assumed, named Smorgasburg, Laduree, and Eataly. Instead be open to try new things or ask the locals!
Plan your trip by location. So last time I didn't do this and we literally were going across the island the whole day. This time, I was smarter about it and downloaded My maps from Google. It let's you 'pin' locations, whether they're shops restaurants, museums, or anything else you choose. Then when you open your regular Google Maps, you don't need to type up the locations. They show up on your app and you just click on them and their address shows up. Doing this made it easier to plan my day to day itinerary, as I planned to visit things that were closer together.
By the same token, plan your activities with the distance between them in mind. Originally, I had planned our activities with subway travelling in mind, but we didn't end up taking the subway even once. Fatima's husband so generously drove us several times, and then we just took Uber. It was definitely more convenient than taking the subway with a baby, since very few stations had an elevator for the stroller. If you decide to go this route, be mindful of New York traffic.
Last but not least: have fun! The city has a very fast pace and can make you feel frenetic with it's energy but if you're on vacation take it slowly and savour the moments, rather than tick them off some imaginary checklist.
Until next time, New York!
Thanks for reading.
Xoxo,
Ikhlas