I've been making this chocolate bundt cake for almost 2 years now. Apologies in advance for not sharing the recipe!
Like my favourite cookie of all time, the chocolate chip cookie, the chocolate bundt cake is a similarly elusive recipe. Many bloggers claim to have the best chocolate bundt cake recipe out there, and I have to admit, I've tried many of them. I was on the hunt for a chocolate cake of my dreams, one that was rich and moist and decadent, without all the extra work and fancy ingredients.
I grew up on a healthy diet of Betty Crocker box mix cakes. That's what my mom used to make for us every few weeks and my brothers and I would gobble it up. The chocolate cake was moist and fudgy. It came together in minutes, because all you needed was oil, eggs, and water or milk. When I started baking, I started with cake mixes because they were so easy. There was no way to mess them up.
I tried lots of recipes online before finally finding this one. Most chocolate cake recipes that I've tried call for hot coffee or espresso to amp up the chocolate flavour, or at least boiling water. But many of those cakes tasted flat and uninteresting. Some were easy in their process, but were dry and didn't have enough chocolate flavour. This cake is anything but. Deliciously moist, fudgy in flavour, this chocolate bundt cake is a winner!
When I finally stumbled upon this recipe, it seemed too good to be true. It comes together in one bowl, without a mixer, and does have eggs or milk or any other dairy products. It's vegan! I'm not vegan but l love the flavour this cake has even without the dairy products. It's perfectly soft and bakes a beautiful crumb.
But before I get too carried away with the chocolate bundt cake, we need to talk about the chocolate sauce. You CANNOT make this cake without the sauce. It would be a crime. It's honestly the best part of the cake, and takes the recipe from good to amazing. The sauce is rich and velvety, everything a good chocolate sauce should be. I always make extra, because my husband always wants extra sauce with his cake. It's more like he has cake with his sauce, instead of the other way around.
This chocolate bundt cake is my new version of the classic Betty Crocker cake mix. It's so easy and simple to make! What I love is that there are no fancy ingredients or even extra steps. This is your lazy-girl cake, perfect for a rainy afternoon when you want something easy and chocolatey, without having to do extra work. Let's get to the recipe!
Best Chocolate Bundt Cake with Chocolate Sauce
Ingredients
3 cups all purpose flour
2 cups sugar
2/3 cup unsweetened cocoa powder
2 tsp salt
2 tsp baking soda
1 cup vegetable or canola oil
2 cups water
2 tsp vanilla
2 tbsp lemon juice

Chocolate sauce:

1 cup whipping cream or heavy cream
2 cups chocolate chips
Instructions
Preheat oven to 350 degrees F and grease a bundt cake pan. Set aside.
In a large bowl, add dry ingredients: flour, sugar, cocoa powder, salt, and baking soda. Mix well.
Next, add the pol, water, vanilla, and lemon juice. Using a whisk, mix well, making sure to incorporate the flour mixture completely.
Pour into cake pan and bake for 40 to 45 mins, or until a toothpick inserted in the centre comes out clean.
For the sauce, microwave one cup of whipping cream for one minute or until bubbling. Add chocolate chips and let sit for a few minutes. Stir slowly with a whisk until chocolate chips melt completely. Let cake cool completely before drizzling the sauce on top.
http://ikhlashussain.com/2018/03/recipe-best-chocolate-bundt-cake-with-chocolate-ganache/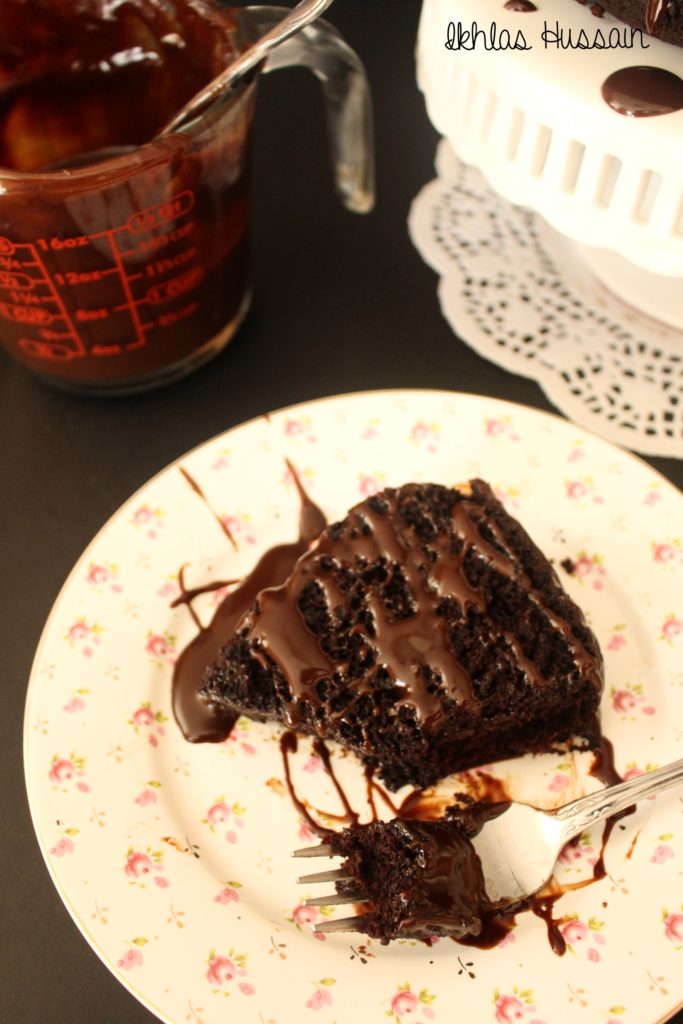 Like I mentioned earlier, the recipe comes together in one bowl. You will need a big bowl though, since once everything is added, there's a lot of batter. And don't forget to grease your bundt cake pan properly since once the cake bakes up, it reaches the top of the pan. And you don't want it falling apart at the end!
The original recipe called for apple cider vinegar, which I usually have on hand. But one day I was completely out, and wanted to make this cake. So after a quick Google search, I discovered that lemon juice was an acceptable alternative, which is something I always have in my fridge, and I've used it ever since! But you could also swap the lemon juice for the vinegar. It's just a form of acid that needs to react with the baking soda to create the lift in the cake.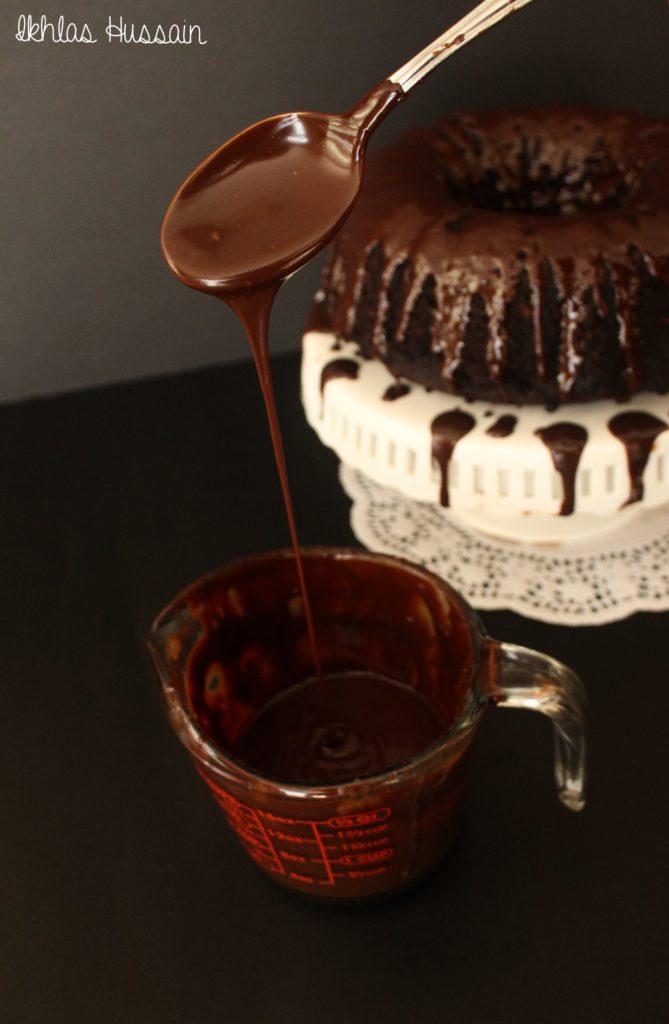 Let's talk about the chocolate sauce. If you've tried my Brownie Cupcakes Ganache Frosting and Sea Salt, you'll recognize the recipe. It's actually the same recipe, with the same ratio of whipping cream to chocolate chips, but instead of refrigerating the ganache, you let it sit outside for a few minutes to let it thicken up a bit. You could easily cut the sauce recipe in half, so that there's just enough to drizzle on top of the cake. But I always make extra, because everyone always wants extra sauce.
Rich, moist, and packed with delicious chocolate flavour, this bundt chocolate cake is what dreams are made of. It's such a simple, but decadent desert option that will make chocolate lovers' taste-buds dance. Serve it warm, with a scoop of vanilla bean ice cream, with the chocolate sauce swirled on top and a dollop of whipped cream on the side, for a restaurant-worthy dessert. Or have it warm with a cold glass of milk for an indulgent afternoon snack.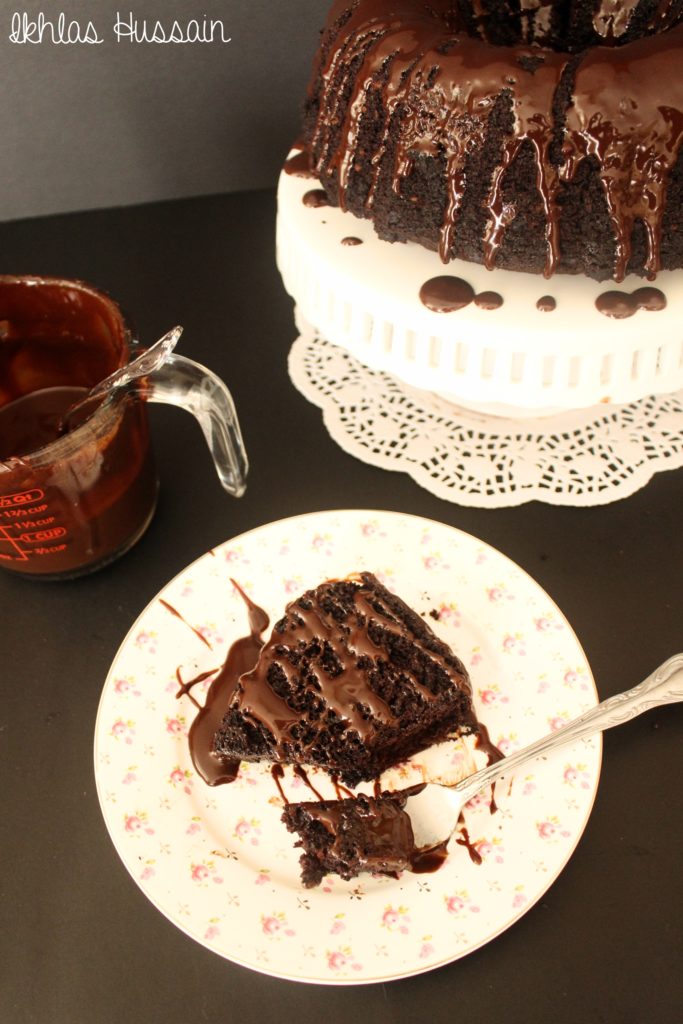 This chocolate cake is made with ingredients you probably have sitting in your kitchen right now, which means there's no excuse not to bake up a pan today! Enjoy!
Thanks for reading,
Ikhlas