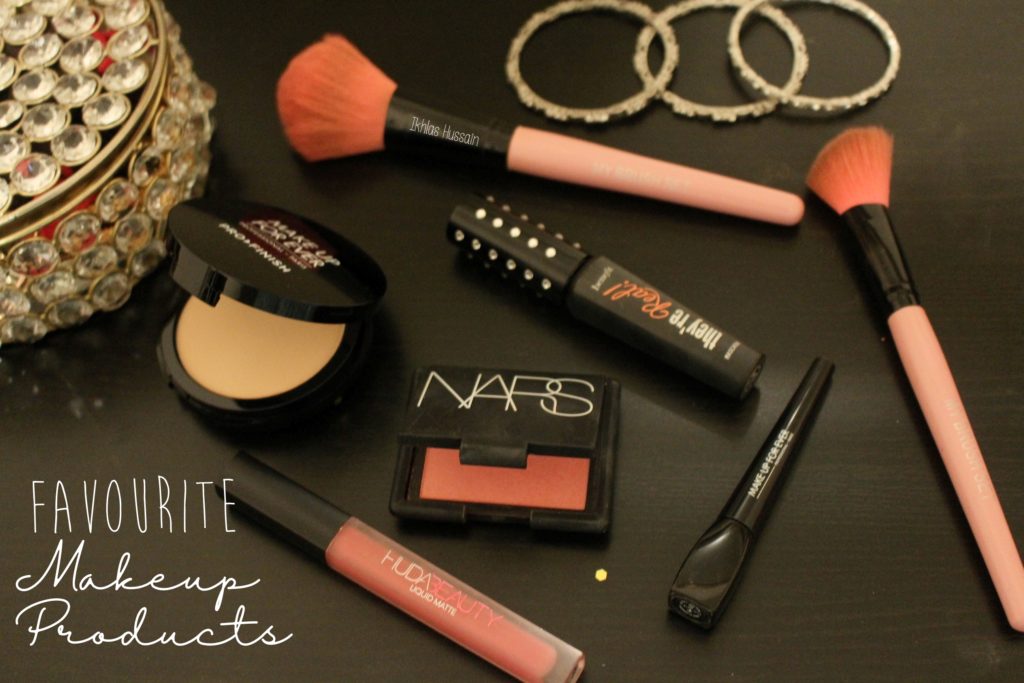 Today we're talking makeup! I know this is a different kind of post from the one I usually write, but I wanted to try something new.
I am by no means a makeup artist or even an expert. But it is something I enjoy doing, and even learning more about. It's definitely one of my guilty pleasures!
I'm definitely not adventures when it comes to my makeup; when I like something, I keep using it and have a hard time trying new things.
After a recent Sephora haul, I realised I have a few Staples that I am always restocking. I love them so much and use them so frequently that they need replenishing quite often. I figuted I'd share them with you. 🙂
Make Up For Ever Pro Finish Powder Foundation in 127 Golden Sand
Before, I used to only use this on top of my Make Up For Ever foundation. But then I started wearing it by itself and I fell in love!
While you can use this as a setting powder on top of your foundation (I still do, when I do wear foundation), it works great as a base on its own. I love how buildable the formula is; if you want light coverage, you can do that. But if you want more coverage, simply apply more product for a more finished look.
I use this a lot for my everyday makeup look, like for when I have to run out to the grocery store or when I want a light makeup look without the heaviness of foundation. I have combination oily skin and this works great to give me that flawless, smooth finish.
While the name of the product is powder foundation, it still isn't as flawless as liquid foundation. It's a very natural look, so if you're looking for heavy coverage, this won't give you that. But it's perfect for everyday.
Nars Blush in Orgasm
This is a cult favourite, and for good reason! I had heard about this blush for years before I finally tried it. And I'm so glad I did!
What I love about this blush is how pigmented it is. A little goes a long way, and you don't have to be standing there for half an hour trying to get the product on. A few swishes of your blush brush and you are good to go!
Of course we have to talk about the colour itself. It's such a favourite among makeup junkies, and for good reason. It looks good on so many different skin colours! It's rosey and pinky, without being garish. It's got s lovely shine that makes the apples of your cheeks sparkle subtly, so that you look like you are glowing.
I recently bought the colour SIN on a recommendation from a friend and it has the same formula, without the sparkle. It has more of a purple undertone but also looks nice on brown skin tones.
I cannot recommend this enough. It's by far my favourite blush of all time!
Huda Beauty Liquid Matte Lipstick in Gossip Girl
This is definitely my favourite matte liquid lipstick. So many others have claimed to not rub off, but this is the first that I've come across that actually doesn't rub off!
As a mom, I'm always kissing my daughter and I hated getting lipstick on her cute little cheeks. But when I started wearing Huda Beauty's product, I fell in love with the way it didn't rub off. It's actually a matte lipstick that stays on for hours.
Gossip Girl is my current favourite, although I also have Trophy Wife and Heartbreaker. It's a perfect pink shade that is girly and flirty. I can't get enough of it!
Benefit They're Real Mascara in Black
I've only ever worn fake eyelashes a few times in my life, and each time was by a professional make you artist. They weren't very comfortable but the effect was of course amazing!
This is my substitute. If you are obsessed with long eyelashes, then this is the mascara for you! The formula is amazing and it lengthens your lashes to crazy lengths.
What I love about this product is that a little goes a long way. So if you're looking for a more subtle look, you can apply it sparingly for a pretty effect. Apple a little bit more and your lashes will look outrageous.
Make Up For Ever Liquid Liner in Black
This liner is a favourite after much research. I had been on the hunt for a BLACK liquid eyeliner with a dark formula that wouldn't fade quickly. I tried Stila, Benefit's Push Up Liner, and Kat Von D's Tattoo Liner. None were as black as I wanted and none had that dramatic effect that I wanted in my liquid liner.
This one did.
I love the pigmentation of the black in this formula. It isn't weak and nor does it fade away. It stays strong and dark for hours on end. The applicator is a sponge tip and is pointed, which makes it perfect to create the perfect wing or cat eye.
It dries quickly so there's no waiting for the liquid to settle before you can apply mascara or curl your lashes. It has a dramatic effect and is amazing.
These aren't my only favourite makeup products, but they are definitely the ones I use most frequently. As a new mom, I'm often pressed for time these days and have to do my makeup in a hurry. What I love about all of these products is how quickly I can apply them. They are perfect for my current quick and short makeup routine, since their quality is amazing.
So if you're looking for some new makeup products, do check out some of the ones I've recommended above!
Thanks for reading,
Ikhlas