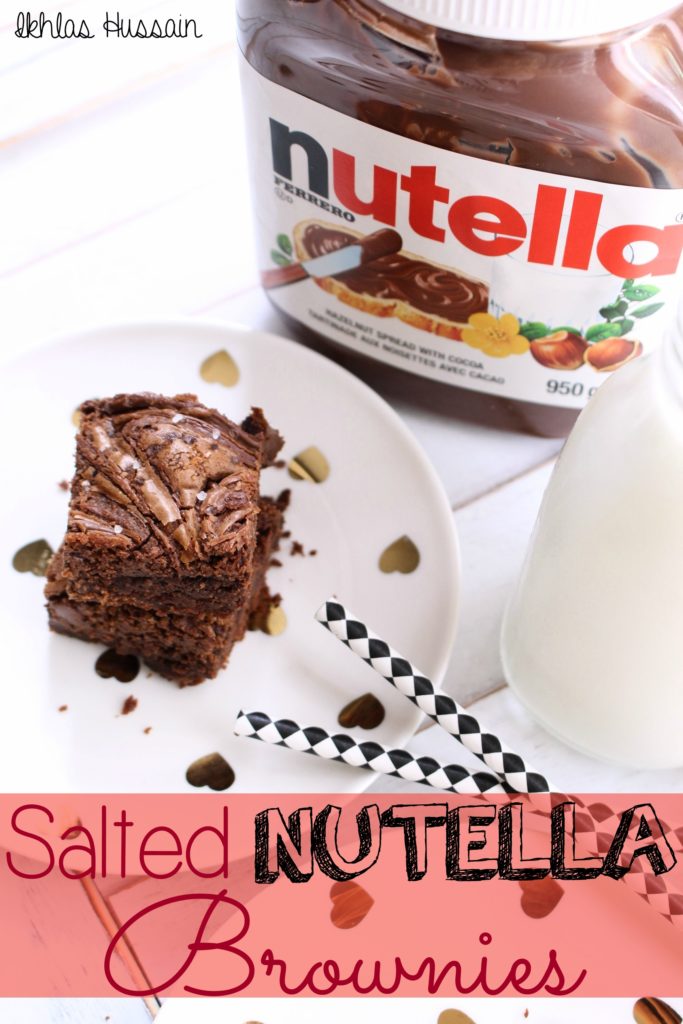 Hi guys! How crazy good do these brownies look? Even more so because I'm on a crazy intense diet!
I know, I know, I'm often on (and off) diets, but things have gotten SERIOUS. For one thing: I've started working out. It's officially been one week since I started Hip Hop Abs, one of Shaun T's (the Insanity guy) workout videos, so I guess that makes it official!
As many of you might know, I don't workout. Period. It bores me to death, and I usually manage my weight with dieting and cutting back on dessert. But lately that hasn't been working, and since my husband loves to workout and going to the gym and all things exercise related, he suggested I do the same.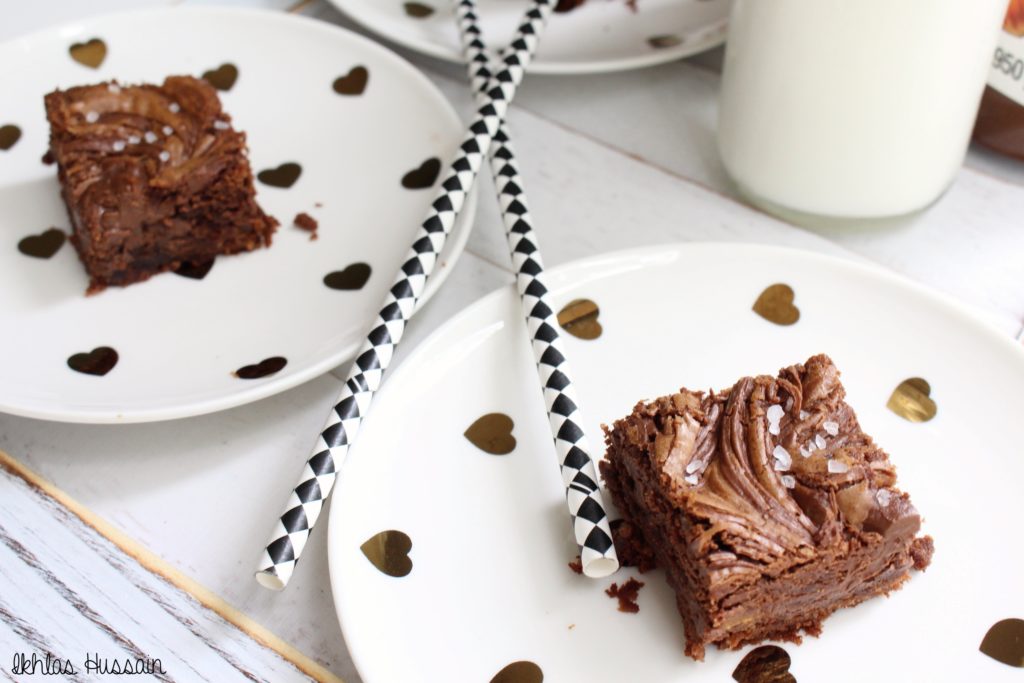 Not only have I started working out, I got a fitness tracker! I have never wanted a fitness tracker and nor did I ever imagine myself as one of those people who wears one 24/7, but it's surprisingly addictive. I've become almost obsessive about reaching a certain number of activity minutes, and it's so easy to keep checking my progress. With the new tracker, I can definitely say I'm the most active I've ever been in my whole life!
What's made things worse is that my husband has gotten rid of all the chocolate in the house! Even when I'm dieting, I always have that secret stash of chocolate that I nibble on just once a day. Just so I don't lose my sanity. But my husband went on a crazy spree the day after my birthday, and not only did he take away my TWO birthday cakes but also all the chocolate in the house! You might be thinking, two cakes in the house is probably not a good thing anyway, but they were small, I tell you. He's convinced we have to become healthy and get in control, etc. etc. but all I'm waiting for is when I can eat chocolate again!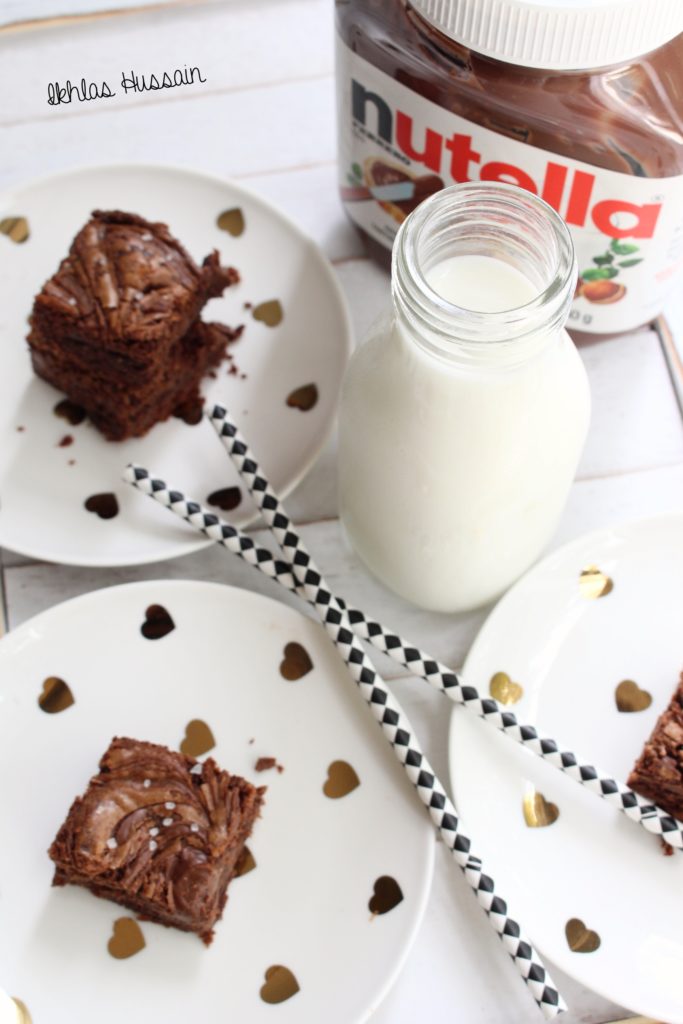 Speaking of chocolate, let's talk about this recipe!
Guys, these brownies are INSANELY good. If you love chocolate and even remotely like Nutella (can you even just 'like' Nutella?), you're going to go crazy for these brownies.
I made these brownies on Eid, when my sisters-in-law were visiting from out of town, plus all the kids. I had my nieces over the day before Eid and we went on a baking bonanza. On the menu were both my regular brownies and these. Suffice to say that they did not last long on Eid morning! They were gone so quick my husband didn't get any, something I had to listen to him complain about for a few weeks until I finally made them again. He was even so bold as to claim that they were better than my original brownies!
Anyways, that's enough of my blabbing. Let's get to the recipe!
Ingredients
1/3 cup butter, softened
1/2 cup brown sugar
2 eggs, room temperature
2 tsp vanilla extract
1 and 1/4 cup Nutella, divided
1/2 tsp salt
3/4 cup flour
sea salt, optional
Instructions
Preheat oven to 350 degrees F. Line a square 8 or 9 inch baking pan with aluminum foil, leaving a bit hanging off the sides. Set side.
In the bowl of your stand mixer, whip the butter until smooth. Add brown sugar and continue to mix, making sure to scrape the sides of the bowl. Add the eggs and vanilla and mix well. Next, add the Nutella and salt, and whip until smooth and creamy. Slowly add the flour, and mix until just combined.
Pour the mixture into your prepared pan and smooth it down to ensure evenness. Taking the remaining Nutella, drop teaspoons of it throughout the batter and then swirl it with a butter knife. Sprinkle with sea salt, if desired.
Bake for 30 to 35 minutes, being careful not to over bake. They should be slightly gooey. Let cool completely before cutting and enjoying.
http://ikhlashussain.com/2016/08/recipe-salted-nutella-brownies/
Just so you know, you need a good amount of Nutella in this recipe. So if you've got a half jar of the stuff lying around, it won't be enough. I had a big jar from Costco, so I was able to get 2 batches out of the big jar, so I imagine you would probably need the whole of the medium sized jar. It's about 100 g of Nutella so read the label to see if there will be enough! You can always 'clean up' the jar after. 😉
Like I said before, these brownies did not last very long! My family loves Nutella and they beat the M&M cookies and regular brownies for favourite dessert on Eid day. The second time I made them I think I ate half the pan (I was trying to make up for the first time -_-).
As always, make sure you're careful with your baking time. Each oven is different and you definitely don't want to over bake these! The second time I made these they were slightly over baked so next time I'll definitely check around the 28 minute mark. Brownies are better fudgy and not dry, so keep your eyes on these!
If I wasn't dieting, I would whip up a batch of these THIS INSTANT. They were so fudgy and decadent and chocolatey that it's impossible to stop at just one. The little sprinkle of sea salt on top also makes them over the top delicious, since it cuts down the sweetness and gives the chocolate a sophisticated flavour. I wasn't sure if everyone would like the sea salt, so I sprinkled some on half and left the others half plain. They're still good! Plus the swirls of Nutella on top are just heavenly.
So if you even remotely like Nutella, you need to make these. And not share them. Lol
Thanks for reading,
Ikhlas