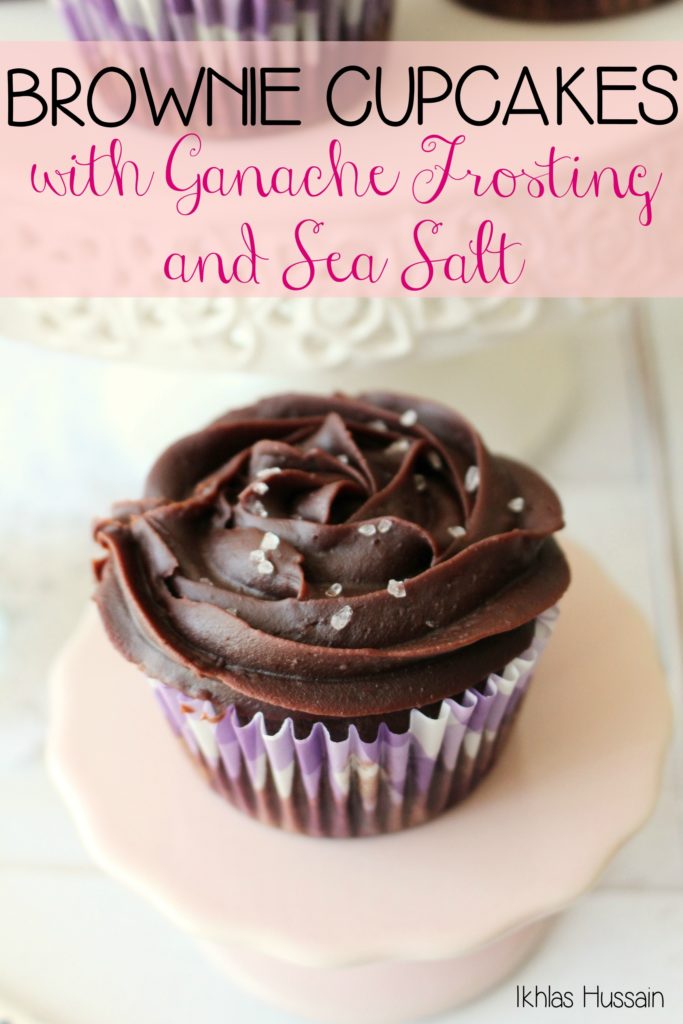 Have you ever noticed how a contrast can help you realise how amazing something is?
I made 2 cupcake recipes over the past 2 weeks, ones that were just okay and ones that were so good they blew my mind (guess which one this recipe is?). The week before last I made a batch of chocolate cupcakes with a white chocolate frosting. Me and my hubby had been invited to one of his friend's house and I wanted to make something for his kids.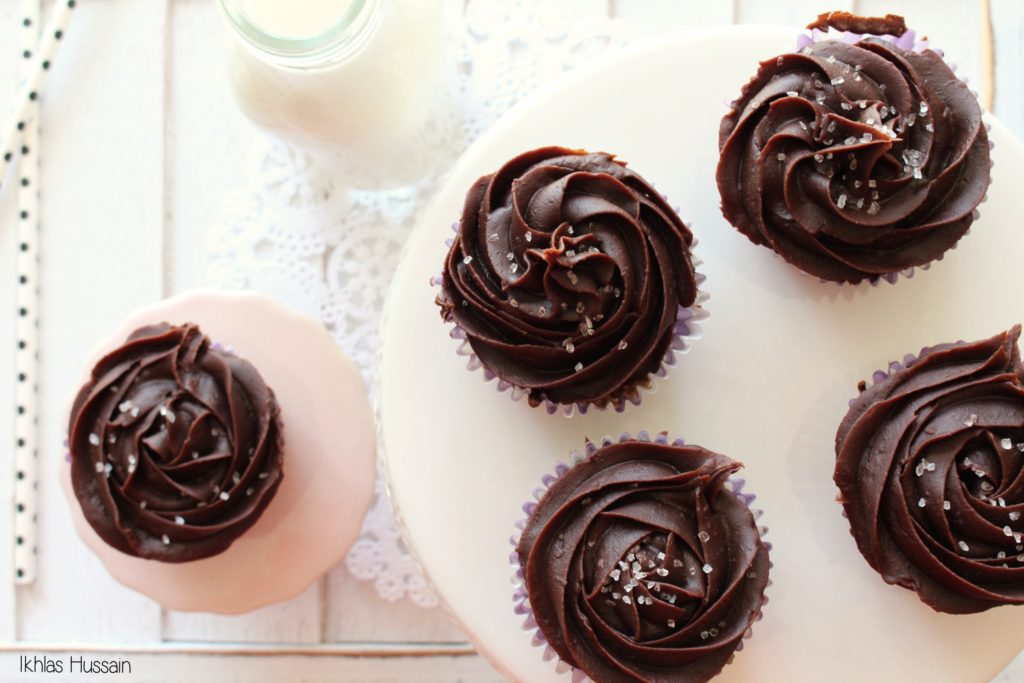 The frosting was not at all what I expected and making it was kind of tough. The white chocolate just did not want to melt and the end result was just okay. They tasted fine, and I even went ahead and did a photoshoot for them. I think I even went and edited the pictures, thinking that I would post them. But something kept holding me back. They were okay cupcakes, but nothing amazing. I was still debating about whether I wanted to post them when I made these last week. Holy COW.
One bite of these cupcakes made me realise everything I was missing with the other cupcakes. And yes, they're a completely different recipe, but they made me realise that I didn't want to post a recipe that I didn't love. Because if I don't love it, then how can I tell you how amazing it is?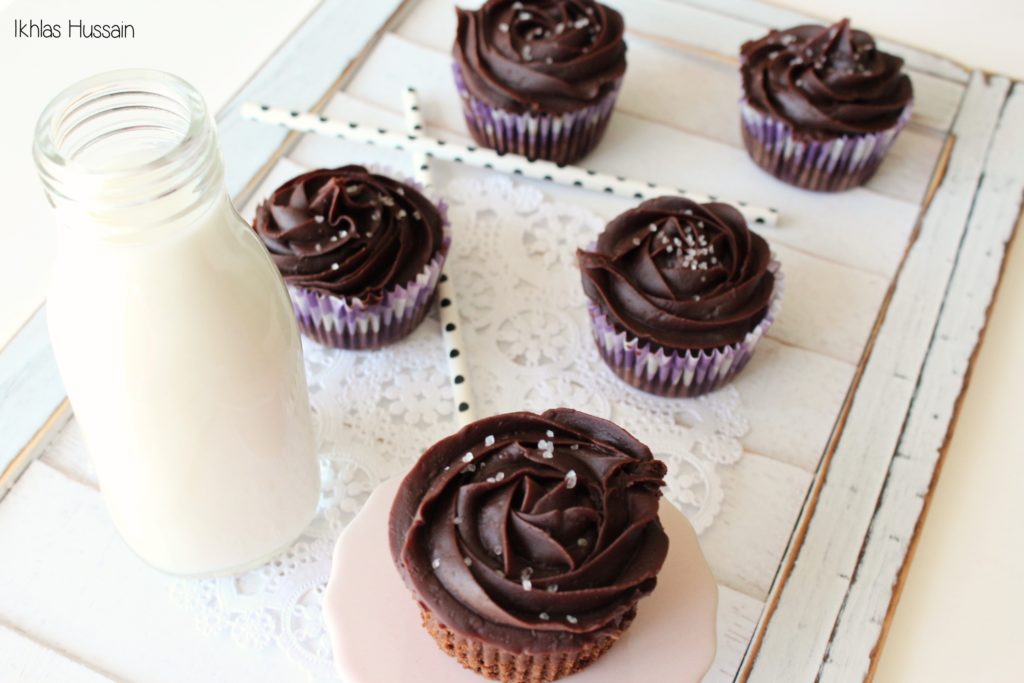 So let's talk about these cupcakes. OMG. If you love chocolate, my friends, these cupcakes are for you! I've been experimenting with chocolate ganache lately and I finally made it as a frosting for these cupcakes. Again: holy cow. I want to dunk my face in this frosting. It was SO good. Rich and chocolatey, this frosting is not for the faint-hearted. Because it was so rich, I sprinkled some sea salt on top (aka my new best friend) and it was the perfect compliment to the decadent flavour.
The cupcake itself was so fudgy and chocolatey. It's a brownie cupcake, so it's a little more dense than your regular cupcake. Just like brownies, the trick to these cupcakes is to slightly underbake them to get that fudgy factor. If you overbake them, then you'll get dry, cakey cupcakes, which no one wants.
The best part of this recipe is that it only makes about 8 or 9 cupcakes. Why is that the best part, you ask? It means there are less cupcakes to consume because trust me, you're going to want them ALL. One bite of these and my husband told me I couldn't have any, because he wanted them all. -_-
Let's take a look at the recipe!
Brownie Cupcakes with Ganache Frosting and Sea Salt
Ingredients
For the cupcakes:

1/2 cup butter
3/4 cup brown sugar
1/2 tbsp vanilla
2 eggs
1/2 cup unsweetened cocoa powder
1/8 tsp salt
1/2 tsp baking powder
3/4 cup flour

For the frosting:

2 cups semisweet chocolate chips
1 cup heavy or whipping cream
Sea Salt for topping, optional
Instructions
For the cupcakes:

Line muffin tin with cupcake liners and preheat oven to 375 degrees F.
In a large bowl, melt butter in the microwave until softened and almost melted. Add in the sugar and microwave for another minute.
In a separate bowl, mix together the dry ingredients (flour, salt, cocoa powder, baking powder). Set aside.
Add eggs and vanilla to the butter/sugar mixture and mix well. Add the dry ingredients to the wet ingredients slowly, being careful not to overmix.
Fill cupcake liners 3/4 full and bake for 8 to 10 minutes or until a toothpick inserted in the centre comes out with a few crumbs. Let cool completely before frosting.

For the frosting:

In a microwave safe bowl, microwave the heavy cream until hot. Add chocolate chips and let stand for a minute. Whisk the mixture together slowly until it becomes one.
Let cool in the fridge for about 2 hours, or until ganache is firm. Scoop into a ping bag with your desired tip attached and frost cooled cupcakes. Sprinkle with sea salt, if desired.
Store cupcakes in the fridge for up to a week.
http://ikhlashussain.com/2016/04/brownie-cupcakes-ganache-frosting-sea-salt/
I know brown sugar in a cupcake recipe (and in a brownie recipe) is a bit strange, but just go with it. It gives you a super rich, thick chocolate batter that gives you a rich brownie-like cupcake. Again, underbake them to get that fudgy consistency. You'll know your oven better, so keep checking them after 8 minutes. You don't want the toothpick to come out clean, like you do with regular cupcakes or cakes. You want there to be some crumbs, so take them out when they look set but there's still some batter sticking to the toothpick. Don't forget, they'll continue baking when you take them out for a few minutes.
I always struggle with either making too much or too little frosting, but luckily this frosting recipe was PERFECT. It made a little extra, but not as much as frosting recipes usually do. I halved the original recipe, but I followed the ratio. She recommends 2 parts chocolate to 1 part heavy cream, so I maintained that when I changed the recipe and it worked.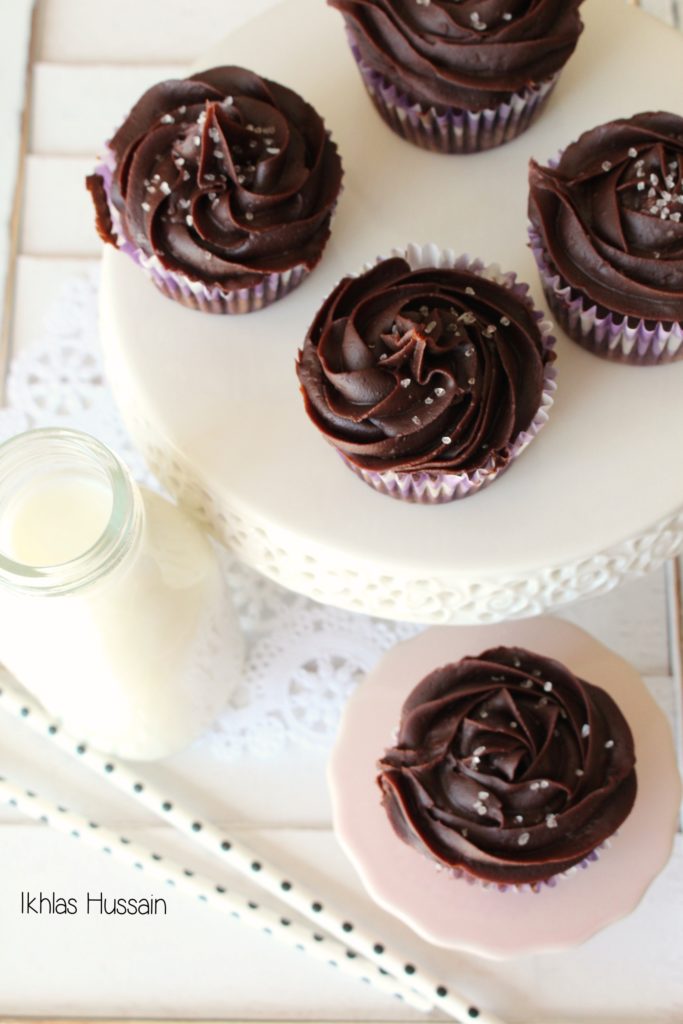 These cupcakes are perfect for when you have a chocolate craving and don't want (or need) 2 dozen cupcakes sitting around the house. Because then you might be like me and won't rest until they're all done!
These brownie cupcakes with ganache frosting are a chocolate-lover's dream. The ganache frosting just pairs so beautifully with the decadent cupcakes, and the sprinkle of sea salt really heightens the chocolate flavour. If you  warm them up in the microwave until the frosting is slightly melted and the cupcake is all ooey-gooey, your taste buds are going to explode. It's an experience.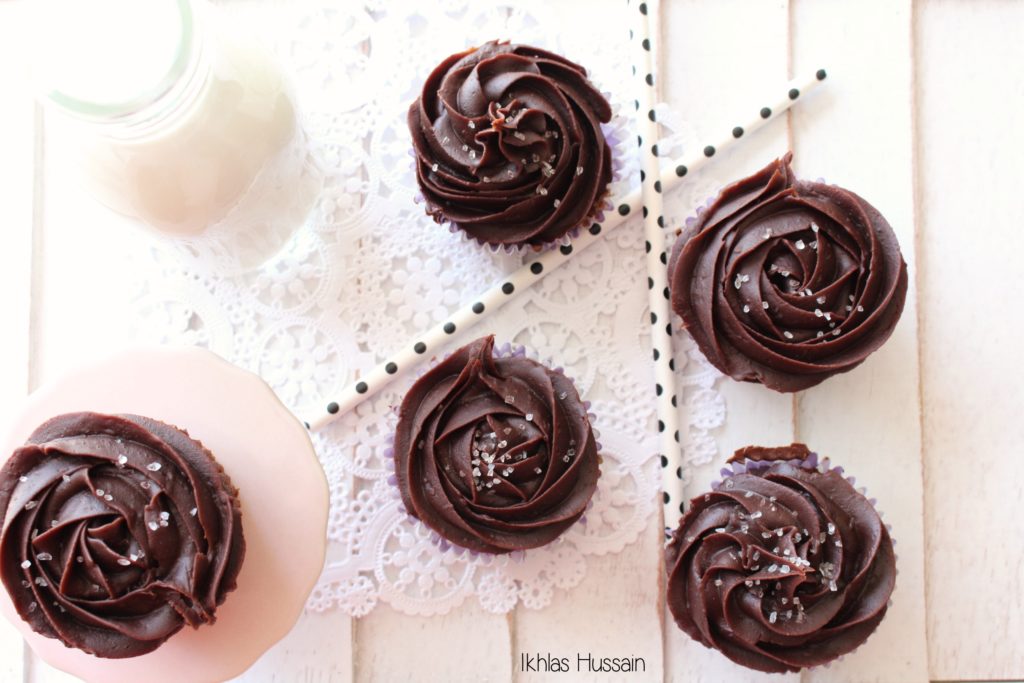 I made these for my best friend when she came to visit me from NYC last week, and she loved them too! She only ate one so I was left with 7 cupcakes to share with me and my husband. They didn't last long.
I hope you try these out! If you do, make sure you comment below and let me know how you get on.
Thanks for reading,
Ikhlas