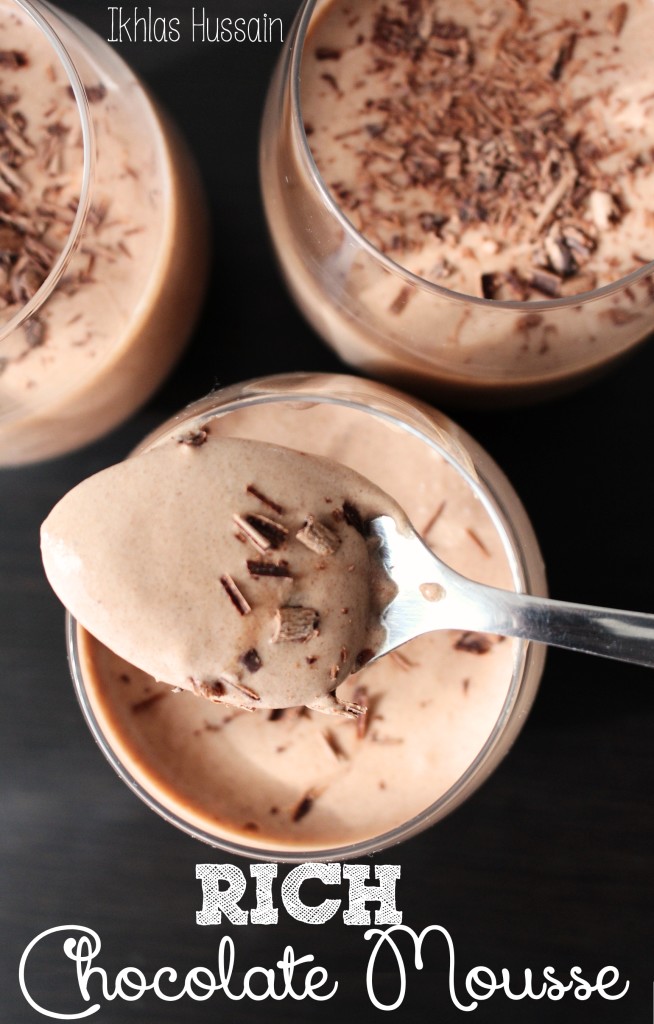 My best friend Fatima and I both love to bake, but we have different styles. I love everything she makes, because she has a different style. She makes different things than me so whenever I'm invited to her place, I know she'll have made something yummy and pretty. This Rich Chocolate Mousse is one of those things.
I've had this mousse at her house many times, but the time I remember enjoying it the most was at my bridal shower. She had decked the house out for me and had made the most adorable table, with so many delicious and beautiful things. She had put the chocolate mousse in these cute plastic see-through glasses and I remember gobbling up two of them, and then taking them home where my brothers and dad also devoured them. It was that good!
I've never really been a mousse person, but this mousse changed everything! It was just so rich and so decadent. I don't know why but whenever I used to think of chocolate mousse, I used to think of chocolate pudding: dense and thick. But this rich chocolate mousse is anything but!
It's rich and creamy, and the stuff that chocolate-lover's dreams are made of. Have a look!
Ingredients
1 1/4 cup semi-sweet chocolate chips
2 cups heavy or whipping cream
1/4 hot coffee
4 eggs, room temperature
2 tbsp granulated sugar
Instructions
In the bowl of your stand mixer, whip the cream until it forms light peaks. Set aside in the fridge.
In a medium saucepan, heat water until it's barely simmering. Place a large heat-proof mixing bowl with the chocolate above it until the chocolate chips begin to melt. Remove from the heat and mix them until the mixture is smooth.
Whip the eggs with the sugar until they're very thick and fluffy, about 10 mins.
Add the hot coffee to the melted chocolate, being careful to stir quickly. Fold in the eggs and then the whipped cream, being careful not to stir but to fold.
Spoon into bowls or serving dish and refrigerate for at least 2 hours.
Original recipe from [Allrecipes: http://allrecipes.com/recipe/216010/ghirardelli-chocolate-mousse/].
http://ikhlashussain.com/2016/03/recipe-rich-chocolate-mousse/
I've never worked with raw eggs and sugar before, but I found the instructions of whipping them for 10 minutes very helpful. It took the guesswork out of the equation. I just set my oven timer on and was able to do other things while the eggs and sugar were being whipped.
The original recipe calls for Ghirardelli chocolate, but I just used regular semi-sweet chocolate and it turned out fabulous. The coffee is what really adds the flavour, in my opinion. Just like it's used in chocolate cake, coffee just works to enhance and strengthen the chocolate flavour. The richness of the chocolate you taste comes from the coffee.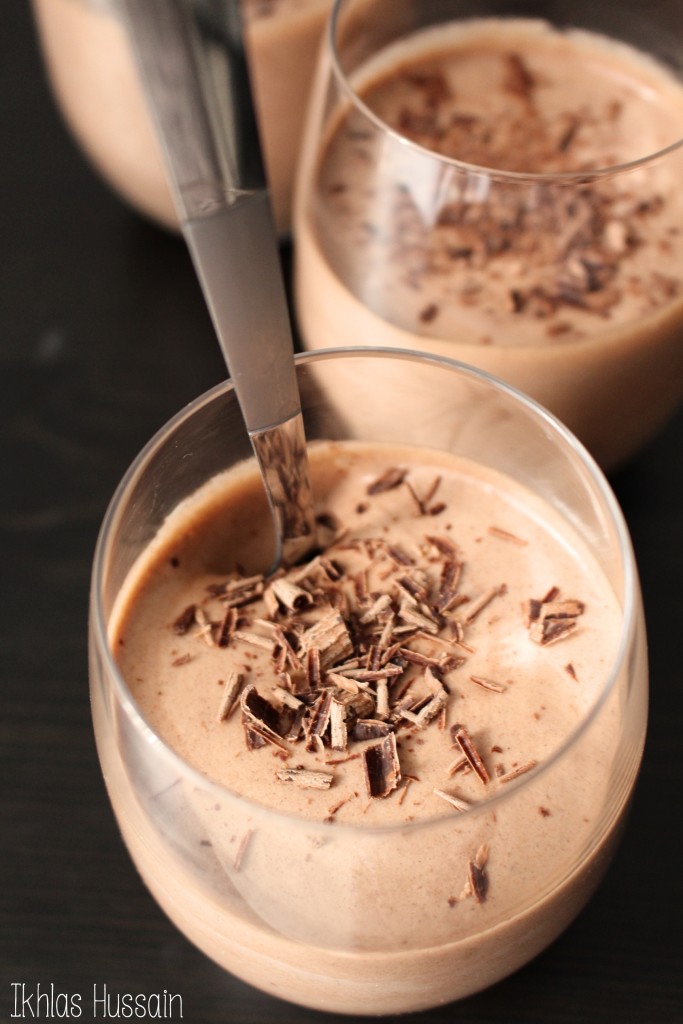 To make the recipe easier, I suppose you could use store-bought whipped cream (like a tub of Cool-Whip) and just let it sit outside to soften a bit, but using real whipping cream is better, even if it's a bit more work. It's also important to FOLD in the whipped cream at the end, and not just mix it in. That's what makes the mousse so light and fluffy; you're not just adding the whipped cream, but also air, and that's what makes the mousse so airy and creamy.
I also added chocolate shavings on top to dress them up, but you could also add a dollop of whipped cream.
Fluffy and creamy, this rich chocolate mousse is going to melt in your mouth! It's seriously so delicious, I couldn't stop myself from constantly 'sampling' it. If you love chocolate, you're going to LOVE this dessert.
What I love about this recipe is the fact that it can made in advance. So if you're throwing a party, you could definitely prepare this in the morning or even the day before, because its meant to be kept in the fridge and will only get better as the hours go by.
So if you're craving something light and fluffy with an intense chocolate flavour, that you don't need to turn on your oven for, try this Rich Chocolate Mousse. It's the stuff of dreams!
Thanks for reading,
Ikhlas