As some of you might know, I love arts and crafts. I love being creative and putting things together to make new things. And now that I've moved into a new place, I've become obsessed with making things by hand to decorate my new place with.
The above piece is a verse from the Quran. I saw it on instagram a few weeks ago and fell in love with it! I love Islamic art, especially calligraphy pieces like this with beautiful artwork. I tried to track down the piece but couldn't seem to find it anywhere. I had pretty much abandoned hope when I went back to the original post on instagram and saw that someone had commented below it, saying how happy she was to have her artwork featured. I clicked on her name and voila! I found her Etsy page and finally found this piece. I was so happy about finding it finally that I rushed out to find a frame that would look nice with it, when I found this vintage looking one in Michaels.
I'm sure you all know how much I LOVE Michaels by now. I use it for all my card-making supplies, but have recently discovered their other sections. Originally I picked up a contemporary looking frame, but then fell in love with this classic one and think it's more suited for the beautiful, flowing calligraphy.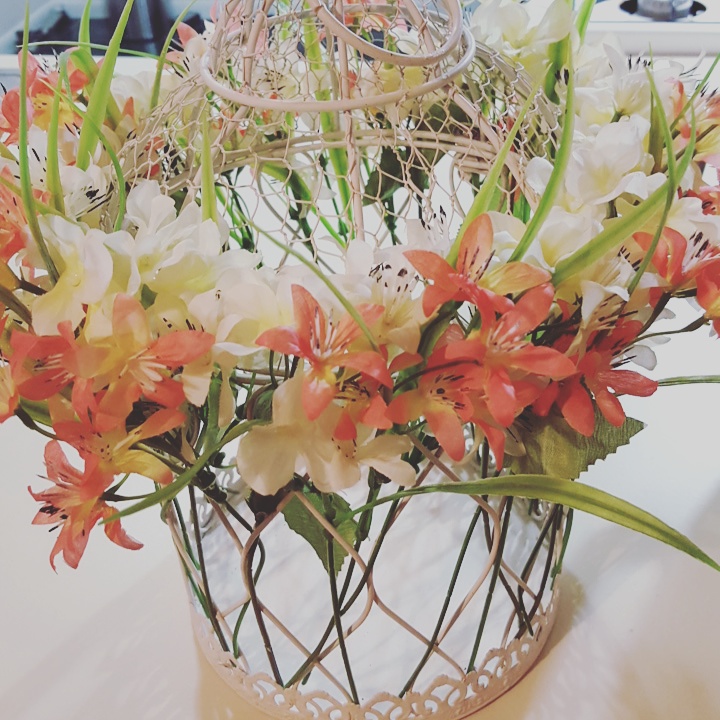 I bought this birdcage from Michaels months ago when it was on sale. They had a whole bunch on sale and I was so tempted to buy one in every size, but I managed to control myself. I didn't know what I wanted to do with it, except that I just loved how cute and vintage it looked. After some Pinterest research, I settled on decorating it with flowers. These flowers were 3 stems in a set for $1.30, and were an additional 40% off! I didn't really count how many I used, but they ended up being pretty even. I got small stems that fit inside the birdcage and had thin, wire stems so that I could twist them slightly so that they wound around the cage without coming out.
What I loved about this project was how easy it was! You can definitely change up the flowers depending on the season or based on your mood. You can also decorate a birdcage with in so many different ways! You could put some nice decorative candles inside or even twirl some fake pearls around it for a girly look. Mine has a handle on top and so I can even hang it from the ceiling, although I have no idea how…
So this is a blue shadow box with paper roses inside. I got the shadow box from TJ Maxx for $10 one day when I went in to browse. I had no idea what to do with it, other than that I wanted to do something different. I love shadow boxes; I think they're a nice change to the regular frame. I made a shadow box with memories for my best friend on her birthday years ago, but I wanted to do something different from the collage shadow box. This shadow box came with 4 beautiful key shaped pins as well, which I thought was a nice change from the straight white push pins shadow boxes come with…
I saw a picture of a shadow box on Pinterest with a collection of ombre paper roses inside. As soon as I saw it, I knew that's what I wanted to do! Mine didn't turn out to be really ombre though because I didn't have enough shades of pink in my paper collection, but I still think it came out nice. Instead of gluing the roses onto the pin board of the shadow box, I pinned a piece of paper to it. This way I can easily just remove the pins and get rid of the paper if I ever want to put something else in the box, without having to peel the roses off. I'll probably be doing a DIY tutorial for this so stay tuned!
In the end, I ended up with 47 paper roses, which took my 2 nights to make. It was so nice to just sit on the couch and roll my roses as I watched episodes of Downton Abbey. Very relaxing!
So those are the 3 DIY projects I've completed recently. The only problem is that now that I've done them, I don't have anything else to do! My hands are itching for a new project but I haven't really seen anything on Pinterest that looks good. Any ideas? If you know of any fun projects or crafts, do let me know in the comments!
Thanks for reading,
Ikhlas