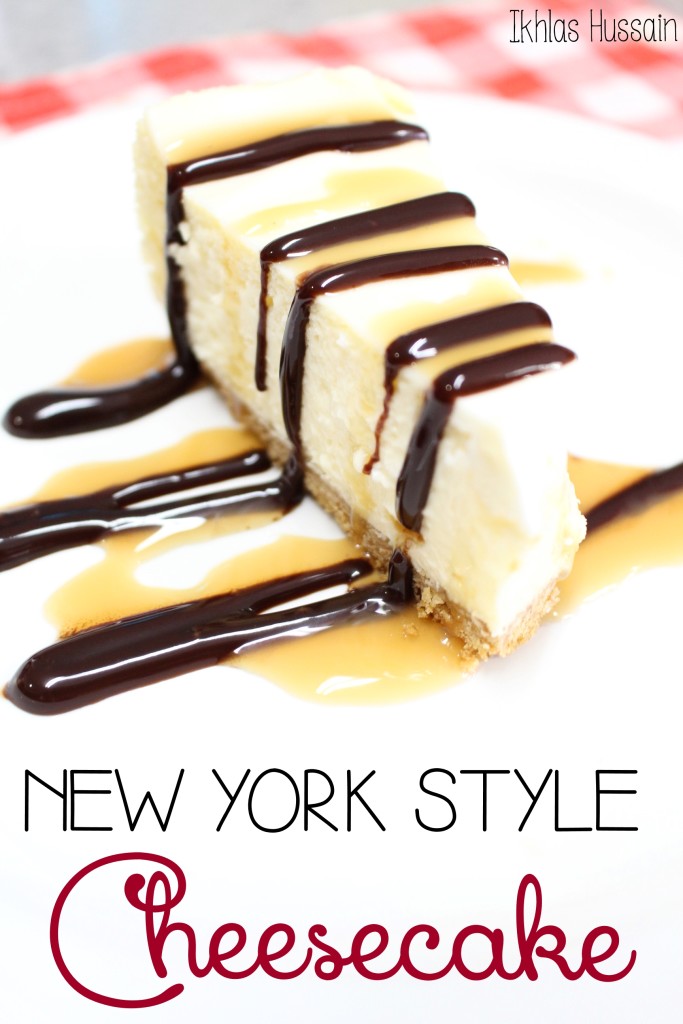 Hello friends! I'm back with a new recipe for you today. Ok, so technically it's an old recipe, but the photos were atrocious and were in desperate need of an update. I also got a new DSLR camera and just had to try it out!!!
So I'm still learning how to use my camera and it's definitely a learning process. I had a chance to use my brother's a few months ago, but he was there setting up all the settings for me so I didn't really learn much. But this time, I got my hands on my own Canon T5i camera and am so excited to use it! I use to love taking pictures (as some of you old readers might remember or the new ones can see from the photography tab at the top of the page), but haven't been doing it much. But I'm so excited to get back into it.
I've already taken it off the Auto setting and am exploring the other settings. There's just so many options! I've been doing a lot of reading online and am hoping to put it into practice soon.
But back to this recipe. This is my all-time favourite cheesecake recipe. No ifs, ands, or buts. Seriously. I've never experimented with any other recipe because I just love this one so much and the taste is just phenomenal. Why mess with perfection, right?
A lot of people get intimated by cheesecake, but it's actually not a very difficult dessert to make. The trick is in the baking time though, because you don't want to underbake it or overbake it. It's important to get it just right. Some people swear by water baths to get that perfect consistency but I've never felt the need for them. You can bake a perfectly luscious and creamy cheesecake without using a water bath.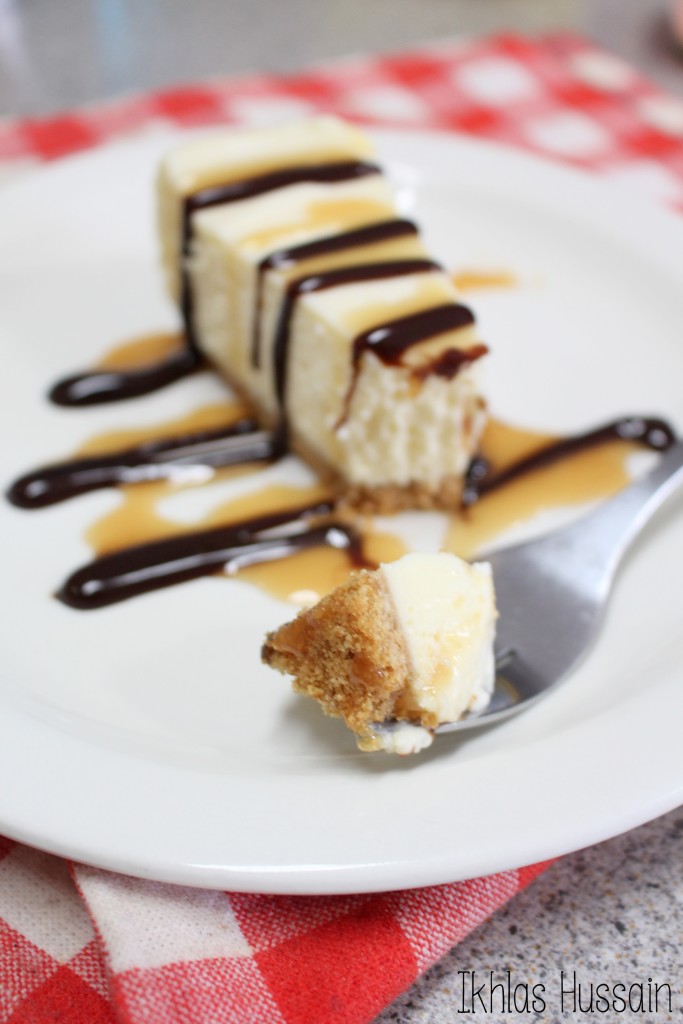 This is the same recipe as my mini cheesecakes, which are also a hit. But if you want a show-stopping cake, check out the recipe!
New York Style Cheesecake
Ingredients
Crust

1 1/2 cups graham cracker crumbs
1/2 cup of butter, melted

Filling

3 bricks (750 g each), softened
1 cup sugar
3 eggs, cold
1 tsp vanilla
1/2 cup sour cream

Topping

1 cup sour cream
3 tbsp sugar
1 tsp vanilla
Instructions
Preheat oven to 350 degrees F. In a round springform pan, add graham cracker crumbs and melted butter. Mix well until crumbs start to stick together. Lay out the crust evenly and pat down firmly with a spatula.
In the bowl of your stand mixer, cream the softened cream cheese and sugar. Mix well and then add eggs, one at a time. Scrape the sides of the bowl every time after adding an egg.
Stir in the vanilla and sour cream and mix well. Make sure to scrape the bowl from the bottom to ensure there are no lumps in the filling.
Pour over prepared crust and bake for 45 to 55 minutes, or until toothpick inserted in the centre comes out with cooked filling.
In the meantime, prepare topping and pour over the hot cheesecake. Bake another 5 mins.
Decorate with fresh strawberries or drizzle with chocolate.
http://ikhlashussain.com/2015/12/new-york-style-cheesecake/
My favourite way to decorate this cheesecake is with a mile high pile of strawberries and a squirt of whipped cream on each slice. It's simple yet so good! I didn't have any strawberries on hand this time but almost always top my New York Style Cheesecake that way.
The trick to the baking, like I mentioned, is not under or overbaking it. And knowing that sweet spot is a simple matter of knowing your oven. After 45 mins, check on the cake by inserting a toothpick in the centre. If it comes out with the filling still wet, it needs another 10 mins. But if the filling isn't so wet, then add the sour cream topping and bake for another 5 mins.
The second important trick to cheesecake is chilling it for AT LEAST 8 hours. So give yourself ample time to make this so it has enough time to set. My family was eager to have this and we took it out early and it was much too soft because it hadn't chilled all the way through. Don't make that mistake; make it early in the morning if you need it by evening or make it the night before it and let it sit all day in the fridge.
Creamy and luscious, this cheesecake is simple to make yet so decadent to eat. The filling will just melt in your mouth! And there's so many different ways you can dress it up.
Hope you try this out. If you do, let me know how you get on. 🙂
Thanks for reading,
Ikhlas