Fall is finally here! After summer had an extended stay well into September and even October, the cool weather has finally arrived.
I don't mind Fall. Obviously I prefer Summer, but even I know that Fall is a much better companion than it's purely evil sister, Winter. So yeah, I'll take those chilly mornings, crisp air, and falling leaves over below zero temperatures, thankyouverymuch.
I've been dreaming of tomato basil soup for several weeks now. It's come to my attention on Pinterest over and over again, and I literally had to pick which recipe I wanted to follow. There's so many!
But with summer lingering well into October, I wasn't exactly craving a hot soup. But now? It's downright cold!
This recipe is super easy to follow and comes together in under half an hour, which is my favourite part! So pull up a chair and make this comforting, velvety soup to keep you warm.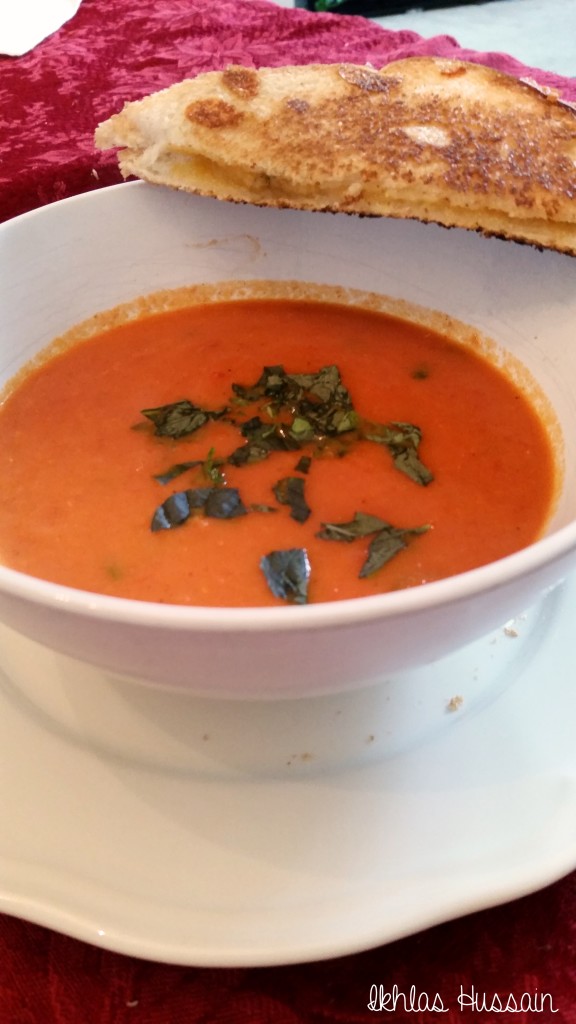 Recipe: Tomato Basil Soup
Ingredients
4 cloves of garlic, chopped finely
1 tsp crushed red peppers
2 tbsp olive oil
1 can (28 oz or 794 grams) crushed tomatoes
1 can (14 oz or 396 grams) whole tomatoes
2 cups vegetable stock
1 tsp sea salt
1 tsp sugar
1 tsp ground black pepper
1/4 cup heavy or whipping cream
4 tbsp fresh basil, cut finely
Instructions
In a large pot, fry garlic and crushed pepper in olive oil. Fry for about a minute, until you smell the garlic aroma, and then add the crushed tomatoes. Squeeze the whole tomatoes first, before adding them one by one. Let cook on medium for a few minutes. Turn the heat down low and pulse with a hand mixer to completely crush the whole tomatoes.
Add vegetable stock, salt, sugar, and pepper. Mix well and cover on medium heat and let cook for 10 minutes.
Add heavy cream and 3 tablespoons of the basil. Turn down the heat and let simmer for a few minutes.
Serve hot and garnish with remaining basil. Serve with a grilled cheese sandwich or jalapeno popper sandwich.
http://ikhlashussain.com/2015/10/recipe-tomato-basil-soup/
So like I mentioned, I pored over a bunch of recipes before finally settling on this one. Why? Because it's so easy! It uses canned ingredients, which means that you can stock up on ingredients and just throw it together quickly when the mood strikes. It's also super simple, which means that a soup amateur like me was able to make it easily.
The original recipe asked for the whole tomatoes to be crushed before being put into the soup. I did that, but found that there was still chunks and lumps of tomato. I wanted my soup velvety smooth and creamy, so I pulled out my hand mixer and pulsed through the chunks. It made a huge difference! So I would highly recommend using a hand mixer to get rid of the chunks. If you don't have a hand mixer, you can also try pureeing your whole tomatoes in a blender before adding them,
I also like a little more spice to things, so I added crushed peppers to my garlic, which added a nice zing. I also added more garlic because I love the garlic flavour. I've also been on a basil kick and added a tad bit more, because I just can't get enough these days! 😀
One sip of this ultra smooth and creamy soup and I was in soup heaven! I had been dreaming about it for days now, and was so happy that the recipe turned out as good as it looked. Lately, that's rarely been happening. >_>
A grilled cheese sandwich is a MUST with tomato basil soup. But I decided to change things up and have my jalapeño popper sandwich with it, for an added kick. My jalapeno popper sandwich is a creamy cream cheese and cheddar cheese sandwich with slices of fresh jalapenos. Yum! If you haven't tried it out yet, what are you waiting for?
I recently started rereading my favourite series of all time, and there was nothing better to pair with this soup and sandwich combo than a healthy dose of Harry, Ron, and Hermione. It was such a perfect afternoon. 🙂
Thanks for reading,
Ikhlas