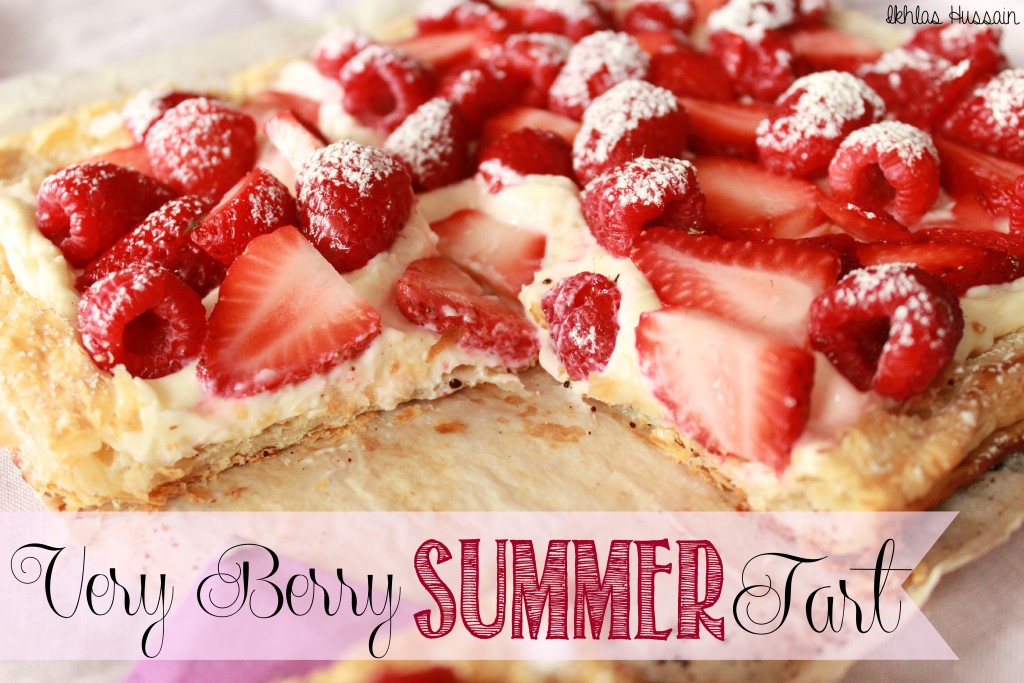 Remember when I told you guys about my puff pastry obsession about a week ago? Well, it continues with this recipe!
Like I mentioned last time, I love the easiness of frozen puff pastry. I usually have some in my freezer and it's so easy to defrost and whip up into something amazing, like this Very Berry Summer Tart.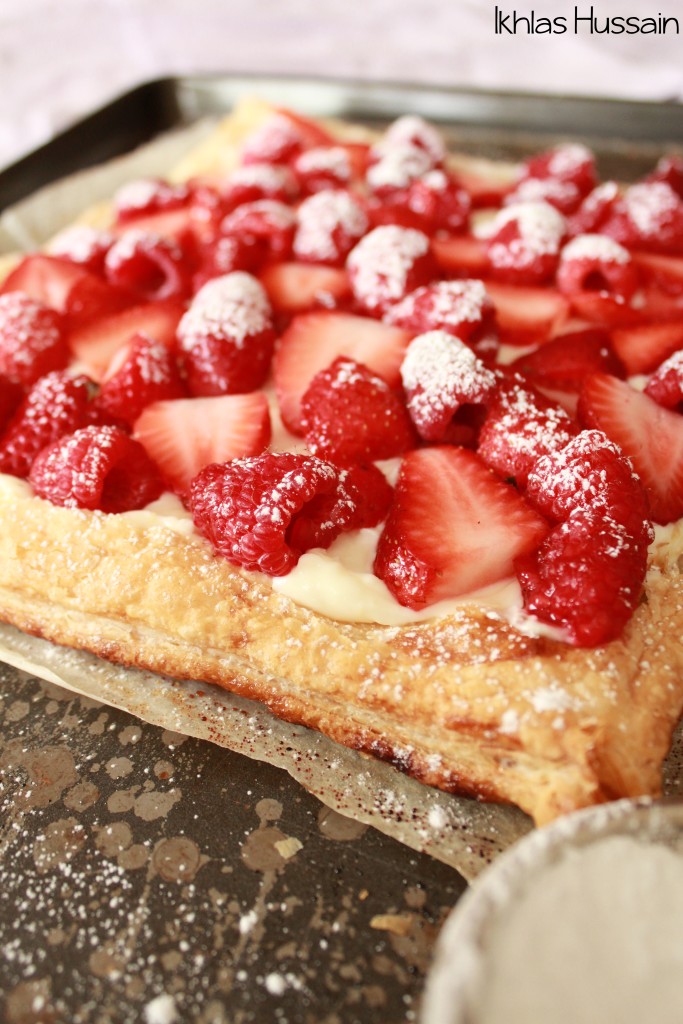 It's finally getting warmer here in Toronto and the temperature is going to be finally picking up (although apparently there's a frost warning tonight. At the end of May -_-). Anyways, nothing quite says summer like berries!
I love fresh berries, especially strawberries and raspberries. The combination of them makes me drool, because one is usually sweeter and the other is slightly more tart. Paired together with icing sugar on a cheesecake filling? HEAVEN.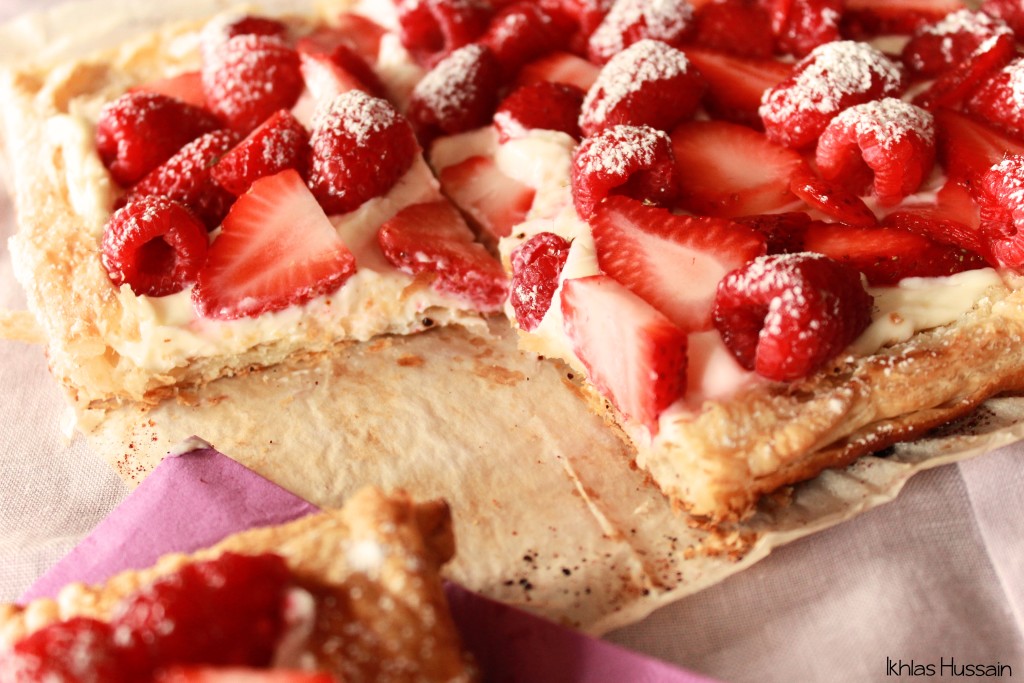 What I love about this recipe is how easy it is. Summer is all about the ease, and I love recipes like this which are more about the freshness and flavour, rather than any fancy decorations. They're perfect for hot and lazy summer days where you really don't want to be slaving over a hot stove. Bake up the pastry, spoon on the prepared filling, throw on some berries, sprinkle with icing sugar and you're done! It tastes good and looks fabulous. No one will know you haven't spent all day making this. 😉
Have a peek!
Ingredients
Cheesecake Filling

1 package (250 g/8 oz) brick cream cheese, softened to room temperature
1/2 cup granulated sugar
3 tbsp sour cream
zest of 1 lemon
1 tbsp lemon juice

Crust

1 sheet of puff pastry
2 tbsp butter, melted
2 tbsp granulated sugar

Topping

1-2 cups fresh raspberries
8-10 fresh strawberries, sliced
icing sugar
Instructions
Preheat oven to 425 degrees F. Line a baking sheet with parchment paper. Unroll puff pastry onto baking sheet and, with a fork, dock holes into the pastry, leaving one inch around the sides (which will be the crust). Brush with melted butter and sprinkle sugar on top. Bake for 15 minutes or until pastry is golden brown.
In the meantime, mix cream cheese, sugar, sour cream, lemon zest, and lemon juice with a mixer until creamy. Refrigerate for 30 minutes.
When the pastry has cool, spread the cheesecake filling evenly over the crust. Cover with berries and sprinkle with icing sugar.
Keep refrigerated until ready to serve.
http://ikhlashussain.com/2015/05/very-berry-summer-tart/
The original recipe called for heavy cream, which I didn't have, so I substituted with sour cream. Adding sour cream to the filling really made the filling taste like New York Style Cheesecake, which was a definite plus 🙂
The original recipe also calls for docking the pastry, which you do by poking the pastry with a fork the parts you don't want to rise. I did that, but for some reason my pastry still puffed up. If this happens to you, don't fret; it can be mixed.
Using a fork, poke holes in the middle of the sheet (avoid the edges, because you want a lip around the pastry to hold in the filling). Once you've got enough holes in, the top of the pastry will crumble. Then you can start brushing away the crumbs and flakes or you can hold it upside down on top of the sink and let all the flakes fall out. Just be careful you don't drop your whole crust into the sink
I added more berries than the original recipe called for, but there's really no rule for how many berries you have to add. If you like more, there's definitely room to squeeze in as many as you can fit!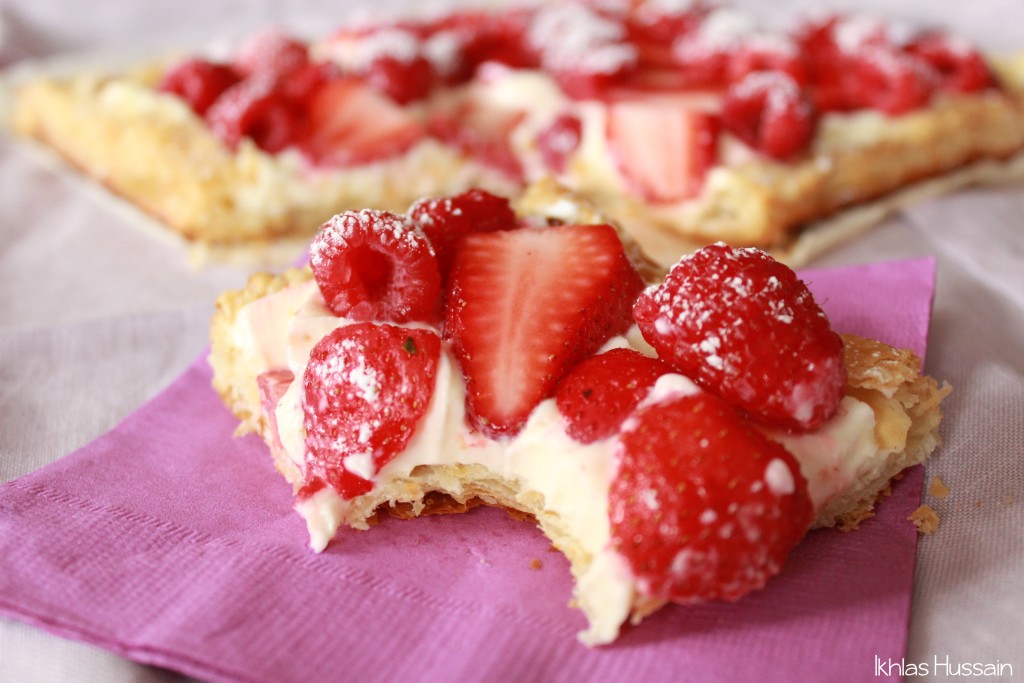 This recipe is so light and fresh; I love it! The crust is light and flaky, while the filling isn't too heavy but instead creamy and a little bit tart. On top of that luscious, dreamy filling are fresh berries that just taste like summer. If you want to add some more variety, feel free to include blackberries or blueberries. It'd be a lot more colourful, that's for sure.
So if you're looking for a simple dessert that's sure to impress, do try this easy Very Berry Summer Tart for something light and refreshing.
I really don't mean to brag, but can we just talk about how beautiful this tart is? The pictures really don't do it justice! The berries are just so colourful and bright. This recipe is definitely one of my favourite desserts to shoot! No matter which angle I took it from, this tart just didn't have a bad side. 😉
Thanks for reading,
Ikhlas