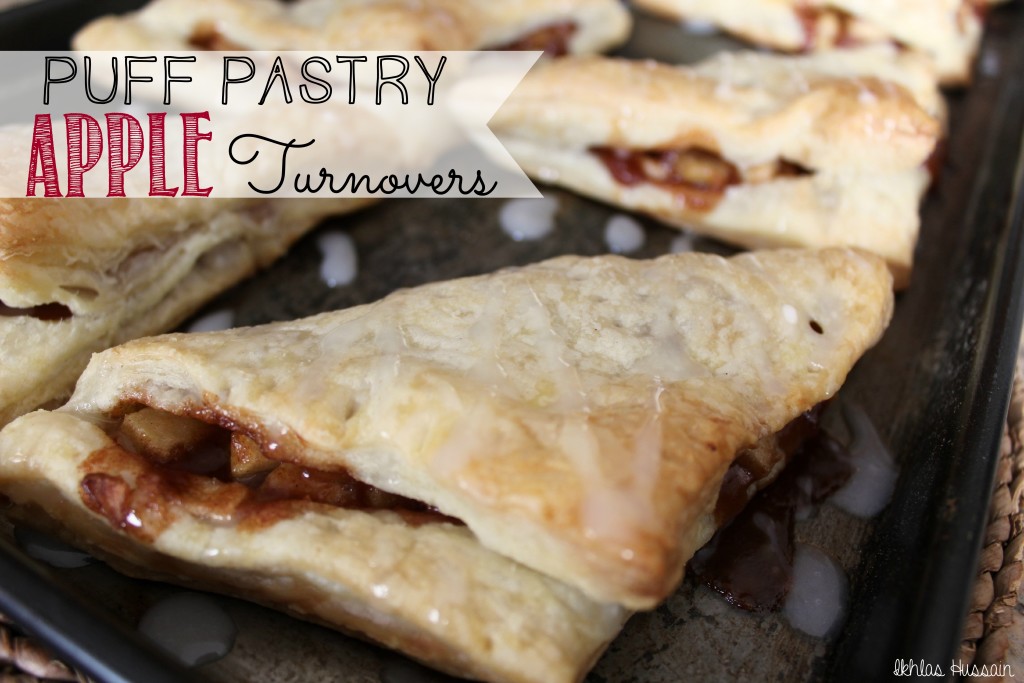 In my renewed attempts to broaden my baking skills beyond that of cookies and brownies, I've stumbled upon the many uses of puff pastry. I've used puff pastry before, namely for one of my family's all-time favourite recipes: Mini Chicken Pot Pies, but I've never used it for dessert before.
The weather here has been fluctuating between between hot and slightly warm here. Some days feel closer to Fall, rather than Spring, and so I had a hankering for apple pie on one of those days. Given the fact that apple pie is such a laborious effort, I searched for a simpler version. One that I could cheat at and still get that ooey-gooey, warm, crisp apple pie taste. I've made mini apple pies before, using the same recipe, but I wasn't in the mood to make pie crust. And that's when I stumbled on the simpler version: Puff Pastry Apple Turnovers.
These Puff Pastry Apple Turnovers are reminiscent of the golden yellow apple turnovers my mom used to buy us when we were kids. My parents used to buy A LOT of baked goods when we were kids (hence the chubby childhood) and I used to come home from school and warm up one of these guys in the microwave and devour the whole thing standing right there, plate forgotten. It was SO good.
When these came out of the oven, I didn't wait very long before devouring them hot off the baking tray. And I bet you won't be able to wait either! So check them out.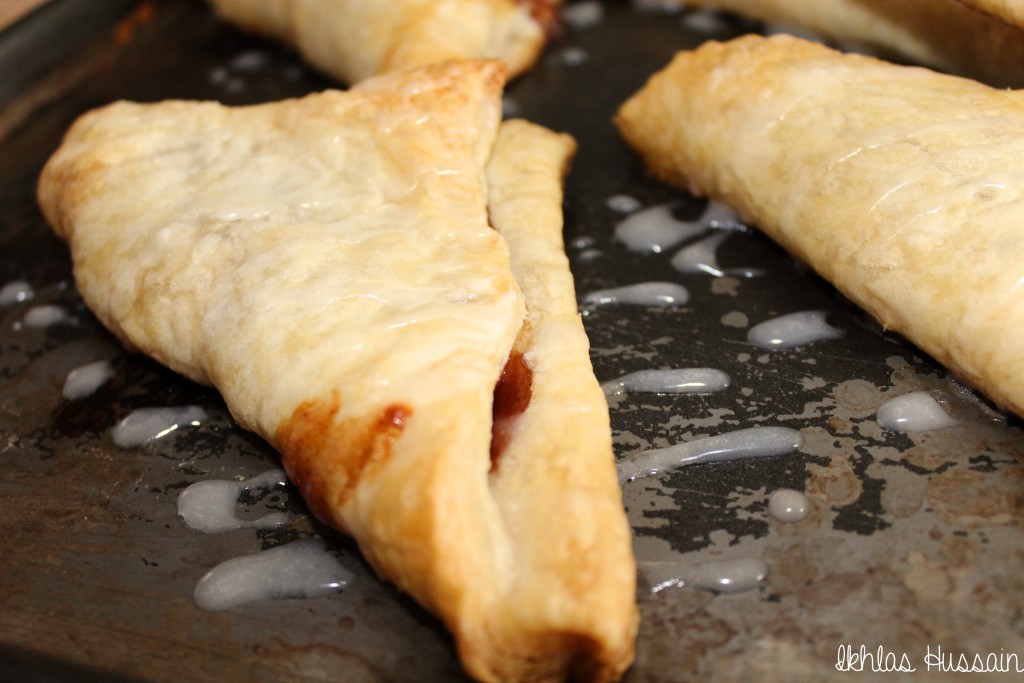 Puff Pastry Apple Turnovers
Ingredients
2 sheets of puff pastry, thawed according to directions
2 Granny Smith apples, diced into small pieces
2 tbsp butter
1/3 cup brown sugar
2 tbsp white sugar
1 tbsp flour
1 tbsp lemon juice
1 tbsp cinnamon

Vanilla Glaze:

1 cup icing sugar
2 tbsp milk
1 tsp vanilla
Instructions
Preheat oven to 400 degrees F.
In a small saucepan, melt butter. Add the apples and cook for a few minutes. Add both sugars, flour, lemon juice and cinnamon. Stir until mixture is brown and sticky in consistency. Turn off heat and set aside.
Unroll puff pastry and cut both sheets into 4 squares. Spoon mixture onto the corner of the square and fold over into triangle. Using your fingers, press the edges of the pastry together to close the triangle. Repeat with all squares of pastry.
Bake for 14 to 16 minutes, or until pastry is golden.
In the meantime, prepare icing by mixing icing sugar, milk, and vanilla in a bowl. Let the turnovers cool for about 10 minutes, and then spoon mixture into a ziplock bag. Cut a corner of the bag to drizzle the glaze onto the turnovers. Serve warm.
http://ikhlashussain.com/2015/05/recipe-puff-pastry-apple-turnovers/
You might want to actually wait till your turnovers cool before drizzling them with the vanilla glaze, or else it'll just disappear into the hot pastry (like mine did). I was just too excited to get one in my mouth that I didn't bother waiting.
If you have sheets of puff pastry usually lingering in your freezer, this is a perfect treat to bake up on a chilly afternoon. It doesn't require too much prep (other than dicing the apples) and comes together in a matter of minutes. The oven and the pre-made frozen puff pastry do most of the work for you, so that all you have to do is patiently wait for the turnovers to cool before stuffing them in your mouth!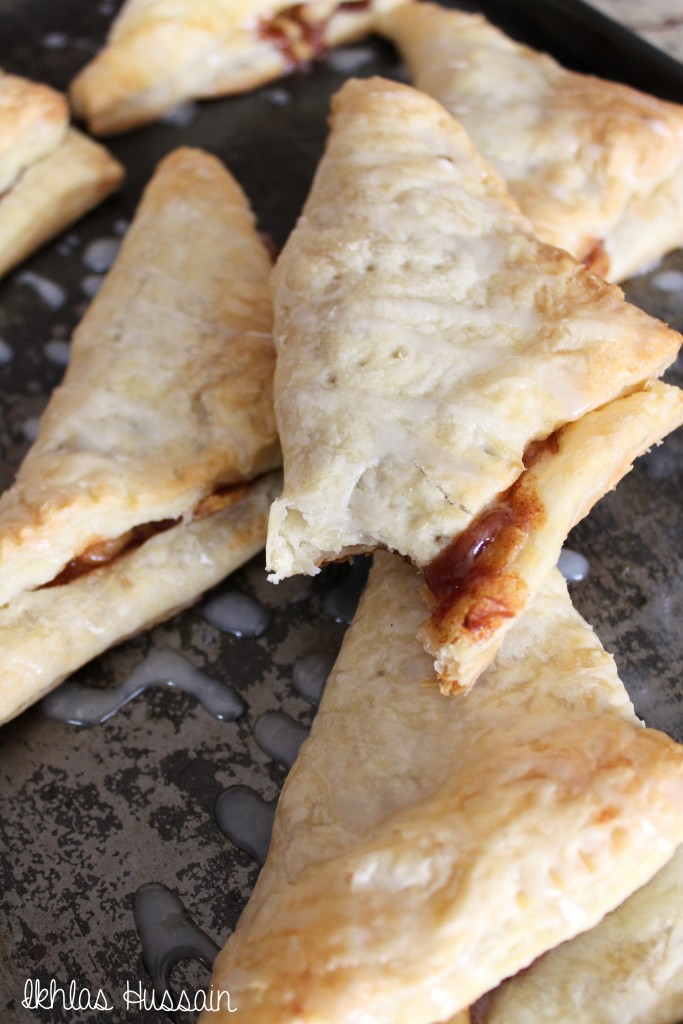 These puff pastry apple turnovers make your house smell amazing what with the smell of baking apples and cinnamon wafting everywhere. It's heavenly!
A lot of people have different opinions on the type of apple that should be used for apple pie. I prefer Granny Smith apples whenever I'm making apple pie because of their tartness, and because I just like the taste when they bake with the sugar and lemon juice. Do your research and find out which one you prefer, if you're interested.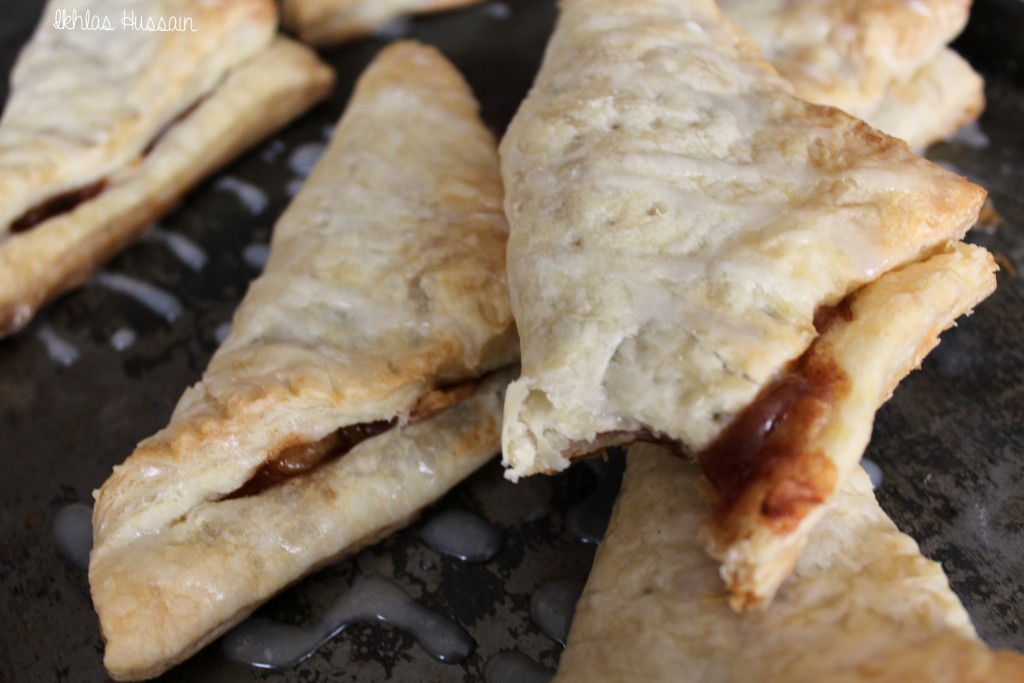 Prefect for a Fall afternoon or a slightly chilly Spring day, these Puff Pastry Apple Turnovers are a breeze to make and taste just like a warm apple pie fresh out of the oven. Check them out!
Thanks for reading,
Ikhlas