So I'm going through a phase of being obsessed with a few things. I call it my binge-phase. I just want to binge consume ALL of these things (or do them- whichever makes sense).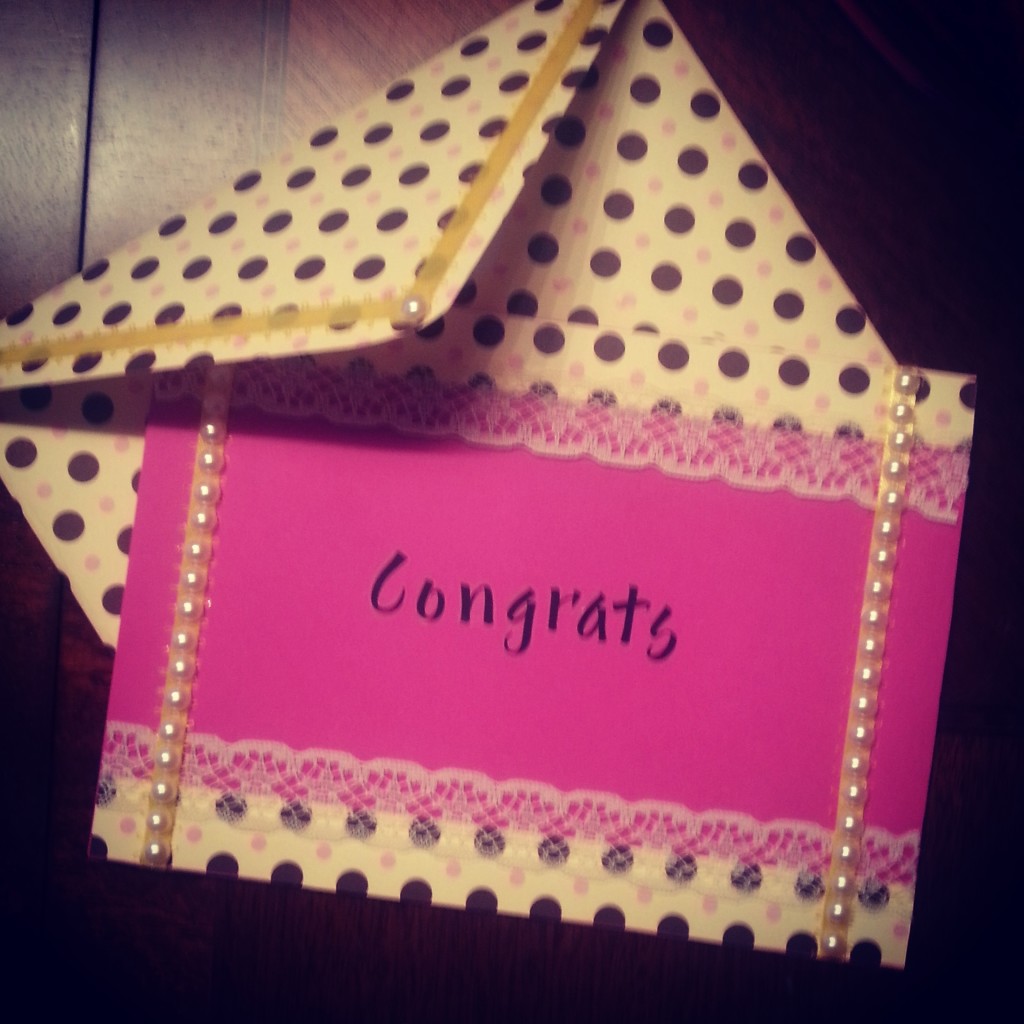 MAKING CARDS
Some of you might know about this obsession of mine. I love arts and crafts. LOVE them. I have an obsession with paper and buy stacks and stacks of it from Michaels or wherever I see some pretty variety. What started off as a random activity with a friend from university years ago has now turned into a real passion. If there is anyone I know with a birthday, wedding, shower of any kind, anniversary or just any occasion coming up, I will make them a card. I refuse to make do with store-bought cards now because I just love making my own cards and personalizing them for the person it's intended for. My motto for my cards is, "If I make you a card, you have to know I love you." Because it is pure love that makes me make cards.
One of my best friends recently had her Nikkah (Islamic marriage) last weekend, and naturally I wanted to make her a card. In the past, I was always about the Japanese envelopes (another obsession of mine), but then found a cool tip on Pinterest for making homemade envelopes. All you need to do is take an envelope that you like and pull open the seams and lay it out flat. Then you just use it as a template and you can make your own patterned, pretty envelope from any kind of paper!
This new discovery of mine led to an obsession with card-making over the past few days. My mom wasn't too happy about it because the dining room (my workspace) had been covered with bits of lace, rulers, stickers, paper, and ribbons for the past few days. But once I made the card for my friend, I couldn't stop. There's just something so therapeutic about card-making for me. Making it's the precision and the attention to detail that it requires, so much so that it takes my mind off other things. But I usually find myself enjoying it so much that I'm trying to think of other people and other occasions that I can make cards for. Because I just can't get enough!
DOCUMENTARIES
After years of avoiding documentaries because I thought they were boring, I've finally become obsessed with them! It's like my brain was thirsty for information and is now gulping it up in documentary form.
My brothers have always loved documentaries and we've watched a few together now. One that I really enjoyed recently is called Generation Earth. It's only 3 episodes but was fascinating! It's all about the inventions and innovations humans have made in recent years; it has a few things it focuses on, but is really information and interesting.
Another one I'm really enjoying and pretty much marathoning through is Departures. It's about these 2 Canadian guys who take a year out of their lives to go and travel the world. As a lover of travel who hasn't really been anywhere, I LOVE this show. The humour is a little off sometimes, but I love the realness of the show. It's just 2 guys and the cameraman travelling the world and exploring new places. Each episode focuses on a country; sometimes there's two episodes per country, and it's cool to see all the non-touristy places that they visit. I'm really enjoying it so far, because they visit places that aren't often that popular and so it's interesting learning about new countries and cultures. Both documentaries can be found on Netflix.
REREADING BOOKS
So some of you might know about my love of rereading books. I've kind of gone on about it a lot on here. When I'm in a particular book funk that I can't get out of, I go on a binge-reading of old books. One of the best things about having a lot of books is that you can peruse your own library for something you haven't read in awhile, which is pretty awesome.
So last week when I was struggling through Golden Son and not really in the mood to read it, I discovered upon the Shopaholic series. I only used to have the first one, but then one of my friends donated her entire series to me when she moved to Montreal. So I reread the entire series, and then binge-read all of the other Sophie KInsella books I have in my collection. Kinsella's books are light and fun, and always take my mind of things, so now I'm dying to get my hands on her latest!
After I finished my reread-a-thon of Sophie Kinsella, I've started on a Sarah Dessen reread. I love Sarah Dessen's books, and started with her second latest The Moon and More because it was one that I didn't remember much of. I'm really enjoying it so far! Sarah Dessen's books are perfect for summer, and are a lot of fun to read (and reread).
And that's it! Those are my current obsessions right now or things I just can't get enough of. What are you currently obsessed with or loving right now?
Hope you all have a good long weekend if you're Canadian, or just a good weekend if you're not. 🙂
Thanks for reading,
Ikhlas