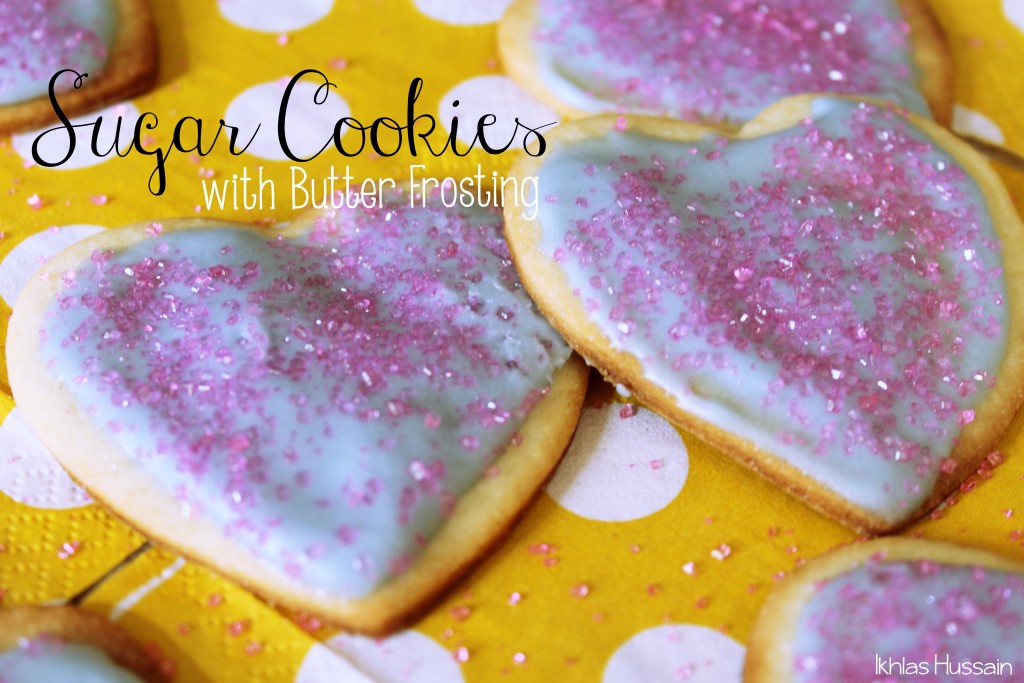 So 3 years ago, I posted my first recipe here. Back in those days, I was mostly blogging about books, writing, and other random things. I was just getting into baking blogs and discovering the art of sharing recipes online, when I decided to share this recipe online.
If you go back and look at the pictures of those Sugar Cookies, you might laugh. I certainly did. The pictures are atrocious. The writing is sloppy. The instructions are messy. With that being said, the cookies themselves are amazing.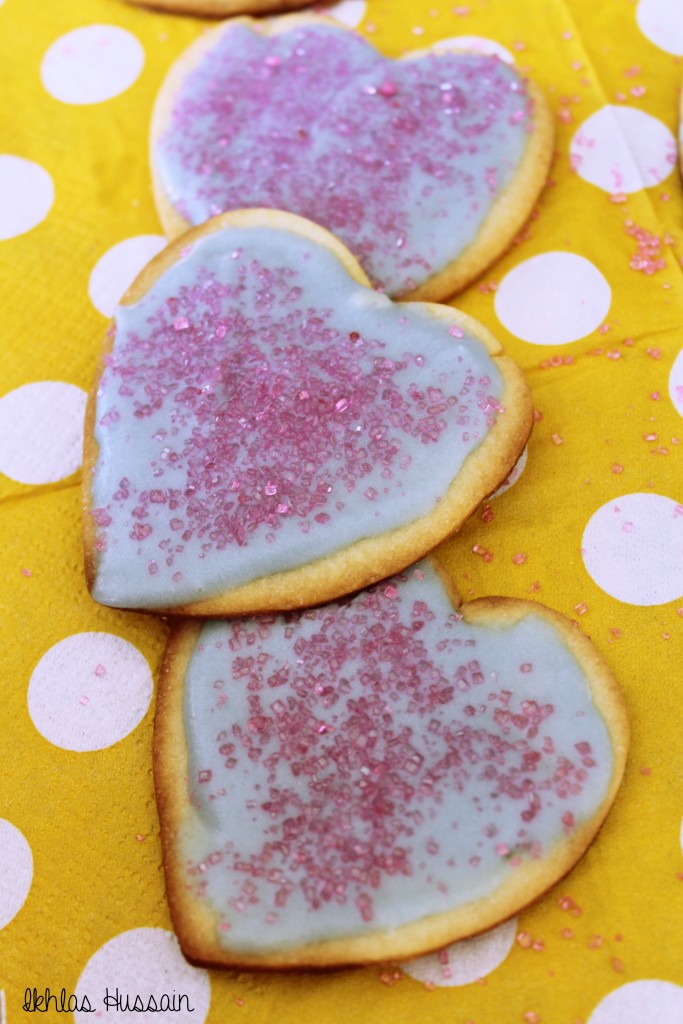 Someone once described them as 'cupcakes in cookie form'. The process can be a bit tedious, but the end result is delightful. These cookies are a classic and can be made any day. But whenever you do make them, they make that day special.
My brother recently got a DSLR camera so I decided I needed to make something special in order to test out his camera. And what better recipe than these cookies, the first recipe I ever posted on my blog, almost 3 years ago exactly?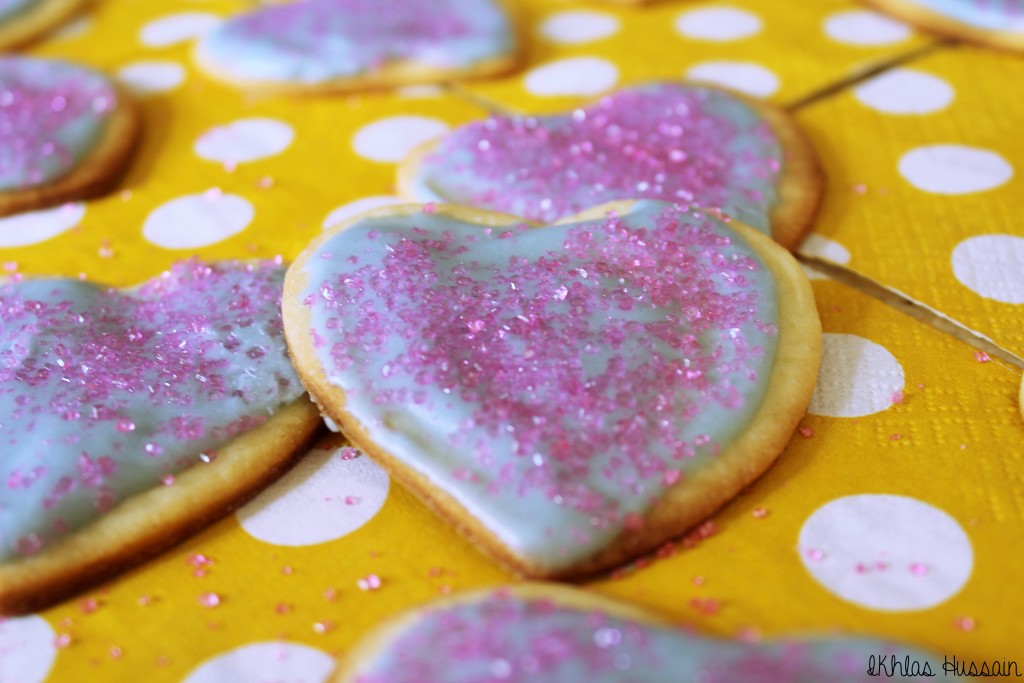 This recipe was due for an update anyways, so I decided to give the cookies a makeover so you all could make them easily. Check it out!
Sugar Cookies with Butter Icing
Ingredients
For the Cookies:

2/3 cup butter, softened
¾ cup granulated sugar
1 tsp baking powder
¼ tsp salt
1 egg
1 tbsp milk
1 tsp vanilla
2 cups all-purpose flour

For the Frosting:

4 tbsp butter
2 cups icing sugar
1 1/2 tsp of milk
Any colour food colouring
Coloured sugar crystals or sprinkles
Instructions
In the bowl of your stand mixer, beat your softened butter until fluffy. Add sugar, baking powder, and salt, scraping the sides of the bowl repeatedly. Then add the wet ingredients (egg, milk, and vanilla) and mix well. With the mixer on the lowest speed, slowly add the flour and mix until all ingredients are well incorporated.
Separate dough into two and wrap with plastic wrap. Refrigerate for at least 30 minutes.
Preheat oven to 375 degrees and line two baking sheets with parchment paper.
Remove one chunk of dough from the fridge and massage it lightly with hands. Roll out dough on a lightly floured surface to 1/8 inch and cut out with cookie cutters. Place on baking sheets and bake for 7 to 9 minutes, or until edges are lightly browned.
In the bowl of your stand mixer, beat butter. Add sugar, vanilla, and milk and mix well. Add food colouring and mix again. Using a piping bag or a spoon, decorate cooled cookies as desired. Sprinkle with sugar crystals or sprinkles.
Keep covered for up to 2 weeks.
http://ikhlashussain.com/2015/03/recipe-sugar-cookies-with-butter-icing/
They are a family favourite and beloved by many. I've made them so many times on Eid and other special occasions that they have become a classic. They are soft and buttery, with slightly crisp edges. Topped with a creamy, velvety frosting, these cookies are fun and colourful and taste like a party in your mouth.
This frosting isn't your traditional sugar cookie frosting, which tends to be harder when it cools, and doesn't move around. This frosting is much smoother and creamier than the traditional sugar cookie frosting, and that's why I like it more. Paired with the crispy cookie, the frosting really melts in your mouth and adds just the right level of sweetness to the plain cookie. If you're not a fan of frosting (like my grandparents), you can easily have the cookie plain with a dusting of icing sugar. I've heard it tastes good dunked in tea…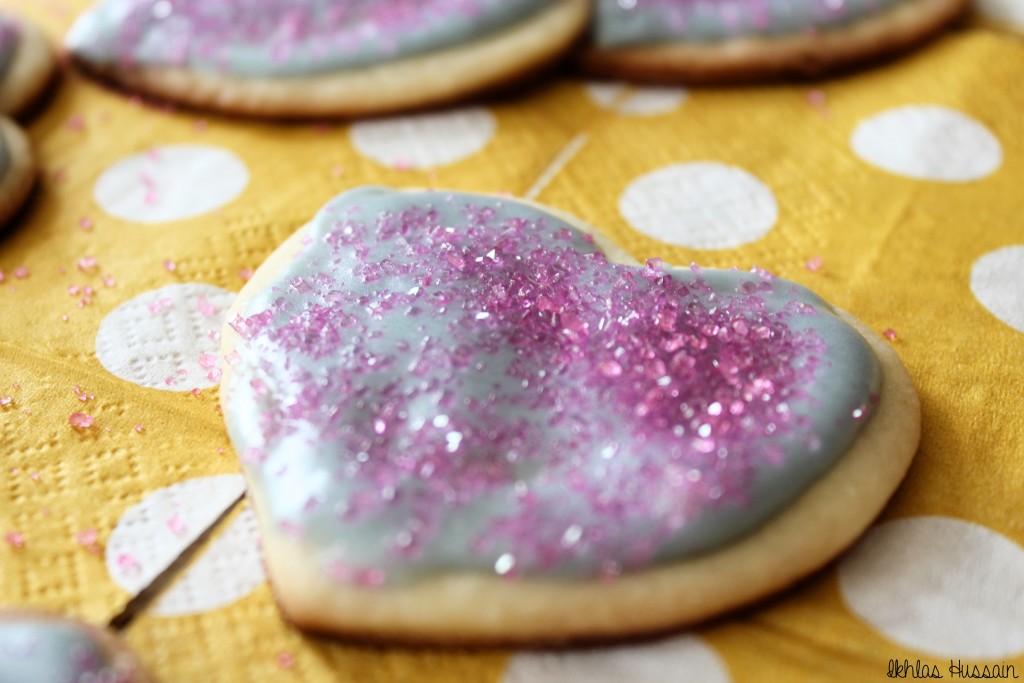 What I love most about these cookies is their versatility. You can use any shape of cookie cutter, any colour of food colouring, and any kind of sprinkles or decorations. I've been making these cookies with this butter frosting and the crystal sugar sprinkles since I ever started, and I can't imagine the cookies any other way!
These cookies are my family's favourite. Bake a batch up today and make them your family's favourite too.
Thanks for reading,
Ikhlas