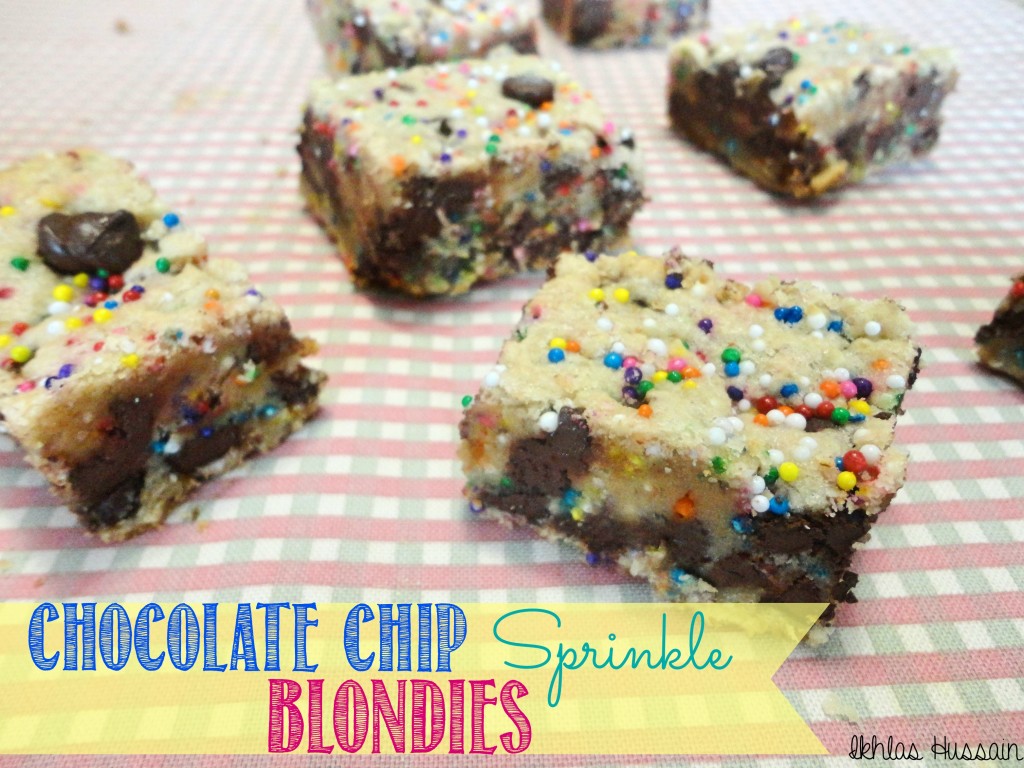 It's been more than a week since Eid, but I still haven't caught up with all my work yet. Whenever Eid happens in the week, it takes about a week for the excitement to finish, because there's just so many family parties and gatherings going on that seem to last forever!
I became super lazy this Ramadan, and my bout of laziness has yet to leave me. I know I have so much to do, but after a day at work, I want nothing to do than lie on the couch and watch movies, which I usually don't even get around to, and instead just spend the hours on Pinterest (must…get…off…Pinterest -_-).
My Summer Food Bucket List plan has also gone out the window, especially since I seem to be getting a lot more shifts at work and don't really feel like experimenting in the kitchen. On Eid though, I decided to deviate from my traditional Eid fare (inside out chocolate chip cookies, find the recipe below!) and make these blondies. (How's that for experimenting? lol)
Have I mentioned before how much I love bars/squares? If not, let me tell you now: as much as I love cookies, I absolutely love the no-fuss part of making bars. Throw all the ingredients in a bowl, mix, and then toss in a pan. No chilling, no scooping, and very little clean up! How can you go wrong?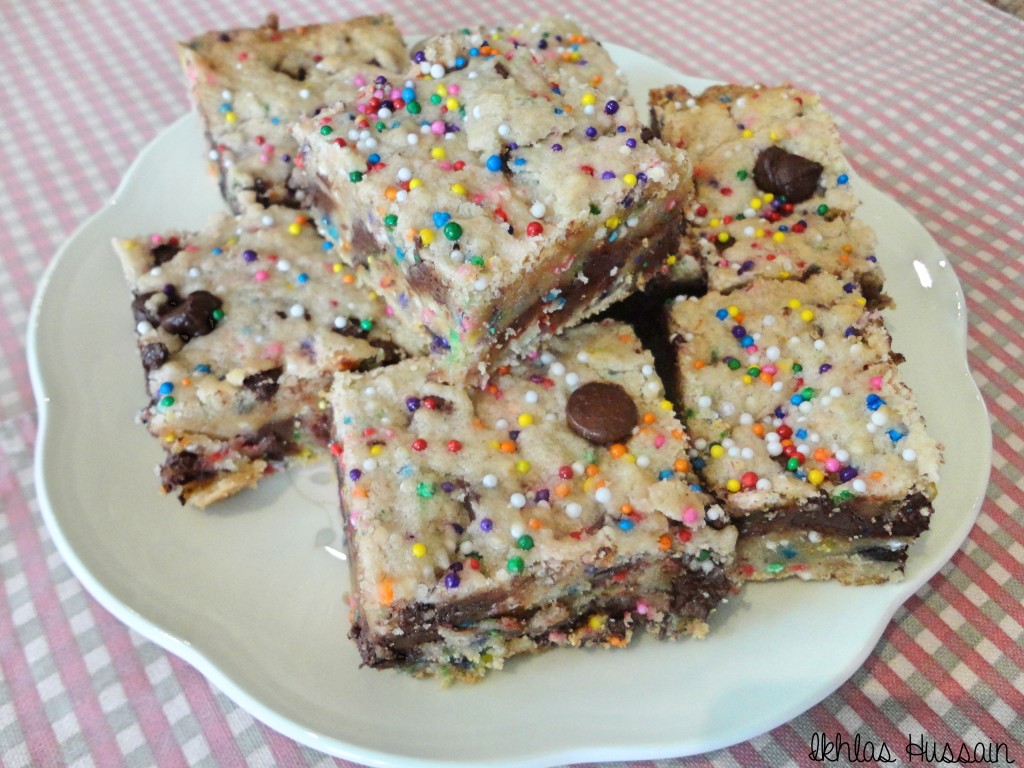 The longest part of the whole process is baking, and that doesn't take too long either. These Chocolate Chip Sprinkle Blondies come together in under 30 minutes, and with lots of sprinkles, are perfect for birthdays, other festive occasions, or just everyday! Have a look! 🙂
Chocolate Chip Sprinkle Blondies
Ingredients
1 cup butter, room temperature
1 cup sugar
1 cup brown sugar
2 eggs
1 tsp vanilla
1/2 tsp salt
1 tsp baking powder
2 1/2 cup flour
3/4 cup sprinkles
1 1/4 cup mini chocolate chips
Instructions
Preheat oven to 350 degrees F. Spray a 9x13 baking dish with cooking oil.
Cream butter and sugars in the bowl of your mixer. Add eggs and vanilla. Slowly add salt, baking powder, and flour. Add sprinkles and chocolate chips by hand, and mix well.
Press batter down into baking dress and sprinkle with a few chocolate chips and sprinkles on top. Bake for 20 to 25 minutes or until edges are golden.
Cool completely before cutting. Store in an airtight container for 7 days.
http://ikhlashussain.com/2014/08/chocolate-chip-sprinkle-blondies/
When people ask me what blondies are, I usually call them the non-chocolate version of brownies. But these blondies have chocolate in them, which makes them even better!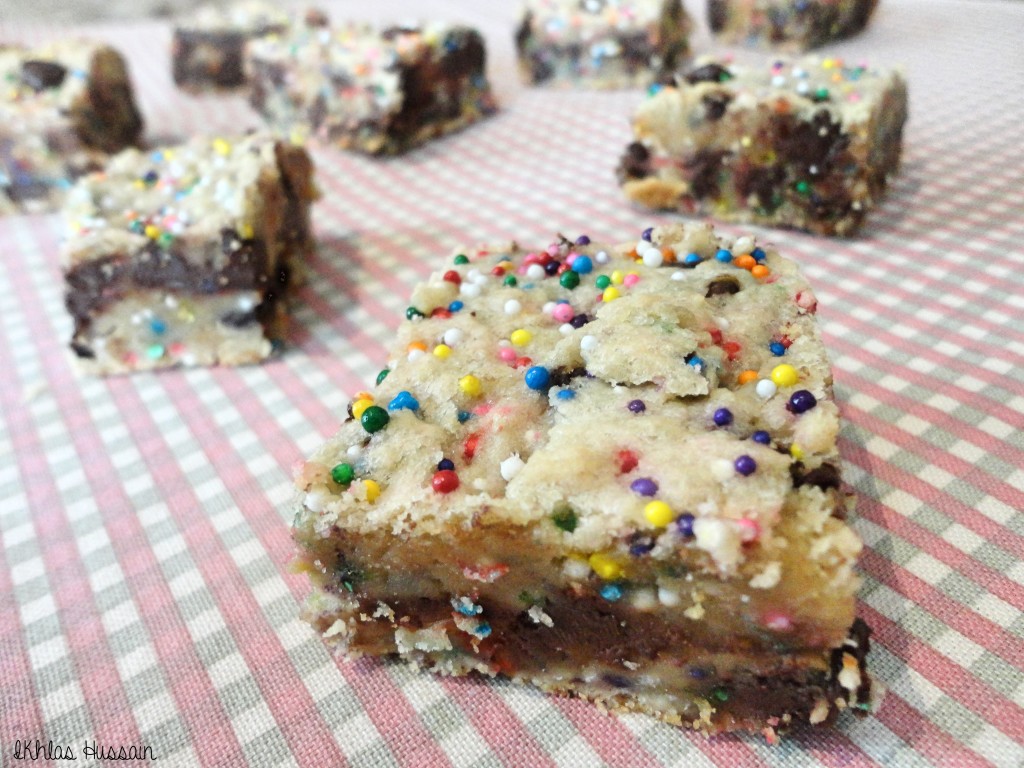 When I first saw the recipe on Pinterest, I knew I had to make them for a festive occasion because of the sprinkles. Although that's not to say that you can't have sprinkles on a regular day, because you definitely can! (Can you tell how much I love sprinkles?!)
These Chocolate Chip Sprinkle Blondies are a cinch to make and taste so ooey-gooey, with lots of melted chocolate and crunchy sprinkles! So whether it's your birthday, a celebration, or just a regular day, make these blondies!
Thanks for reading,
Ikhlas