Apologies in advance to my Muslim brothers and sisters who are fasting! Hope you can forgive me 😛
As excited as I usually am about Ramadan, it always takes a few days to get into the groove of things again. Ramadan just has its own schedule and flavour, and it does take our bodies a few days to get used to not eating and building up stamina. So posting this recipe is as much torture for me as it is for you (if you're fasting!).
I have posted chocolate cupcakes on the blog before. A few different recipes. So what makes these cupcakes different, you ask?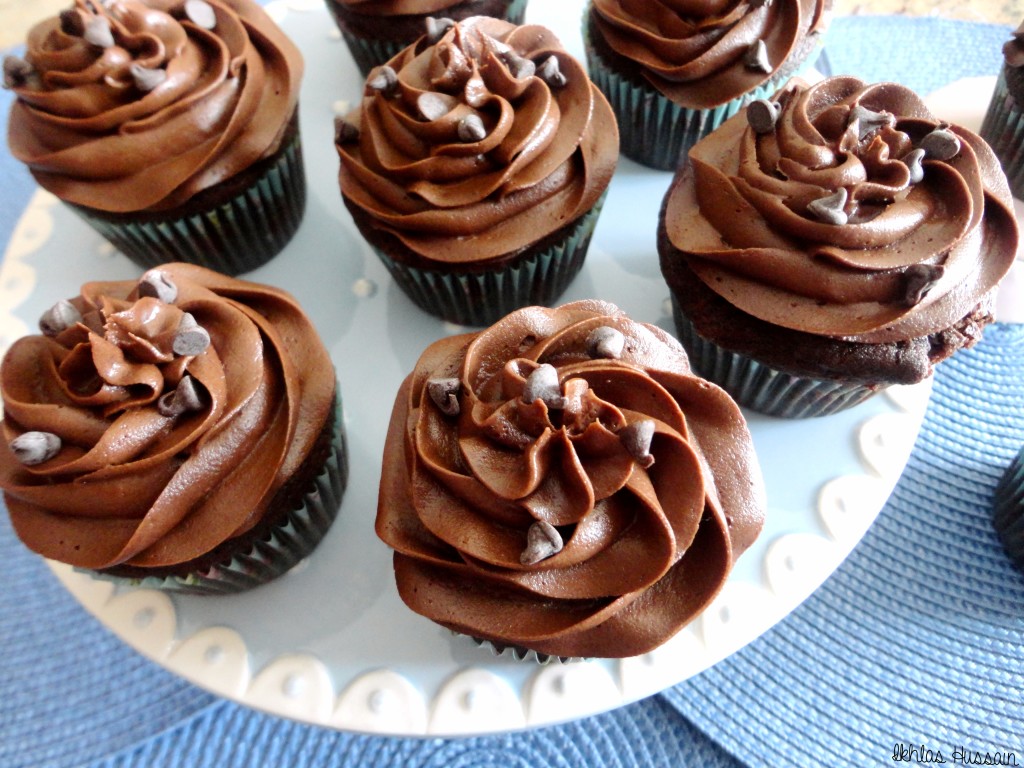 The difference in these cupcakes, my friends, is the frosting. OH MY, can we talk frosting for a minute? I know I say this a lot, but I have truly never had a frosting as good as the one on these cupcakes. It is thick, it is rich, it is creamy, it is a chocolate lover's DREAM.
I have made chocolate frosting before, but the difference in this chocolate frosting is the intensity of chocolate flavour. This frosting is reminiscent of dark chocolate and is extremely thick and rich. You could eat it with a spoon. In fact, I dare you not to!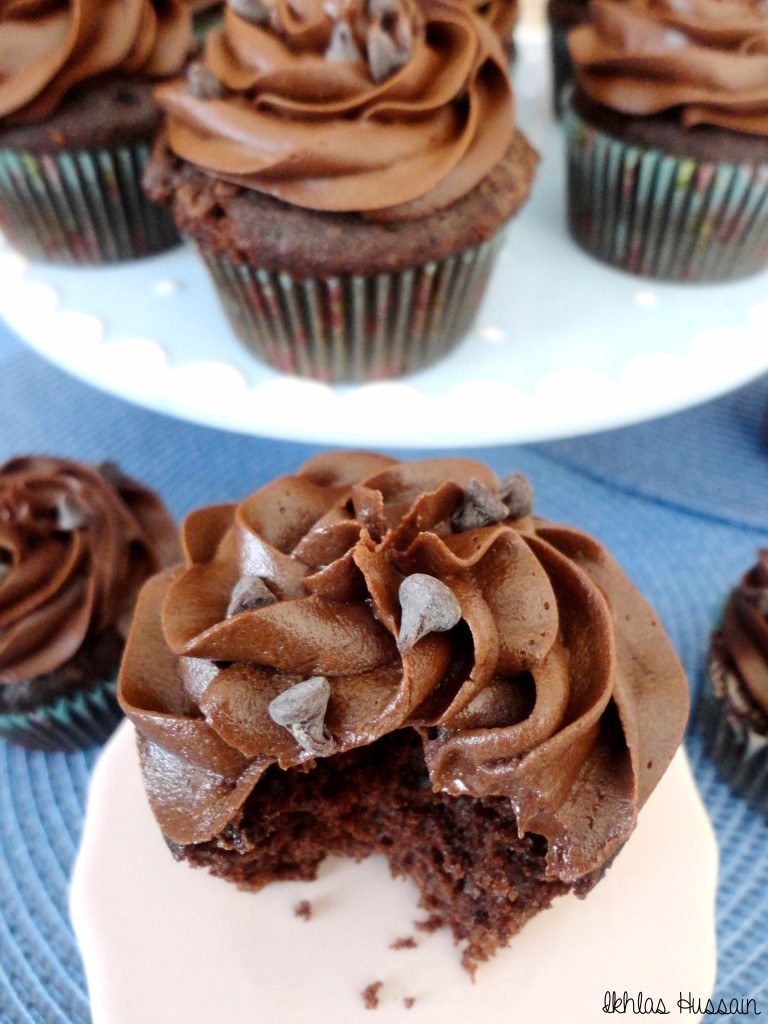 Let's return to the cupcakes. I'm not going to lie to you, these cupcakes take a little bit of work. But they are so worth it in the end! These cupcakes are called Chocolate Lovers Cupcakes because they have both cocoa powder and melted chocolate in them, which really amps up the chocolate flavour!
I made these about a week ago and they got rave reviews! So if you're in the mood for lots of chocolate, try these out!
Chocolate Lovers Cupcakes
Ingredients
For the cupcakes:

1/2 cup butter
1/4 cup semi-sweet chocolate chips
1/2 cup unsweetened cocoa powder
3/4 cup flour
1/2 tsp baking soda
3/4 tsp baking powder
1/4 tsp salt
2 eggs, room temperature
1/2 cup granulated sugar
1/4 cup brown sugar
1 tsp vanilla extract
1/2 cup buttermilk

For the frosting:

2 and 3/4 cup icing sugar
2/3 cup unsweetened cocoa powder
6 tbsp butter, room temperature
6 tbsp whipping or heavy cream
1 tsp vanilla extract
Instructions
For the cupcakes:

Preheat oven to 350 degrees F.
In a bowl microwave chocolate and butter on 20 second increments until just melted. Stir to ensure chocolate chips have completely melted, and then set aside.
In a medium bowl, mix together the cocoa powder, flour, baking soda, baking powder and salt. Set aside.
In the bowl of your stand mixer, beat eggs with granulated sugar and brown sugar until fluffy. Add melted chocolate/butter mixture and mix well. Alternate between adding the flour mixture and the buttermilk until just combined.
Line cupcake pan with liners and evenly scoop out batter into liners. Bake for 15 to 17 minutes, or until a toothpick inserted in the centre comes out clean.

For the frosting:

Sift cocoa powder and icing sugar, and set aside. Beat butter in a medium bowl until fluffy. Alternate between adding cocoa powder/icing sugar mixture and whipping cream. Add vanilla in the end and mix well.
Frost cooled cupcakes with the tip of your choice.
http://ikhlashussain.com/2014/06/recipe-chocolate-lovers-cupcakes/
These cupcakes do take a bit of extra time to make, but they're so worth it! Insanely moist, with a delectable chocolate frosting, these Chocolate Lovers Cupcakes are a must-have for any chocolate-lover in your life.
The buttermilk helps makes the cupcakes moist inside, so that they stay nice and light, and not dense at all. The cocoa powder and melted chocolate make the cupcakes extra rich and chocolatey, and the dark chocolate frosting is truly the icing on the cake!
They tasted heavenly both at room temperature and also slightly warmed up in the microwave with the frosting melting down the sides…oh gosh, now I want some more!
Writing this post while fasting has definitely been trying! I am so tempted to whip up another batch of these for iftar tonight but I'll probably stick to something healthy. 😛
If you try the cupcakes out, let me know how you get on!
Thanks for reading,
Ikhlas