What's this, you say? A dessert without chocolate or sprinkles or oodles of frosting? No, you're not on the wrong website!
For regular readers of the blog, you'll know how rare of an occurrence a dessert like this is. The blog is mostly known for decadent cupcakes, sprinkle-filled cookies, and cheesecakes piled high with whipped cream. Not exactly light and fruity desserts…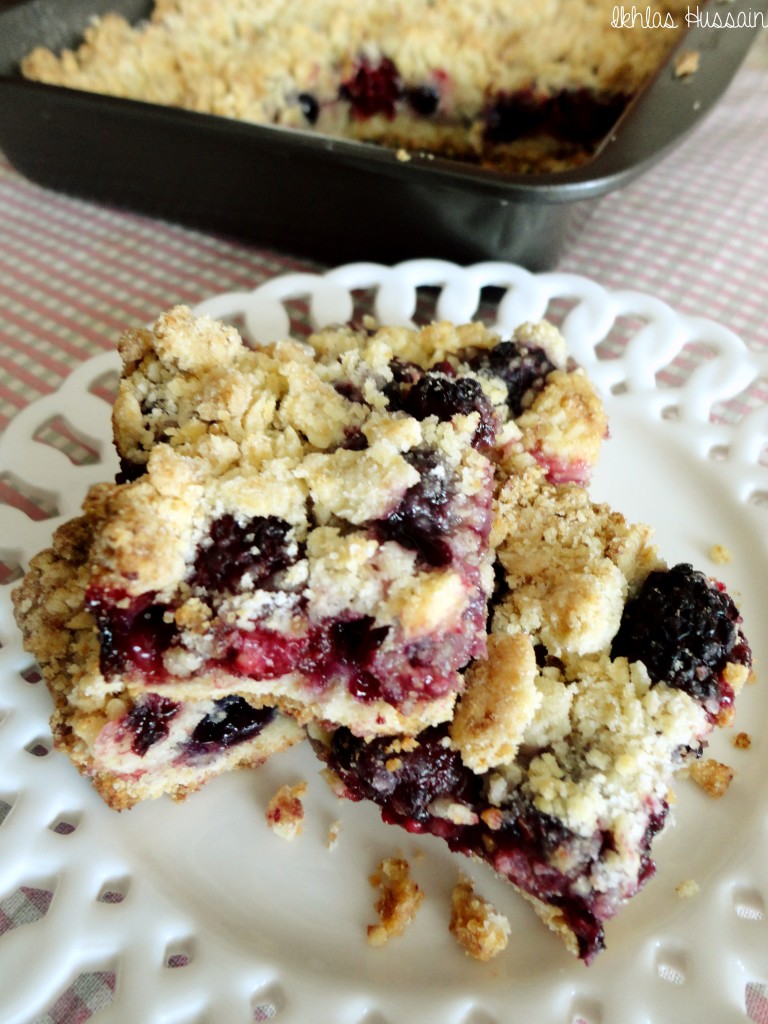 Don't get me wrong, I have nothing against fruit. I highly enjoy it, especially with a side of chocolate and whipped cream. But as I began poring over my Summer Food Bucket List on Pinterest, I realised that I wanted to branch out of the desserts I always made. So I decided on these light, spring-y bars. It was my first time really working with fruit in dessert, but it was incredibly easy!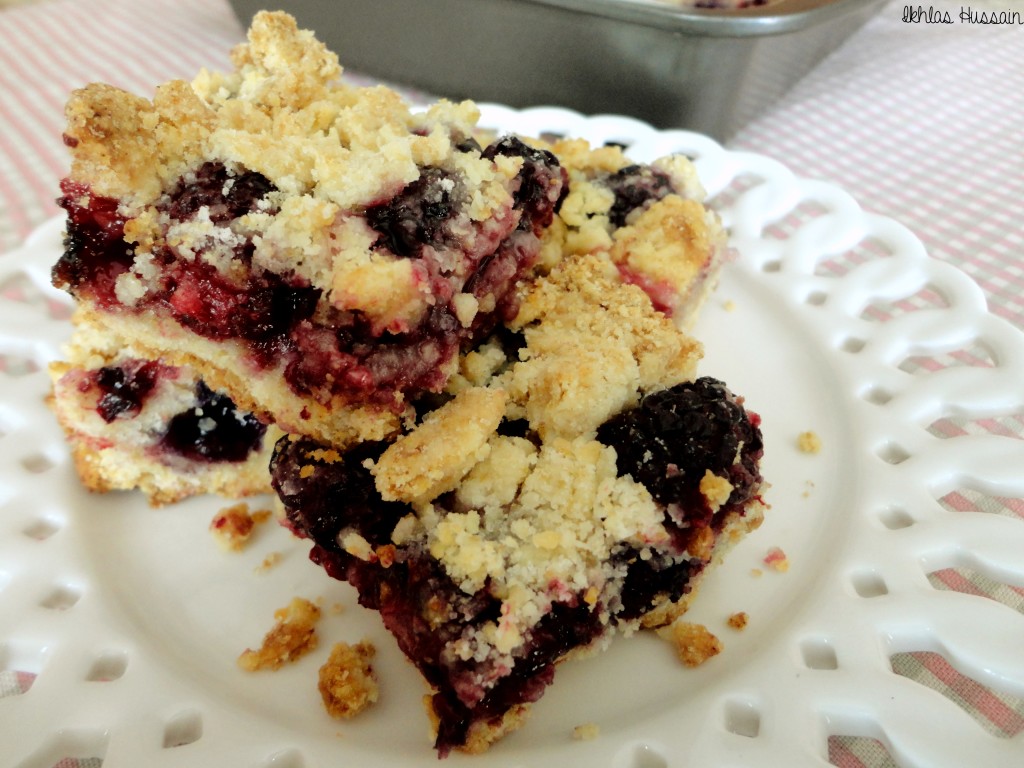 Soft, with a crumb topping, these Berry Crumb Bars were bursting with sweet and tart flavour They were easy to make and (apparently) taste amazing with a cup of tea! Check them out!
Recipe: Berry Crumble Bars
Ingredients
For the crust and crumb topping:

1/2 cup granulated sugar
1/2 cup brown sugar
1 tsp baking powder
3 cups flour
1 cup butter, cold
1 egg, beaten slightly
1/2 tsp vanilla

For the filling:

3 cups berries (blueberries, blackberries, raspberries)
1/2 cup sugar
3 tsp cornstarch
Instructions
Preheat oven to 375 degrees F. Spray cooking spray onto a 9x9 inch baking pan and set aside.
Mix together sugars, baking powder, and flour. Cut in cold butter with pastry knife, or 2 butter knives. Mixture will be very coarse and not stick together. Press down half of the mixture into the greased pan.
For the filling, gently mix the berries, sugar, and cornstarch. Sprinkle mixture onto flour layer and then sprinkle with remaining crumb topping.
Bake for 45 minutes or until edges of bars are golden. Cool completely before cutting.
http://ikhlashussain.com/2014/06/recipe-berry-crumb-bars/
The original recipe called for 4 cups of blueberries, but I didn't have enough berries, so I instead substituted it with 2 cups of blackberries and 1 cup of blueberries, for a total of 3 cups. I found that the ratio between the crumb filling and the berries was perfect so that there wasn't too much of either.
When making these bars, I was a bit worried about the sweet factor. I personally don't like blueberries, and the blackberries that we had bought this time weren't very sweet. And so I thought that the filling would be sour, but it definitely wasn't! It was a perfect mix between sweet and tart, with the natural flavours of the berries just oozing through. The berries become soft through the baking process so then when you slice through the bars, purple coloured jam came out. 🙂
A word of advice I have for when making these bars is to be patient! I know, it can be tough when waiting for these beauties to cool, but it's worth it. I could tell that these bars needed lots of cooling before cutting so I stuck them in the fridge for a good 30 minutes before slicing.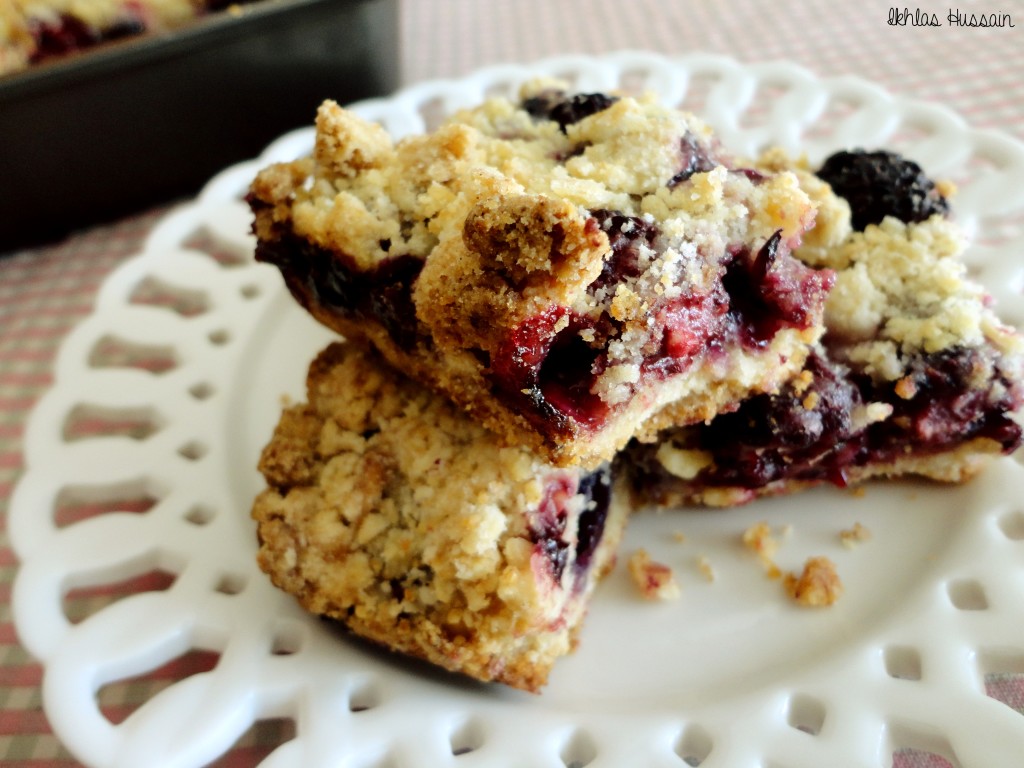 My grandparents, aunt, cousin and his wife LOVED these bars! They all really enjoyed the fact that they were so light and buttery, without making them feel bloated. My aunt felt they paired well with a cup of tea, so for all you tea-drinkers out there, these might be your next dessert to pair with tea! Because they were so crumbly, I have a feeling they would also taste really good warmed up in the microwave with a scoop (or two!) of vanilla ice cream on top.
Depending on the berries you have, you can definitely change up these Berry Crumb Bars to suit your mood. I hope you try them out!
Thanks for reading,
Ikhlas