Hello friends!
So it's been awhile. And I sincerely apologise for that. Life has been a little crazy right lately, and so blogging has fallen by the wayside.
I finally graduated from teacher's college a few weeks ago so that was pretty exciting. Because I did my undergrad at U of T and I went to teacher's college at U of T, I graduated from the same place and so it was weird and nostalgic to be sitting in convocation hall 2 years later graduating with a different degree.
Even though teacher's college was only 1 year and undergrad was 4, this past one was a lot more hectic and crazy that the four years of undergrad were! And so I was so glad to have finally finished because at times it felt like the year would never finished. But now it has, alhamdulilah, and now it's onto bigger and better things, inshAllah!
I also went to Chicago for a few days for a whirlwind trip that was life changing. More details on that soon!
This is turning out to be the summer of road trips, for sure! I don't think I've ever travelled so much in these past few months! The drive was super long and I took 4 books with me, but ended up reading only half of one. -_-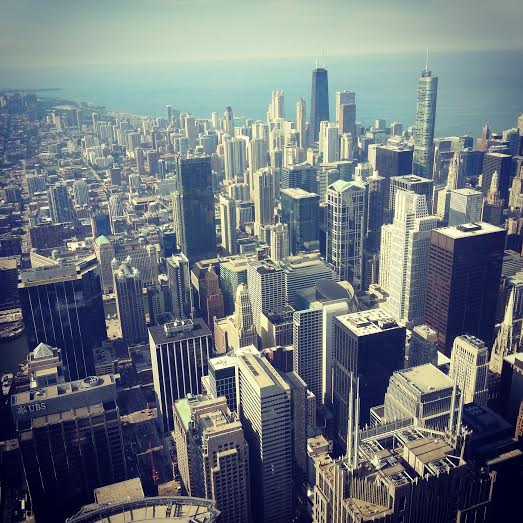 In Chicago, we went to the Willis Tower (formerly the Sears Tower), the tallest building in the city. This is a picture of the amazing view from on top! Chicago is a beautiful city and it reminds me a lot of downtown Toronto, except a lot larger! Lake Michigan touches Chicago so there's a beautiful lakeshore area that's very similar to Toronto and Lake Ontario.
After coming back from Chicago on Wednesday, I've been in somewhat of a daze and have fallen behind on blogging and so many other things! I have lots of recipes to share, but will be doing it slowly since today is the first day of Ramadan and I have a lot more shifts at work!
I have a few recipes that I plan on posting soon, as soon as I get into the groove of Ramadan and figure out a schedule for myself. Since coming back from Chicago, things have been so hectic! I plan on maintaining a simple diet this Ramadan and baking something special only once a week, and not every other day like I've done in previous years. My brothers aren't really too pleased about that because they've gotten into the habit of expecting something new everyday, but oh well! 😛
I've been currently rereading Roald Dahl's books lately, in hopes to recover my Goodreads goal. Instead of 6 books, I am now only 2 books behind! Gotta keep going…
Anyway, that's what's been happening with me! Hope you're all well 🙂
Thanks for reading,
Ikhlas