So I had a bag of peanut butter chips in my pantry for awhile. I bought them a few months ago when Wal-Mart had a sale on all baking chips. I didn't have a recipe idea in mind, but I just wanted to try them out. They stayed in my pantry for awhile since I had no idea what to do with them.
My brother threatened to add them to his ice cream concoctions a few times, but I tried to hold him off by hiding them again. 😛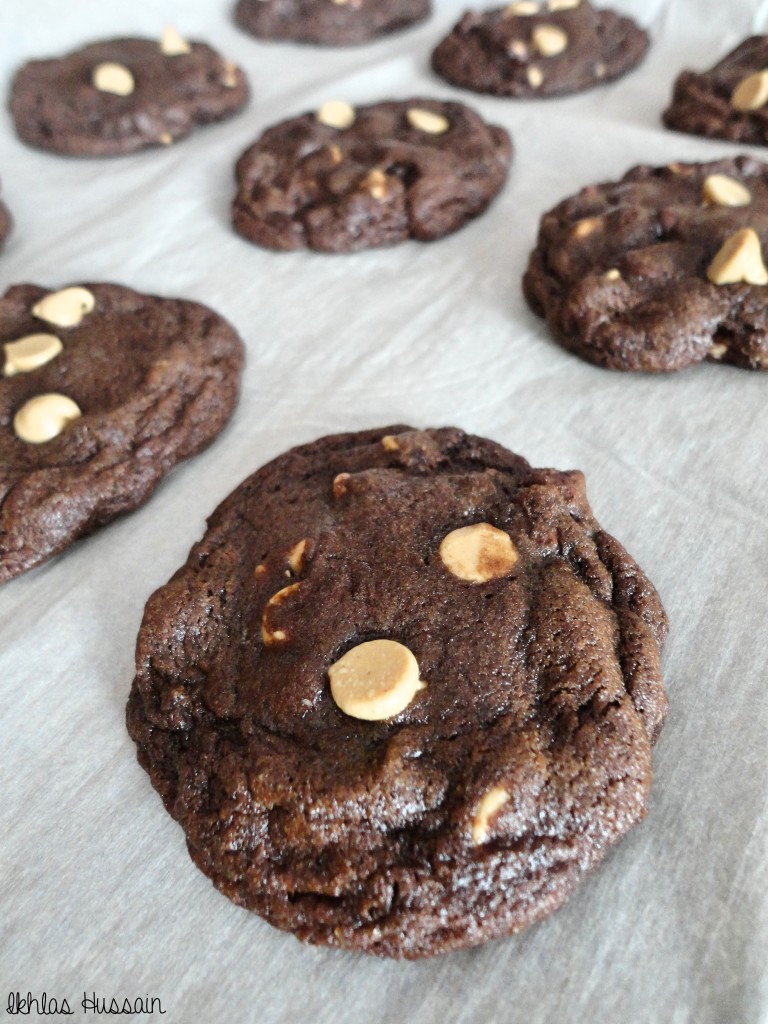 When I had a craving for a rich, chocolatey cookie, I knew it was finally time to add the peanut butter chips to a beloved recipe.
If you've visited this blog before, you'll know that I'm a huge peanut butter lover! I recently updated my Classic Peanut Butter Cookie recipe and it's a well-loved classic with my family, especially with the sprinkling of chocolate chips. Since everyone loved adding chocolate chips to the peanut butter cookie, I decided to flip it the opposite way and added peanut butter chips to my favourite chocolate cookie recipe.
The result? Insanely dense, rich chocolate cookies studded with nutty peanut butter chips. I also added some dark chocolate chips (because you can never have too much chocolate) and the result was a chewy, chocolate cookie with rich flavour. HEAVENLY.
So pour yourself a nice, tall glass of milk and get ready to bake up a large batch of these beauties! 🙂
Chocolate Cookies with Peanut Butter Chips
Ingredients
1 cup butter, softened
1 cup brown sugar
3/4 sugar granulated sugar
2 eggs
1 tbsp vanilla
1 3/4 cup flour
1 tsp baking soda
pinch of salt
1/2 cup unsweetened cocoa powder
1/2 cup peanut butter chips
1/2 cup dark chocolate chips
Instructions
In a small bowl, mix the dry ingredients (flour, baking soda, and salt) together. Set aside. In another bowl, place the cocoa powder and set aside.
In a large bowl, cream butter and sugars. Add eggs and vanilla, mixing well. Leaving the mixer on, add portions of the flour mixture and the cocoa in turns, mixing well until both flour and cocoa is well incorporated.
Add peanut butter and chocolate chips and continue to mix. Refrigerate for at least an hour.
Preheat oven to 350 degrees F and line baking sheet with parchment paper. Drop tablespoon sized dough onto baking sheet and press down slightly with the back of a spoon.
Bake for 10-12, and do not over bake. Store in airtight container.
http://ikhlashussain.com/2014/04/recipe-chocolate-cookies-with-peanut-butter-chips/
The trick to these chocolate cookies with peanut butter chips is underbaking them. I made these cookies twice, and the first time I over baked them. They lost all their chewiness and softness and were a little dry. So take them out as soon as they stop moving when you move the tray. It's tough to tell when the edges get brown, but be careful not to leave them in the oven too long. Even when they look undercooked, take them out since they'll continue to bake on the tray.
The second batch I underbaked them and they were AMAZING. All chewy and chocolatey, my brothers and I couldn't keep our hands off of them!
The peanut butter chips add a nice nutty flavour since they aren't too sweet. And of course they're perfect for people who love the combination of peanut butter and chocolate (who doesn't?).
Best eaten warm out of the oven, these cookies pair well with a ice-cold glass of milk. You can even microwave them for about 10 seconds the next day to get some of that melted chocolate taste, but luckily they retain their chewiness well after the first day.
So if you're looking for a chocolate cookie recipe that is chewy and dense and chocolatey, look no further!
Thanks for reading,
Ikhlas