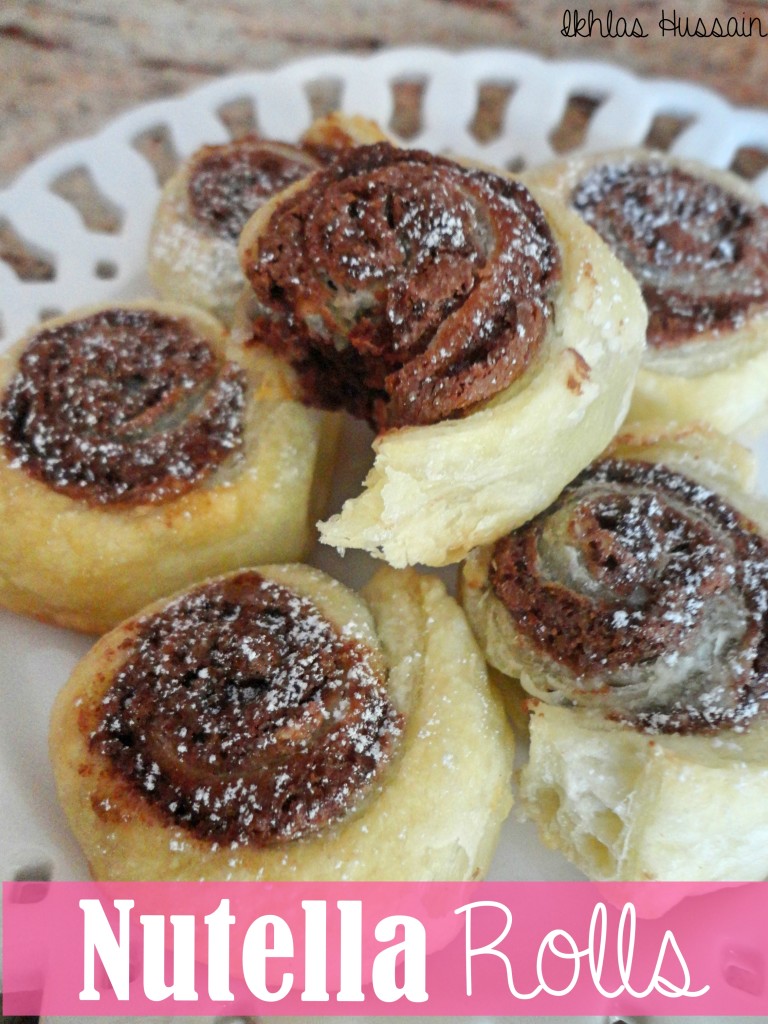 Dear Internet,
I have a confession: I never liked Nutella.
Yes, this seems strange, especially since the title of this post suggests that I like it enough to bake with it, but let me rectify my statement: I never understood it.
When I was a kid, I was a big peanut butter fan. My lunch all through grade 1 to 6 was a peanut butter sandwich and fruit punch. When Nutella broke out onto the playground, I didn't get it. Why would anyone ever want to eat a chocolate sandwich? It made no sense to me.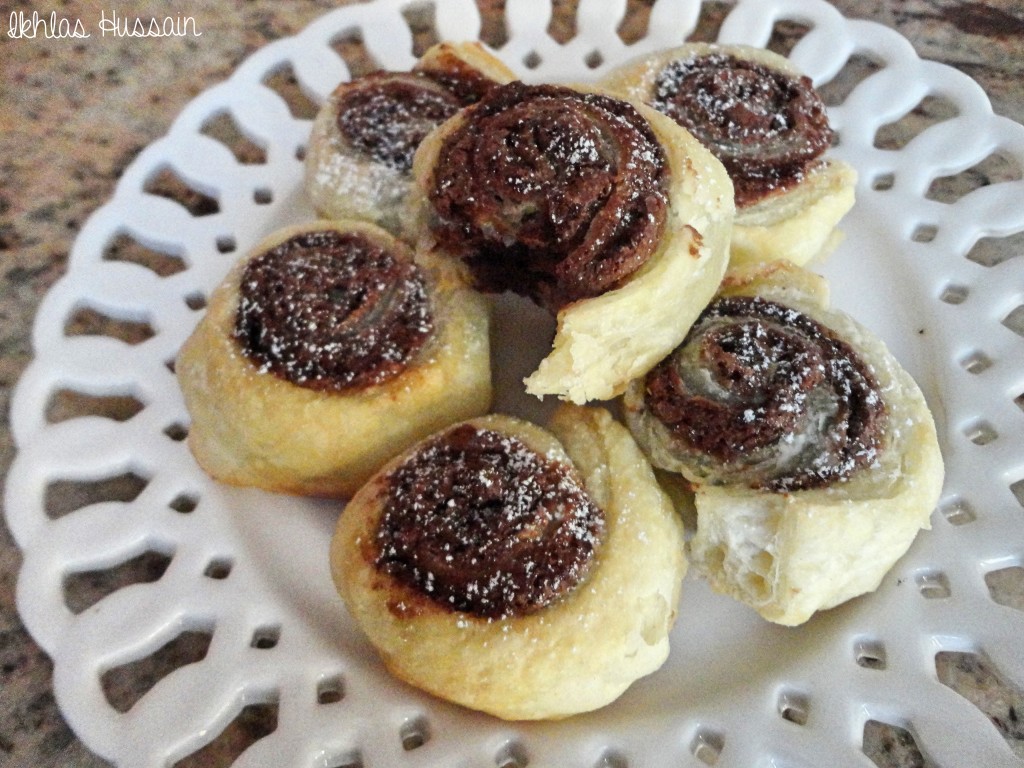 Flash forward several years later and to my Pinterest obsession. I see Nutella all over Pinterest, and it's not just on toast. It's used for frosting, ganache, poured over pancakes and waffles, brownies, and anything else you can think of! So after seeing Nutella everywhere, I decided to give it another chance. An experiment if you will.
My mom bought it one day and my brothers looked at me strangely, since all throughout my childhood, I've been known to rant about the uselessness of a chocolate spread. I told them I was trying it, for research purposes. One spoon in and I was a GONER.
I proceeded to finish the bottle within the week (hello tighter jeans) and begged my mom to buy another. As a kid, I always had this idea that Nutella would be too rich, too chocolatey (is there such a thing, my adult self asks), but one spoon in and I realised how wrong I was! There's a delicious nutty hazelnut taste to Nutella which takes away the super sweet-ness. Instead, it's rich enough, without being overpowering.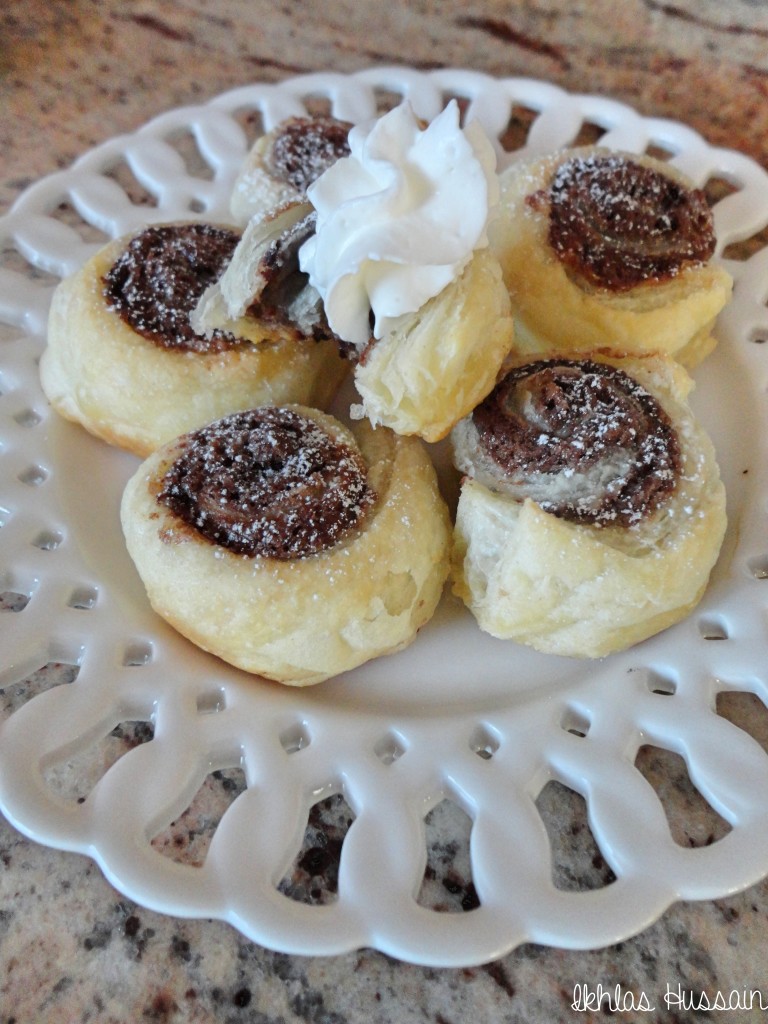 Before finishing off that first jaw (and naturally the second), I made these Nutella Rolls. I had a few sheets of puff pastry in my freezer and one cold, dreary Winter afternoon I got the idea for these. Cocooned between layers of buttery, flaky puff pastry, the chocolate just melts in your mouth. With a dusting of confectioner's sugar, these little Rolls get a little makeover which make them perfect for guests or for yourself.
My family devoured these and begged for seconds. Lucky for me, they're SO easy to make. Try them out and see if your family asks for seconds too! 🙂
Ingredients
1 sheet puff pastry, thawed according to package directions
3 to 4 tbsp Nutella
Confectioner's Sugar, for dusting
Instructions
Preheat oven to 375 degrees F. Spray a cake pan with cooking oil and set aside.
Unroll puff pastry and spread Nutella evenly. Roll the pastry tightly, ensuring that the pastry is being rolled evenly.
Using a serrated knife, cut 5 cm or 2 inch slices of the pastry. Place in cake pan and bake for 10 to 12 mins, or until rolls are golden. Dust with confectioner's sugar.
http://ikhlashussain.com/2014/04/nutella-rolls/
How easy is that?! I think this the easiest recipe I've ever posted, and so it seems like I'm cheating somehow by posting it. It only has 2 real ingredients (you could do without the confectioner's sugar). It doesn't get simpler than that! 😀
I made them on a whim, but when my mom and grandma took a bite out of the warm, gooey pastry, they were in awe at how easy it was and how yummy it tasted. It bakes up in no-time, and the only tricky part is waiting for the puff pastry to thaw.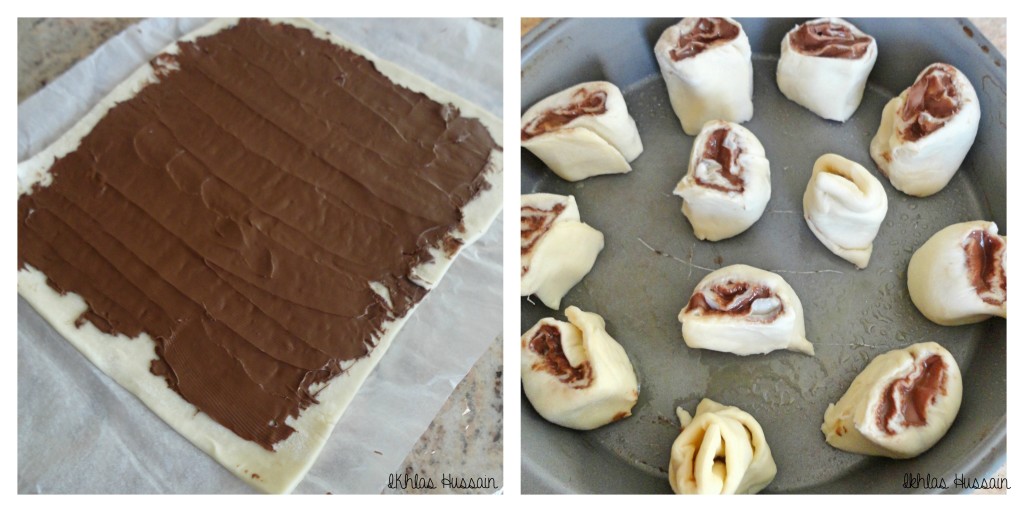 Since my family is nuts about nuts, I would probably add chopped pecans or walnuts next time to give the Rolls more bite, but they were absolutely divine with just the chocolate as well. The measurement for the Nutella is also something you can play with. You can obviously add more!
So if you have a fancy tea party to throw or some guests to impress, these Nutella Rolls are super easy and bake up looking like you spend hours slaving in the kitchen. 🙂
Even if you don't have guests to impress, bake up a batch of these divine Rolls and sit back and enjoy! You'll be so glad you did. 🙂
Thanks for reading,
Ikhlas