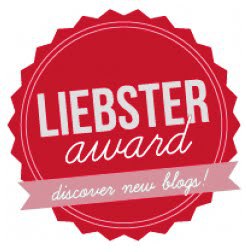 I was nominated for the Liebster Award by Chelsey, from Chels and a Book! Thank you!
The Liebster award is a blogger award that helps to recognize blogs that might not be as well recognized. I was nominated a few years ago when I first began this blog, and so it's really nice to be nominated again. 🙂
Normally, you include 11 facts about yourself, before answering the questions, but I'm going to be a bit rebellious this time and ignore the 11 facts since I can't think of 1 fact, let alone 11 random facts about myself.
So let's get to Chelsey's questions; there are some interesting ones!
1. What is your favourite childhood book, favourite read from the last year, and most anticipated future read?
My favourite childhood book is naturally Harry Potter. It's a book I read in various stages of my life, but the magic began when I was a child, and followed me into my tween and teen years.
My favourite read from last year is Crazy Rich Asians. It was wild, crazy, fun, and impossible to put down!
Most anticipated future read is Golden Son, hands down. I LOVED Red Rising this year, and can't wait to read its sequel.
2. If you had the choice to create your last meal (appetiser, main course, dessert and beverage), what would it be?
Such a fun question! For appetizer, I would have Red Lobster biscuits since they're SO good. Main course would be some sort of pasta, since it's my favourite type of food. Dessert would be the hardest to plan for, but I'd probably go with a classic New York Style Cheesecake with strawberries on top and fresh whipped cream on the side. So bad but SO good. I'm pretty boring with my beverage choice, since it would probably be water.
3. What would your ideal bookshelf/ library look like? (Pictures accepted!)
I absolutely love this book nook since I have a weak spot for bay windows, and I'd love to incorporate a comfy couch, a big window, and a spot for my favourite books. It looks like heaven!
4. If you were to get a tattoo tomorrow, what would it be and where?
I wouldn't get one, since they're not allowed in my faith.
5. Do you anticipate your birthday, wish it was over faster or remain indifferent?
When I was younger, I would count down the months and days to my birthday since there always seemed something magical about turning a whole year older since it always seemed like something big would happen on my birthday. But as I've gotten older, my birthday has lost that sense of charm and excitement; now it seems like any other day, except I'm much more aware of getting older.
6. What is in your ideal smoothie?
I don't really drink smoothies, but my dad makes a mean banana milkshake in Ramadan (the month of fasting) to get our energies up after a whole day of fasting, which I love.
7. If you were to go to a ball (Disney Princess style), what would your dress look like? (Pictures accepted again. Pinterest, here we go!)
What an awesome question! I absolutely adore this vintage Dior dress from 1947, especially because of the full tulle skirt. Nothing screams girly and pretty than a tulle skirt to me, and I love the glittery details on top.
8. Do you have a favourite mug? Where is it from, how long have you had it and what does it look like?
I don't have a favourite mug, but do have a favourite drinking contraption. It's a steel bowl from Pakistan, and it's been in our house for SO long. I love to drink water in it, because it just seems colder for some reason. I can only drink cold water, and it's only when I drink in my cool steel bowl that my thirst ever quenches.
9. What is your favourite thing about your blog?
I love the cutesy design of my blog. I know it's super girly, but the polka dots and the pink and the curly font just make me all smile when I look at it. So I love it 🙂
10. Who is your favourite man or woman in literature and why?
Lizzy Bennet from Pride and Prejudice. She is so full of flaws and biases, yet she's sensible and funny and interesting. Despite the difference in time period, I relate to her so much!
11. If you were to adopt a dog or a cat today, what would one of your name considerations be?
When I was a kid, I wanted a cat SO bad, but since my brother and I are allergic, we can't have one. 🙁 If I were to get one, I would name it either Simba (if it was a boy) or Nala (if it was a girl). Gotta keep The Lion King love alive!
So those are my answers to Chelsey's questions! Hope you enjoyed reading them. And again, thank you to Chelsey for nominating me!
Thanks for reading,
Ikhlas