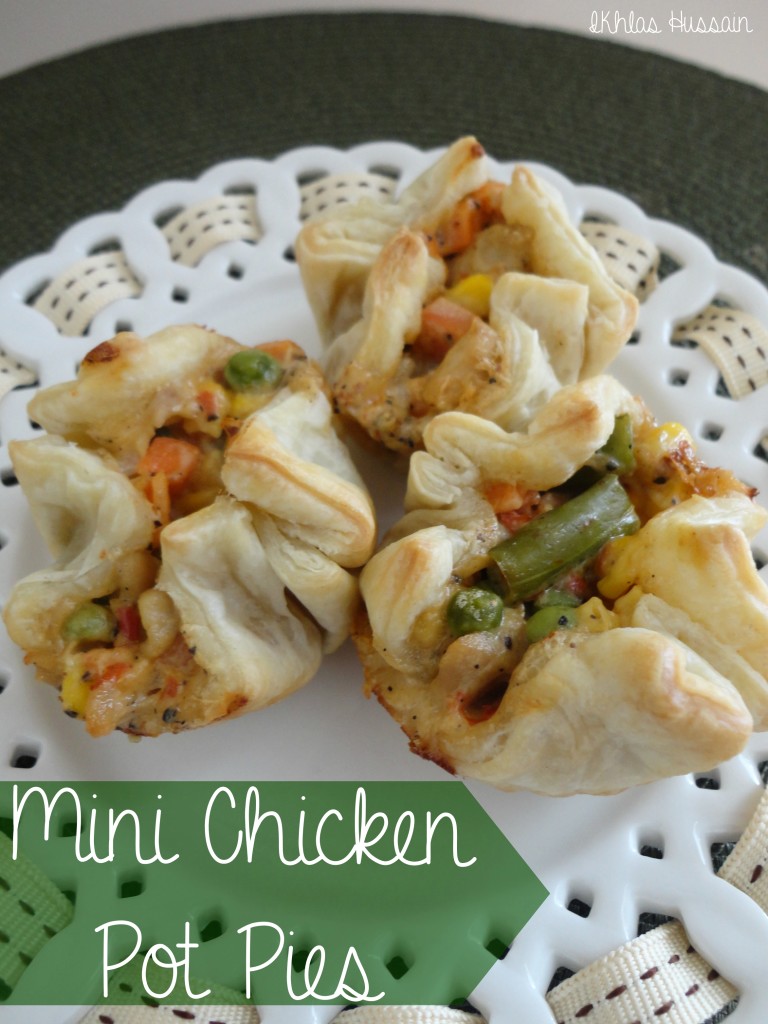 For those of you who have been around this blog for awhile, you might recognize this recipe. It's actually one of my family's all time favourites, especially in the Fall and Winter, and is a constant request at my house! The recipe on this blog, though, is quite old and the pictures quite weird looking. Feel free to check it out here if you are so inclined.
I make these little pot pies a lot, and it pains me to see the terrible pictures and even more terrible recipe quality (with no measurements!) on the blog, and so I undertook a project a few weeks ago to remake these according to the new recipe I use and photograph them for you. You're welcome. 🙂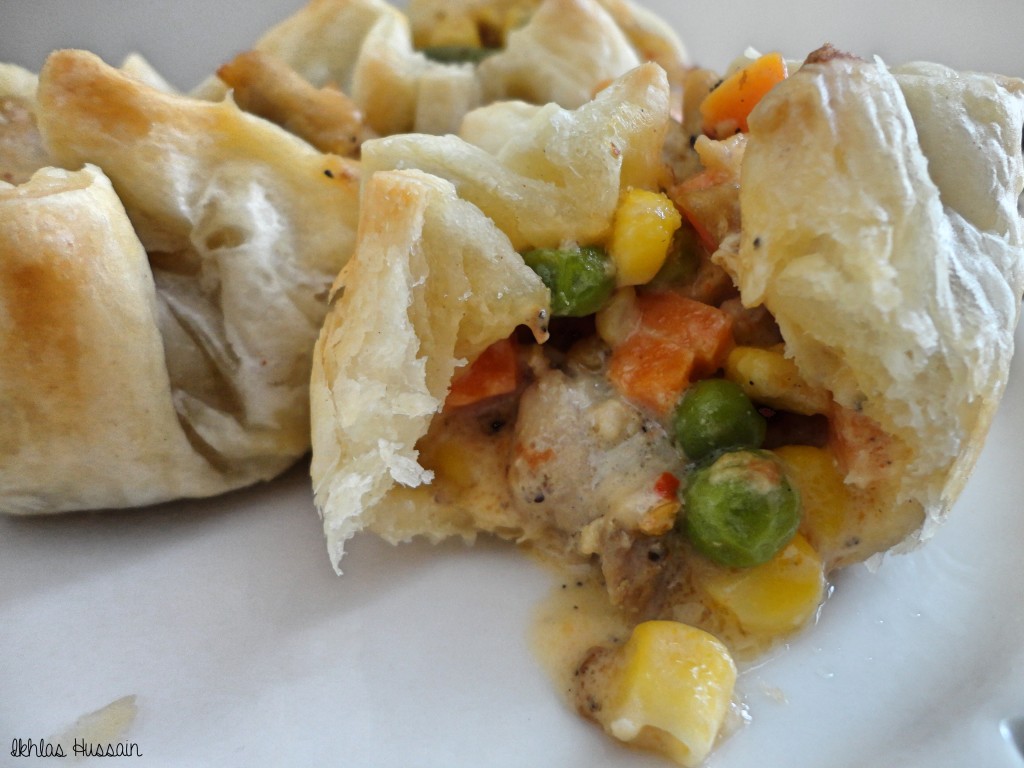 These mini chicken pot pies are the ultimate comfort food. Filled with a creamy sauce, lots of veggis and hearty chicken, these pot pies are a perfect treat on a cold, dreary Winter or Fall day. They can easily be used as an appetizer before a meal or can be eaten for lunch on their own; they're that hearty. 😉
I first ate one of these at a family friend's house; the mom of my brother's friend is an AMAZING cook and I remember coming away from her house in awe of her cooking and always craving more the next day. She's British, and so I love all the goodies she makes. 🙂 After being bitten by the cooking bug a few years ago, I finally asked her for the recipe for these in attempts to try and make them at home. She gave me her recipe, but over the years, I've adapted it and changed it to make it my own.
So if you're looking for a comfort meal that can come together in under half an hour, you're in luck! Check it out. 🙂
Ingredients
1 1/2 lbs boneless chicken breast, cut into cubes
1/2 of a 250 g package of cream cheese, cubed and softened
Salt and pepper, to taste
2 tbsp flour
1 cup chicken broth
2 cups frozen vegetables, thawed and drained
1/2 cup finely shredded cheddar cheese
4 sheets of puff pastry, thawed according to package directions
Instructions
Preheat oven to 375 degrees F.
In a skillet, cook chicken on medium heat or until no longer pink. Add the chunks of cream cheese and let melt. Add flour, one tablespoon at a time, until the flour is dissolved.
Add chicken broth and frozen vegetables. Sprinkle with cheese and turn the heat low, allowing the mixture to simmer for 5 minutes. Turn heat off and remove from heat.
Cut each sheet of puff pastry into 8 equal squares, and place in a muffin tin. Using a tablespoon, scoop the chicken mixture generously into the puff pastry. Bring the four corners of the pastry up and pinch them in the centre to close the shell.
Bake for 15 to 18 minutes, or until lightly golden. Serve warm. Store in an airtight container in the refrigerator.
Note: To make this recipe vegetarian, omit the chicken and add 2 additional cups of frozen vegetables. Also omit the chicken brother and replace for an equal measure of vegetable broth.
Original recipe by Ikhlas Hussain.
http://ikhlashussain.com/2014/02/recipe-mini-chicken-pot-pies-2/
The first time I made these mini pot pies, I made the sauce with cream of mushroom soup, my go-to ingredient when I first started cooking. But now, I like making the rich, creamy sauce from brick cream cheese, flour, chicken broth, and cheese. The chicken broth works to thin out the chunkiness of the cream cheese and flour, and then the cheese works well to bind it all together and make it hold its consistency.
It's the combination of the chicken, vegetables, and sauce which make these pot pies such a delicious comfort food! You want to leave your sauce a little thin prior to baking them in the oven so that when you bite through all those flaky layers of pastry, you get a creamy, rich sauce coating the chicken and vegetables.
What I love about this recipe is how versatile it is! You can easily add more chicken or vegis based on what you have in the freezer. You can even totally omit the chicken and go vegetarian (check out my notes in the recipe above for full notes on how to make this recipe vegetarian). I've added extra cream cheese for extra creaminess on some days, and definitely lots more cheese! I've also made them super mini in my mini cupcake tin for 48 bite sized pot pies. 😉
So try these Mini Chicken Pot Pies out, and let me know how you get on!
Thanks for reading,
Ikhlas