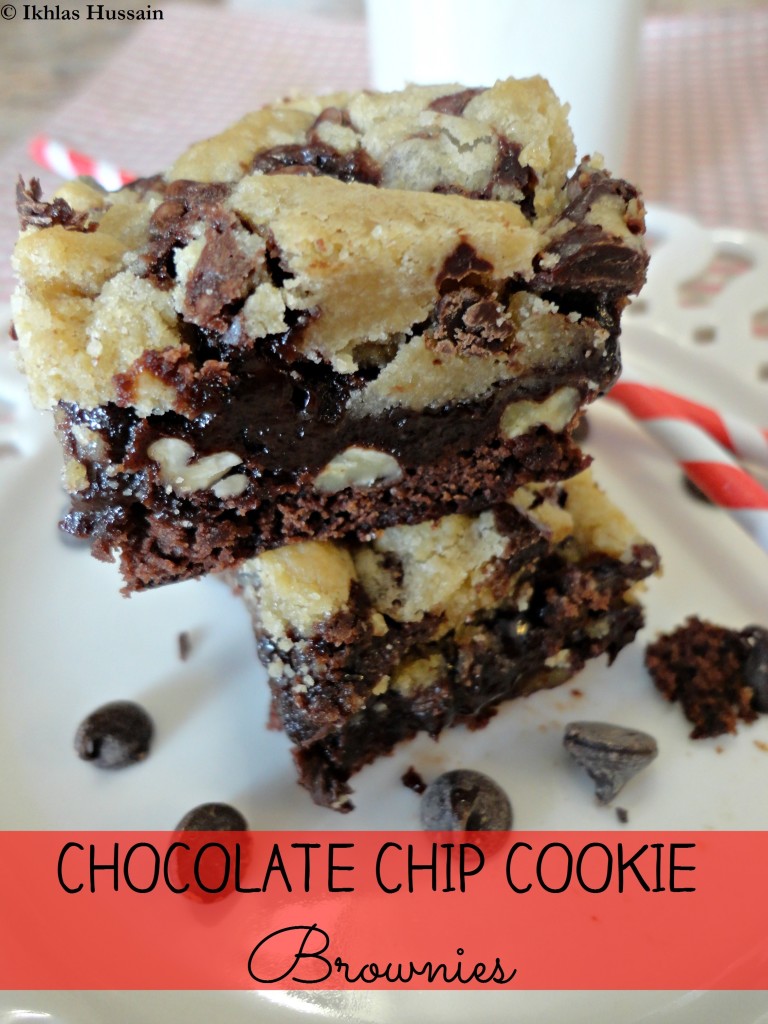 Those of you who follow me on Facebook might remember seeing a teaser for this recipe AGES ago. It took me awhile to post it, but trust me, it's SO worth it!
Some of you might know my obsession with desserts that combine two desserts to make one scrumptious treat. Think my Brownie Cupcakes with Cookie Dough Frosting or my Chocolate Chip Cookie Cheesecake Bars.
So when I saw this recipe on Pinterest, I knew I had to make it! Fudgy brownie layer and topped with a cookie top? Yes please!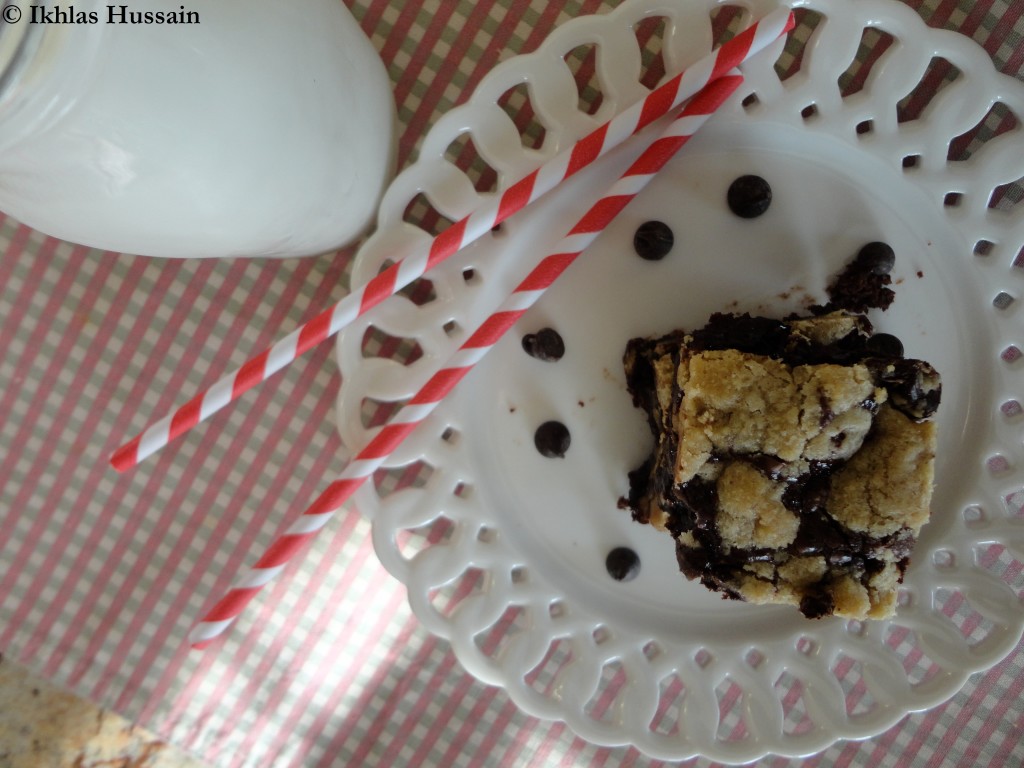 These chocolate chip cookie brownies did not last long in my house. I think I ate them for breakfast, dinner, and lunch the day I made them. And for dessert probably. I had them with a tall glass of cold milk and then I had them with a huge scoop of vanilla ice cream, after warming one in the microwave. It was SO GOOD.
Using a boxed brownie mix saves on time in this recipe; all you have to do is mix it all up, add the pecans (optional), and then make the cookie filling. Very quick and easy!
There is a little bit of trick to the baking part of this recipe; you want to be careful that both layers are equally baked. Because of the different consistencies of the layers, it's possible that the brownies under bake while the cookies are well done. The author of the recipe recommended baking the brownies for 20 mins uncovered, and then the next 10 minutes covered with aluminium foil, and the last 5 minutes uncovered. I followed these directions and they worked well for me in ensuring an even bake throughout the dish.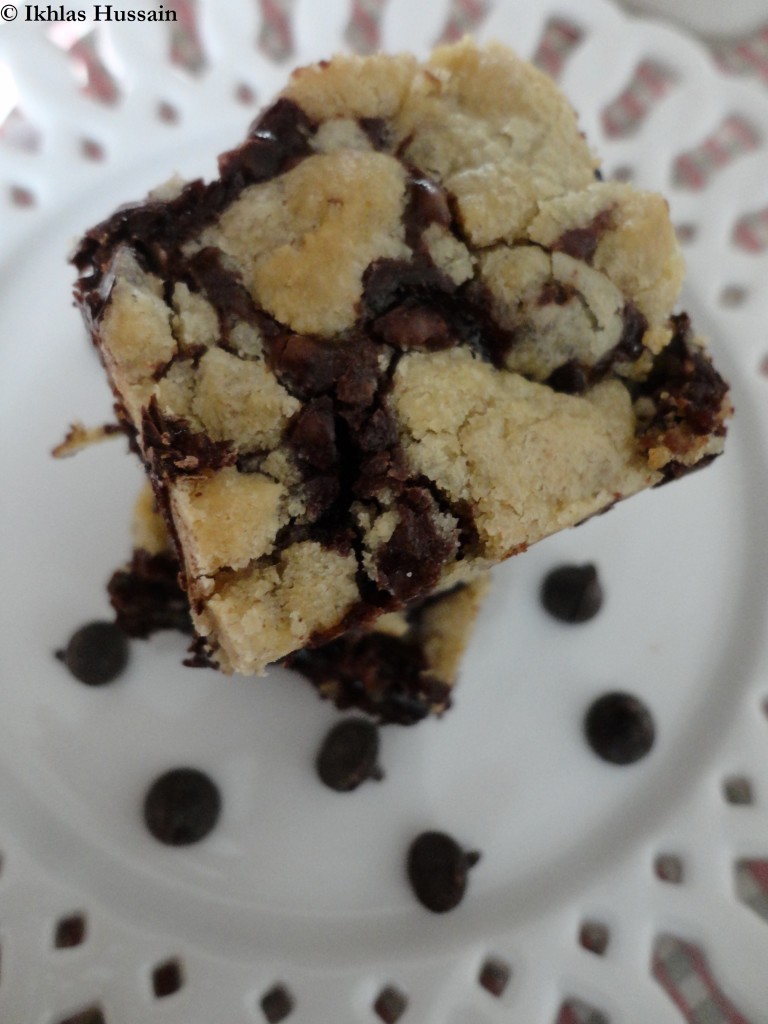 While I love cookies, I prefer baking bars; usually one bowl operations, they're easy to throw together under 15 minutes and bake in one dish. No chilling, no waiting required. And these bars are no exception!
So what are you waiting for?
Chocolate Chip Cookie Brownies
Ingredients
1/2 cup butter, softened
3/4 cup sugar
2 tbsp brown sugar
1 egg
1/2 tsp vanilla
1 cup, plus 2 tbsp flour
1/2 tsp baking soda
1/2 tsp salt
1 cup chocolate chip
1/2 cup pecans
Brownie mix, plus ingredients on the back of box (I used Betty Crocker)
Instructions
Preheat oven to 350 degrees F. Grease a 9x9 baking pan and set aside.
In a bowl, cream together butter and sugars. Add egg and vanilla and mix well. Slowly add in flour, baking soda, and salt. Add chocolate chips and mix again. Set aside cookie mixture in the fridge.
In a separate bowl, prepare the brownie mixture according to instructions on the box. Add pecans.
Pour the brownie mixture into the pan, and level off the top with a spatula. Scoop out cookie dough and spread gently over the top of the brownie mixture until it's completely covered.
Bake for 35 to 40 minutes (20 minutes uncovered, 10 minutes covered with aluminium foil, and 5 minutes uncovered). Let stand for 15 minutes before cutting and enjoying.
http://ikhlashussain.com/2013/12/recipe-chocolate-chip-cookie-brownies/
These brownies are so fudgy and moist, especially warmed up a little in the microwave the day later. The cookie layer is crunchy and crispy, like a perfect chocolate chip cookie, while the brownies are ooey-gooey and melt in your mouth. I added pecans to my brownies, but you're welcome to omit them if you like.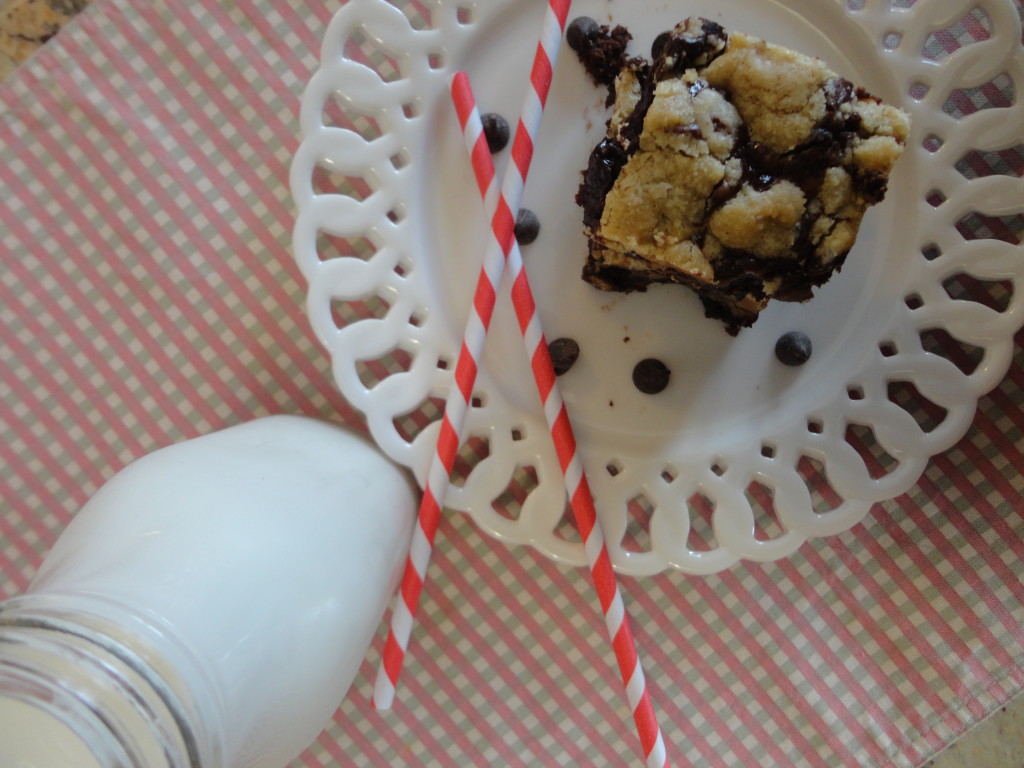 Best eaten with a cold glass of milk, these decadent brownies are perfect for when you have guests over or for when you need a special treat on an ordinary day.
So try them out and let me know how you get on!
Thanks for reading,
Ikhlas