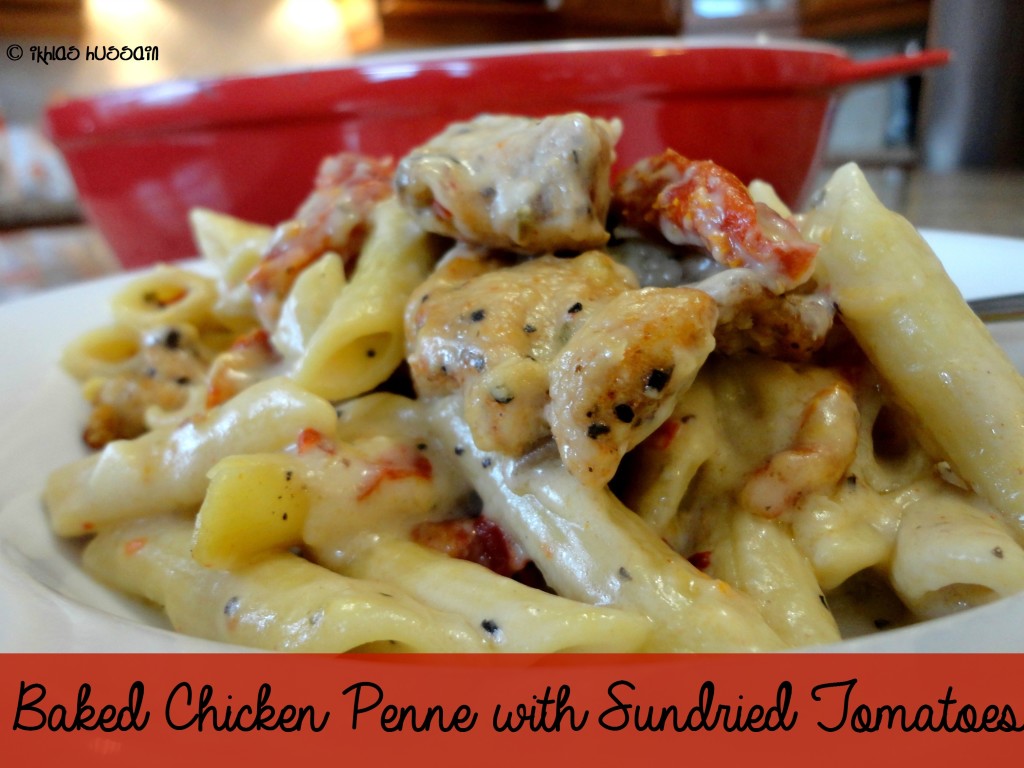 So I've been eyeing this pasta recipe for quite some time now. I bookmarked it ages ago, and it also happened to be one of the first recipes I pinned on Pinterest, since I knew I wanted to make it whenever I took a break from baking.
For those of you who are wondering, I do cook more than cookies and cakes and cupcakes. 🙂 My cooking style is rather messy and instinctive, rather than precise and organized (like baking), which explains the lack of Savoury recipes on the site. So whenever I cook, I don't measure things precisely enough for me to blog about them. Plus, in the previous months, it would get too dark by the time I made dinner and wanted to photograph it; but now with the sun out till late, I have lots of time to photograph. 🙂
This recipe makes quite a big batch of pasta and feeds a lot of people. It makes one dish to bake and eat now, and one to freeze and bake at a later time. Depending on how you distribute the pasta, both dishes can feed from 6 to 8 people.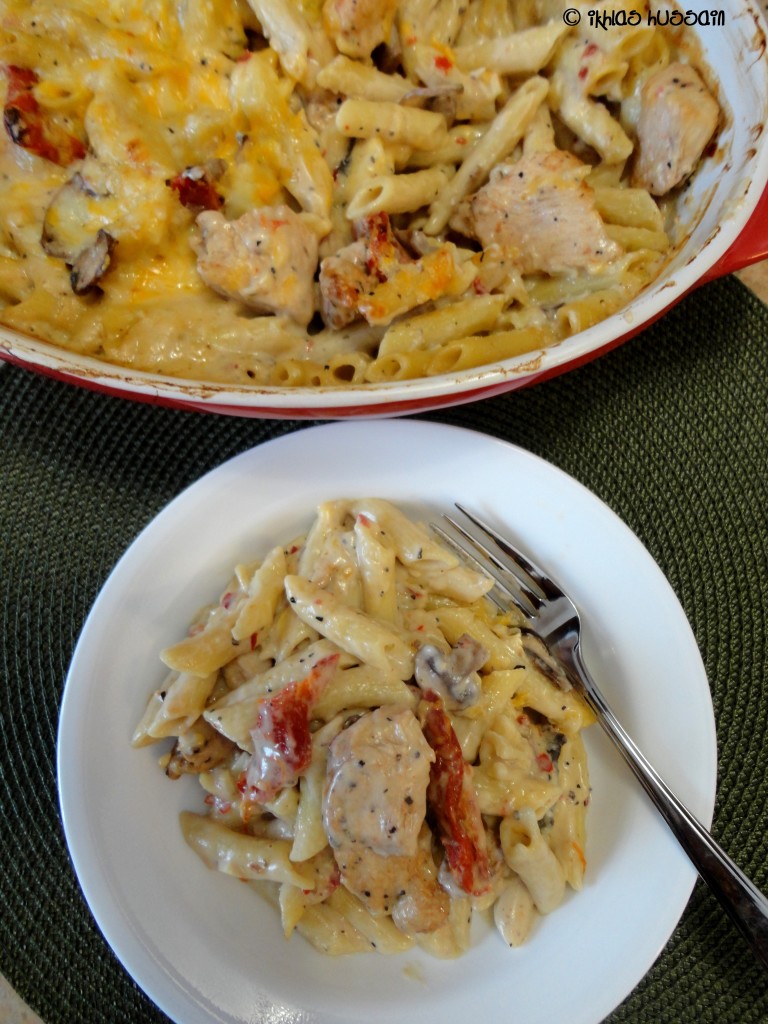 As much as I love baked pasta, the majority of them dry out in the baking process, which I hate. The creamy sauce all but disappears in most pasta dishes and you end up with a pasta that's dry and crusty. With this pasta, this process never happened at all, which I absolutely loved.
With I dug the serving spoon into the piping hot baked dish, I was delighted to discover how creamy and flavourful the pasta came out! The sauce was as wet as it had been when going into the oven, and the pasta was evenly coated. Sprinkled with a healthy dose of sundried tomatoes (my new favourite ingredient) and mushrooms (an old favourite), this baked chicken penne dish was as rich, creamy, and flavourful as any pasta you'd find in a restaurant!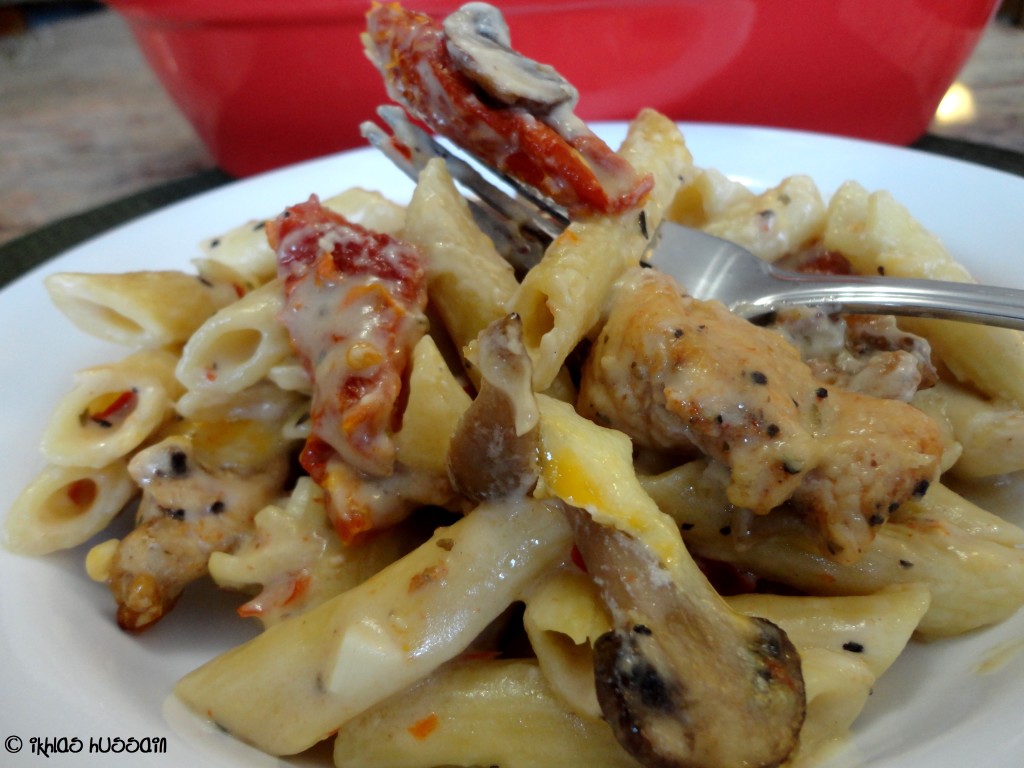 The best part? Savouring each delicious bite and knowing there was another whole dish waiting in the freezer to be eaten later. 😀 Check out the recipe! 
Baked Chicken Penne with Sundried Tomatoes
Ingredients
6 tbsp butter
Salt, pepper, and any other spices
5 cups penne rigate
1 tbsp olive oil
1.5 lbs boneless skinless chicken breasts, cut into small bite-sized chunks
1/2 cup plus 2 tbsp flour
4 garlic cloves, chopped finely
6 cups whole milk
1.5 cups mushrooms (I used cremini)
1/2 cup (or 210 mL) sundried tomatoes, drained and sliced
1 1/2 cup mozzarella cheese
Instructions
Preheat oven to 400 degrees F and prepare two medium sized baking dishes. Cook pasta until al dente, or slightly undercooked. Reserve 3 tbsp of pasta water before draining pasta and setting aside.
In a skillet, add olive oil and heat until warm. Season chicken with salt, pepper, and any additional spices, before cooking over medium heat.
In another pot, melt butter over medium heat. Add the flour and garlic, cooking for one minute. While mixing, slowly add the milk and bring the mixture to a simmer, until it's thickened. Add chicken, sundried tomatoes and mushrooms. Turning the heat off, add the mozzarella cheese and mix well.
Pour the chicken mixture slowly over the pasta, mixing well. Divide the pasta mixture into the two baking dishes. Bake one for 25 minutes or until the top is golden, and cover and freeze the other for up to 3 months, baking it for 1.5 hours.
http://ikhlashussain.com/2013/06/recipe-baked-chicken-penne-with-sundried-tomatoes/
Is it weird that as I was stuffing my face with bite after bite from the one dish, I was doing cartwheels in my head when I thought about the second dish I had froze? I just love pasta! 😀
And not just any pasta, but pasta that remains as flavourful and creamy as it is in the pot as it comes out of the oven. Sprinkled with lots of black pepper and crushed peppers, this Chicken Penne Pasta tasted too good to be true!
With a sauce that was thick and savoury, I loved spearing a piece of chicken, some pasta, sundried tomatoes, and some mushrooms onto my fork and swirling it in the sauce. Every bite was bursting with flavour.
If you don't want to make such a large quantity of this recipe, you could easily halve the recipe and just enjoy one dish right away, instead of making two and freezing one. You can also change up the vegetables and add broccoli or spinach. It's a very versatile dish. 🙂
However you make this Baked Chicken Penne with Sundried Tomatoes dish, one thing's for sure…you won't be disappointed!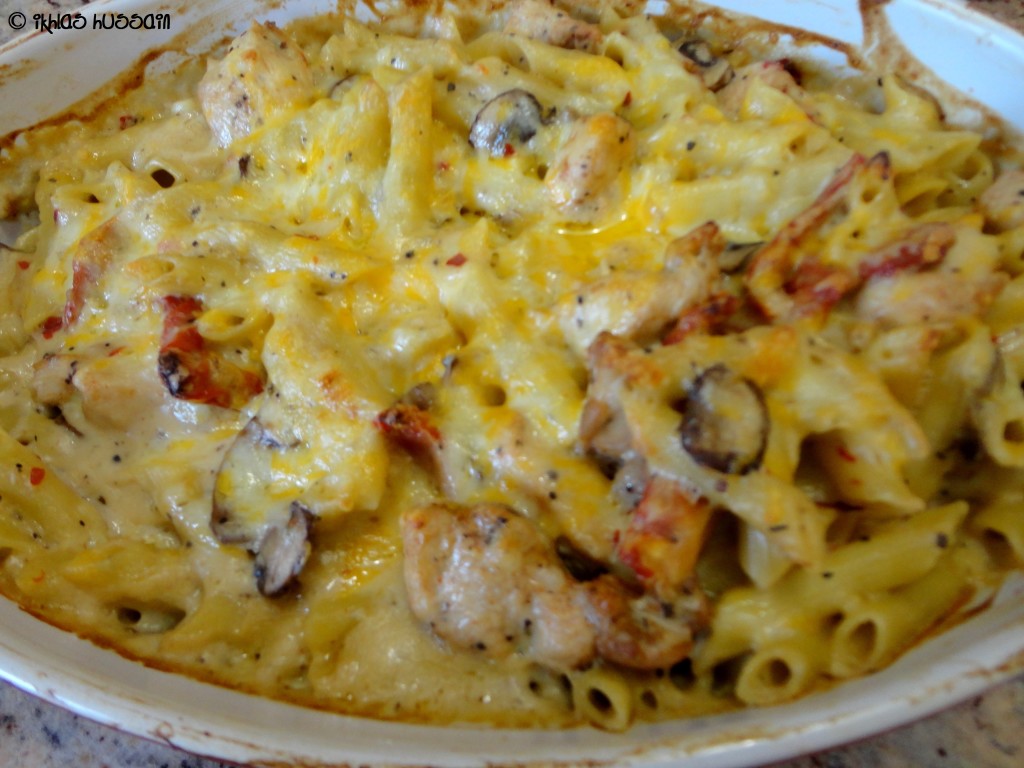 So if you're in the mood for restaurant food, skip it and make this instead. 🙂
Thanks for reading,
Ikhlas