So I don't actually make many Pakistani desserts, despite being Pakistani in heritage. I have nothing against Pakistani desserts, but at any party where there's an array of kheer (rice pudding), gulab jamun (sweetmeats), ghajjar ka halwa (carrot dessert), and cake, I will always go for the cake. ^_^
I grew up on a steady diet of cookies and cakes and pastries and brownies and cupcakes, and therefore don't enjoy eating or making Pakistani desserts, but Kulfi is something I have a sweet spot for in my heart. 🙂
Kulfi is traditional South Asian ice cream. Just like regular ice cream, it comes in a variety of flavours: pistachio, almond, mango, and vanilla. Typically, it's put on a stick and eaten like a popsicle, but it can also be made in a tupperware container and then scooped out like ice cream.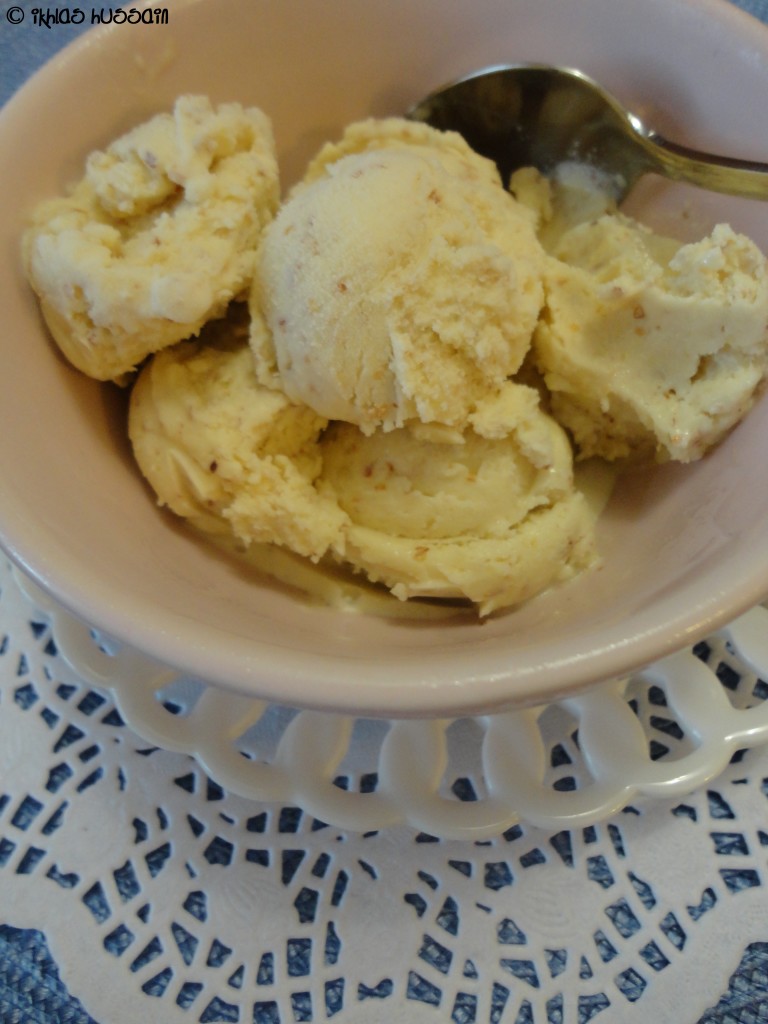 I only discovered the creamy, milky treat when I visited Pakistan five years ago. One lick of the cold, creamy treat and I had finally found a Pakistani dessert I loved! Unfortunately, the authentic taste of Kulfi that I had had in Pakistan couldn't be found in many places, except maybe downtown Toronto.
So when my cousin made this version of the recipe for dessert one day at her house, I was smitten.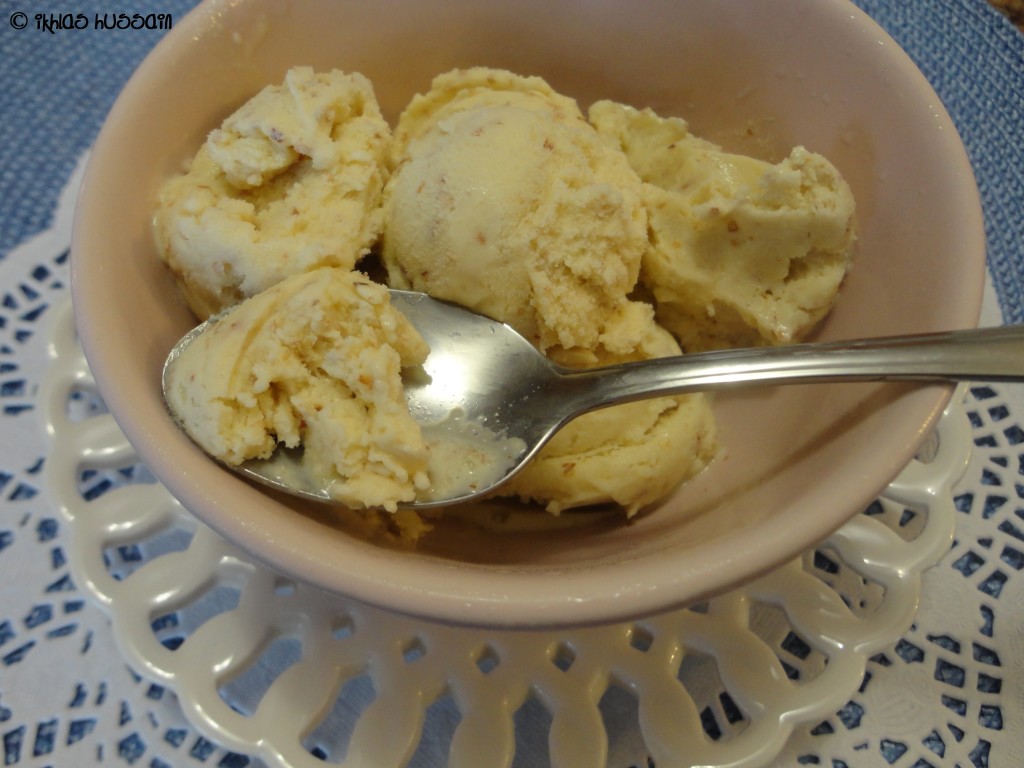 This recipe is insanely easy! All you do is throw everything into the blender and wait for it to work its magic. Once frozen, this Almond Kulfi recipe tastes pretty close to the real thing. Dense and thick, it's made with the same two ingredients that a lot of new ice cream recipes are made out of: sweetened condensed milk and a tub of whipped cream topping. For those of you who've never had or heard of Kulfi, it's very similar to ice cream, except it's a lot more dense.
So if you're of South Asian descent and want to recreate this traditional dessert at home, or if you just want to try something new, I really hope you try this recipe!
Ingredients
1 can sweetened condensed milk (300 mL)
1 can evaporated milk (370 mL)
1 tub whipped cream topping (1L)
1 cup almonds
2 slices of bread, with the ends cut off
Instructions
In a large blender, pulse up the almonds roughly. Then add rest of the ingredients slowly, pulsing the mixture until it's one consistency, scraping down the sides of the blender occasionally.
Scoop out the mixture into a large freezer-safe plastic container. Freeze the mixture for 2 hours, and then stir the mixture with a fork. Freeze again for another 2 hours, then stir again with a fork, returning it to the freezer for 8 hours or overnight.
Store Kulfi in freezer; can be enjoyed for up to 3 months.
Recipe source: Tania Khan.
http://ikhlashussain.com/2013/06/recipe-almond-kulfi-ice-cream/
Flecked with bits of almonds, this Kulfi is dreamy, creamy, and cool. There's no need to add extra sugar to the recipe since the sweetened condensed milk gives enough sweetness.  There aren't any chunks of bread in the Kulfi; it gets chopped up in the blender and just provides some much needed structure to the mixture.
One tip that I have for anyone who tries to make this recipe is to make it in two batches. I'm not sure if my blender is just small, but once I threw in all the ingredients into the blender, I realised the mixture was about to overflow, so I took some of the whipped topping out. I mixed everything together, and then slowly added more whipped topping.
I also chopped my almonds at the same time as everything else; I literally just threw in all the ingredients into the blender. This gave me larger chunks of almonds, but next time I would recommend pre-chopping the almonds a little bit, so that they're smaller.
Dense and creamy, this Almond Kulfi recipe is a must for anyone who loves ice cream, and wants to try something a little bit different. For anyone who loves this South Asian dessert, try making this easy recipe at home…you won't be disappointed!
Thanks for reading,
Ikhlas